Why businesses should be outsourcing to Latin America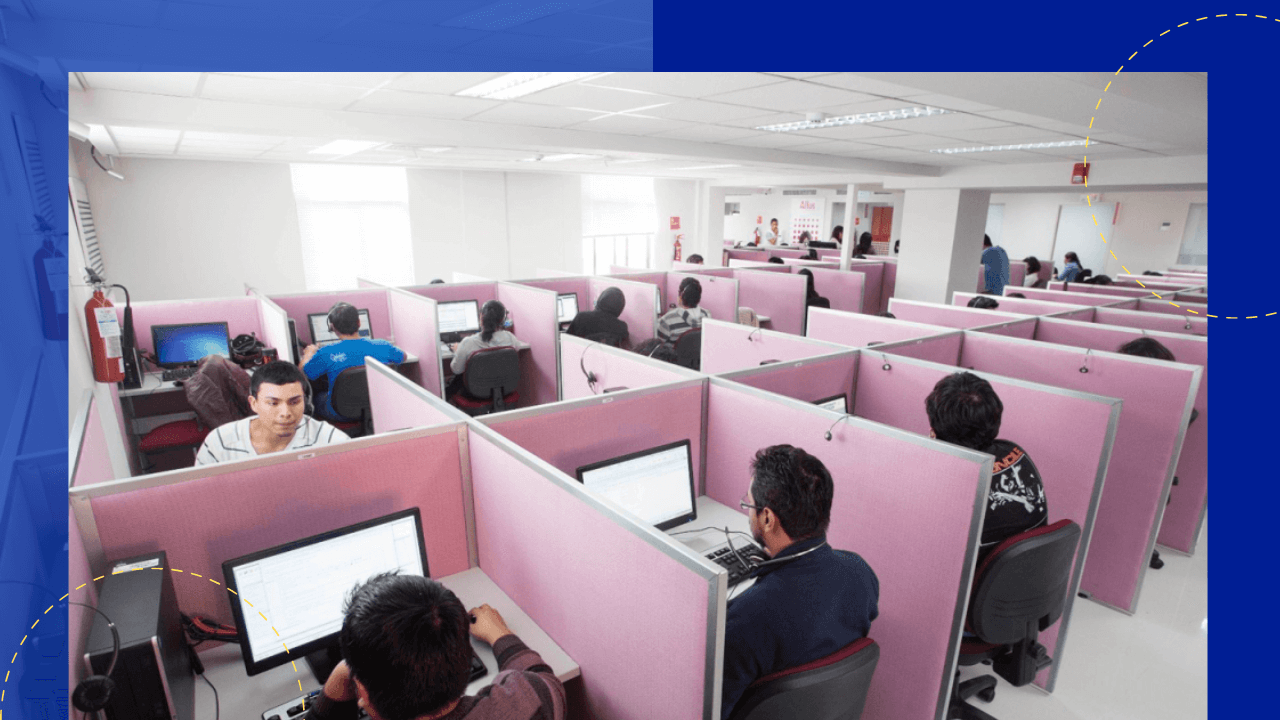 Outsourcing to Latin America can be highly advantageous for businesses.
Colombia's booming outsourcing industry stands as a testament to how the sector has changed Latin America's economic landscape for the better.
It's no secret that the outsourcing industry has revolutionized the way companies operate their businesses.
Aside from being lucrative for businesses and employees in the sector, outsourcing also positively impacts the economies of the countries where work is outsourced.
That's why it's inevitable that many previously non-outsourcing countries turn to the industry for the economic opportunities it presents.
Latin America's outsourcing landscape
One of the major reasons why businesses are outsourcing to Latin America is because of the region's mostly shared time zone with its North American neighbors.
The region's geographical proximity, combined with Latin Americans' familiarity with American and Canadian English, makes it an ideal nearshoring destination for businesses in the US and Canada.
Further, outsourcing in Latin America was highlighted in a the 406th episode of the Outsource Accelerator Podcast.
In the episode, Jaime Nacach, founder and CEO of Virtual Latinos, discussed how the outsourcing industry has gripped Latin America and what the region brings to the sector.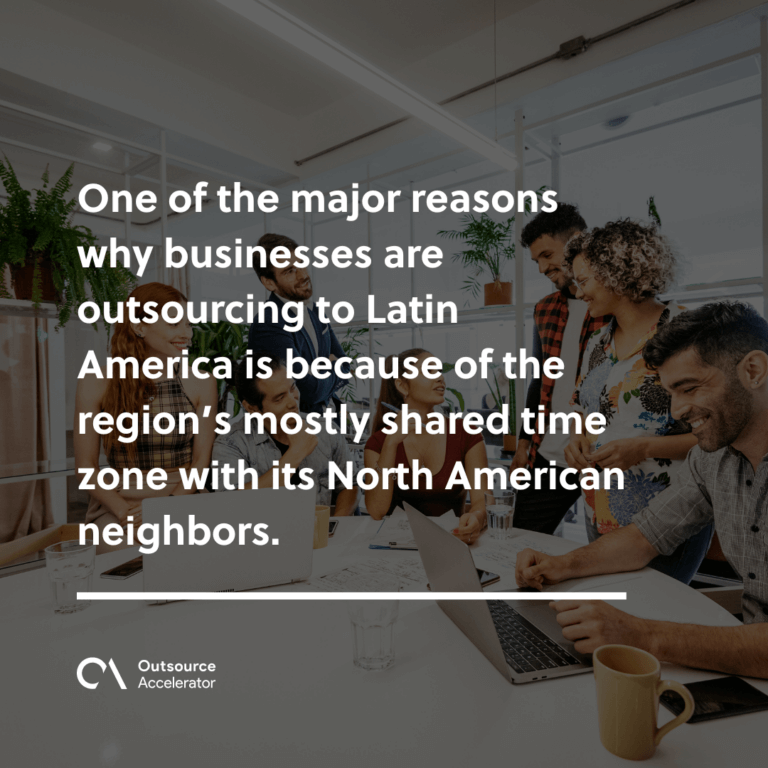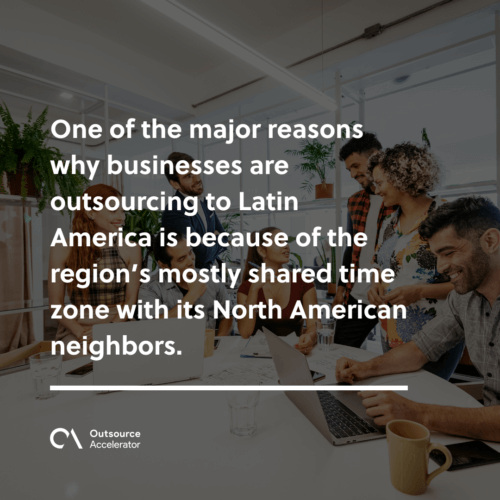 Services businesses can outsource to Latin America
Various job roles and business processes can be efficiently outsourced to Latin American countries, such as Colombia, Mexico, Argentina, and Costa Rica.
These services include:
Bilingual customer service
Outsourcing to Latin America gives companies access to agents able to converse in English and Spanish.
Having access to these bilingual agents is highly beneficial for businesses as it allows them to cover a larger base of customers.
It is also a highly-sought service in the US, where Hispanics make up 19% of the country's total population.
Back-office operations
These operations include virtually every business function that isn't customer-facing.
This includes data entry and analysis, accounting and bookkeeping, administrative support, and other "behind-the-scenes" business operations.
Telemarketing and telesales
These two services are primarily outsourced to reduce operational costs for businesses.
Telemarketing can include a business's lead generation, customer retention, and client acquisition efforts. On the other hand, telesales pertains to the active selling and promotion of a business's products and services.
Advantages of outsourcing to Latin America
It's common knowledge that outsourcing brings businesses plenty of benefits.
However, outsourcing to Latin America adds even more to the already long list of advantages businesses can gain.
Below are just a few of the advantages presented by outsourcing to Latin America:
Proximity to the US and Canada
As mentioned earlier, the region's geographical proximity to its North American neighbors makes it an ideal location for nearshoring operations.
The time zone overlap among most Latin American and North American countries makes collaboration between a business's in-house and nearshore teams easier.
Moreover, it presents a perfect outsourcing solution for services that require immediate and concurrent actions.
Multilingual employees
Outsourced Latin American employees are proficient in both English and Spanish.
These bilingual employees are highly beneficial to businesses for various reasons:
Increased market reach

Provides a competitive edge over competitors

Improves sales and conversion rates
Network infrastructure
Countries in the region are constantly upgrading their existing network infrastructures to better accommodate the outsourcing industry.
With access to better technology, an increasing number of companies invest more in Latin America's various sectors.
Consequently, it gives Latin American countries opportunities for more large-scale upgrades.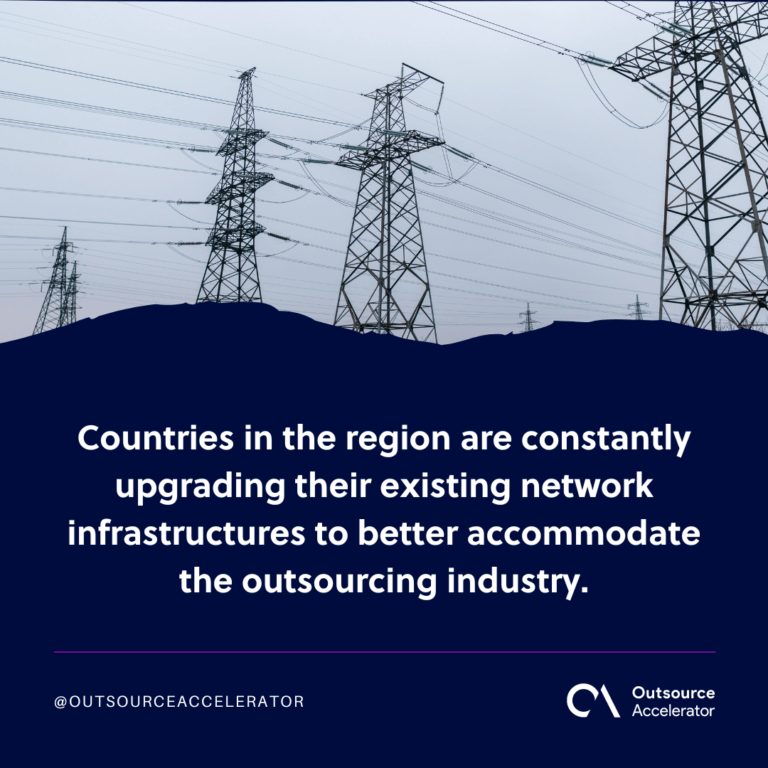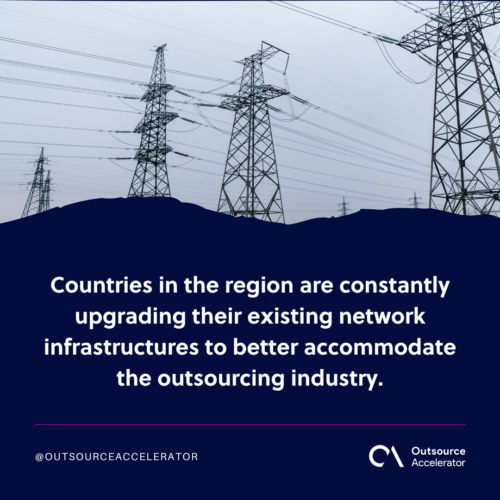 Challenges of outsourcing to Latin America
While outsourcing to Latin America is undeniably advantageous for businesses, there are still hurdles that must be overcome.
Below are some of the major causes of concern for businesses outsourcing to Latin America:
Data security
Many countries in the region don't follow international policies for data protection, such as the General Data Protection Regulation (GPDR).
As such, it makes data processed in these countries vulnerable to data breaches and other security issues.
Work quality
As an emerging hub for business process outsourcing (BPO), the Latin American region has yet to prove that its talents can deliver equal or better quality services than their competitors in the Asia Pacific.
Cost-efficiency
As with all cases of business process outsourcing, turning to Latin American BPO providers can significantly reduce operational costs.
However, a case is yet to be made on whether outsourcing to this new market is more cost-efficient than outsourcing to the cheap labor market of the Asia Pacific region.
Learn more about nearshore outsourcing by listening to Jaime Nacach's podcast guesting here.