Outsource to Colombia: What you should know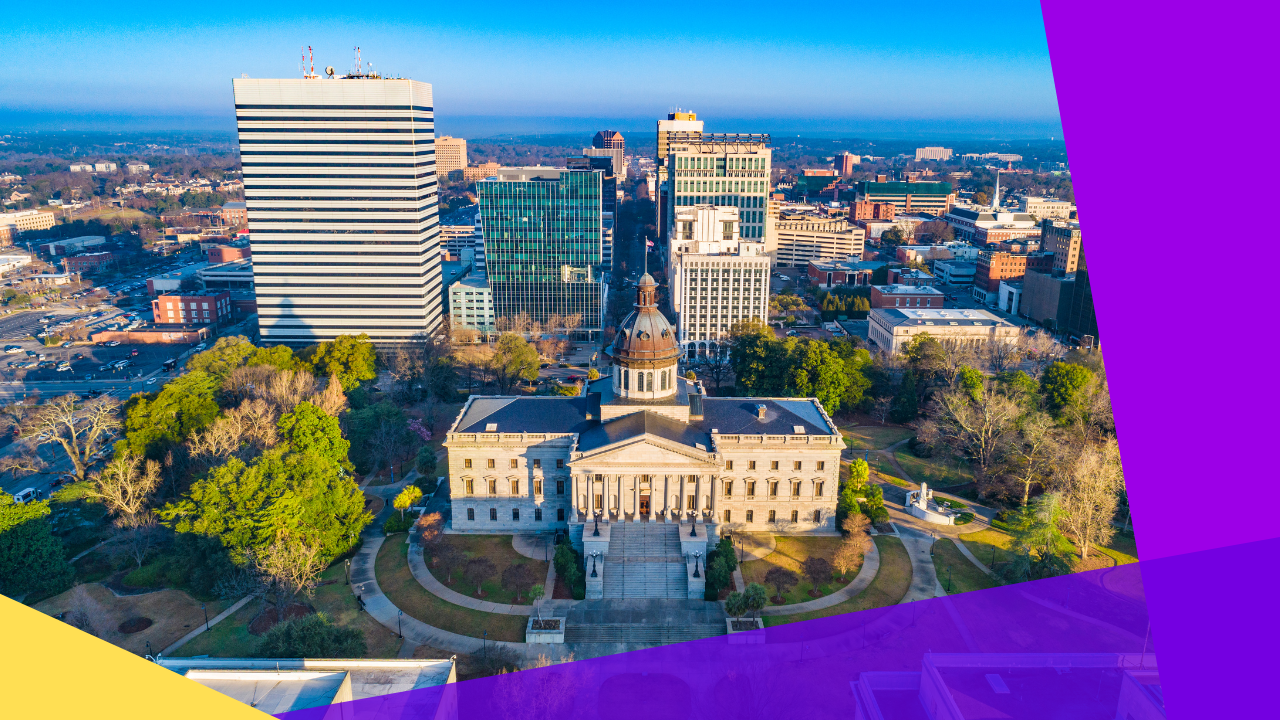 South America has been blooming as a preferred nearshoring destination for years.
A convenient location for the US and Canadian markets, the region has been in the spotlight recently – especially with its emerging tech scene and the widening skill shortage across all industries.
Colombia is one of South America's leading locations for outsourced services. Firms in the US find the country attractive with its vast labor force, multilingual support, and improving infrastructures.
If you're looking to outsource your services in the country, you have come to the right place. In this comprehensive guide, find out what you need to know when you outsource to Colombia, including its takeaways.
Colombia as a viable nearshoring destination
Colombia continuously develops its industries, including the outsourcing sector, as a way to attract foreign investments and help the country grow.
Being in the industry for over 20 years, Colombia was one of the countries to benefit from the first outsourcing wave. However, it did not last long due to political instability and the rise of  popular destinations in Asia.[1]
Since the government started promoting nearshoring in the country in 2019, it has attracted over US$1 billion in investments worldwide. Hundreds of companies have shown interest in delegating their services, including contacts from investment body ProColombia.
From its 13th rank, Colombia accelerated to 11th in Kearney's 2023 Global Services Location Index, contending with neighboring countries Brazil, Mexico, and Chile and preceding the Philippines.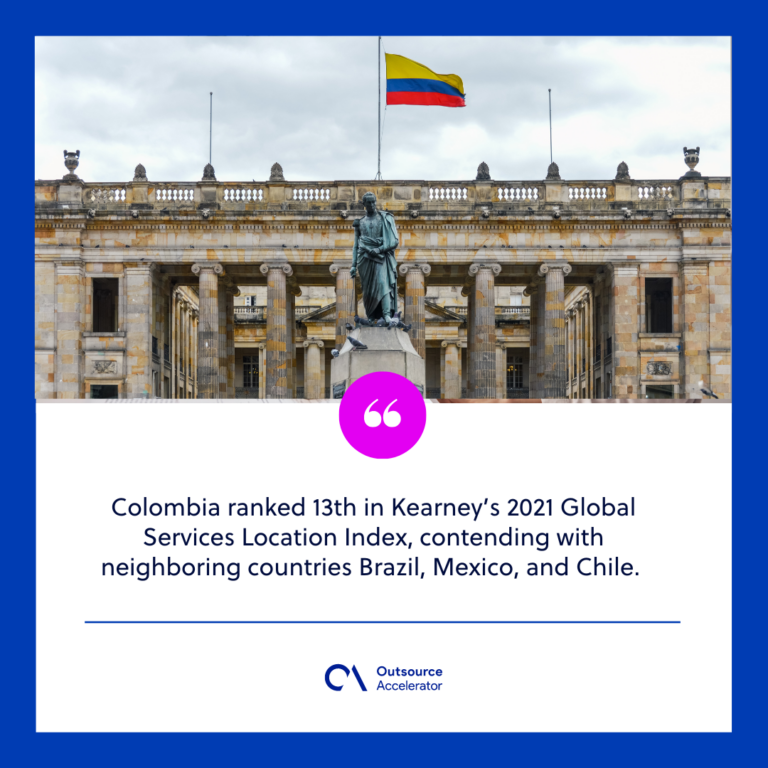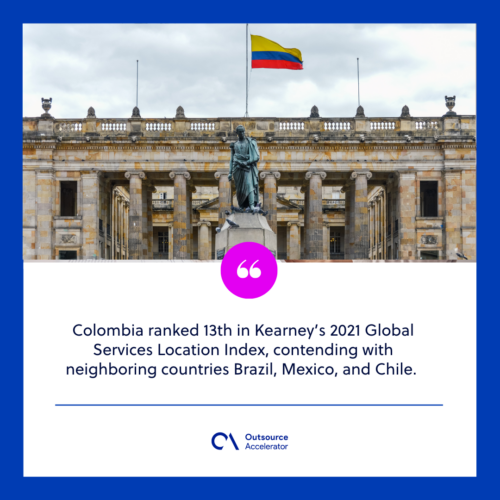 Indeed, the country has what it takes to be a competent outsourcing location, especially in the US.
Colombia is South America's fourth-largest call center market. Most centers are spread across six large cities: Bogota, Medellin, Cali, Barranquilla, Bucaramanga, and Cartagena.
Its increasingly improving infrastructures and education indicate that the country is slowly moving towards data and knowledge-based solutions.
The world continues to look forward to what Colombia will offer in the future.
Notable facts about Colombia
Here are some of the important facts about Colombia:
Economy. Colombia has the fourth largest economy in Latin America, next to Brazil, Mexico, and Argentina.
Coffee. The mountains of Colombia are home to Arabica seed crops. With this, the majority of the country's population relies on the coffee trade economy for their living.
Flower Fair. Medellin houses one of the most popular festivals in the world. The Feria de las Flores or Flower Festival every August showcases the lively Colombian culture, music, and of course—flowers!
Cartagena de Indias. Cartagena de Indias, also known as La Heroica (The heroic city), is one of the most valued historical sites in the country. It earned its moniker for holding resistance to the 105-day siege of Cartagena by the Spaniards in 1815.
Bogota. Bogota is called the "Athens of South America" for being the seat of cultural and scientific institutions in the country, like in Athens. It also stands out for its economic and financial stability.
Reasons why companies outsource to Colombia
One of the largest BPO markets in the region, Colombia boasts a market size of US$24 million and an annual growth rate of 9%.
It also leads the 2021 Offshore BPO Confidence Index with a 90.9% rating.
Further reasons why businesses should outsource to Colombia include the following:
Vast labor force
Colombia has the third largest labor force in South America, next to Brazil and Mexico, with a population of 25 million workers and a participation rate of 63.2%. Around 600,000 of them work in call centers and BPOs in the country.
Colombia gives global firms access to a vast pool of labor force a few miles away from the US. Finding suitable talents will be easier, with thousands of workers joining the country's labor force each year.
Multilingual service
Colombia provides services both in English and Spanish. This makes it easier for you to provide additional localized support when you extend your services to the Spanish market.
However, English and Spanish are not the only languages supported in the country.
This is because Colombia is one of the countries where French is certified, with around 8,000 people receiving certificates for speaking French.
Business environment
The Colombian government does its best to maintain economic stability in Colombia. They have implemented measures to attract foreign investments, making it more viable for international companies to enter the country.
These efforts are slowly paying off so far. The World Bank recognizes Colombia as having the third-best business environment in South America, only behind its neighboring countries by a minimal margin.
Improved IT infrastructures
Infrastructures in Colombia, including IT, have been improving over the past few years.
Research even projected the construction industry in the country to rise due to increased investments in infrastructure.
Dubbed Latin America's Silicon Valley, Colombia is home to over 5,000 tech companies. An increasing number of schools and institutions in the country offer programs encouraging technological development.
The government even aligns its infrastructure projects to support the outsourcing boom further. Clients that outsource to Colombia can utilize these infrastructures to their company's advantage.
Affinity to the US
Most importantly, Colombia has a close cultural and geographical association with the US, its primary outsourcing market.
Located only a few hours away from the East Coast, the country shares an almost similar time zone with the Eastern part of the US. This makes collaboration easier since teams do not have to deal much with adjusting their work time with their clients.
At the same time, South America implements laws and regulations that are almost similar to the US.
With this, clients do not have to worry much about issues on intellectual property, compliance, and other related concerns.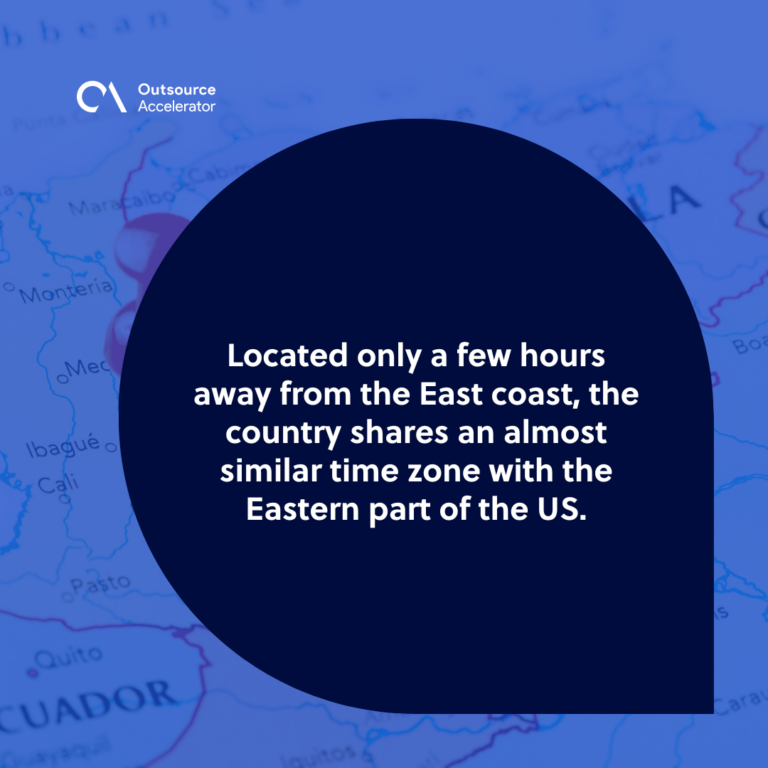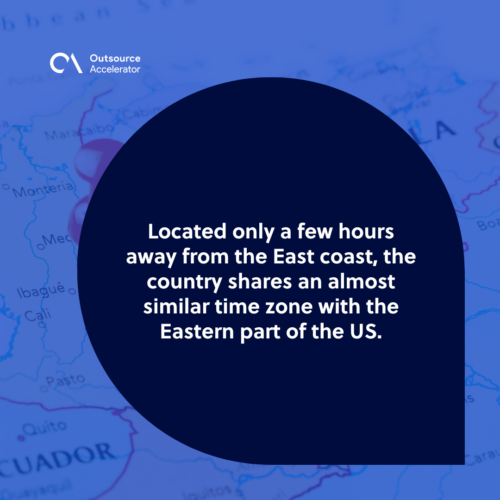 Services ideally outsourced to Colombia
Colombia was once regarded for its "blue-collar outsourcing" services during the first outsourcing wave.
These days, most companies are now comfortable with business process outsourcing in the country, delegating the following services.
Customer service
Primarily, Colombia is a reliable provider of call center services to the US.
Aside from bilingual support and low call costs, these call centers offer omnichannel and round-the-clock support that can match offshoring companies such as India and the Philippines.
Information technology
The country also boasts its quality nearshore IT services.
Clients can benefit from low-cost network and infrastructure services provided by top IT providers compared to building IT networks in-house.
Software development
At the same time, Colombia is a go-to for software development services across most industries.
US companies prefer the country for its quality work and time zone similarities that make collaboration easier. With the government investing more in its digital transformation, Colombian software developers are highly trained in building and maintaining systems that fit their client's needs.
Human resources
Lastly, human resources account for a portion of outsourced services in the country.
Companies that choose to start a business or build their operations in the country can best benefit from delegating workforce management and payroll.
Key takeaways when outsourcing to Colombia
Colombia's outsourcing industry still has huge growth potential to watch out for.
However, bear in mind the following disadvantages that still occur when hiring teams in the country.
Cultural and language differences. The majority of Colombia's support services are still in Spanish, while English support is slowly increasing. You might still encounter language and cultural barriers when you deal with your first outsourcing company.
Data protection. Colombian laws on data protection differ from international standards such as GDPR. You should be aware and mindful of the current protection laws that exist in Colombia, including its restrictions.
Uncertainties on quality. Understandably, you might still encounter uncertainties about the work quality your team will provide. Your team would need constant follow-ups or communication for your projects.
Before you outsource to Colombia, you should first prepare yourself and learn everything about its outsourcing climate, what to expect, and what works best for your company.
Article references:
[1] Popular Destinations in Asia: Bardhan, Ashok and Kroll, Cynthia A., The New Wave of Outsourcing (October 2003). Fisher Center for Real Estate & Urban Economics Research Report Series No. 1103, Available at SSRN: https://ssrn.com/abstract=985741 or http://dx.doi.org/10.2139/ssrn.985741