Outsource to Davao: An introductory guide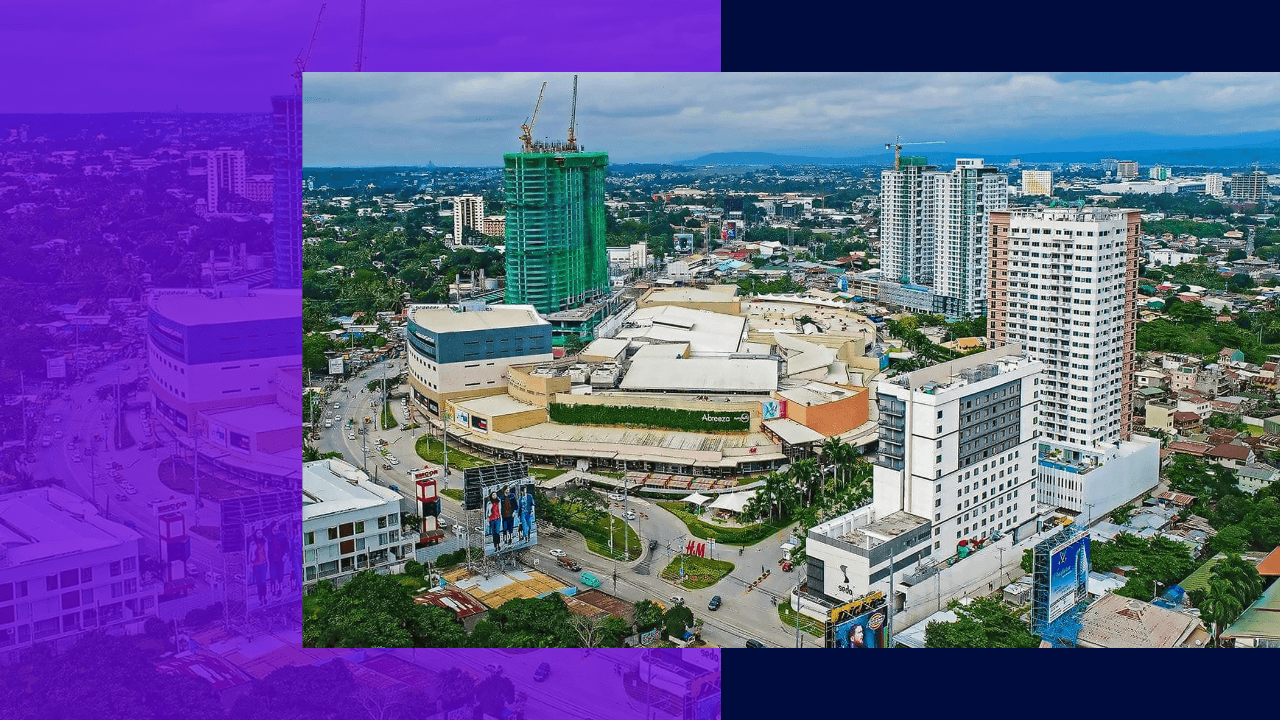 Located islands away from Manila, Davao not only entices tourists with its breathtaking beauty, but its business landscape also makes it a prime option for multinational companies to be the next best outsourcing destination.
Through the years, Davao City has become one of the top hotspots for outsourcing companies to take root in. For them, to outsource to Davao is to take advantage of how different it is from Metro Manila or Cebu.
Why outsource to Davao?
Davao is consistently on the top spot of the Next Wave Cities list of the Department of Information and Communications Technology (DICT). The Next Waves Cities can accommodate big BPO and IT companies, as well as nurture startups in the local scene for better yet quality service.
When choosing an outsourcing destination, it's essential to consider some of the things listed below. For instance, the demographics of the workforce are critical as employees serve as the backbone of any organization.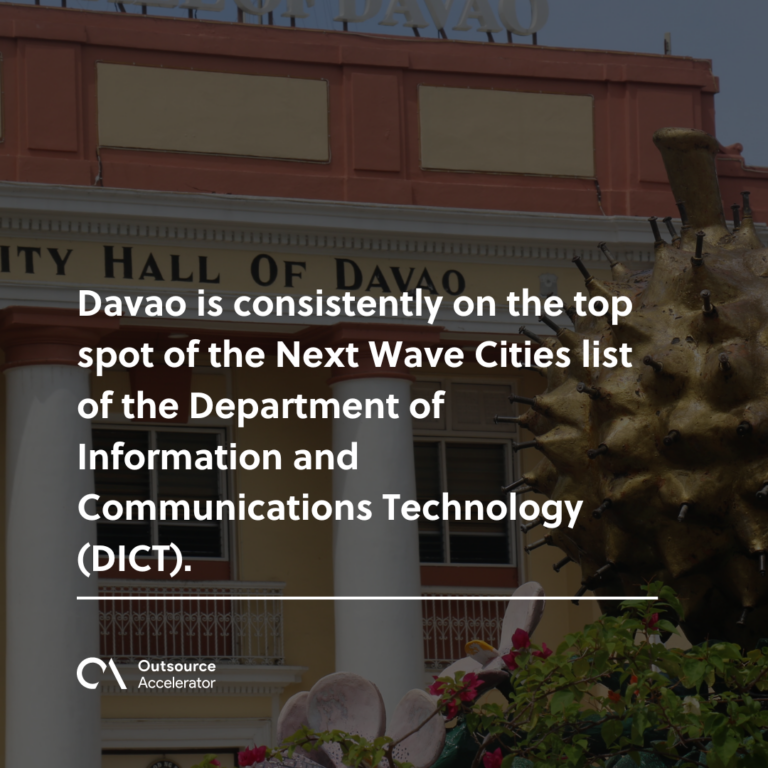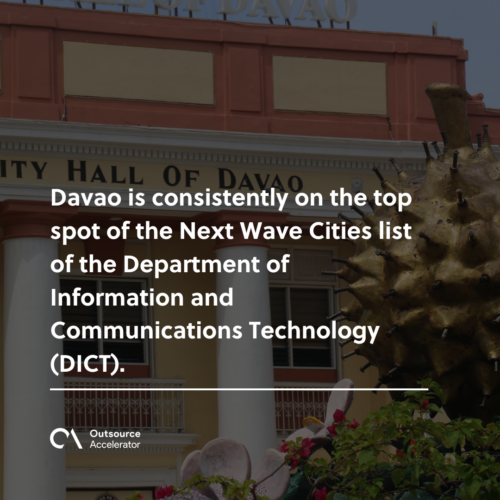 Young workforce
Choosing to outsource to Davao is a great idea as the city hosts thousands of fresh college graduates and young professionals. Industry pioneers can be found in Davao too.
A young workforce ensures that these people can offer fresh ideas and perspectives to the table. Most workers who are just out of college are eager to learn and bring their A-game every day.
With this in mind, companies should secure a steady career path for their young workforce so they can stay with the company for a long time.
Booming economy
Davao City is one of the most populated cities in the Philippines. With its growth rate, it's safe to say that they have a booming economy. Local businesses welcome foreign investors into their community to expand their network.
Additionally, based on a government survey of the travel industry, Davao is the third most important urban center in the Philippines, whose features include:
Bustling economic activities

Urban build-up

Modern amenities catering to foreign and non-foreign investors and tourists
Further, the Philippine Economic Zone Authority (PEZA) has accredited many buildings in Davao, which means that the expanding business center of the city meets global industry standards.
By the numbers, Davao's GDP growth rate increases exponentially, with over 40,000 businesses located in the city and at least two million tourist arrivals annually. 
The city also houses three consular offices, making it an ideal place for people who plan to invest at the international level, including outsourcing tycoons. 
Lower overhead expenses
It's quite a known fact in the Philippines that more and more businesses stray away from the bustling scene in Metro Manila. It costs a huge sum of money to operate because of Manila's high overhead expenses. 
Meanwhile, Davao's relatively cheaper cost of living and expenses, in general, makes it a very attractive alternative for businesses to establish a higher profitability rate. 
Provincial legal fees for businesses are relatively lower than in Metro Manila. This includes fees to operate a business, taxes, bills, and other utilities required to operate in Davao's local industry. 
Other overhead expenses that would be lower in Davao also include advertising, insurance, rent, and repairs. 
Generally, it would be a win-win situation to outsource in Davao because of its relatively lower opportunity cost in investing. The cherry on top is its location, which needs lesser calamity maintenance as it is less prone to floods and sees fewer typhoons.
Government initiatives
With a population of over 1.6 million (2020), Davao's local government units uphold the city's initiatives to help its people and other businesses and boost the local economy. 
The National Competitiveness Council named Davao the third most competitive and highly urbanized city in the Philippines in 2017. Other national awards that recognize government initiatives include:
The Seal of Good Local Governance by the Department of Interior and Local Government.

Child-Friendly Municipalities and Cities by the Office of the President of the Philippines.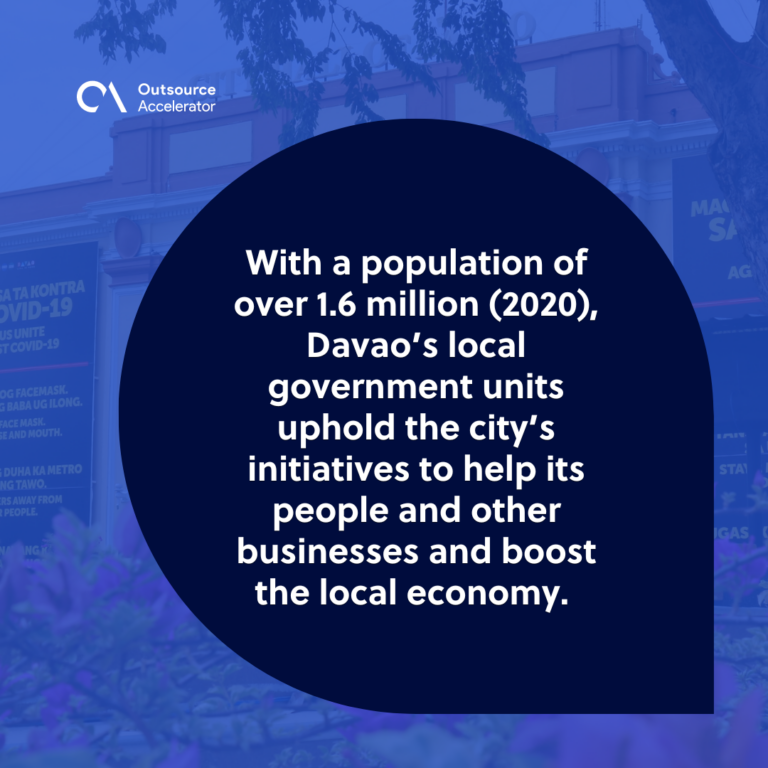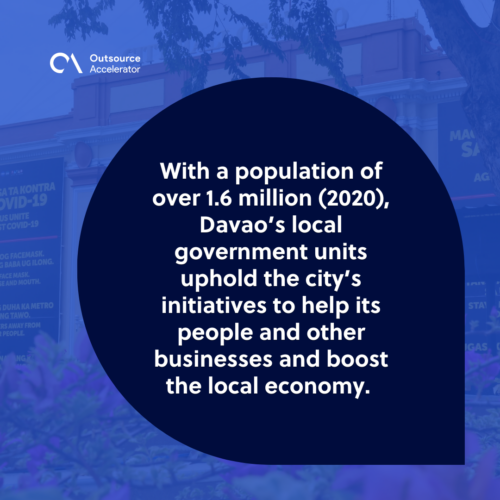 Services you can outsource to Davao
When outsourcing, usually there are only focal services that a location offers. In Davao, four sectors stand out as the most commonly outsourced functions: 
Customer care
One of the most popular services in the outsourcing industry, not only in Davao, is customer service. External providers allow you to outsource customer service and help establish and implement the best strategy for your business.
Digital marketing
Outsourcing digital marketing services ensures an efficient and up-to-date approach for your business.
Digital marketing is a vital part of the computer age when all marketing opportunities are embedded on your computer and cell phone screens. This helps you connect with your target audience and convince them to buy from you. 
IT services
Outsourcing IT is crucial, especially for technologically driven companies. Outsourced IT services include:
Security and management of the network systems

Implementation of operating systems

Installation of critical software

Datacenter operations

Application maintenance and development

Disaster recovery
HR and payroll activities
Another service that can be outsourced to Davao is human resources and payroll activities, which can lessen burdens in the company. 
HR services include recruitment, payroll and compensation management, staff training, and employee benefits. Outsourcing these tasks allows employees to concentrate on the core business and focus on the main goal of the company.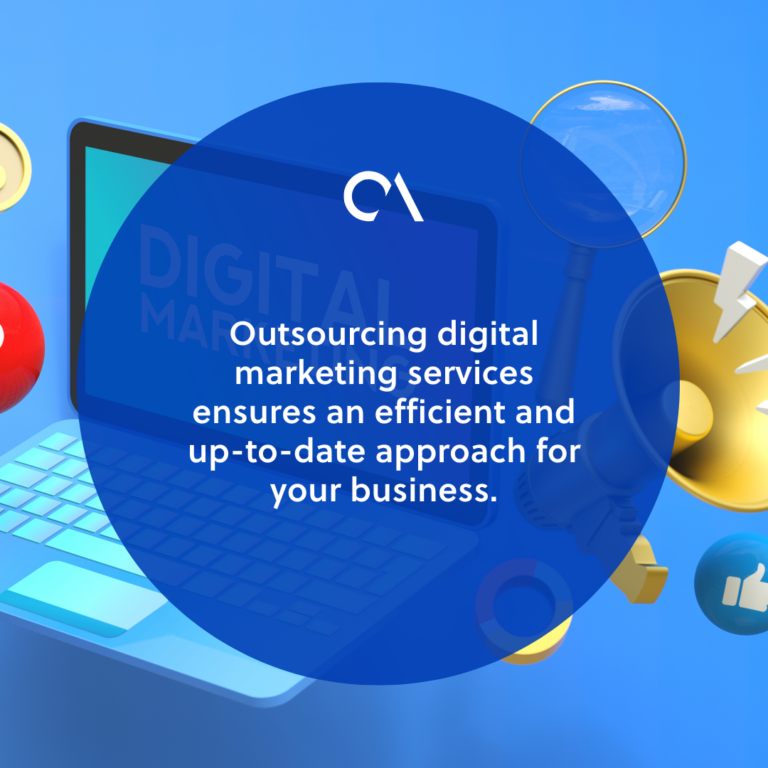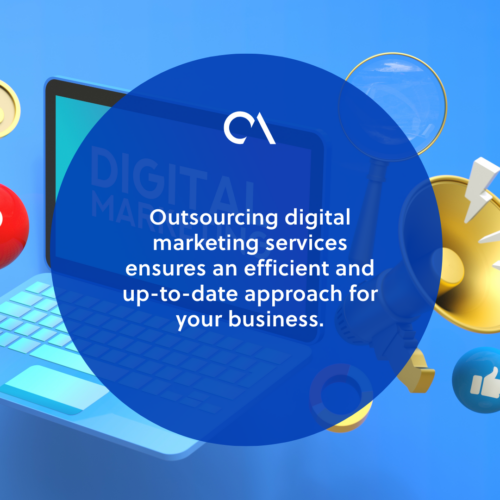 BPO Companies in Davao
These companies have taken root in Davao, further putting the city on the top BPO destinations in the Philippines.
With over 10 years of experience and continual development, SixEleven specializes in customer care services, sales, and marketing. 
This customer support outsourcing company is a pioneer in the BPO industry in Davao. It started 15 years ago with just 20 seats, which have now grown to over 3,000 seats. SixEleven offers a flexible workflow with one of the most affordable outsourcing quotes in the province and country.
iQor offers a variety of services in nine different countries including the Philippines, and one of its flagship urban locations is in Davao.
With its international recognition, it offers world-class leadership in the company, guided by a strong and diverse group of professionals in its industry. 
iQor offers up to 24 services with employees who are expertly trained to have better handling of the services that they offer.
Altria offers 24/7 multilingual inbound and outbound sales and call handling services with its latest information technology covering at least three platforms — phone, email, and live chat. 
Altria also manages both government and non-government call centers and process management. Its  Davao location has been chosen as a prime location in providing excellent customer service. The company also has a base in Dubai, UAE, ensuring global-class BPO service.