Outsource to Cebu: Top outsourcing city outside Manila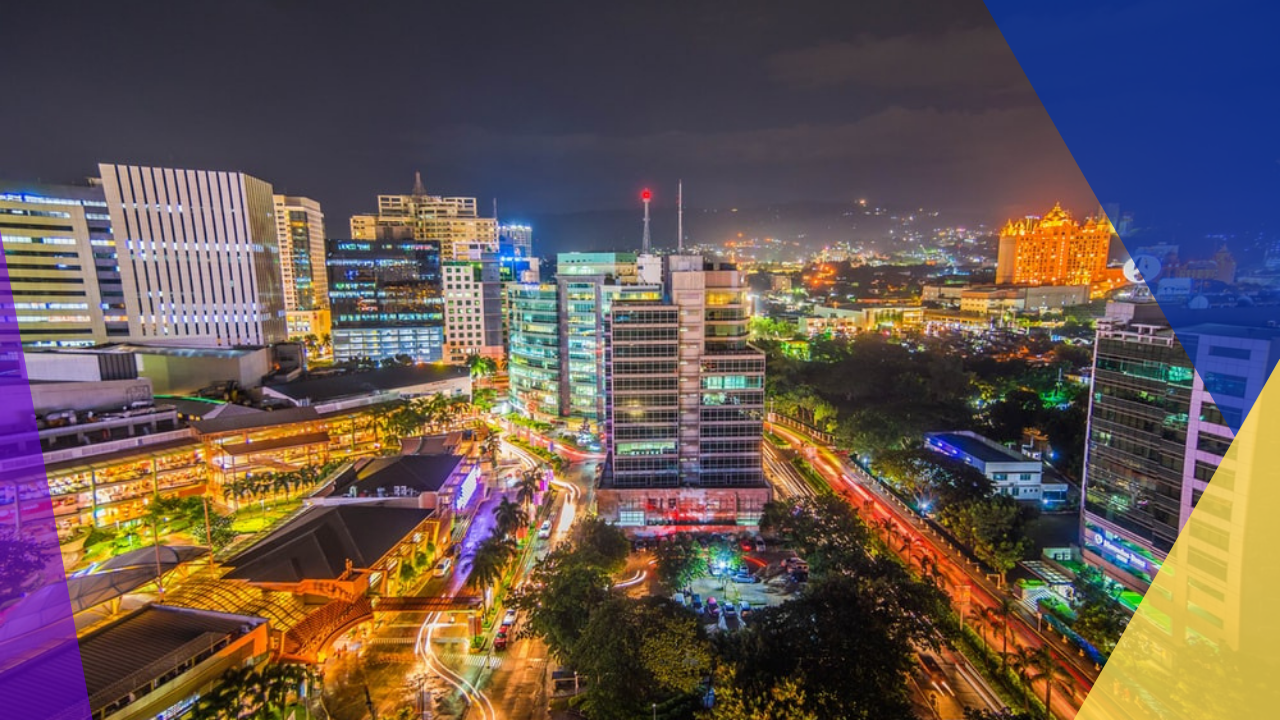 Cebu is one of the oldest cities in the Philippines, its soil having walked on by Spanish conquistadors, American generals, and Filipino heroes. 
In the passing years, the Queen City of the South has seen phenomenal growth with its economy, all thanks to multinational corporations establishing their base here.
Find out why more and more companies choose to invest in and outsource to Cebu.
Cebu's booming outsourcing industry
When the Cebu IT Park opened its space to businesses and professionals in 2002, it attracted more companies to outsource to Cebu. Next to Metro Manila, Cebu is now one of the largest outsourcing destinations in the Philippines.
Despite the pandemic and the various lockdowns implemented, the business process outsourcing (BPO) industry in Cebu keeps on climbing. The efforts to outsource to Cebu remain unshakable as companies move their operations remotely. 
All these claims are as true as they come, with Cebu City coming in at Top 52 of the Tholons Global Innovation City Index 2021.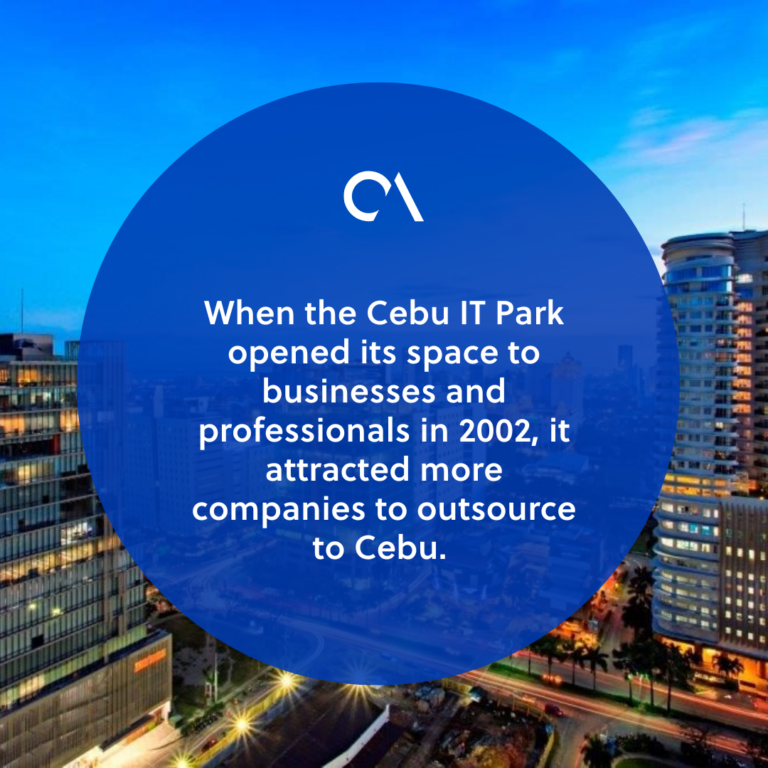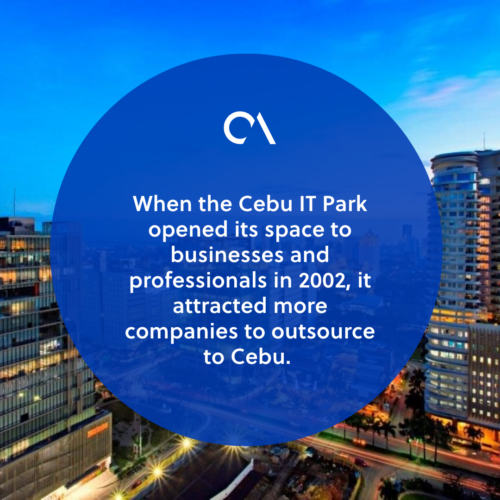 4 reasons you should outsource to Cebu
There are many reasons why you should consider outsourcing to Cebu. The benefits alone may outweigh any sliver of doubt that you have. 
A high number of English speakers
Seeing how English is an official language in the Philippines, it's not surprising that most professionals speak it fluently. English is taught in schools as early as pre-kindergarten. 
Cebuanos are known for their excellent proficiency in English, which may be due to the fact that their daily lives are filled with interactions with foreign visitors. The province is also dotted with English language schools. 
Lower overhead costs
Prices in Cebu don't compare to prices in Greater Manila. Rent is lower, utility rates are cheaper, and the overall costs of living are generally lower than in cities in Metro Manila.
For companies that want to get the best value out of their money when it comes to outsourcing, their best bet can be found outside of Manila.
Young workforce
With college students graduating every year, Metro Cebu is seeing huge growth in its professional population. 
While most young professionals gravitate toward Metro Manila or abroad, a significant portion of Cebuano locals builds their career in the city. And many of them can be found in the IT and outsourcing sector.
Up-and-coming BPO industry
In 2000, the Cebu IT Park got the approval of the Philippine Economic Zone Authority (PEZA) Board and then later granted the Special Economic Zone Status in 2003. In the same year, Sykes was the first multinational call center to operate in Cebu. 
Since then, Cebu's BPO industry has opened new opportunities for the professionals in the community.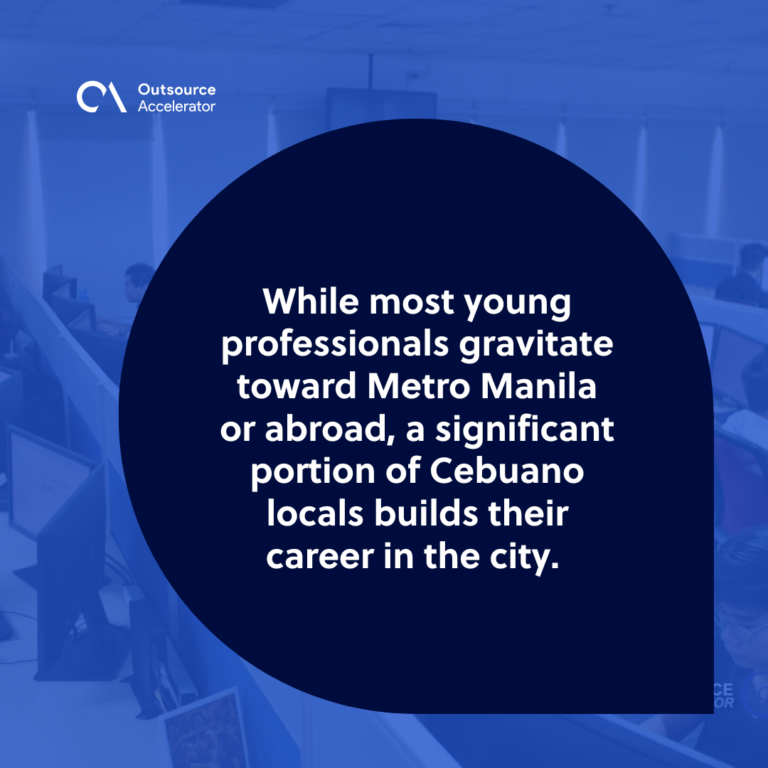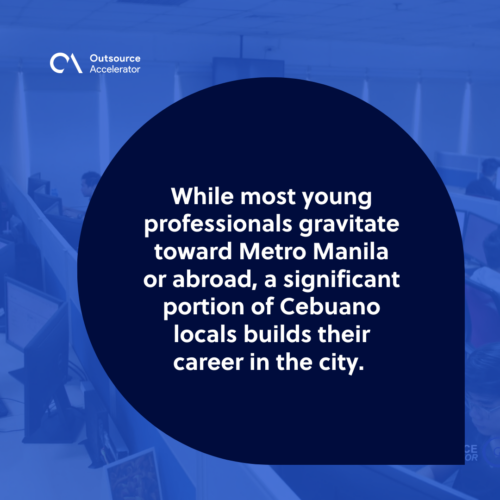 Outsourcing in Cebu vs. Metro Manila
Both Manila and Cebu are vital urban centers of the Philippines. They have many similarities, but key differences make one stand out over the other. 
Here are reasons Cebu might be a better outsourcing option than Metro Manila.
Lower commercial rental rates
While Metro Manila and Cebu are both bustling business hubs, the latter offers cheaper private office rental rates, ranging from PHP 13,000 to PHP 18,000 per seat, which is about PHP 1,000-7,000 cheaper than that of Manila.
Those who aren't traditionally employed (e.g., freelancers) can also enjoy coworking space rates that are much more inexpensive.
Unshakeable local economy
Local government units (LGU) have been making changes to accommodate more and more BPO companies into their community. Not only do these organizations open up opportunities for working professionals, but they also end up helping local businesses around the vicinity.
Small businesses like local eateries and retail stores are thriving as they respond to the demand of office workers looking for cheap food and other employment needs.
Less traffic congestion
One of the primary concerns of living in Metro Manila is the traffic that everyone has to endure at all times. Whether it's morning or night, expect that road congestions will be present.
While traffic jams do happen in Cebu as well, especially during rush hour, there is less congestion in this city and traffic is far less dreadful than in Manila.
Things to consider before you outsource to Cebu
Before making concrete plans to outsource to Cebu, there are things you need to consider first. 
Company virtues
BPOs have some of the best company cultures to ever exist. This is because some accounts tend to be more demanding than others. 
Outsourcing companies often take care of their own, putting out employee-first initiatives and having state-of-the-art facilities. Employee engagement is a big thing when it comes to these organizations.
Does your target BPO firm resonate with your mission and vision? Does their company virtue extend over to the market? These are some of the questions you can ask before you outsource to Cebu.
Project scope and limitation
There are times when companies have seasonal hirings—this is especially true for businesses in the retail and e-commerce industry.
If your firm is partnering up with a BPO company, how long would the contract be? What roles and responsibilities would be put on focus while outsourcing?
This is another factor that needs to be considered as some outsourcing agencies only cut a deal with long-term clients.
Outsourcing timeline
Where do you see your company in five years?
That's a question that account managers may ask you if you consider an outsourcing partnership with them.
Having a vision of what the partnership could look like in the future is always good to have, especially in a big industry like outsourcing and offshoring.
Timezone differences
The whole Philippines operates in the GMT 8+ timezone, so if your company is located in the Western hemisphere, there would be discrepancies with the timezone.
However, most PH-based BPO agents who handle overseas accounts tend to get graveyard shifts to accommodate the operational hours.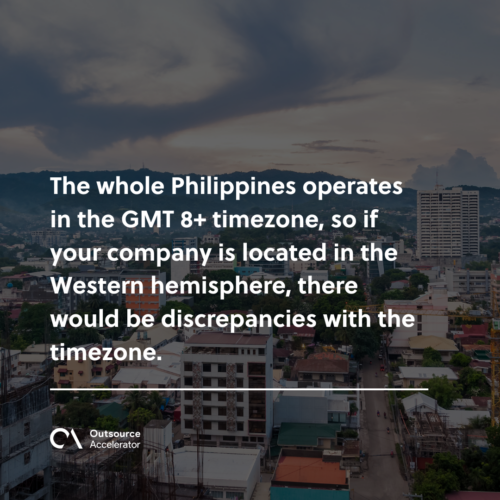 How outsourcing impacts local communities
Cebu is just one of the top outsourcing cities in the Philippines. There's also Makati, Bonifacio Global City (Taguig), Ilo-ilo, and many more.
BPO companies open up opportunities to local professionals in a lot of ways. From job fairs to internship programs for colleges and universities, the impact that outsourcing can have goes beyond their clientele.
This is one of the reasons why LGUs are welcoming to new business process outsourcing agencies. 
Global outsourcing companies help boost the economic status of the Philippines, attracting more foreign companies to invest in the country.