---
---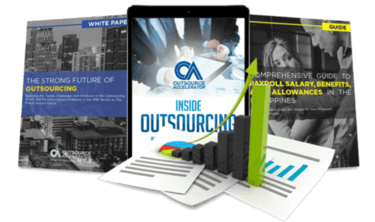 Outsource the right way, the first time
Get up to speed in outsourcing with this all-in-one tool kit
GET YOUR FREE TOOLKIT

PARTNER

PRO
About Six Eleven Global Teleservices
Six Eleven Global Services and Solutions a Philippine organization that provides customer support and other business process solutions to its clients. Formed in the year 2005, the company has developed a strong network of customer experience and engagement specialists who ensure a smoother customer experience for their clients at an affordable cost. The company currently has nearly one thousand employees, spread over two offices, one in General Santos City and the other in Davao City in the Philippines.
Six Eleven Global Teleservices provide a host of services for its clients. Its main services include technical support, boiling down complex technical problems to simple solutions for end users; customer service support, assisting the consumer to use their product or service effectively; booking and order management, helping customer book a plethora of services from airline tickets to hotel rooms to meals delivered to homes; telemarketing services, soliciting new clients and effectively improving the sales of a product or service; and web design and development, providing the client with state-of-the-art web architecture and web applications to gear their firm for the global market.
The company provides operational excellence within the frameworks requested by the client to deliver a service that improves over time and use technology effectively to create a lasting impression for the client.
What Six Eleven Global Teleservices offers its clients
We offer solutions in a controlled working environment for all industry verticals. We target the needs of our clients to outsource work so they can focus more on developing and improving their core business. Our people embrace and love these challenges, because they understand the value we bring to our clients. We've help several clients increase their revenue and decrease labor and operations cost without compromising quality and excellence. We are back up with 100+ years of combined management experience with updated executions based on data analytics and trend.
How Six Eleven Global Teleservices outshines the competition
The most important thing when outsourcing projects is to have specific goals and targets to achieve. We believe that we must always be able to reach if not exceed what is expected from us to have a long term win situation with each and every client. Operational Excellence, Stability, Ability to Scale, Innovation, Analytics, Continuous Improvement and Loyalty to our Customers.
Sample highlight service offering of Six Eleven Global Teleservices
A new win: We acquired a client that is aligned on our goal on improving and understanding data analytics for our customers and providing recommendation for process improvement. Our tasks is to review "all" calls for their clients to help them find areas that they need most help.
A few metrics about Six Eleven Global Teleservices
Services offered by Six Eleven Global Teleservices
Six Eleven Global Teleservices news, podcast and articles
The Source
Sometimes, deciding which tasks to outsource can be a bit tricky especially for startup or…
Six Eleven Global Teleservices videos & images