Outsource to Costa Rica: A quick guide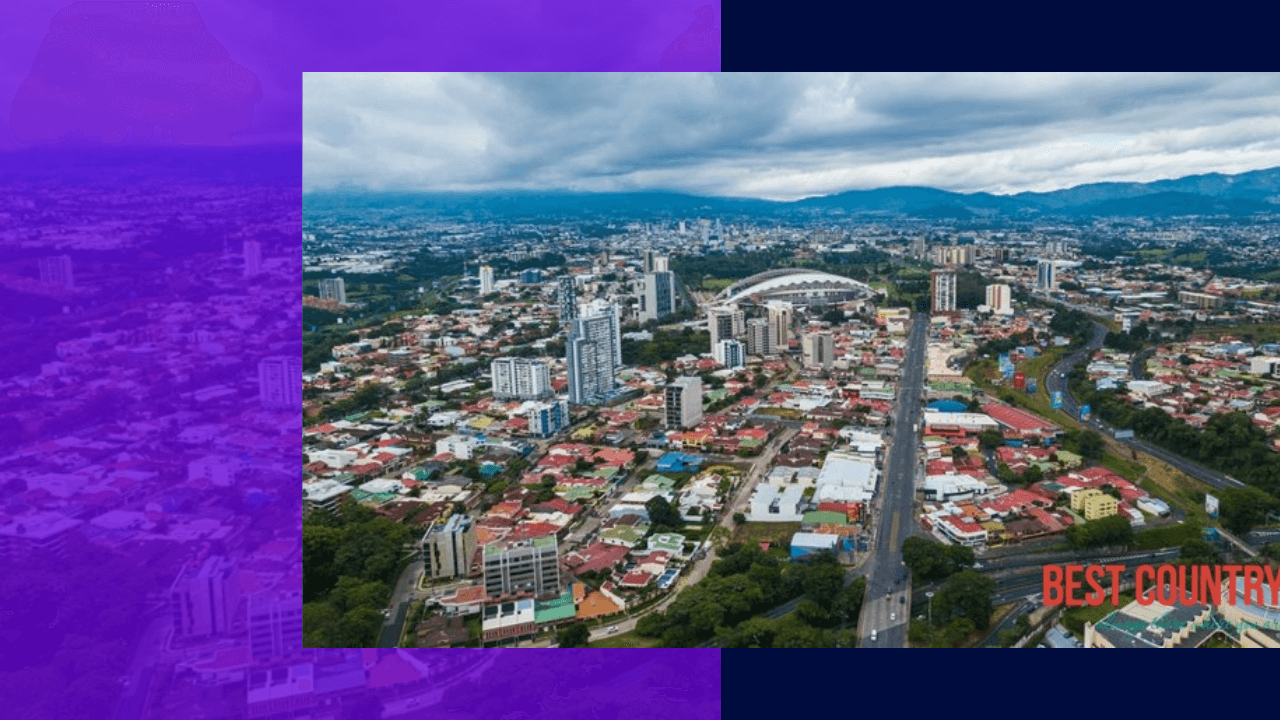 During the big break for outsourcing, Central America rose to be one of the biggest offshoring and outsourcing hubs in the world. 
Companies and major players in various industries raced to outsource to Costa Rica, in the pursuit of staying ahead of the competition. But what makes this Central American nation so appealing? 
Why do companies outsource to Costa Rica?
Businesses often practice outsourcing because of its cost-saving benefit, among many others. 
These apply to most countries; however, Costa Rica amplifies certain advantages depending on the company's location. In particular, companies in American territories can gain an edge when they outsource to Costa Rica.
Lower labor costs
In most third-world countries, labor costs are lower due to lower prices and overall cost of living compared to first-world countries. 
Companies often take advantage of this—especially those in or near North America. To outsource to ​​Central America is to maintain quality without going over their budget.
Predominantly English-speaking professionals
The country has predominantly English-speaking citizens as English is widely taught and used in educational institutions, professional work environments, and even in pop culture.
This ensures that most working professionals in the country can keep up with the pace and requirements of client companies' global operations.
Proximity to major outsourcing countries
Companies and businesses that outsource to Central America are usually based in the US or in Canada. This proximity allows both parties to operate within the same periods and not worry about huge time zone gaps. 
This is also beneficial to Costa Rica-based employees, who can work day or mid-shifts instead of the graveyard hours.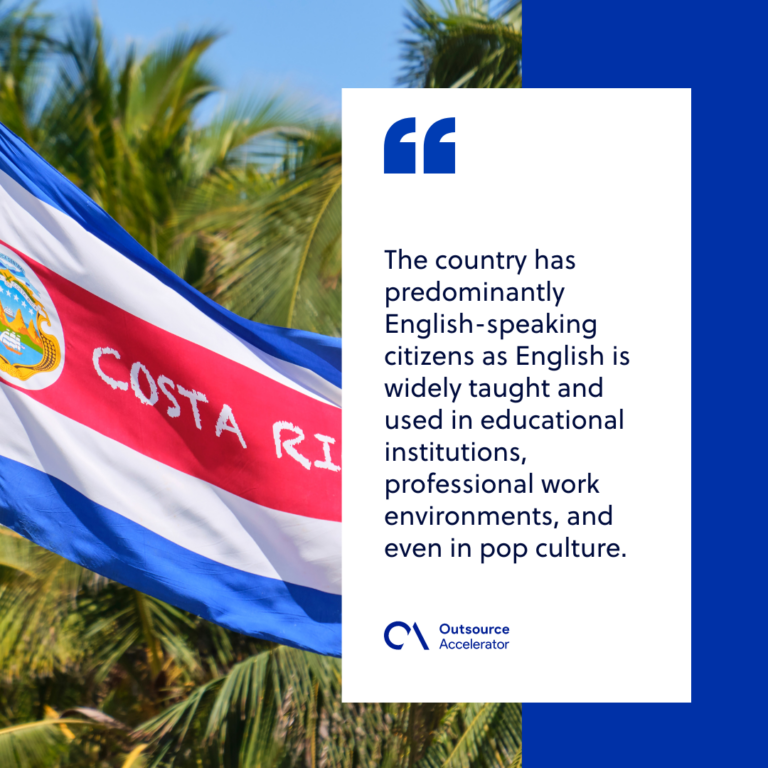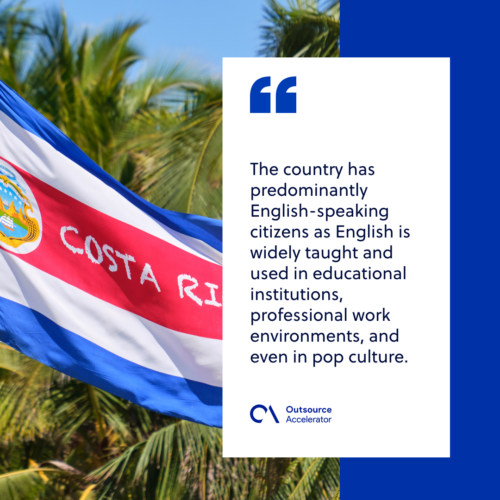 Services that businesses can outsource to Costa Rica
There are many functions that can be contracted to Costa Rica, but we've listed the top services that many businesses outsource to here. That said, you may use this as a quick introduction to the country's outsourcing industry.
Customer services
From phone to email support, rest assured that outsourcing firms can take care of customer care activities in record time.
More often than not, external service providers offer this as one of their main services. This is to be expected as customer service is one of the busiest sectors to ever exist in a company. 
Recruitment activities
The recruitment process outsourcing subsector has been seeing exponential growth. With several industries needing extra hands when it comes to hiring people, it's just natural for businesses to turn to RPO companies.
Recruitment activities are composed of candidate search, interviews, candidate management, and even a full-cycle recruitment process.
Virtual assistance
Virtual assistance has been a lucrative remote job for many people, but some companies have had a hard time finding the right match for their requirements. 
This is one of the reasons why VA companies exist—to guarantee that companies won't have to endure hours of searching for the perfect virtual assistant.
Call center services
Contrary to popular belief, call center services are more than just customer care activities. Telemarketing and telesales are a part of call center services, as well as any other activities carried out over the phone.
Due to the country's population of English-speaking and multilingual professionals, more and more companies are establishing their roots in Costa Rica.
Human resources
HR outsourcing garnered enough attention almost the same time as RPO did. While it might have been hard to get the ball rolling because of different labor laws in different countries, HR outsourcing professionals didn't let that stop them.
From employee administration to basic HR functions, external service providers offer different activities and functions to assist their clients.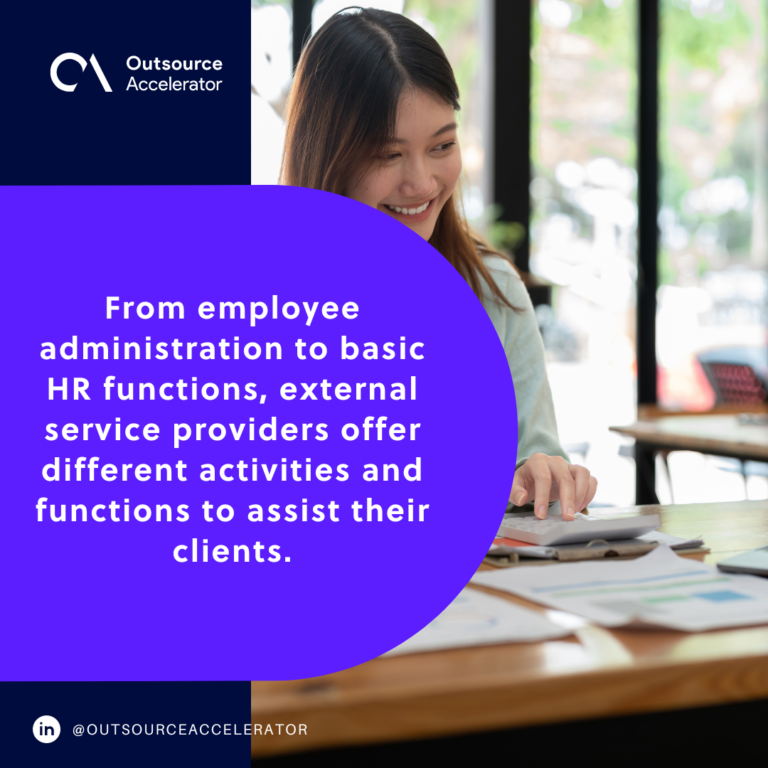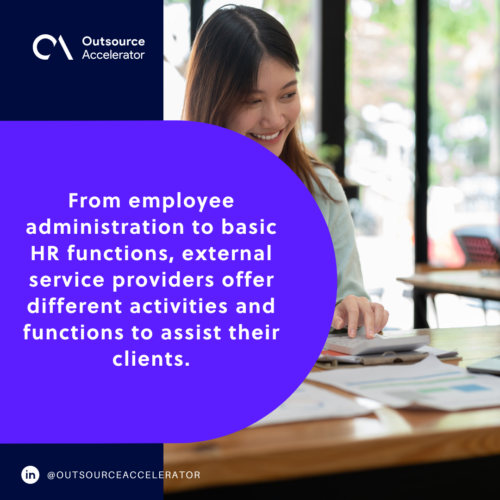 Things to consider when outsourcing to Costa Rica
Most companies practice outsourcing to save resources or expand into new territory. To do so, you have to conduct extensive research and explore your options before settling into a choice.
Any major business decision such as this needs to be studied carefully, as there are a lot of factors in guaranteeing success.
Budget and resources 
While outsourcing is a cost-saving business strategy, it doesn't mean that it comes cheap. Generally speaking, major activities like this can be a bit expensive as it involves a lot of time and effort on the client's side.
If the company's decision-makers aren't sure of the overall cost of outsourcing, it's better to take a step back. Consult closely with the provider to know the options that can match your budget.
Scope of project
Outsourcing can be exhaustive because of its sheer size, but it doesn't have to be. It can also be a seasonal thing, especially if the company only needs help for limited-time projects. 
For instance, industries such as retail often need extra help when the holidays come. Clothing stores may need extra customer service representatives to accommodate incoming inquiries from customers. 
Time zone limitations
As mentioned, US and Canada-based companies often outsource to countries near their timezone to avoid big time zone gaps. This is one of the reasons why Central and South American countries are an outsourcing hotspot for North American businesses.
While time zone limitations can be remedied by adjusting work hours, some clients would prefer that outsourced employees aren't pulling overnight shifts.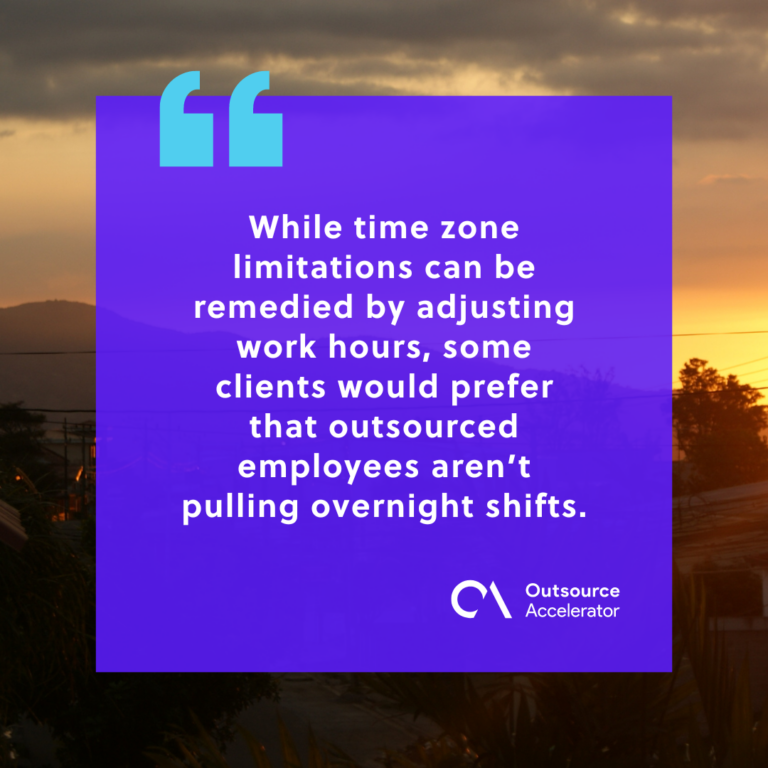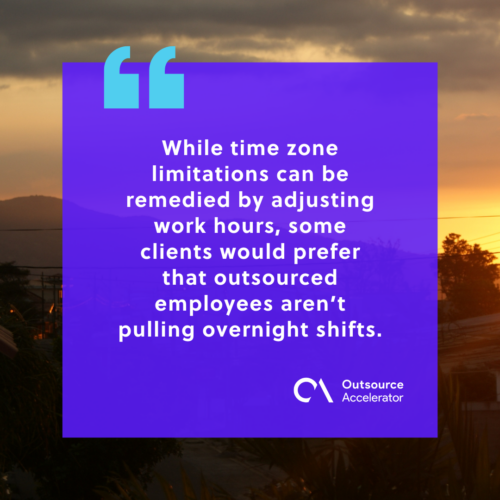 How outsourcing affects local economies
Outsourcing presents so many avenues and opportunities for growth, which is why most countries open up their economies to this business sector. 
When outsourcing companies take root in a suburban area, this opportunity gives local businesses (e.g., food stalls, grocery stores, tourism, etc.) a whole new demographic to tackle. 
With this, even on the smallest scale, external sourcing has always had the power to influence the economy.