How StaffWiz's support specialists can help your travel agency
The global tourism sector is getting back on its knees after two long years of dormancy due to the COVID-19 pandemic.
As travel demand picks up worldwide, travel agencies – especially small ones – can have a hard time coping with the influx of bookings and reservations.
Outsourcing support specialists from offshore business process outsourcing (BPO) firms like StaffWiz can help these travel agencies manage high-volume travel reservations.
It also opens up a lot of opportunities for travel agencies, in terms of cost savings, expanding operations, and improving overall customer experience.
What are support specialists?
Support specialists, or travel support specialists, are professionals trained to provide expert-level assistance to clients making travel reservations.
These professionals are often employed by travel agencies. Outsourcing firms also employ these specialists and lend their expertise to other companies that outsource their staff.
A travel support specialist's skill set is not limited to making flight arrangements or hotel bookings.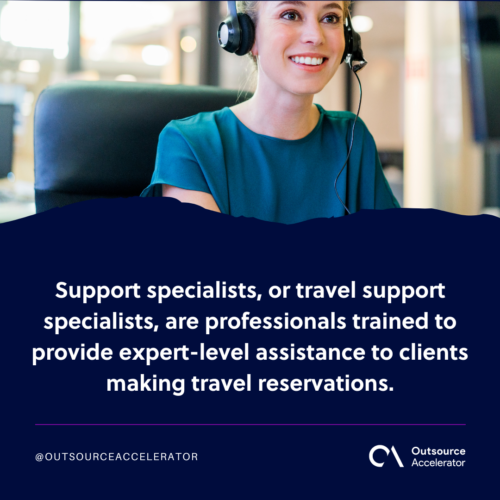 They are also knowledgeable about:
The administrative side of travel agencies

International travel guidelines

Processes like visa or passport application

The best ways to

save money when traveling
What support specialists do
Support specialists handle a wide range of functions and responsibilities for travel agencies.
Their duties include:
Arranging flight, hotel, and car reservations

Handling clients'

queries and complaints

Assisting the visa or passport processing of clients

Providing clients with trip quote calculations that fit their budgets

Issuing tickets, refunds/changes, and invoices

Working with travel reservations systems, such as Sabre Reservation System
Benefits of hiring remote support specialists
Hiring remote support specialists brings plenty of advantages for travel agencies.
These advantages include:
Operational costs reduction
Outsourcing support specialists from offshore BPO firms can help travel agencies save as much as 70% on salary costs.
Aside from labor cost reductions, they'll also save on additional expenses from employee training, equipment, and end-to-end recruitment. Outsourcing firms typically shoulder these expenses on behalf of their clients.
Improved process efficiency
Support specialists outsourced from offshore service providers are well-trained and equipped to handle their clients' existing processes.
These specialists have extensive experience in their fields and are significantly less likely to commit errors in executing their tasks.
Consequently, they'll be able to run processes more smoothly and efficiently than their in-house counterparts.
24/7 availability
Round-the-clock availability is another reason why many businesses choose to outsource staff.
This is particularly helpful for travel agencies as customers can call in at any time of the day. With operations in multiple time zones, it's inevitable that they'll have customers call in outside their office's operating hours.
Remote staff can supplement a travel agency's in-house team with another team that operates during their local office's downtime.
This effectively extends the operating hours of travel agencies, and at a much lower cost than having 24/7 in-house employees.
Easier scalability
Travel demand can peak and dwindle depending on seasonal demands.
For example, travel demand often peaks during holidays and wanes after these peak seasons. Unforeseen events can also cause travel demands to plummet, as seen during the pandemic's height.
Outsourcing support specialists allows travel agencies to easily increase and decrease their workforce depending on present demand.
With access to an outsourcing firm's talent pool, they won't have to worry about going through time-consuming recruitment processes.
Makes global expansion easier
Hiring from offshore BPO puts travel agencies in an ideal position for expanding operations.
Since they'll be tapping into a global market, they can easily increase their market reach into the home country of their partner BPO firms.
Most BPO firms are in offshore locations (in relation to the outsourcers) and give travel agencies access to an otherwise remote market.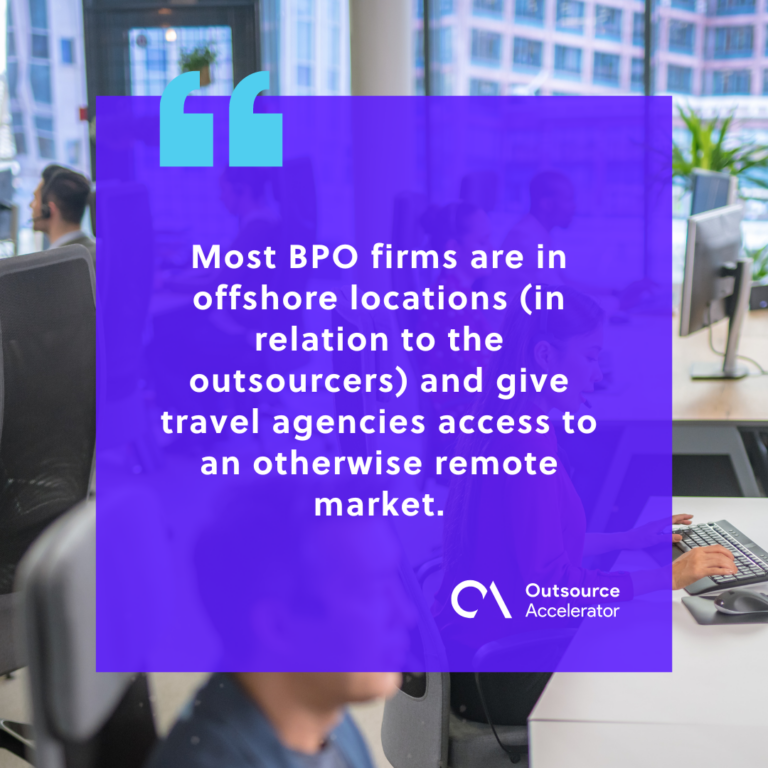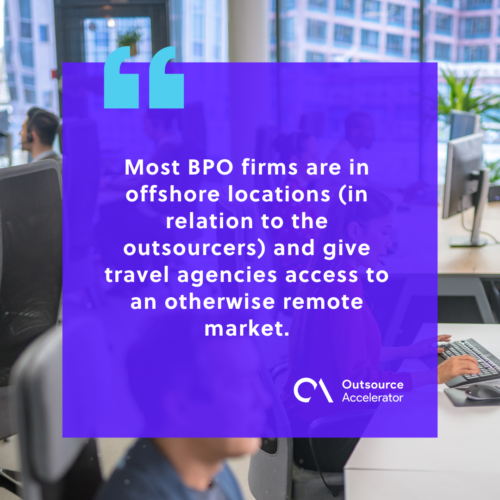 Hire remote support specialists through StaffWiz
StaffWiz can provide your travel agency with skilled travel support specialists that will add value to your services.
This firm's travel specialists are well-versed in using the Sabre Reservation System and are ready to start on the same day they're hired.
StaffWiz also features a wage calculator that can give you an estimate of how much your outsourced support specialists will cost.