How can outsourcing reservations benefit the hospitality industry?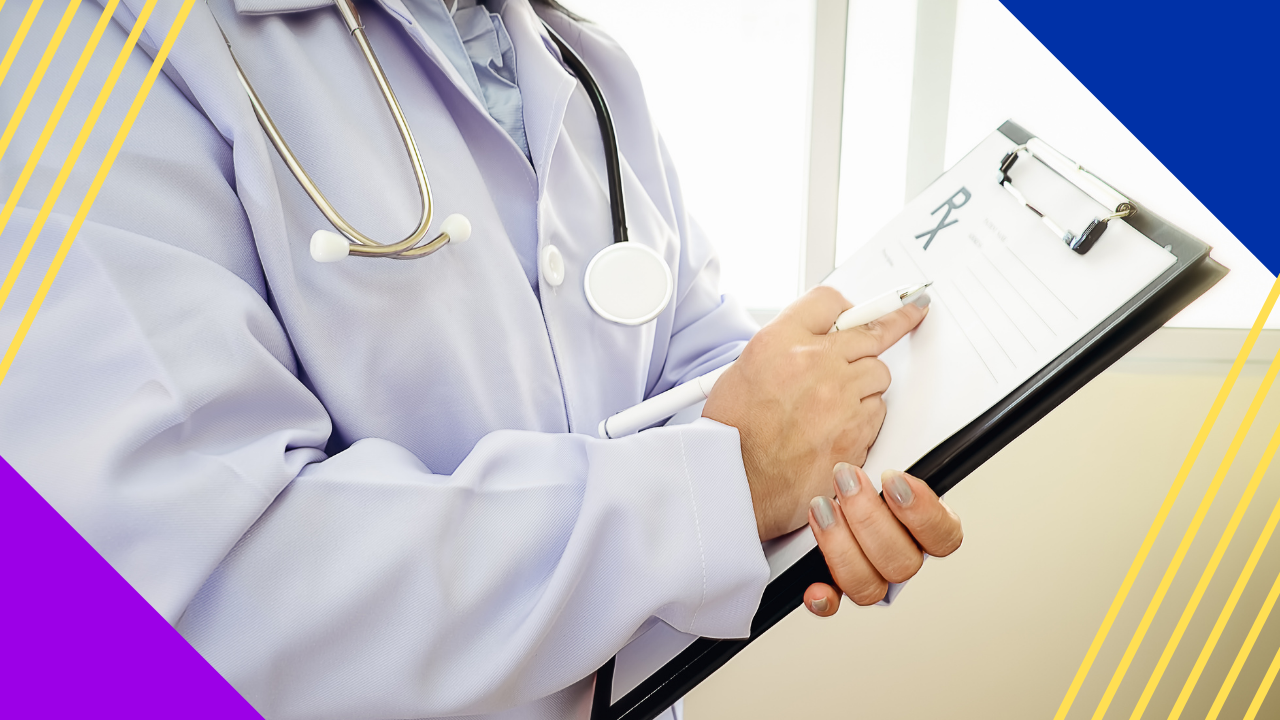 It is no secret that the outsourcing practice has aided businesses across various industries. On top of that, organizations are able to access a wide array of business process outsourcing services aligned with their needs. 
The hospitality industry is indeed among the sectors that have been truly benefiting from outsourcing for the past years. And outsourcing reservations is one of the predominant services that businesses in this sector often acquire. 
The key to a successful outsourcing venture is to partner with a reliable outsourcing provider to cater to your needs. Outsourced, in particular, is a trusted BPO company in the Philippines that provides top Filipino talents, especially in the hospitality field. 
Outsourcing reservations: The state of the hospitality industry
The COVID-19 global health crisis has caused mayhem, especially in the travel and hospitality industry. But now that the global market industry is ready to bounce back from all the restrictions, travel and hospitality sectors are expected to be even more relentless. 
As per the Hospitality Global Market Report 2022, the global hospitality market is anticipated to have a compound annual growth rate (CAGR) of 15.1%. From $3,952.87 billion in 2021, it has grown to $4,548 billion this 2022. 
Companies in the sector have turned to outsourcing to leverage their full potential. At the same time, it allows them to curtail their overall expenses as they are still in the recovery phase and, on top of that, the ever-changing trends and demands as we move forward. 
Customer service, reservations, research and analytics, finance, and accounting are some of the leading business processes being outsourced at present. These functions will help you attain economies of scale while you enhance your overall efficiency.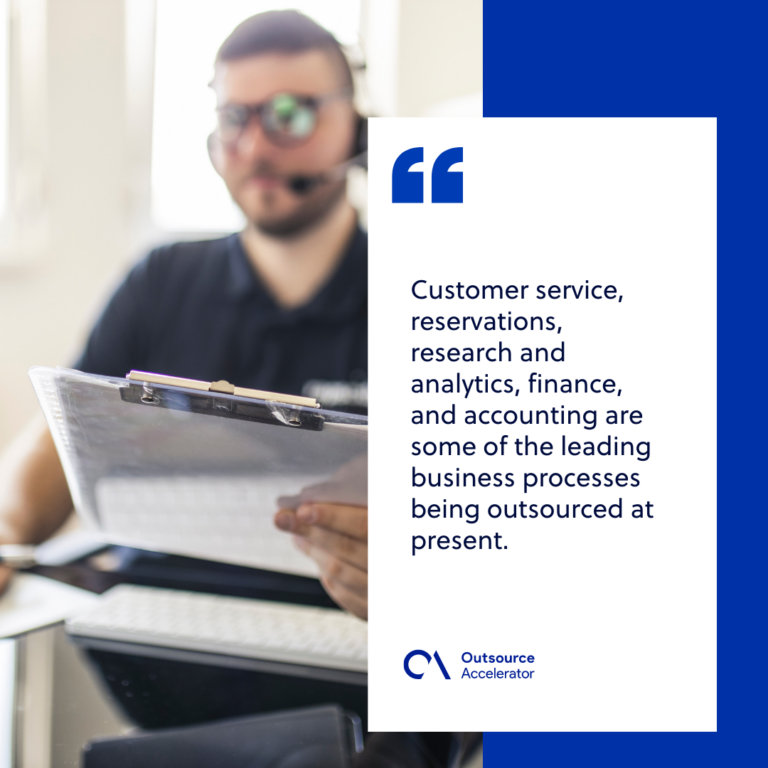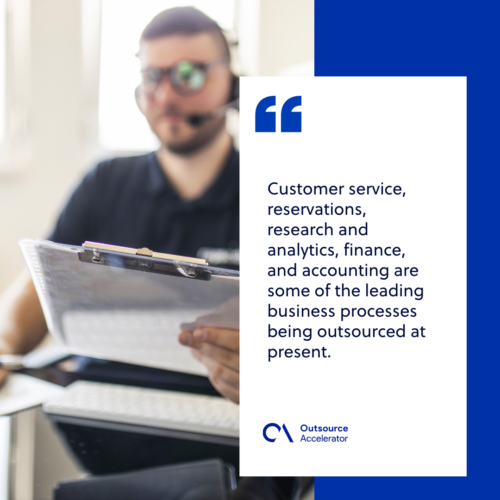 Outsourcing reservations: Current challenges in hospitality
Yes, outsourcing, in general, has been proven to be an effective strategic practice. However, what mainly urged a lot of organizations in this sector to outsource is the following: 
Strong competition
As nations all over the world start to ease border restrictions, there will be a rise in demand for travel and tourism. At the same time, an influx of global travelers is also awaiting the hospitality sector. 
Outsourcing services like reservations will relieve you of repetitive and time-consuming tasks, thus allowing your in-house team to focus on more important parts of your business. 
Technological necessities 
Technological innovations today are continuously changing the way organizations do business. For one, consumers are now able to book reservations anywhere, from different devices. 
Big data and cloud services are just two of the current tech demands that businesses in the hospitality industry should adopt. Unfortunately, not everyone has all the right resources to do so. And this is why more and more organizations outsource to pacify their tech requirements. 
When you partner with Outsourced, for instance, you can take full advantage of the latest technologies and a robust infrastructure. 
Customer loyalty demands
A lot of businesses fail to meet customer satisfaction as they do not have a proper understanding of their customers. Outsourcing your customer-facing functions lets you work with experienced professionals who have in-depth knowledge about customer service. 
And this is also applicable to outsourcing reservations. This means you will be hiring specialists who are well capable of properly addressing your customers.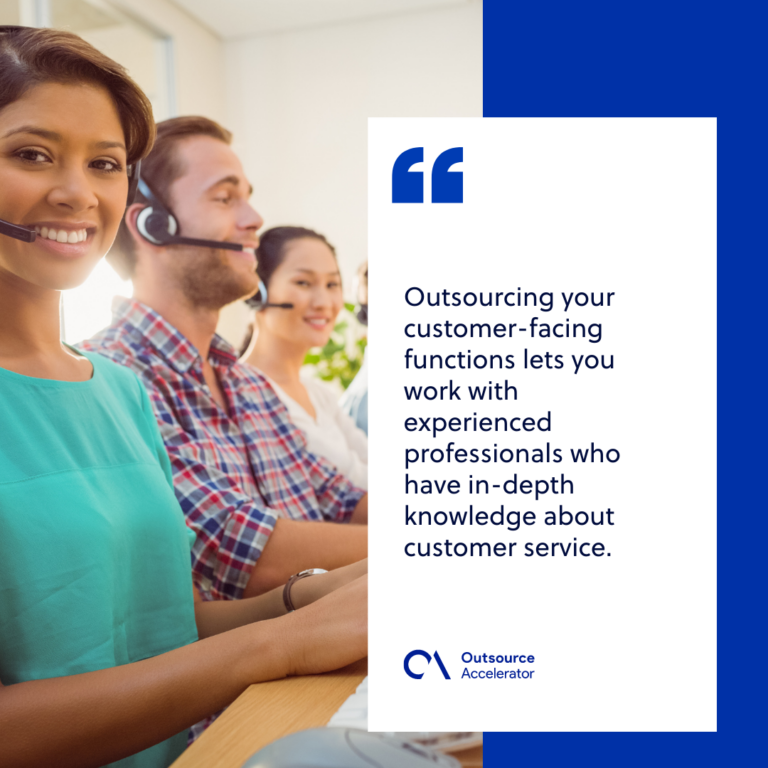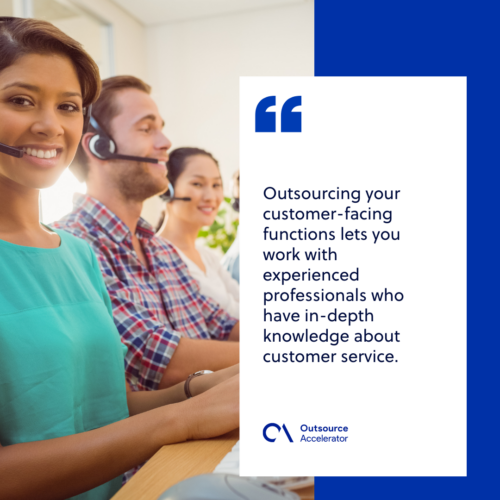 Benefits of outsourcing reservations to Outsourced 
If you are in the hospitality industry, you may already be thinking about acquiring outsourcing reservations services. 
Partnering with Outsourced gives you the following advantages: 
Improved customer experience 
Outsourced has skilled and well-trained reservations agents who are more than capable of ensuring that your customers' needs are met. 
More so, these agents are also proficient in performing cross-selling and upselling techniques. These are also effective ways to cater to your customers' needs proactively. 
High-end service quality 
Outsourcing reservations with Outsourced does not only mean that you will be hiring seasoned talents. Outsourced has top-of-the-line infrastructure and facilities. 
This reputable BPO services provider offers seamless and exceptional outsourcing reservation services that lead to customer satisfaction. 
Risk management 
Whether it's peak season or off-season, you should expect reservation volume fluctuation. Outsourcing reservations staff with Outsourced will give you a flexible and scalable solution that will help you save compared to hiring locally. 
24/7 reservation agents
And lastly, Outsourced can build you a team of reservations agents that can effectively respond to your customers 24/7. 
Get in touch with Outsourced and hire your remote reservations team today!