How to outsource customer service the right way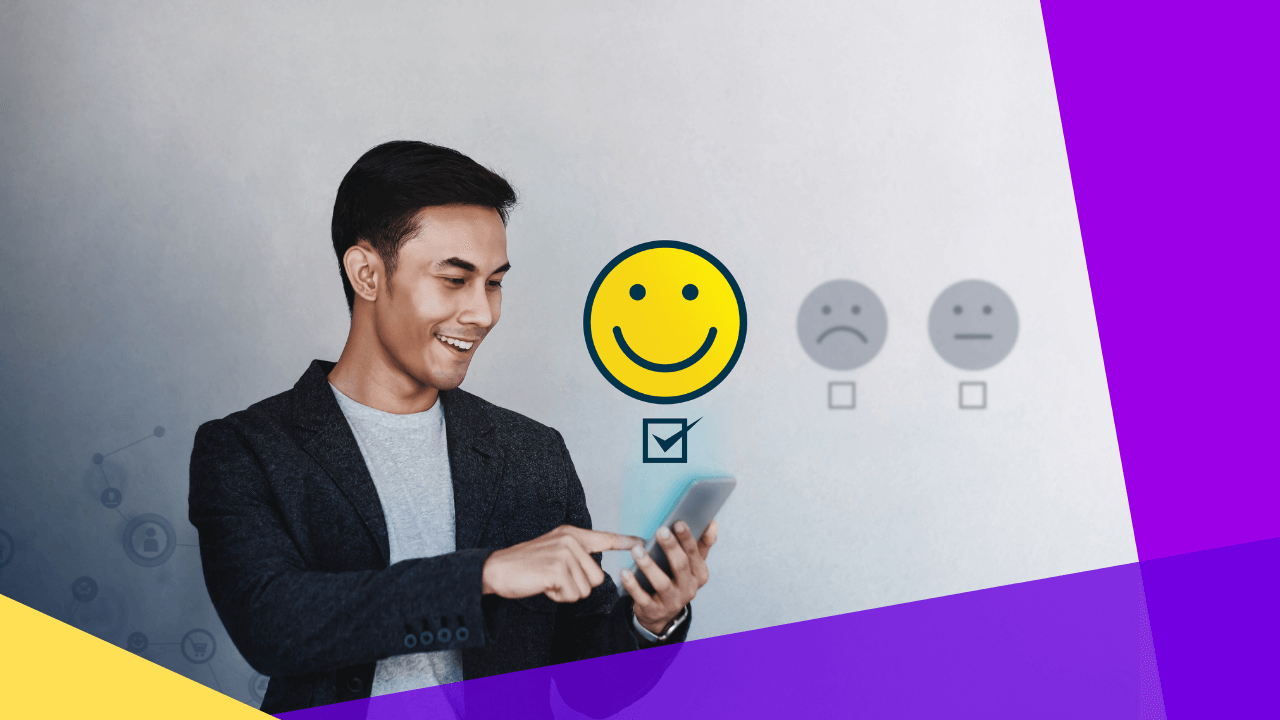 To outsource customer service activities isn't a new trend for businesses. It has been that way since globalization made its way into each and every industry on the planet.
What started as an idea blossomed into a business model that allows companies to save up resources.
Outsourcing customer service
Outsourcing any department will create an internal wave of excitement, new learning curves, and an adjustment period for everyone involved. That being said, one of the most commonly outsourced departments is customer service.
But what does that mean?
Since consumer service is a busy department, companies need employees by the handful. From handling inquiries to resolving issues, the department never sees a boring day. With that many requests coming and going, businesses need to expand teams to meet the demand.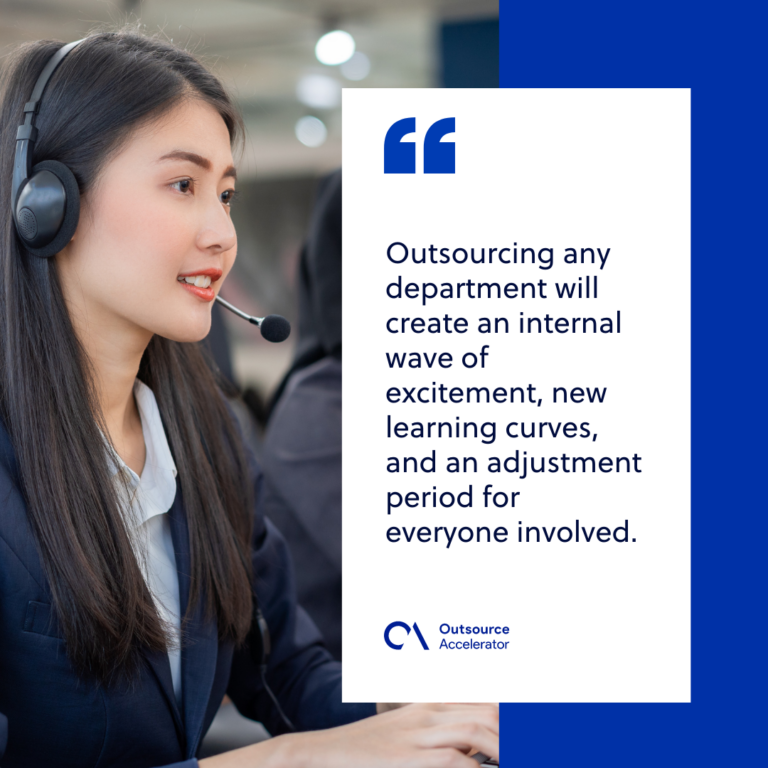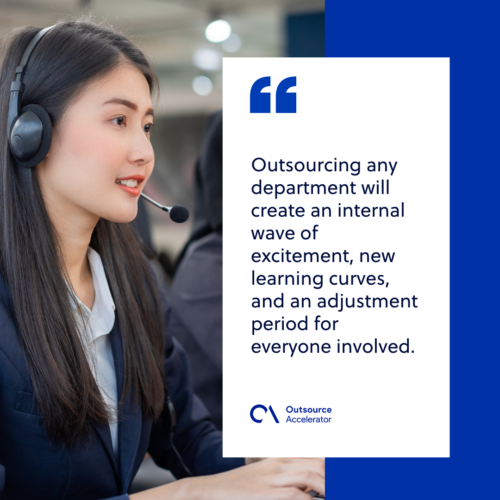 Why do companies outsource customer service?
As previously mentioned, companies outsource customer service to save resources. While outsourcing isn't entirely "cheap," it helps businesses save resources in the long run.
Internal employees cost more compared to external outsourced employees. For instance, internal employees need benefits, insurance, and mandatory allowances on top of cash-convertible sick leaves.
On the other hand, organizations only pay outsourcing companies the active seats. 
Technically speaking, employees of outsourcing companies work for their clients but are under (legally) the outsourcing service provider.
One hidden benefit of outsourcing
There's no surprise that outsourcing has a lot of benefits, but there's a trade secret going around too.
The secret: Outsourcing allows businesses to tap into the foreign talent pools.
Companies that outsource have better access to worldwide talents and applicants as they open their doors to countries beyond their own.
Pros and cons of outsourcing customer service
Like any other business model out there, outsourcing customer service has its advantages and disadvantages.
But, there are things that management—and employees—can do to combat the negative effects of outsourcing. Having a clear and transparent definition of success can help employees stay focused when working with an outsourced team.
Another thing businesses must keep in mind is ensuring the reliability of their outsourcing partner. In this regard, consider outsourcing thru SixEleven, one of the Philippines' leading outsourcing firms.
Pro #1: Better coverage area
Most outsourcing companies that provide consumer service support can handle multiple countries in one go. If a business is located in the US, outsourced employees will adjust according to their operational hours.
That's one of the reasons how outsourcing companies can provide better coverage. Their working hours are flexible enough to cater to their clients.
Pro #2: Low-cost labor
Developing countries are a hotspot for outsourcing companies as the general labor market is lower than their developed counterparts.
That directly ties to paying active seats at a lower cost than hiring an internal team member.
But that being said, lower labor costs don't necessarily mean slave labor. In developing countries like the Philippines, their standard of living is more inexpensive than in, say, San Francisco or Los Angeles.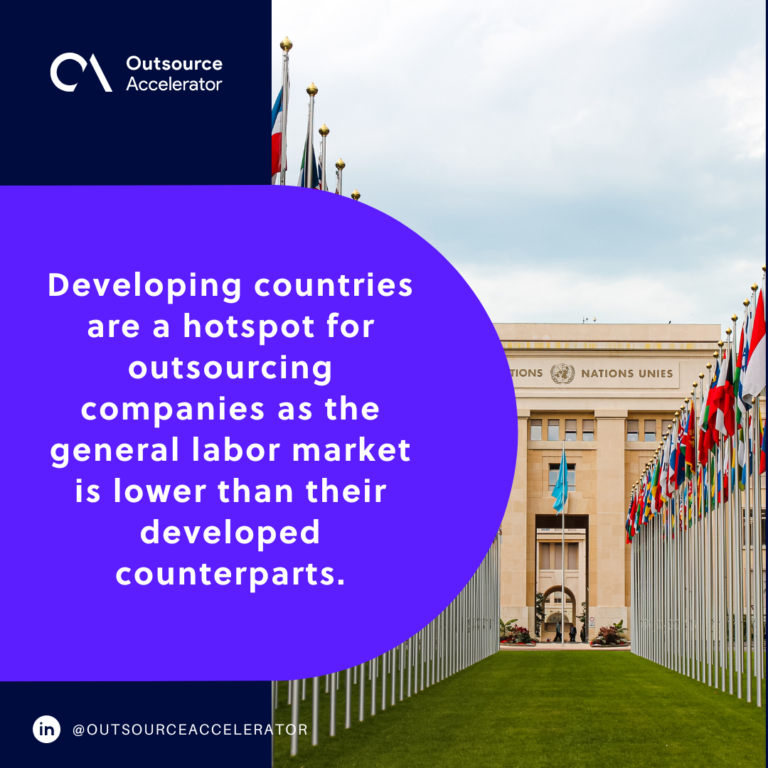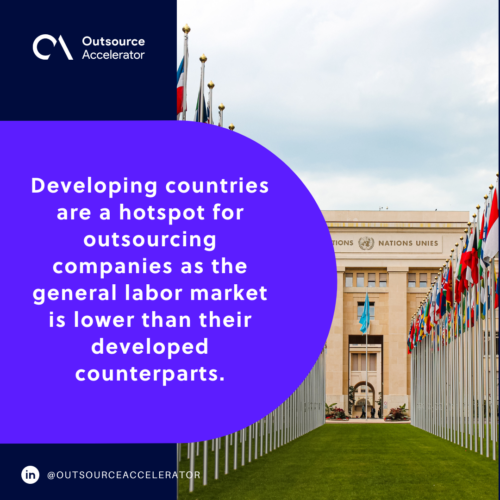 Pro #3: Multilingual support
With diverse employees and a somewhat distributed workforce, multilingual support has never been this easier.
Every corporation that has touched down in multiple countries would want a support department that understands the local dialect.
With an outsourced support team, these brands can acquire talents that can speak the language—thus, widening their reach in that locality.
Con #1: Low local brand awareness
Low local brand awareness is a problem, especially when the parent company isn't as well-known in the local industry. 
Most companies who outsource inevitably expand operations into the country of their choosing. Usually into the territory of the outsourcing company since they already have the insight.
Con #2: Language and accent barriers
Some patrons may feel off-put when they hear a service representative speaking in a heavily accented voice. Since parent companies can't really control which outsourced employees they work with, this may lead to a lower customer satisfaction rating.
To combat this, outsourcing organizations train their employees in communication – especially those who are put on voice campaigns. 
Customer service trends
These current trends in the service industry are emerging daily; it may be risky to ignore them. While running a business means plotting out original ideas, one thing to consider is to stay on top of trends.
Staying trendy might mean that businesses have to push campaigns that are somewhat similar to their competitors. But it all boils down to execution and the reception of the intended audience.
The same goes with service industry trends. Research has shown that different generations interact differently with consumer service representatives.
Omnichannel support
Omnichannel or multichannel support is not a new trend. However, it's still on the rise as more and more customers demand accessibility when it comes to reaching out to service reps.
The younger generation of millennials and generation z are more inclined to email, chat, or text support hotlines rather than calling. On the other side of this argument, they tend to call only if the issue is persistent and time-sensitive.
Chat
Chat support is one of the most popular channels that provide (in some cases) instantaneous support. Some channels may have a queuing system if many people are trying to reach representatives all at the same time.
Email
Email support is an underdog when it comes to omnichannel mediums. Most companies are very responsive to email support, while smaller businesses have difficulty keeping up with incoming emails.
One way to combat this is to allot more people into the department.
Phone
Phone support is undoubtedly one of the most famous ways of reaching out to customer support specialists. Not only that it is instantaneous, but also the issue can be resolved in one sitting.
This medium is too stressful for some consumer representatives, so companies and business process outsourcing firms often profile and sift through employees for voice campaigns.
Knowledge bases
Online knowledge bases are a self-serve form of customer service. With these, patrons can see basic information, guides, how-tos, and articles about the issues they are experiencing. You can find frequently asked questions here as well.
Multi-platform integration
When it comes to better customer service reach, nothing says like that other than multi-platform integration.
From the company's website to its Facebook page and Instagram account, patrons should be able to reach out to them no matter where they're accessing the pages.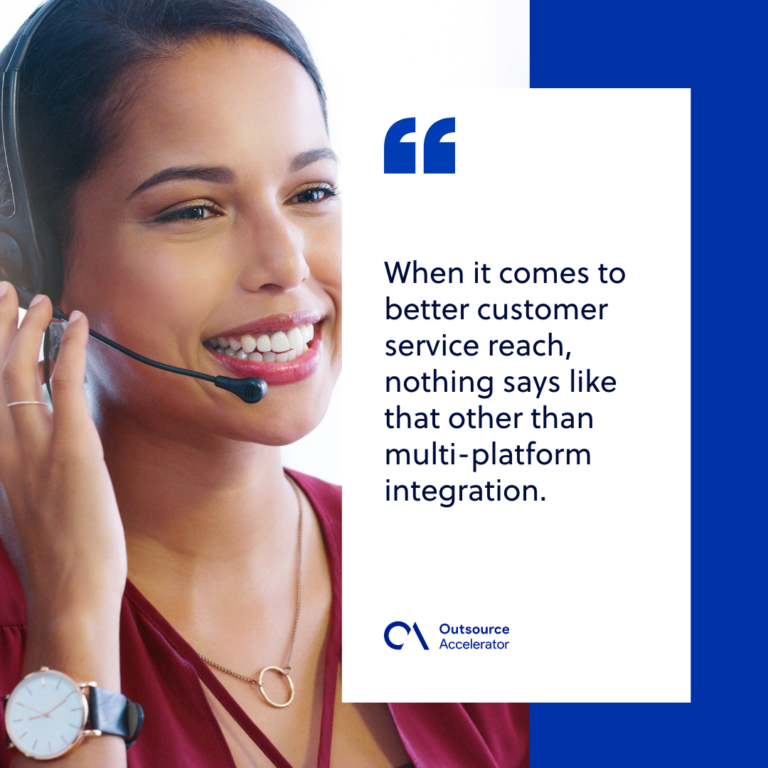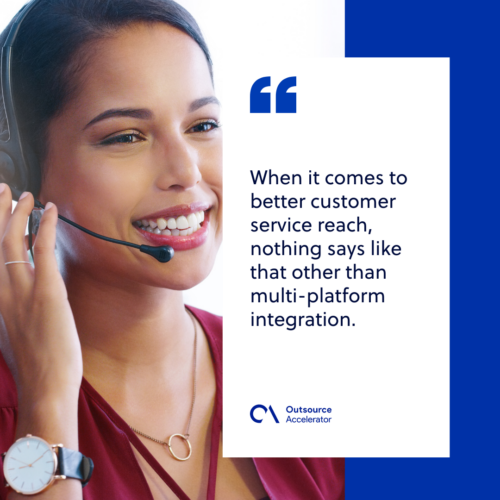 The consumer service trifecta: support, satisfaction, experience
The customer service trifecta is made up of customer support, customer satisfaction, and customer experience. These three are what encompass the whole support department.
As most know, customer support is the practice of providing solutions and answers to issues and inquiries. Most, if not all, companies want their support rating to be at least 95%, as this reflects on the culture and how competent their employees are.
Customer satisfaction pertains to the rating the businesses get in accordance with how their consumer support agents—in-house or outsourced—treat incoming tickets. Companies usually conduct an after-support survey to gauge the customer's level of satisfaction after the transaction.
Customer experience is the general "feel" (sensory and metaphorically) that consumers have with the company, the brands, and the employees. CX may encompass everything from the physical product to marketing strategies and support. 
While it's a broad term, CX is one of the most important parts of the service culture. Analyzing data from CX will help companies and businesses see areas of improvement and loopholes in the system.
Whether a company has outsourced customer service or kept it in-house, these things should still be kept intact, updated, and maintained. The key to a successful business is transparency to customers and employees alike.