Fill your sales pipeline through outbound appointment setting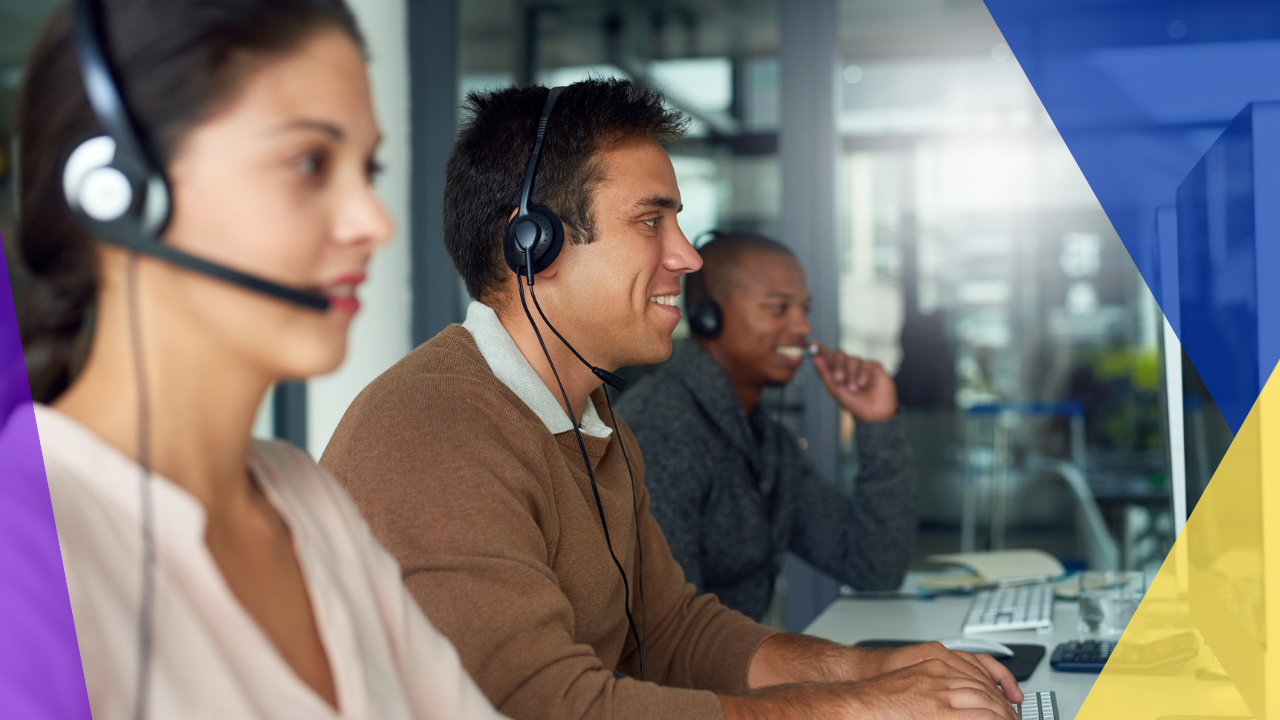 Corporate leaders are getting busier in building trust and credibility with various networks and potential clients. 
Because of these, some critical parts of their functions might struggle to keep up in meeting their business requirements. This is where the outbound appointment setting comes in.
Defining outbound appointment setting
Outbound appointment setting is the way to go in targetting new business prospects[1] through brand awareness campaigns. This type of lead generation entails making outbound calls to potential customers and scheduling a meeting with a salesperson. 
Businesses utilize outbound appointment setting for various reasons, best explained through facts:
Follow-up

– appointment setters may assist companies in ensuring that leads are followed up on time. Additionally, potential consumers are reminded to avail of a service or products offered by the company.

Appointments

– outbound appointment setting ensures that businesses can book appointments with potential customers and that those appointments are met.

Conversion

–

appointment setting

can help to ensure that leads are converted into customers by providing a personal touch and helping to build relationships.

Timely

– the sales team can contact leads promptly or during the client's most convenient time.

Scheduling

– businesses hire appointment setters to ensure that the outbound calls are delivered efficiently and avoid schedule conflicts.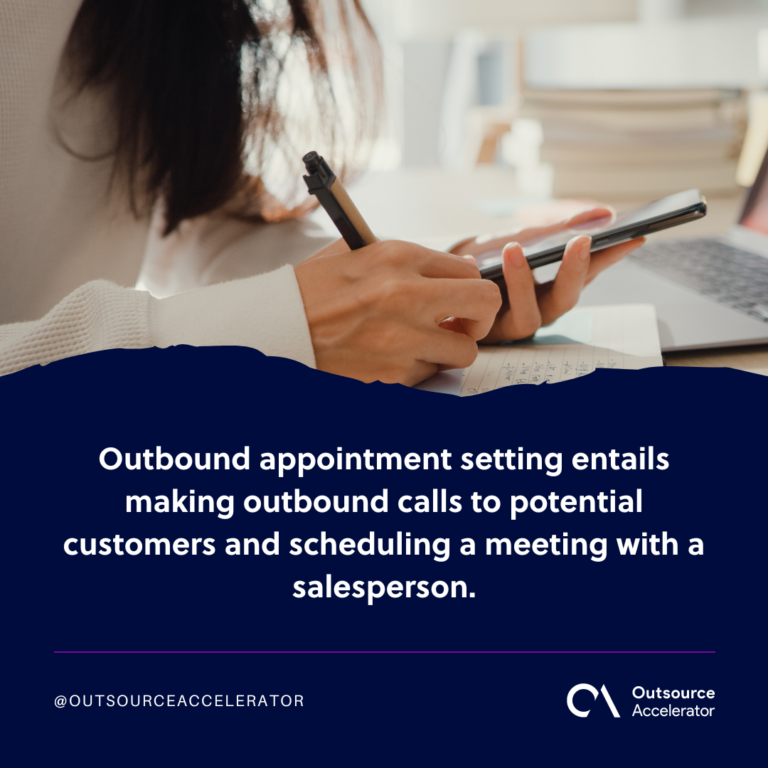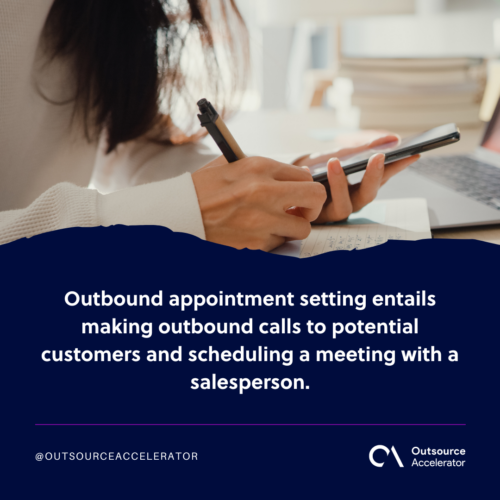 Outbound appointment setting vs. Lead generation
The purpose of appointment setting is to bring your company in front of numerous new clients so that you may form new connections or make sales.
On the other hand, lead generation is the second stage of the inbound marketing strategy. And booking appointments is not part of lead generation.
Instead, cold calling and networking are the usual methods to execute the lead generation method for B2B sales communication.[2]
Both outbound appointment setting and lead generation entail speaking with potential clients. But appointment setting goes further by placing a date on the calendar and determining when you will contact the prospect.
2 effective outbound appointment setting methods
Here are the two effective outbound appointment setting methods both sales teams and appointment setters can use to reach potential customers:
1. Personalization
Adapting your outbound efforts to your target audience's requirements and interests is one of the approaches to outbound appointment setting.
Personalization allows sales teams to tailor their approaches to each client. Appointment setters may accomplish this through data analytics.
A personalized approach is also a way to make the whole process easy to understand by the consumers. Remember, one of the most crucial things buyers want is a seamless experience. 
2. Customer relationship management (CRM)
Using a CRM system helps appointment setters with the following: 
Manage customer data

Track customer interactions

Automate processes
It also helps to streamline the outbound appointment setting process — making reaching out to potential customers and scheduling appointments easier.
Importance of outbound appointment setting
Outbound appointment setting is a critical component of any effective sales strategy.
It enables you to develop relationships with potential clients, better understand their needs, and generate a pipeline of prospects.
An appointment setter may reach out to potential leads with interests relevant to the company's offerings through an outbound appointment setting. This ensures the success of your sales process by taking the time to call potential clients and plan meetings.
Outbound appointment setting can also assist firms in concentrating their efforts on more effective techniques, increasing their ROI.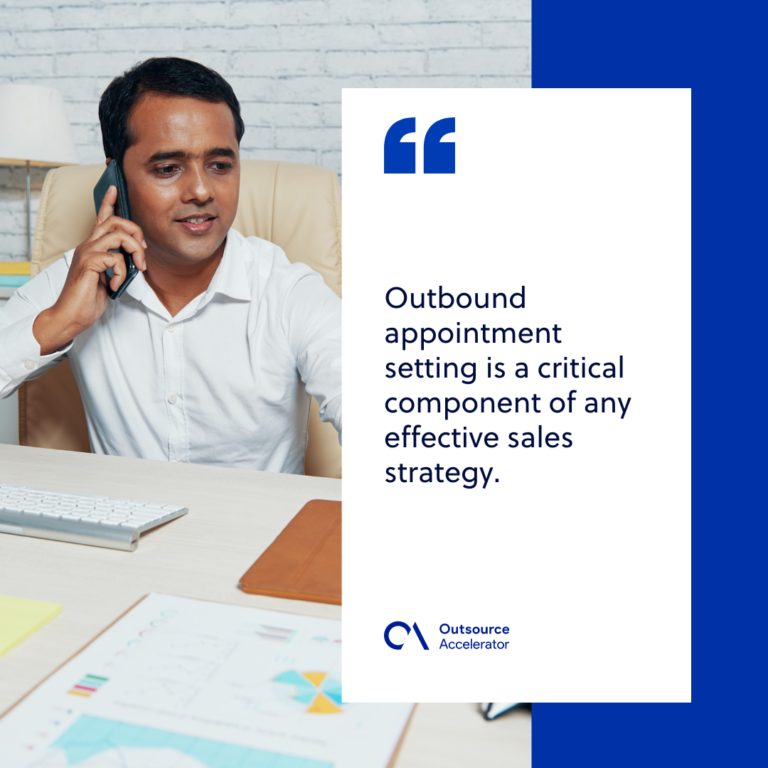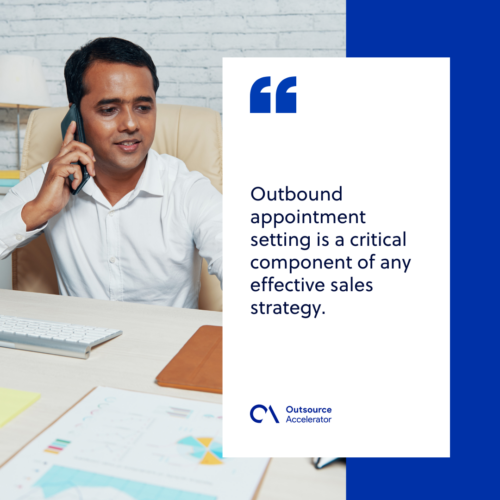 Outbound appointment setting as a selling advantage
The critical mission of outbound appointment setting is to help convert the prospects from neutral to positive about the products and services offered.
To explain further, here are some ways that show how an outbound appointment setting can help businesses reach their sales goals:
Generating leads
Through outbound appointment setting, firms are able to form relationships with prospective clients and establish a more personal connection. In turn, it can lead to long-term partnerships.
Building relationships
As mentioned, sales teams may create long-term connections with prospects using the outbound appointment setting method. This can also result in a loyal client base and increased sales.
Enhancing brand awareness
Outbound appointment setting contributes to establishing a solid bond between the brand and the client, which may lead to improved brand recognition. It also provokes a sense of urgency and drives consumers to act.

Use outbound appointment setting to your sales advantage
A successful outbound appointment setting approach will rely on the unique sector and target market from the initial call — through closing a deal.
But it is also important to note that adding new outbound marketing professionals, such as appointment setters may be expensive. Outsourcing outbound appointment setting services can be an alternative to revitalizing the sales funnel.
Furthermore, businesses may win the customers' brand loyalty by taking a proactive and planned approach through an outbound appointment setting.
Article references:
[1] Targetting new business prospects: Makrides, A., Vrontis, D., Christofi, M (2020), "The Gold Rush of Digital Marketing: Assessing Prospects of Building Brand Awareness Overseas." Sagepub Journals, Journal of Business Perspectives and Research, 2020, Vol. 8 (1) pp. 4-20. doi: 10.1177/2278533719860016
[2] B2B sales communication: Koponen, J., Julkunen, S., Asai, A., (2019). "Sales communication competence in international B2B solution selling." ScienceDirect, Journal of Industrial Marketing Management, 2019, Vol. 82, pp. 238-252. Doi: 10.1016/j.indmarman.2019.01.009