Maximizing business operations with an appointment setter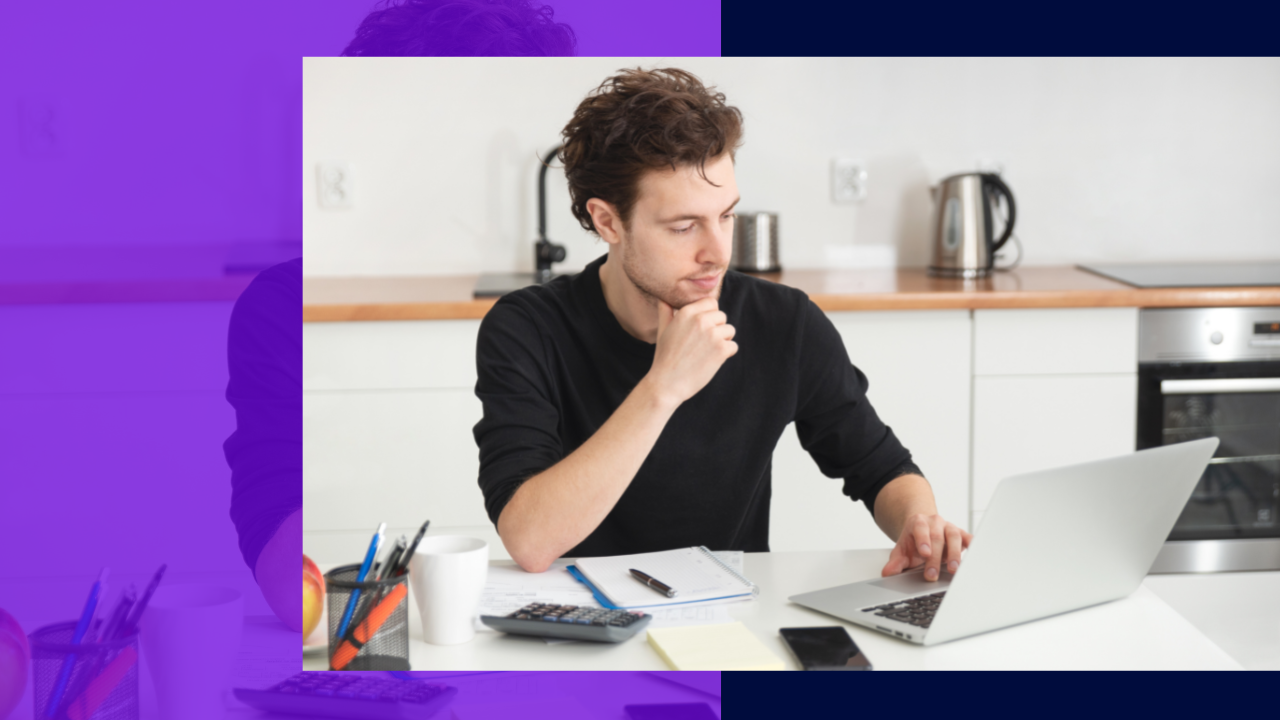 Sales conversion is one of the toughest tasks in any industry. It takes a lot of effort, patience, and time to deal with various clients to get them to agree to a certain arrangement. 
In fact, not all employees have the skills and capabilities to consistently call clients, pitch proposals, and convince them to buy.
The good thing is that appointment setters can do the job faster, better, and more accurately.  An appointment setter usually works under a remote setup. 
They operate online and hit their quotas for the businesses they work for. With the growing industry of independent contractors, some often lack an understanding of the real nature of their responsibilities.  
This article will explain everything about an appointment setter, the benefits, and the traits that companies should look for when hiring for this role. 
What is an appointment setter?
An appointment setter is a contracted individual who works anywhere in the world without meeting the company they work for. 
Appointment setters help large and small companies secure schedules with potential clients. 
The nature of their job is closely related to that of a sales lead setter. However, the only difference is that they just schedule appointments.
But to say that an appointment setter just schedules an appointment is a huge understatement. They can also perform other tasks such as:
Email management 

Customer service
Hence, appointment setters are highly skilled individuals who can operate independently and drive huge sales appointments for the businesses they support.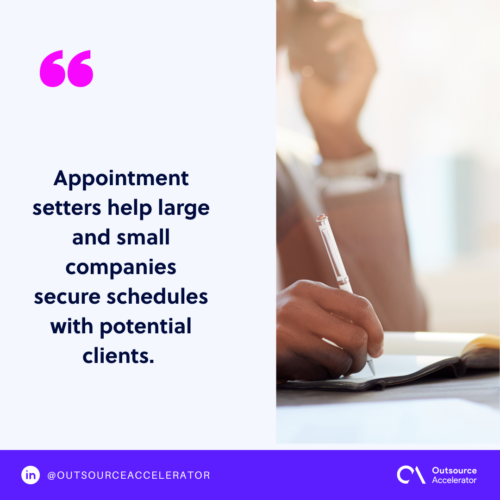 What does an appointment setter normally do?
To be more specific, appointment setters usually are tasked with the following:
Regular cold calls to clients

Plotting schedules and rescheduling of appointments

Lead generation

Follow-up calls to leads

Liaising for the company but limited to providing a general overview of the company

Discuss the products and services of the company they represent

Manage and troubleshoot the conduct of meetings 

Assists business to do more by taking other laborious tasks
Benefits of hiring an appointment setter
Outsourcing an appointment setter provides a lot of advantages, especially in the scaling of small and large businesses. 
Some of the most common benefits are:
Better usage of time 
Delegating most of the labor and resource-intensive tasks to an appointment setter can free a lot of time for business owners. 
In-house staff can focus more on strengthening the organization's core competencies. They can allot more time to develop fresh ideas or projects that can lead to the growth of the business. 
At the same time, operations become a whole lot more efficient. There will be no repetitive tasks, and the in-house employees can come up with strategies to close more leads. 
Salesforce support
An accomplished and skilled appointment setter can complement and support the sales team. 
Experienced appointment setters can design tailor-fitted scripts and email pitches that best reflect the interests and goals of the enterprise. Incorporating these into the needs and preferences of the potential client makes it easier for the sales team to close deals.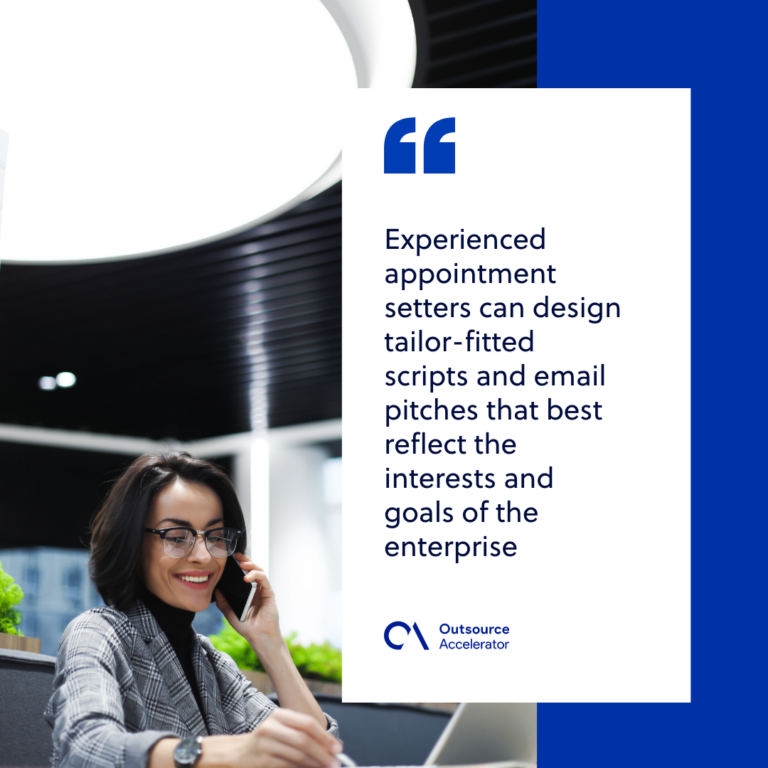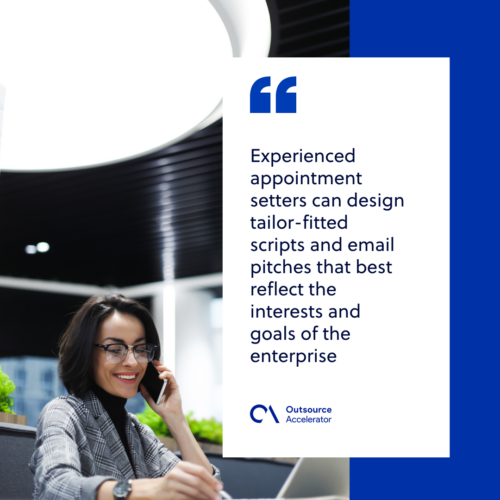 Better, efficient staffing solution
An outsourced appointment setter costs lower than employing in-house talents. Expenses intended for insurance, office space, and employee benefits can be invested in other projects and initiatives of the company.

This way, the company can save more profit in the long run. Lastly, with the remote working arrangements, it is easier to set expectations that virtual staff can imbibe and adapt. 
Actively promoting the business
Marketing a business is not an easy thing to accomplish. With the increasing number of competitors in the market, clients have more options to choose from.
But with a skilled and organized appointment setter, this can be managed. Their experience in cold calls and active outreach can effectively help promote the business. 
Clients are getting used to the usual marketing pitches and looking for something that can excite and pique their interests. Appointment setters can provide this missing link. They can also position themselves as buyers and identify the potential pain points the product or services can resolve.  
What to look for in an appointment setter?
Outsourcing the right appointment setter that fits a business's requirements is critical. First, the company invests and trusts most of its sales to a single person. 
If this appointment setter fails, the sales will also be negatively affected. Hence, experience is the most important factor in choosing an appointment setter. 
With the demanding job of cold calls and actively pitching, an experienced appointment setter can manage the pressure and compose himself under stress. This will ensure that sales are secured, and at the same time, the clients are happy. 
Another important factor would be familiarity with business concepts. Marketing, though not technical, has its own rules and language. An appointment setter well-accustomed to marketing concepts will find it easier to fulfill the responsibilities. 
Ultimately, an excellent appointment setter is trustworthy and can fulfill the job well.