10 Best cold calling software for sales professionals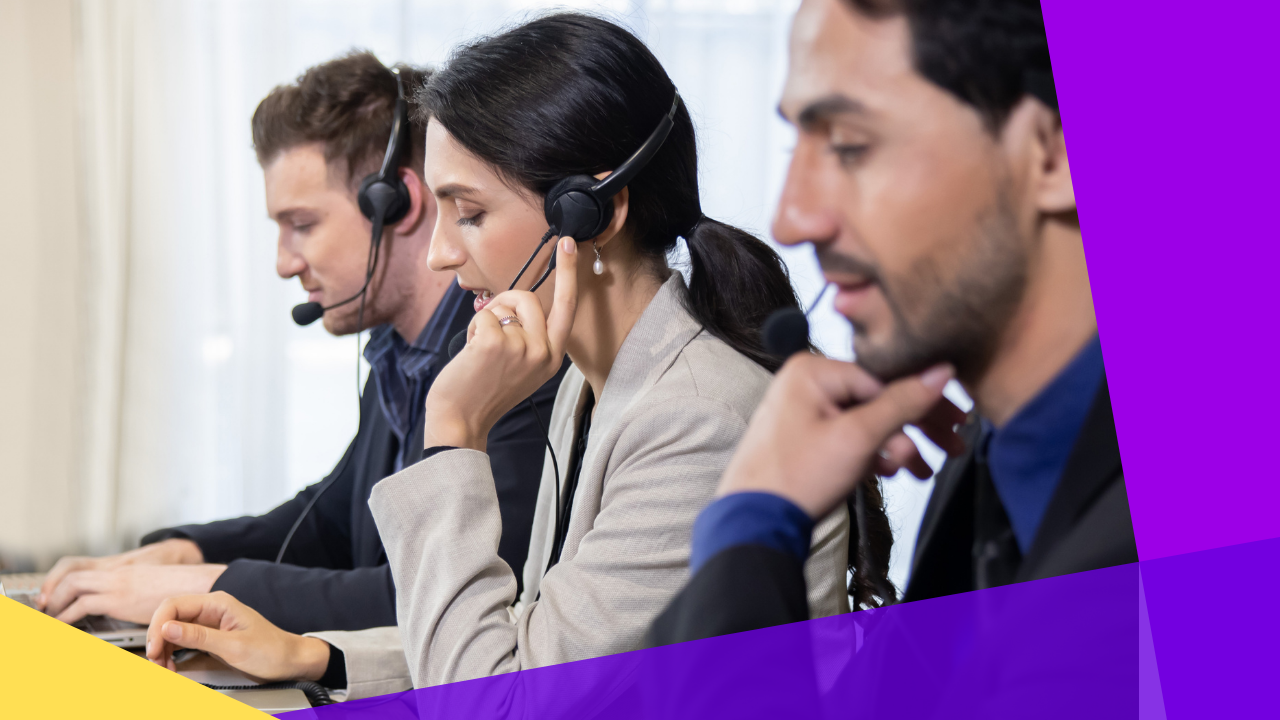 Before the digital disruption that brought search engine and social media marketing, customers were traditionally hard to find. There were just a few ways to market your services, and one of the top ways to create product awareness was to get in touch with prospects by phone.
In the world of sales, a "click to call" option is often preferred over a traditional "cold call" for reaching potential clients more efficiently.
Cold calling may seem outdated as many marketers have switched to online platforms.
However, with the right systems and strategies, cold calling is still as effective as before. That is why many companies still utilize cold calling software in their marketing strategies.
What is cold calling?
Cold calling is the act of making a call to a prospective customer you haven't previously established a relationship with. It is often followed by an email or a follow-up call to discuss your product or service in detail.
The term cold calling is also referred to as solicitation via phone or telemarketing. However, it can also take on the form of face-to-face interactions, a common example of which is traditional door-to-door selling.
In modern times, companies invest in software to create and manage cold calls. Cold calling software gives your sales staff the tools they need to make cold calls, manage leads, and track sales activity.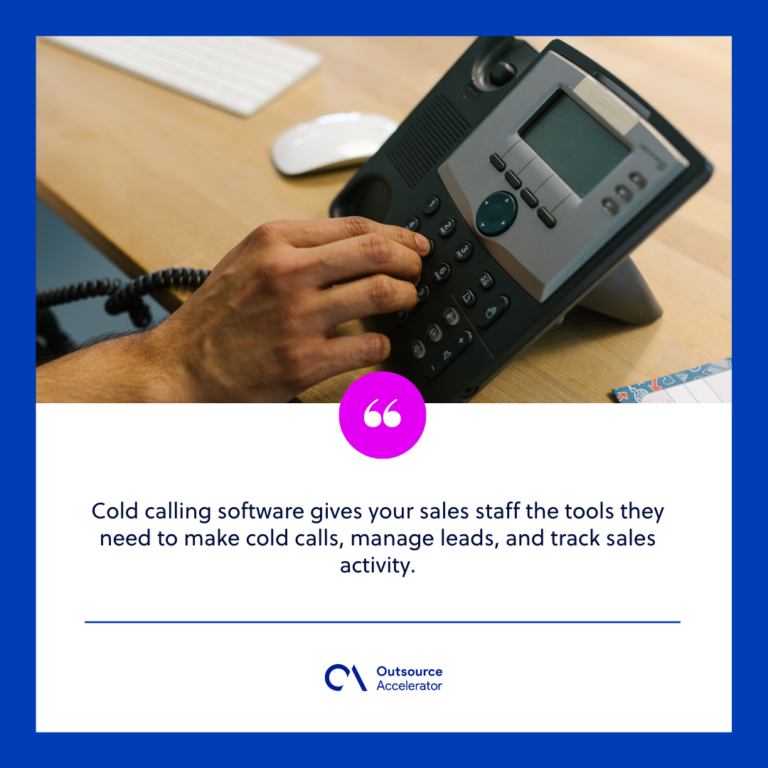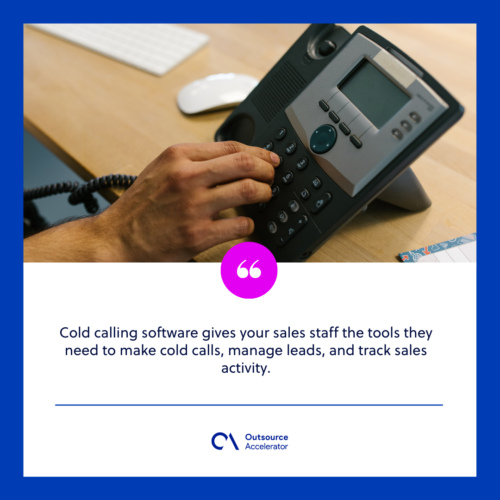 The advantages of using cold calling software
Cold calling software is a productivity tool for sales that helps increase the number of engagements by cold calling.
Here are the advantages of utilizing cold calling software:
Train new sales employees
When it comes to new sales agents, cold calling is an effective training method. It allows them to perfect their sales pitch by repeatedly practicing it.
Once they've had enough interactions with potential customers, they can get feedback and make adjustments to their pitch as necessary.
Get discovered by new clients
Even if a person isn't actively looking for your offerings, they will become aware of your business through cold calling.
The main objective of cold calling is to find and reach out to new potential customers who need your product or service.
Gain business insights
If you're not sure why some aspects of your business aren't functioning as they should, cold calling software can conduct analysis and gather information. For example, cold calling software can reveal if you are contacting the right people.
When you know exactly what the issue is, you can start working on the solution right away.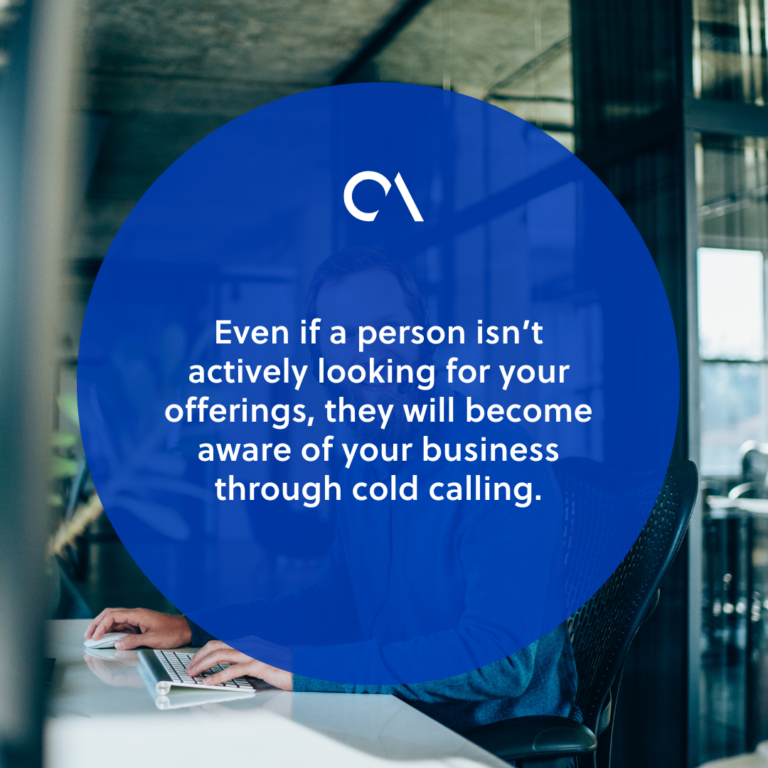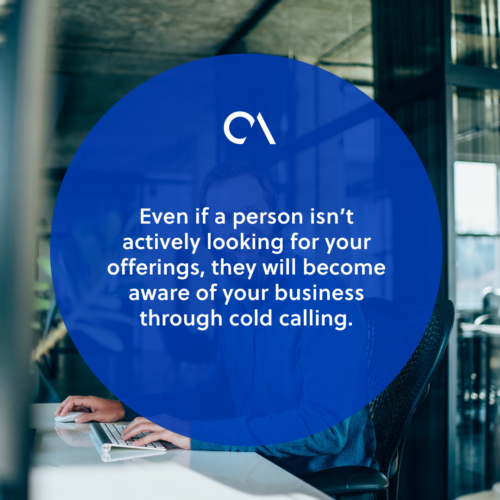 Essential cold calling software features
Your sales staff should be able to make cold calls more efficiently with the help of cold calling software, which tracks sales activity related to call performance. Contact centers that do cold calls take advantage of the following features.
Automated dialer
Cold calling software features such as an automatic dialer allow agents to make calls quickly. Automatic dialers can either route a call to a live agent or play a pre-recorded voice.
The majority of cold calls go to voicemail or get disconnected, and it can be time-consuming for agents to go through each of them. With an auto-dialer, a call will only be transferred to the agent once it's connected.
Likewise, auto-dialers can also assist prospects in connecting with agents. This feature makes the interaction straightforward and simple.
Phone system
Phone systems use interconnected telephones to provide advanced telephony services. Their functions include call handling and transmissions, and conference calling.
Most phone systems are geared toward call centers, but they also offer solutions to sales teams specializing in outbound calling.
Call recording
Call recording is critical to keep track of calls. Recorded calls are useful to teach new employees, verify prospect information, and assure high-quality calls from your team.
The call recording feature can identify the procedures and conversations that are having a negative impact on your business.
Call analytics
If you want to know how effective and efficient your sales team is, you should look into the call analytics feature. While CRM metrics allow you to link sales activity to prospects, call analytics can help you assess the overall success of these phone-based interactions.
If you have call records, you may evaluate the effectiveness of your scripts or the strategies used by different members of your sales team to close deals with prospects.
Tools for multi-channel outreach
Multichannel outreach is the process of reaching, connecting, and interacting with prospects across several channels. This cold calling software feature is perfect for large and medium-sized sales teams. It is helpful in planning meetings through phone calls, emails, and social media activities.
Connection with your CRM
You may construct an effective lead conversion system by integrating your CRM into your cold calling software. With CRM integration, it will be easier for your salespeople to track new leads as they come in and focus on them.
Best cold calling software list
Your sales staff will benefit from different types of cold calling software. Here is the list of the best cold calling software available in the market.
In terms of call outreach, VanillaSoft has a lot to offer as a sales engagement platform.
VanillaSoft is known for its lead management software and its ability to analyze cold calling campaigns effectively. It can be a major resource for sales managers who seek to conduct outbound campaigns.
Using numerous channels to find new customers is easy with the help of the HubSpot sales hub. It is software for sales outreach integrated with HubSpot's main CRM. 
HubSpot offers all the features you need for content management, sales, and customer service in one place.  
For marketers who are prospecting through a variety of channels, Close CRM software offers an end-to-end solution. Depending on the plan you choose, you can get everything from call recording to automatic dialers and conversation intelligence.
Their basic package offers access to services such as call forwarding and sending and receiving text messages when cold calling.
With RingDNA, salespeople are guided on making the most of their cold calling process, which drives productivity. RingDNA has a significant advantage over the competition as it offers nearly every function a sales representative may need. 
If having the ability to record calls and collaborate with others is vital to you, you should look into Aircall. To keep your entire team on the same page, Aircall offers a shared inbox where representatives may add notes to calls, allocate calls to colleagues, and create assignments for one another.
When it comes to task automation, Toky is one of the best choices. It encourages representatives to keep up their lead research on LinkedIn or other online sources, as well as pay attention to what clients need when they do connect.
However, because of the limited number of connectors available in Toky, you'll probably have to use a third-party app to complete your integrations.
RingCentral Engage Voice is the cold calling option for you if you want built-in CRM connectors. It's an outbound calling solution for sales teams, with scripting features, campaign management, and dialing options.
Besides the cold calling features, RingCentral interfaces with a variety of CRM systems, allowing you to manage all of your team's communication channels in one place.
Myphoner is a lightweight CRM that can handle all of your call outreach initiatives, including cold calling. The Myphoner cold calling toolbox includes lead tracking, lead routing, power dialing, lead segmentation, and other basic calling functions.
Kixie PowerCall allows call center agents to make calls anywhere and even dial numbers from spreadsheets and websites. 
Besides cold calling, this software also has capabilities such as voicemail drop and call recording. It also has an AI-powered local presence and reporting insights.
Dialpad Sell is Dialpad's version of cold calling software. It offers an all-in-one business communication solution for sales teams. The integrated AI can gather real-time recommendations and prompts to count complaints.
Dialpad Sell has made its mark as an AI-driven solution for sales teams, with features that benefit both the management and the employees.
Tips for successful cold calling
Once you've chosen the cold calling software that best suits your needs, keep these tips in mind to be more successful in cold calling:
Plan when your prospects are most likely to pick up the phone.
When you're on the phone, build on the points in your script.
Make use of open-ended inquiries to gather additional information.
Don't take it personally if a potential client refuses to entertain you.
Ultimately, your goal is to stimulate their attention until they are convinced of your ideas.