The power of omnichannel commerce in modern businesses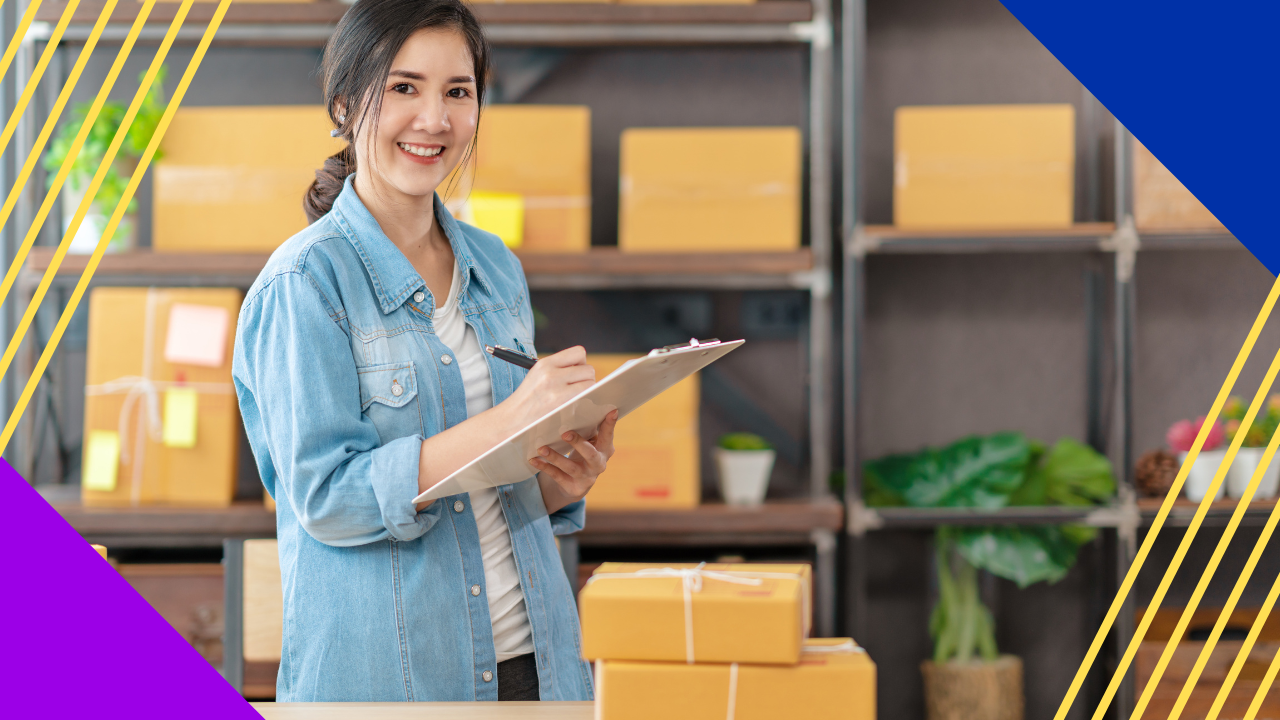 The power of omnichannel commerce in modern businesses
As more people turn to online stores to fulfill their shopping needs, omnichannel commerce becomes increasingly important. 
While not as high as the numbers seen during the pandemic, online retail still made up 15% of total retail sales in Q1 of 2023. This is according to data from the US Department of Commerce Census Bureau. 
Many brands have even moved beyond simply having an e-commerce site. Mobile formats, apps, and social media pages now also serve as viable platforms for online shopping. 
While omnichannel commerce isn't a new concept, it has boomed as more brands take advantage of the flexibility of the internet. Consumers have also grown more demanding, wanting to interact anytime through any device. 
This has led companies to adopt omnichannel commerce to meet those needs. 
What is omnichannel commerce? 
Omnichannel commerce is a business model offering a seamless shopping experience through multiple channels. Customers can receive the same experience regardless of whether they purchase online or in-store. 
It's a way for retailers to target people through numerous touchpoints and also includes automated processes between different sales channels. These combinations make everything easier for the customer. 
Omnichannel commerce is one of the most important trends in e-commerce today. It's necessary if a brand wants to stay competitive and attract more customers.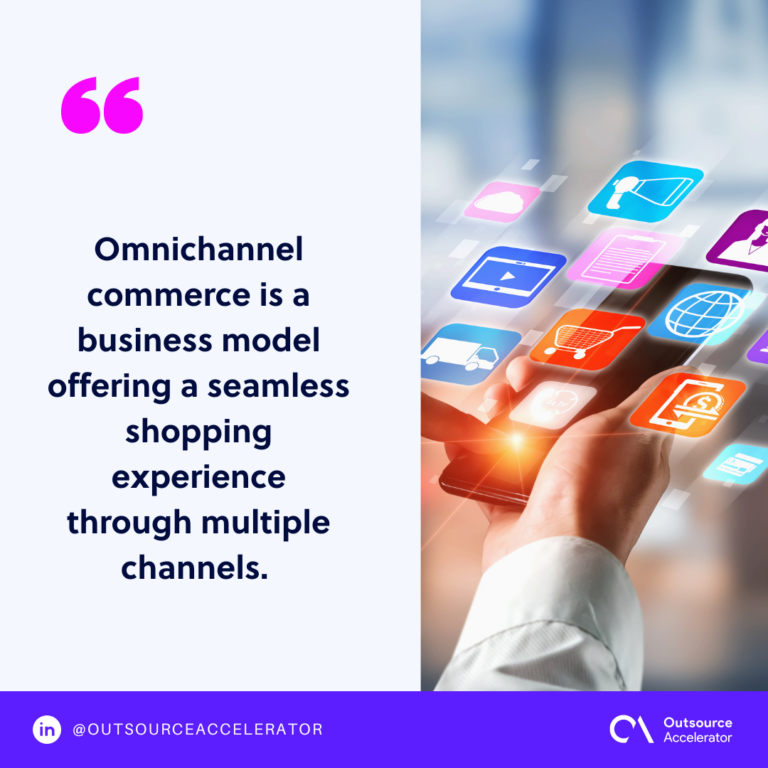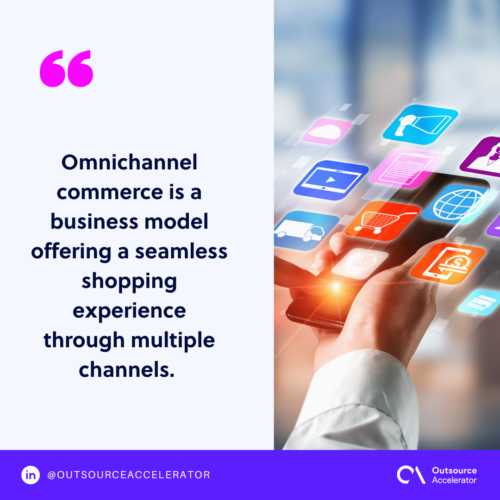 Difference between multichannel and omnichannel commerce
Perhaps unsurprisingly, omnichannel and multichannel commerce are frequently used interchangeably. Both bring to mind buying and selling through different means, especially online. 
However, there are subtle differences in their practices. And in the end, it all comes down to the level of engagement. 
Omnichannel commerce
Omnichannel commerce refers to the company's ability to provide a consistent customer experience across multiple channels. 
Whether it be social media, mobile apps, websites, retail stores, or even call centers, the service should remain at roughly the same level. 
Omnichannel commerce is primarily termed a business strategy. More attention is given to tracking a customer's behavior as they move between channels, all to provide better service. 
Multichannel commerce
Multichannel commerce, on the other hand, simply refers to a brand's ability to use different channels to sell its products and services. It includes any combination of online and offline sales channels. 
Multichannel commerce is simply a marketing tactic. It doesn't go as far as omnichannel commerce to provide the same experience across different media. Simply having items available both online and in their brick-and-mortar store is sufficient. 
Why use omnichannel commerce?
Why should companies use omnichannel commerce? It should be enough of an answer to say, "Because customers prefer it!" but let's look into the reasons one by one: 
Personalized customer experiences
In omnichannel commerce, the customer is at the heart of every step of the journey. They have the sole choice of when, where, and how they would like to shop. 
It's important for customers to feel that their needs are being met and they're treated as individuals. Omnichannel commerce caters to this by leveraging their data across all touchpoints to deliver personalized experiences. 
People will receive relevant offers and notifications at the right time to satisfy their needs. 
Boosted customer loyalty
The more ways you can interact with your customers, the more likely they will become repeat customers. This likelihood grows if they have a consistent experience with your brand. 
This is because they feel valued when they're serviced well. Your brand becomes one they can trust, and this matters because approximately 65% of a company's revenue comes from repeat buyers. 
Consistent brand message
A consistent brand message lies at the heart of omnichannel commerce. Your customers should be able to interact with your brand without major changes in behavior or expectations. 
Generally, people want to connect with brands the same way every time. This requires consistency across channels. Even a small hump in your unified brand message can cause doubt.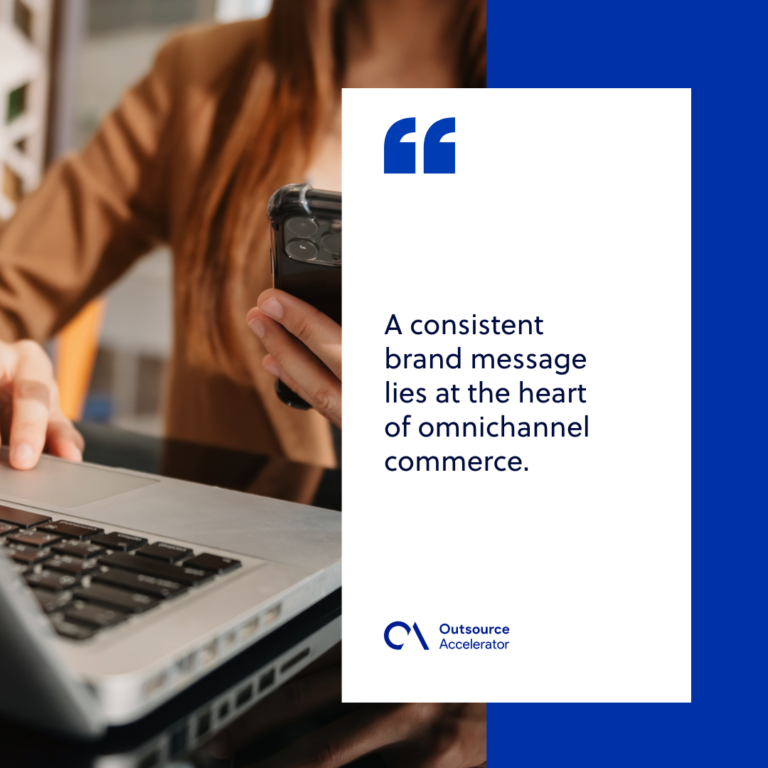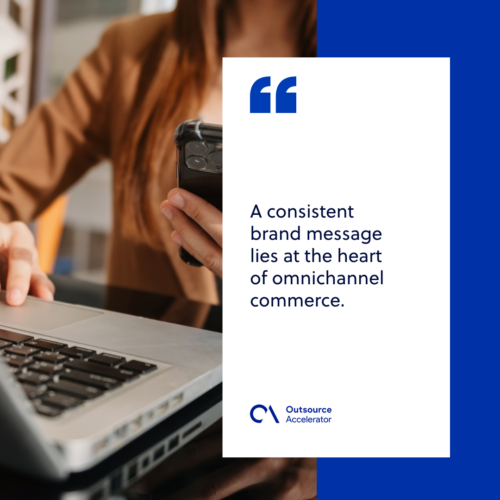 Higher sales conversions
Prospects are more likely to convert when information is accessible to them across multiple channels. A poor experience will cause them to lose interest and leave your site or store. 
Omnichannel commerce ensures that every user has an excellent buying experience. 
Higher conversions mean higher revenue, so businesses should seriously consider implementing omnichannel commerce as part of their platforms.  
Better data collection
Omnichannel commerce makes it easier for retailers to collect customer data and understand their buying habits. The more information they have, the better they can tailor their marketing efforts for customers to get what they need. 
Omnichannel commerce collects data from all your interactions with a brand. The use of multiple channels gives businesses a wider foundation to work from. 
Data can also show where the most profitable customers are coming from. By narrowing your target audience further, you can allocate resources properly and optimize your sales efforts. 
How to build an omnichannel commerce strategy
It's not easy to build an omnichannel commerce strategy. You have to do plenty of research and continuous work. 
Use these methods to help guide your omnichannel commerce strategy. 
Map the customer journey 
Map out the customer journey from the moment they first find you. The goal is to understand their intentions at every stage and touchpoint of their experience. 
Use this information to identify gaps and decide where you need to improve. 
Create engaging content for the right channels
Engaging content is a significant component of how customers interact with your brand. You must create content that speaks to their needs and evolves to adjust for changes over time. 
Think about how people will interact with your product and learn about it. This means having different types of content available for each channel. 
Integrate data analytics
Data analytics brings together information from each channel, online and offline. Integrating data analytics across all channels helps you make informed decisions, like where to allot resources and which customers are worth pursuing. 
Once your data is consolidated, you can use it to create personalized experiences.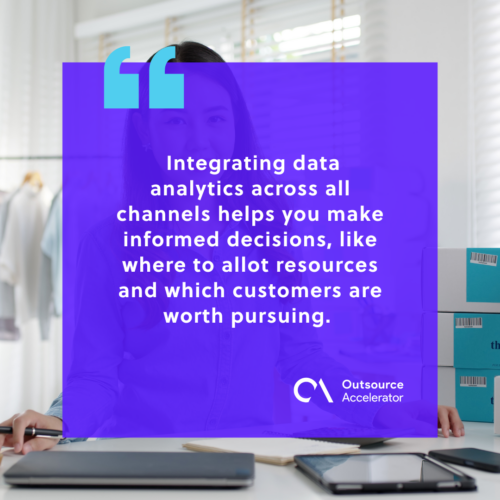 Maintain your channels
To be successful in an omnichannel commerce environment, you'll need to maintain each channel and make sure they're all connected through an overarching strategy. 
All channels should feel like part of the same company rather than separate entities operating independently. 
Test frequently
Omnichannel commerce isn't one size fits all. Every business has its own unique methods, goals, and audiences. 
To find out what works for you, you must test frequently. Experiment with different approaches until you find a strategy for your objectives. Your customers will benefit the most in the end.