Training your offshore team: How to connect with a remote team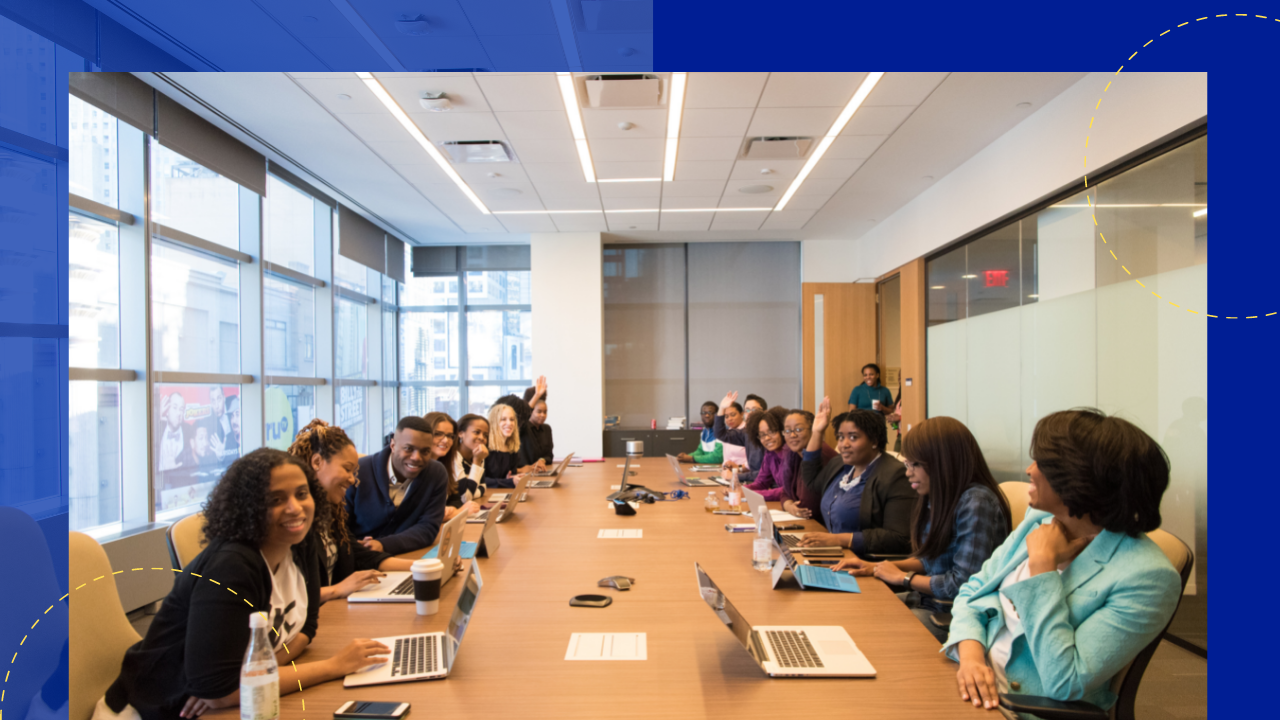 Training your offshore team can be daunting at first — especially if this is your first time working and collaborating with a remote team.
But there will come a time when onboarding and working with them becomes like second nature to you. 
Of course, it all depends on how you and your in-house team would go about working together with an offshore team—treating them not as an extension of your group but as a part of the inner circle as well.
As always: ask questions when creating processes that operate more by the majority than any one person's vision or specific skill set.
One of the perks of working with an offshore team is that you get to work with different people with varying degrees of expertise—very helpful when the team has to work on a project.
Hiring an offshore team
If you and your team have already taken the plunge of hiring an offshore team, there are some things that you still need to consider.
There's no doubt that working with a remote team will require change for both parties.
A lot of teams (and even in startups) have been very successful in keeping their existing business as much internalized through daily interactions. 
Be it by having someone bring food or coffee at meetings, meeting new people every month, getting feedback via email until they see progress before pushing forward: these all contribute directly to each other's success over time.
Skills
Even in traditional hiring, companies and employers ought to hire based on the skills written on an applicant's CV. When hiring for an offshore team, this will be the case too.
Offshore employees usually have to up their game as the competition is large—competing against other remote workers with unique experiences and backgrounds.
They are also more familiar with a particular workplace than people who do their jobs directly from home. This means they can actually make use of skills gained over time while working remotely.
Work environments also vary from country to country; not all jobs need specific skill sets or do well when compared internationally. 
Flexibility
In terms of working with a team that may or not be in the same time zone as you, flexibility should be a two-way street.
Time changes should be advised ahead of schedule, the workload should be distributed properly, and the team—both in-house and offshore—should work alongside each other.
It's important to have multiple people on your team who can share knowledge about specific tasks, so there are still opportunities for collaboration when necessary.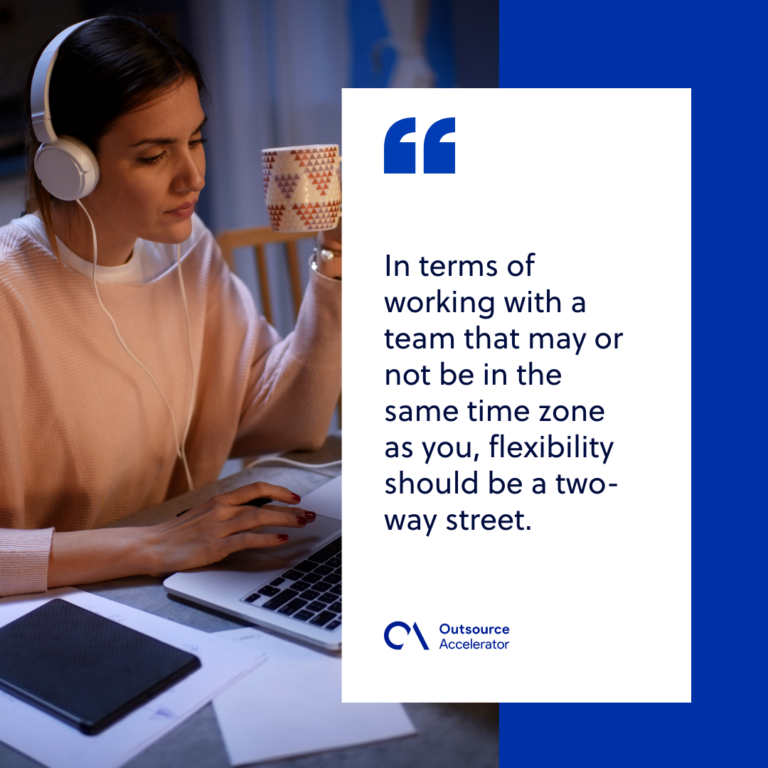 Accountability
With a remote team joining, it's better to practice accountability in the workplace. Not only can it promote productivity and professionalism, but it can also make everyone work together.
Training offshore teams remotely
When training offshoring teams, there will be days when it would feel like some things aren't worth going over.
However, it's better to have a couple of long meetings rather than under-delivering processes that may result in misunderstandings.
Offshoring training activities may deplete everyone's energy. It's better to space strenuous (remote) activities out through the newcomers' milestones, such as the first day, the first week, and the first month.
Onboarding
Onboarding is the process of integrating a new employee into your organization. With offshore teams, your job is to make them feel welcomed and in sync with the in-house team.
You'll help create relationships between employees through these mediums:
coaching, 

introductions on topics such as technology or user experience, 

mentoring, and 

feedback meetings where you're always learning more about each other.
Reiterating company culture
While training the offshoring team, reiterating company culture is important, even remotely—new employees, both offshore and onshore, are impressionable. 
It's important to introduce the company's best practices while it's early, so they can discover more about them during the onboarding.
Meanwhile, don't give up immediately if you're working with someone who's already mastered an industry-standard process for tracking project outcomes and goals. Establish a rapport with them, if possible.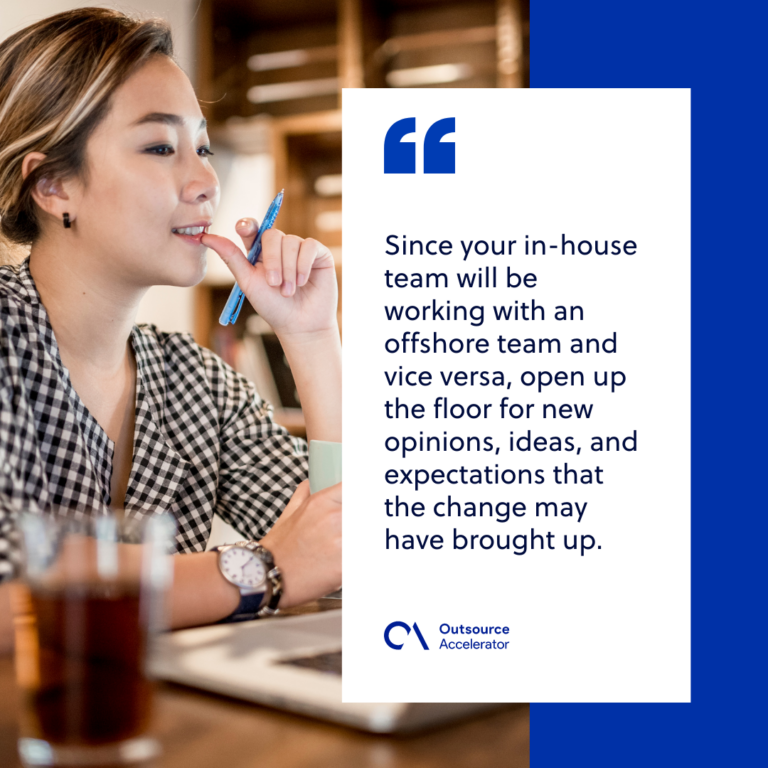 Using team collaboration tools
Team collaboration tools like Asana and Trello are developed to help teams be more productive and organized throughout several projects.
Using these apps while training the offshore team will pay off in the long run. 
It helps prepare your teammates for what they'll need to do each day, how they should work together on different parts of the project, and what the best solution is.
Managing deliverables and expectations
Since your in-house team will be working with an offshore team and vice versa, open up the floor for new opinions, ideas, and expectations that the change may have brought up.
Insightful questions like, "What kinds of things can we learn from past changes?" and, "Will our customers accept a different type or approach to product development?" can be brought up during discussions.
Coaching sessions
Time and time again, coaching sessions help employees reach their full potential at work. These sessions, whether or not face-to-face, are a two-way communication between the employee and their manager.
If you can create better practices for handling stress with your remote staff members, it will be harder for difficult situations to affect them even when working from home.
Here are ways you can hold coaching sessions with your offshore team.
One-on-one sessions
One-on-one sessions are one of the most effective ways to reach out to your coworkers and team members. Offshoring training can be hard, as both parties aren't in the same location.
Some offshore employees may have some questions about the company culture and the workflow. To help them speak up, create a safe place where ideas and concepts can be shared with no judgment. 
It is worth discussing these topics in advance with those at work so that you aren't unprepared for them if they arise during important discussions or on live presentations. 
Group discussions
Group discussions can also be considered as catching up with the other members of the team. It's imperative when you've got a couple of offshore employees in your hands.
Make meetings that are structured and fun—people from various parts need to share their thoughts on what they do every day without interruption or judgment. 
Staying in sync with your offshore team
Syncing with your offshore team is more than just weekly meetings and the occasional emails—it's about being able to work together even when you're apart.
And there are plenty of situations in which this might not be possible, so we're going into these instances. Remote employees are used to collaborating during an extended period of time by email and phone or otherwise via text message.
Timezone differences
Most offshore employees work mid and night shifts to accommodate their employer's working hours.
This setup works most of the time, even though working nights on a regular basis may pose a challenge to one's health. Not only does it limit your ability‒or need–for rest, but it also hinders recovery during meeting-heavy activities and tight schedules.
Cultural adjustments
One of the greatest things about working with an offshore team is that you get to work with people from all over the world and from different walks of life. For instance, collaborating with a Philippine-based firm like The Remote Group lets your in-house team understand the Filipino culture and background.
Being culturally sensitive nowadays is an important part of developing our sense of society. However, that may not be as easy when language barriers exist.
It can be incredibly challenging for an individual if they find themselves speaking up or working alongside someone from a different background.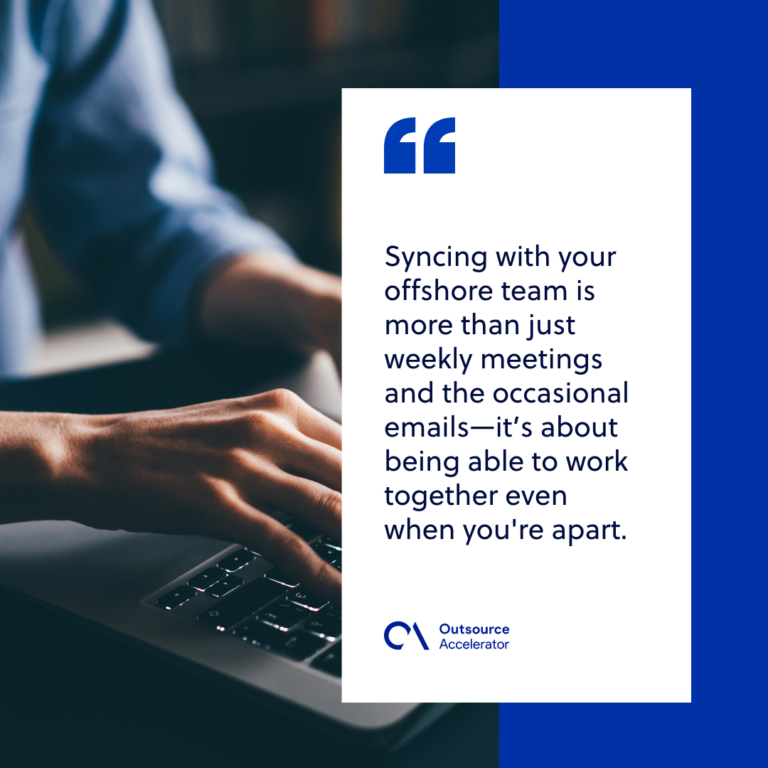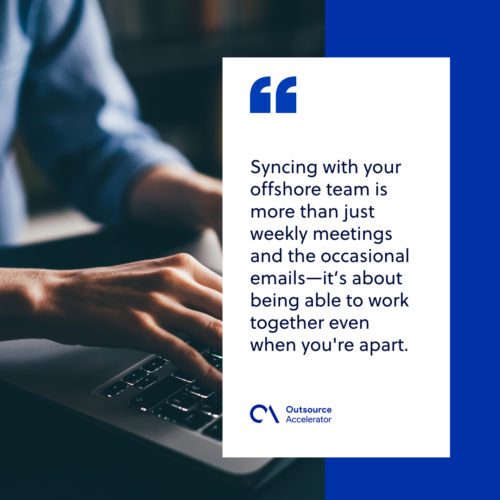 The importance of training your offshore team
It goes without saying that training is one of the most important parts of acquiring new employees. This goes both ways for in-house and offshore employees.
Training is where employees put their best foot forward and get a general feel of the company. In the incoming weeks, they get to mingle and settle down with their teammates, already falling on a routine with their workload.
If things really go according to plan, your offshore team can even pioneer a sector of the company in one of their respective countries.
To put it simply, having an offshore team is a good, lateral, and logical move for any business looking to expand with minimal capital.