How to become a top performing call center teammate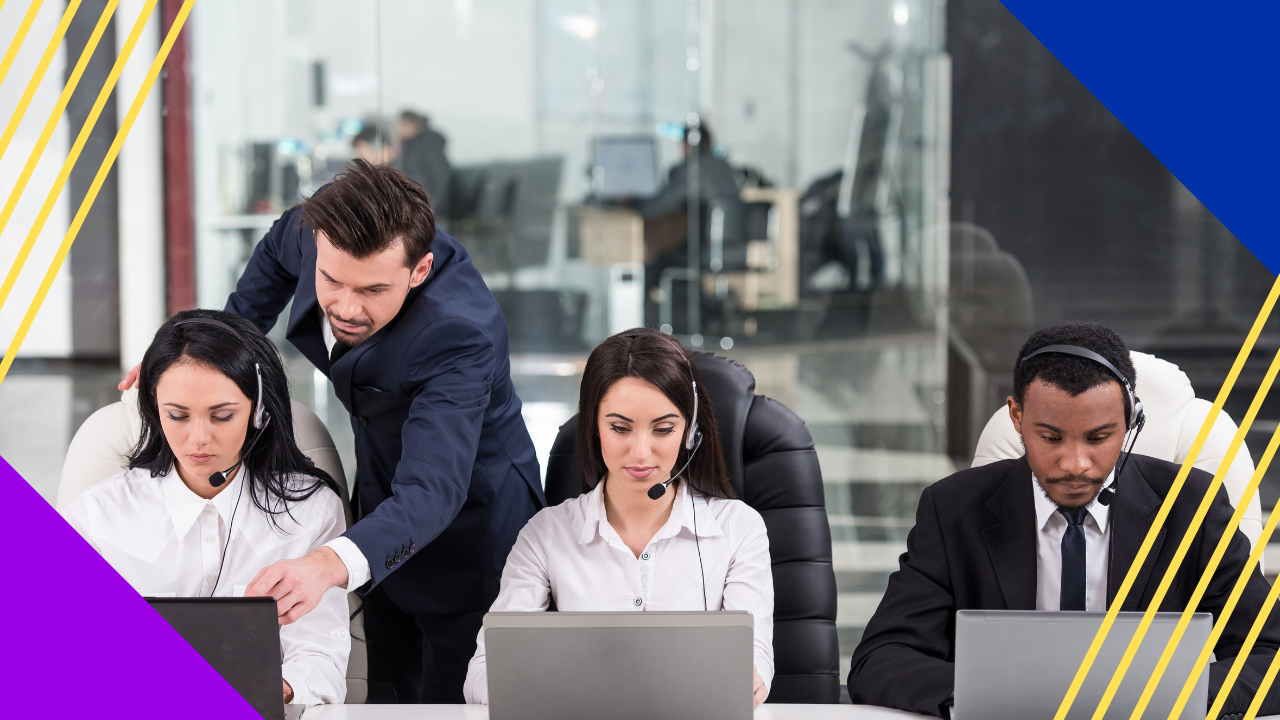 The success of a call center will mostly depend on its agents' skills and their overall knowledge about the company and its brand. 
Becoming a successful call center teammate or agent does not just happen naturally. Yes, you may have the proper skills needed for the job, but it also takes a lot more. You need hard work, dedication, and experience to be a top-performing teammate. 
If you're pursuing a career in the call center industry, you've come to the right place. In this article, we'll break down the roles of a call center agent and the skills you need to be a top performing teammate. Lastly, we'll offer tips on how you can be successful in this field of industry. 
Call center teammate – definition
As a call center teammate or agent, you will serve as a direct point of contact between your company and its customer base. You will function as a customer service representative. Your primary goal is to provide an excellent customer experience to your patrons. 
A call center is considered a traditional way of performing customer service and support by phone. However, technological innovations over the years gradually shaped business landscapes. 
In the past, teammates in call centers focused on managing incoming and outgoing calls to provide customer service. Through today's advanced technology, a lot of call centers have evolved into contact centers. 
The two terms are used interchangeably, but the difference lies in the adaptation to the more modern, digital era. Now, teammates may not be limited to voice calls. They may also utilize other channels like email, live chat, and even social media.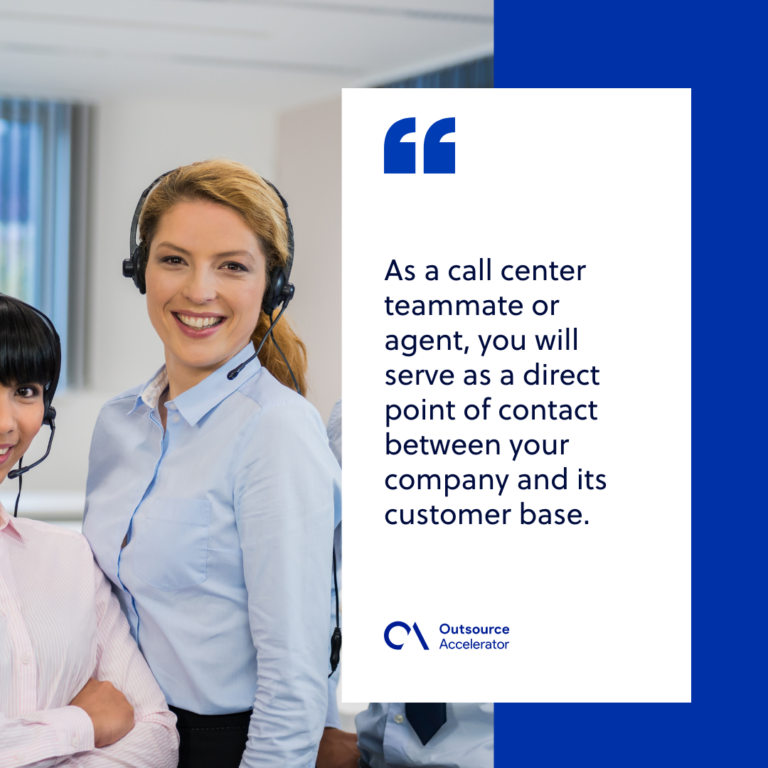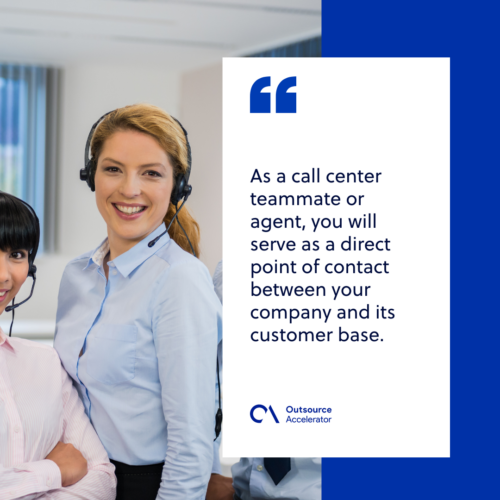 What does a call center teammate/agent do?
A call center teammate's role is more than just handling incoming and outgoing calls. Working in a call center environment is very fast-paced and involves several tasks.
In most cases, a typical day of a teammate involves the following: 
Determine callers' complaints or problems and provide proper solutions.

Provide the right information about the company's products and services in a manner that will generate interest from the customers.

Attend to the needs of the callers and provide personalized customer service. 

Upsell products and/or services.

Process customers' orders, applications or forms.

Route calls

to the appropriate department or teammate if needed. 

Update customer information and database.

Collect customer information and feedback.

Strengthen customer relationships and loyalty by offering excellent customer service. 
Call center agents are also normally given required volumes of calls that they have to acquire each day. Further, all teammate duties that we have mentioned above may vary according to every company and its type of industry. 
Must-have skills of a call center teammate
Now you know the definition and roles of a call center teammate, let's jump right into the must-have skills. 
Below we have listed eight skills that make up a successful teammate and representative of a call center:  
Organization skills
Call centers have a very busy work environment. In most cases, agents have to juggle multiple tasks all at once. For instance, a teammate may have to record customer information and update the CRM system while attending to calls. 
You have to be well-organized to be an efficient and productive agent to be successful in this career path. 
Attention to detail
The tasks of a call center representative can be repetitive. On some days, you may encounter the same questions or complaints. This usually results in agents being complacent at work, thinking they fully understand customer issues. 
Having a good attention to detail enables you to give the correct answers and solutions to your customers' problems.  
Speed
In connection with a call center's fast-paced and busy environment, calls usually come one after the other. It is also important that no call should be left unanswered. For an agent, speed is a must to help keep daily operations running smoothly and effectively. 
Ability to handle pressure
A lot of people may agree that being a call center representative is one of the toughest jobs. Being in the customer service industry, you will encounter many frustrated and angry customers. Keeping calm and collected while handling irate customers is vital in this kind of situation.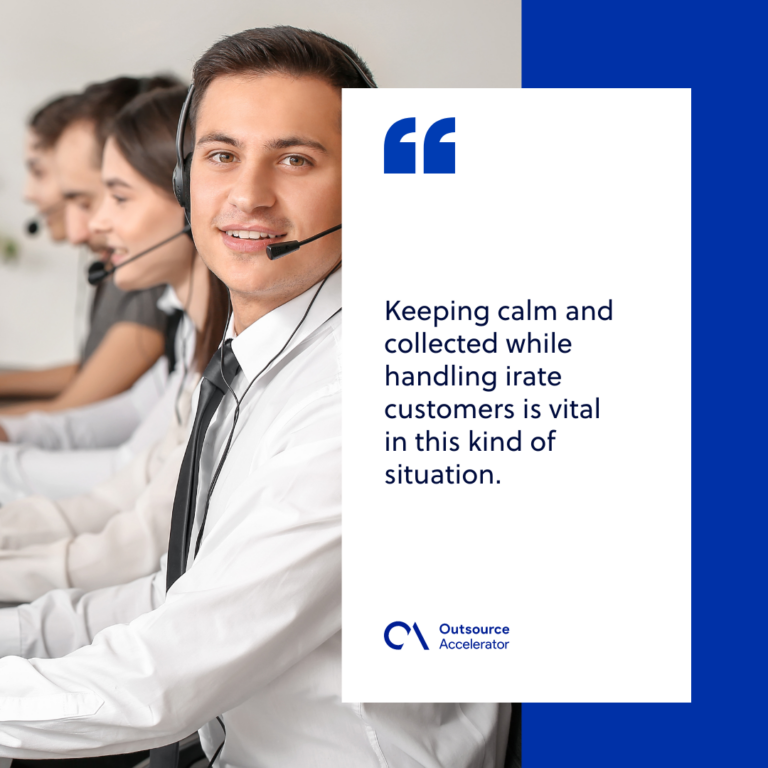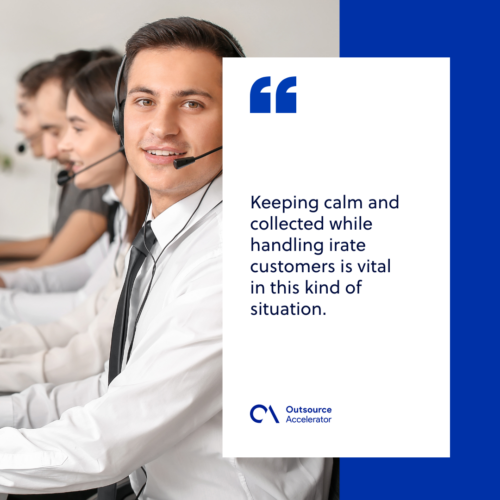 Problem solving
Call center representatives usually use scripts in communicating with customers. However, you will not always experience the same inquiries or problems. Your problem solving skills are crucial in satisfying your customers' needs and demands. 
Empathy
You should also have the ability to empathize with your customers to help you establish good rapport with them. This is what leads to having a loyal customer base and maintaining a good relationship with them. 
Technological expertise 
As a call center teammate, you should also be tech-savvy. Part of your day-to-day job is to utilize different tools like IVR, CRM, and more. These technical skills will surely make you stand out in your field. 
Communication skills
And of course, to be a top performing call center teammate, you need to have exceptional communication skills. Note that you also have to be a good team player as you will also be working with other people. 
Becoming a successful and top performing call center teammate
Becoming a successful call center teammate, agent, or representative doesn't happen overnight. Take note that most of the skills we have mentioned above can be learned and cultivated over time.