Offshore staffing solutions Philippines: What you need to know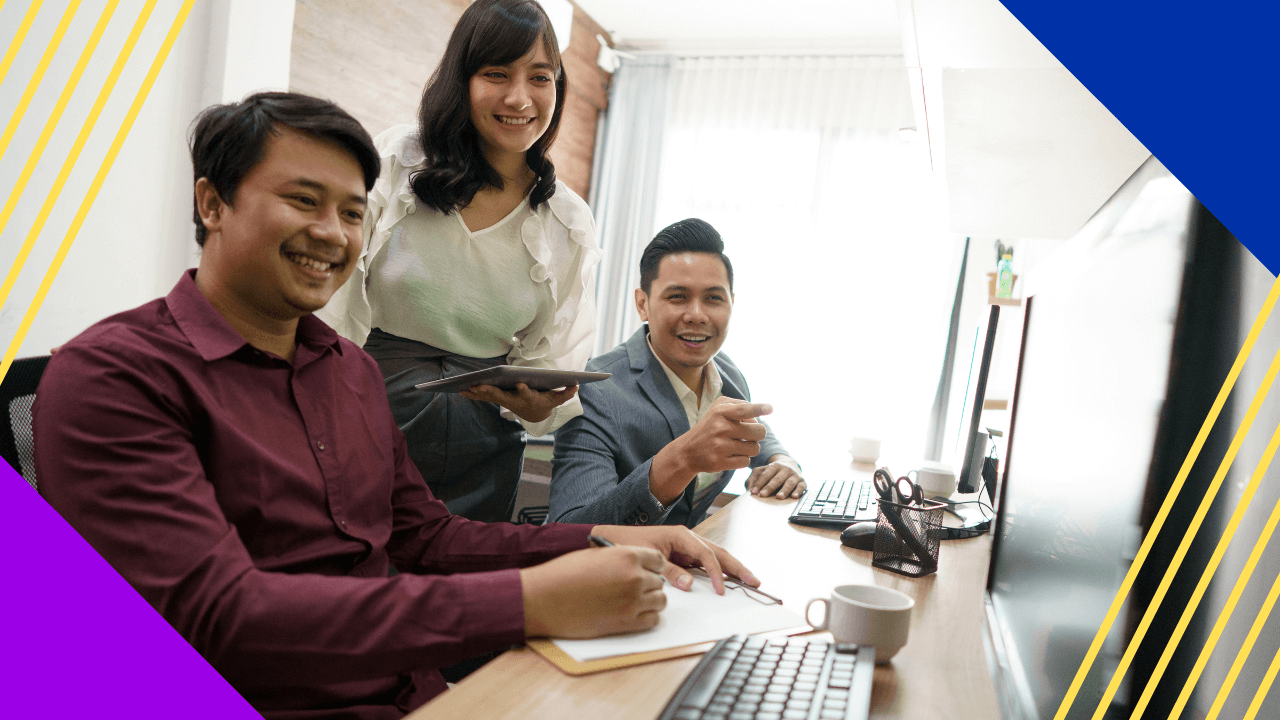 This article is an original guest post submission from USource. Usource is a digital outsourcing company delivering back office services and digital staff, at scale and speed, for digital services, operations and digital platforms.
When it comes to offshore staffing solutions, the Philippines is becoming a go-to destination for startups and established companies. The rates and cost of hiring are certainly more palatable – it's possible to hire an entire marketing or customer service team for the cost of a single resource onshore. What's even more noticeable is the skills gap between onshore and offshore staff is closing, making the outsourced, offshore solution even more enticing. Here are some options when it comes to outsourced offshore staffing.
Options for offshore staffing solutions in the Philippines
The Philippines is one of the top outsourcing destinations in the world. From customer support and IT, Filipinos have increased their expertise in other digital tasks in marketing and human resources. Aside from cost-cutting, the neutral accents and stable, skilled digital workforce are the top motivations of the United States, Australia, and the United Kingdom for outsourcing to the Philippines. You can easily find almost 4.6 million Filipinos on marketplaces and Employers of Record.
Marketplaces
Marketplaces are a convenient platform with about 1.56 billion independent contractors under specific niches. Competitive independent contractors and agencies look for clients in Upwork, TopTal, Guru, People per Hour, Authentic Jobs, and Freelancer for fast and seamless talent acquisition. These marketplace platforms made it simple and convenient for employers and freelancers to work together through time trackers and automatic billing systems. Platform-based hiring boomed. 36% of businesses hired for web design projects, 31% for programming, 30% for graphic design and illustration, 26% for mobile and web development, and 24% for sales and marketing.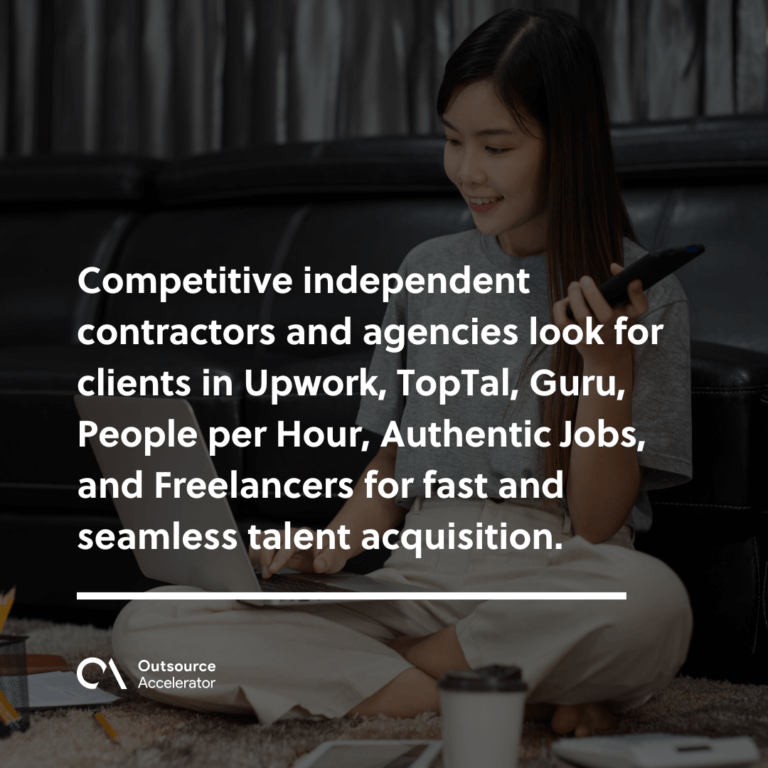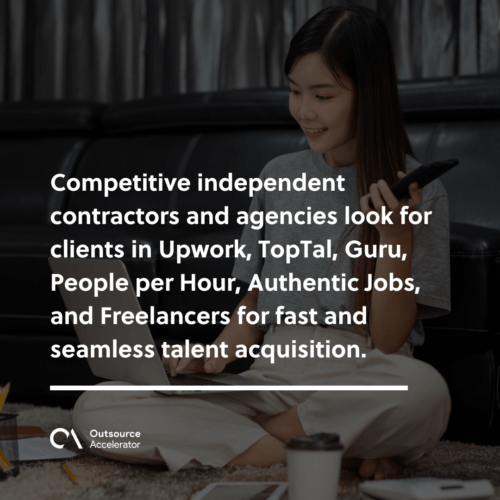 Hiring on marketplaces is now simpler than ever. However, one consideration is that when you misclassify a regular employee as an independent contractor, penalties and fines can be costly. In 2018, the Department of Labor and Employment (DOLE) fined the Philippine Long Distance Telephone Company (PLDT) $1.8 million for unpaid benefits of 8,000 misclassified employees. Other considerations are the time sink of wading through applications and looking for another hire if the first one doesn't work out. There's a delay between your job posting and the actual day the work starts and gets done.
The hiring process on marketplaces
When you open a job post on a competitive marketplace you can receive hundreds of confident applicants. Hiring in marketplaces can take a few days to months depending on the specific talent you are looking for and your qualifications. Here's the average timeline of the steps in the process.
Sign up

: You can connect your account with your socials and describe your company culture. It won't take hours for you to access the global talent pool.

At this point, you also want to verify your payment method. Most talent would ignore (at least for the meantime) job postings from employers who are still labeled "Payment method not verified."

Job posting

: Writing a clear and concise job description won't take you a day but make sure you clarify your qualifications. Add your reasonable budget for your job offer. You attract better candidates when you post better, more specific job postings.

Proposal review:

Marketplaces have different ways to show you who is interested in your job posts but you'll always receive either their resume or profile. Some marketplaces also have a feature where you can invite applicants whose profile matches your job posts. This can take weeks or months depending on the time you have to assess their portfolios.

Interview:

You can use the platform's messaging or go beyond with video conferencing tools to interview your candidates. Note that independent contractors can accept, decline, or ignore your scheduled interviews especially if you take too long to respond to their applications. Top talent gets engaged fast.

Contract signing: It can take at least 5 days to verify contracts in marketplaces. This is for ID, billing, and payment verification to protect you and your hired independent contractors.
Employer of Record
An Employer of Record is the employer on paper. Most outsourcing companies are employers of record. They are responsible for your tasks and the employees assigned to accomplish them. You legally and efficiently collaborate. On behalf of your company, your outsourced partner handles the administrative and human resources aspects of hiring, protects your IP, and overall reduces friction in hiring, paying, and managing your international hires.
USource Global Services Inc. is an EOR company in the Philippines that can assist with your hiring, human resources, compliance, and administrative tasks required to manage employees. We make hiring Filipino workers as your team frictionless without worrying about payroll and tax contributions, employee benefits and incentives, and leave entitlements, from talent acquisition to onboarding and termination. We help businesses offshore outsourcing with experienced employees skilled in different responsibilities across digital — from advertisers, SEO, IT development, automation, graphic design, customer support and more.
You can hire our team even without a legal entity in the Philippines.
There are no hidden charges as you pay your monthly fees at the beginning of every calendar month. We pay your employees their full salary with incentives based on their work performance. You do not have to worry about tax obligations because we process their taxes (BIR) and government contributions for you including SSS, Pag-Ibig, and Philhealth. We record their attendance and ensure that they work to achieve milestones based on your timelines expectations.
Sky Executive, East Vantage, and Atlas are other EOR service providers who make offshoring in the Philippines easier. EOR companies have increased collaboration with international departments. Aside from human resources, compliance, and payroll, they also offer consultations for seamless global talent acquisition. Established offshore outsourcing companies founded or with offices in the Philippines offer staffing solutions for small to large-scale projects. Concentrix, Teletech, Alorica, TaskUs, Outsourced, and Teleperformance provide hiring, training, and management of your employees responsible for core tasks like customer support, IT management, maintenance, software development, marketing, and other business operations.
The hiring process with EOR
You can complete team member and team hiring time much faster than using a marketplace when you hire your employees from USource.
Enquiry:

Share details of your project and out Client Managers will assist you all the way from understanding your pipeline of work, providing pricing and will guide you on getting connected with the most suitable and capable team members.

Free trial

: We match you to a specialist and you can start part of the work with a trial task.

Onboarding

: Let our team swing in to action – accounts, compliance and our client managers will assist your company with the setup. Work is completed month-to-month, unless your company requires a multi-month contract. Communication channels will be set up, project management, password and sensitive data security measures will be shared and we will finalize any agreements neded e.g. Non-Disclosure Agreements.

Ready-to-Start:

You set the time to start, now or at some agreed date. Sign your contract and communicate with your team members through communication tools like Slack and email and project tools like Asana, Trello, and ClickUp.

Work is underway: That's it. Your team members are up and running.
What happens when contracts end
In marketplaces, when contracts end, that's it. You can rehire the same specialist later on, but for the duration, you've parted ways. When you let them go, they move on with another client. It's their source of income. They can also be hired by your competitor and you have no control over their future work – you might even be ghosted. With EORs like USource, employees are regularized. USource takes care of everything, from salaries, benefits, incentives, and tax contributions. We have skin in the game, we're your partner. If a team member doesn't work we're here to connect with another suitable team member. As for the outgoing team member, they are transferred to another client or will undergo more internal training so they're ready for the next client.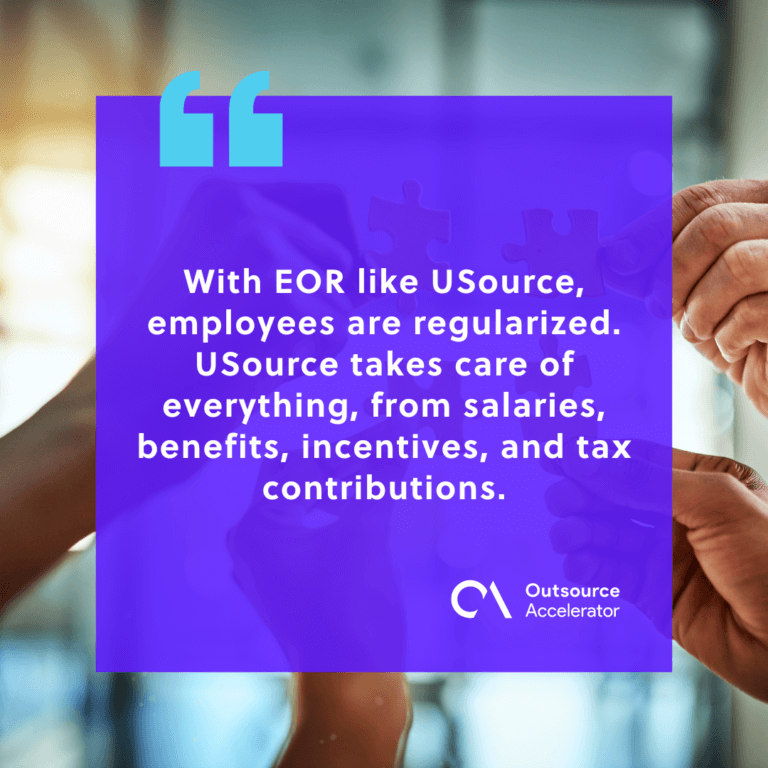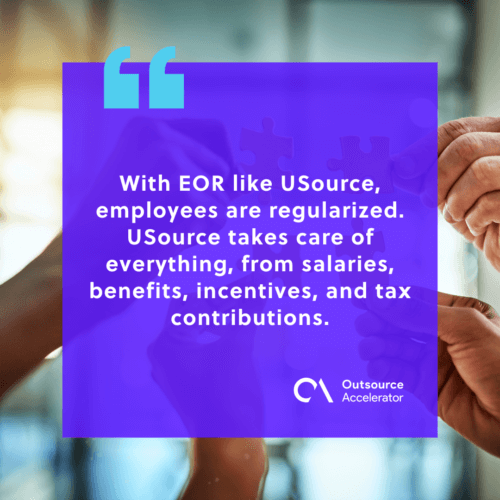 Regularized Employees vs. Non-Regularized Employees in the Philippines
It is quite tricky distinguishing between regularized employees and independent contracts, especially on freelancing networks. Non-regularized employees in the Philippines have no job security and no benefits. You don't have to pay taxes and benefits when you hire an independent contractor.
It can cut more costs than hiring regularized employees but you are susceptible to misclassification and non-compliance. Application for tax registration in the Philippines takes time and the government-mandated processes discourage freelancers, causing them break the laws. If you misclassified an independent contractor or if your hire failed to pay their taxes, your original goal of cost-cutting is not possible with high tax fines and other legal consequences.
Because independent contractors have no job security, they take two or more tasks aside from yours. There's always the possibility they will ghost you and move to a higher paying client. When you hire a talented and experienced independent contractor, rest assured that they'll do the job well. But they're usually paid at higher prices.
You also have to look out for red flags when offshoring independent contractors. Marketplaces or freelancing networks have a lot of non-regularized employees which can put your business at risk for tax consequences and liabilities. But they also have regularized employees who belong to established agencies. Regularized employees in the Philippines pay their taxes through automatic withholding tax deductions. Their employer assists them in their government contributions and provide government regulated penalty rates for working on national holidays.
Both options for offshore staffing solutions can help you fulfill your needs in digital. As an alternative to a long hiring process on automatic talent marketplaces, you can hire EOR companies like USource for the peace of mind of compliant hiring.