Offshore outsourcing and HR outsourcing: Which one's for you?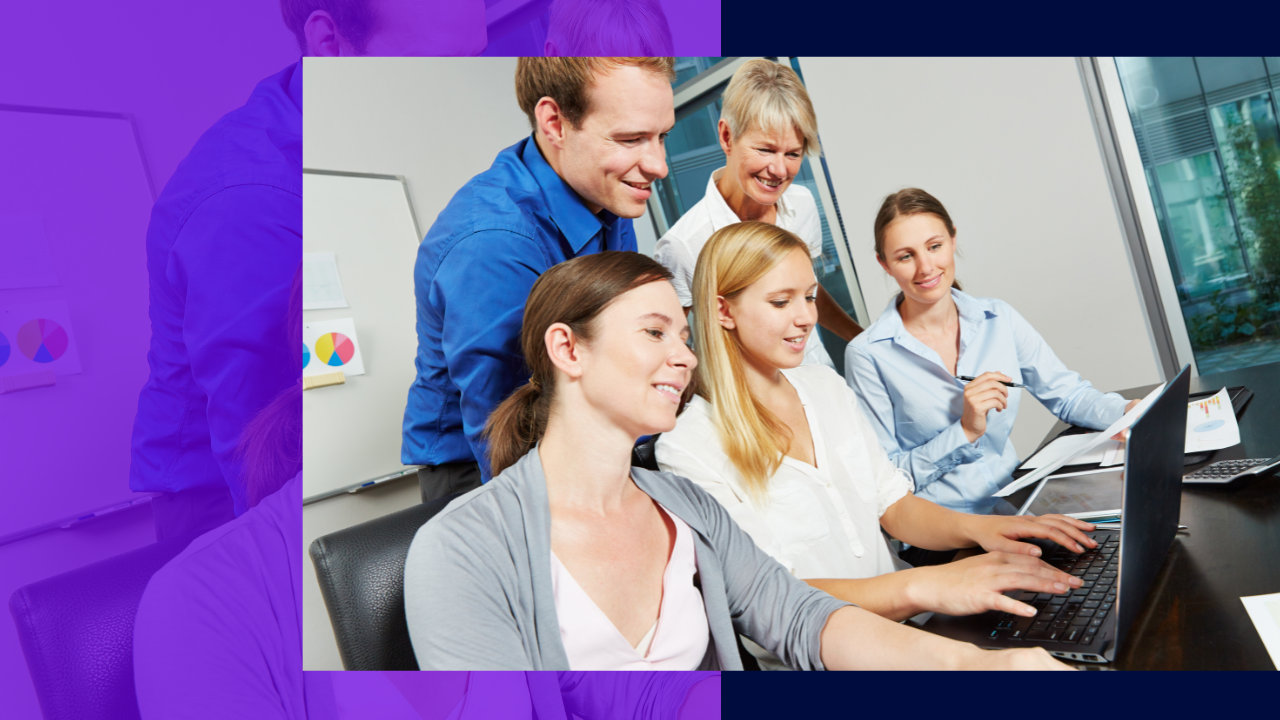 Offshore outsourcing and HR outsourcing Which one's for you
Outsourcing refers to entrusting or assigning some of your business's internal operations and processes to a third-party company that specializes in such (like billing and sales). The outsourcing company's location can be anywhere, and it doesn't matter if they're in the same country or another country. This option helps you focus on your business's core competencies.
Offshoring refers to shifting or relocating business services or processes to a different country to capitalize on relative cost advantages on labor, manufacturing, and other cost items like power and more. It's the main organization's employees who work and perform the function.
Offshore BPO firms like ConnectOS give businesses access to cost-effective solutions and still retain high-quality output.
HR outsourcing's top benefits
1. Flexibility
You will never have to worry about keeping your business competitive and operational no matter the time. When you outsource, HR outsourcing companies can adjust work shifts to manage your business for up to 24 hours; thus, increasing productivity. Furthermore, external agencies provide you the flexibility of paying only for what you specifically need.
2. Scalability
As for the workforce, the primary organization doesn't need to worry about staffing and hiring qualified employees to perform essential job functions all year round. The third-party company that offers HR outsourcing services is the one responsible for such activities as appointing and firing. They are prepared to ramp up and down as required.
3. Less operational cost
One of the primary motivations for choosing to outsource is that contracting work to an external agency is inexpensive compared to paying for the salaries and covering the benefits of in-house employees. Plus, it reduces capital cost on equipment, facilities, and workspaces, too. As the outsourcing companies already have these essentials, these are no longer your problem.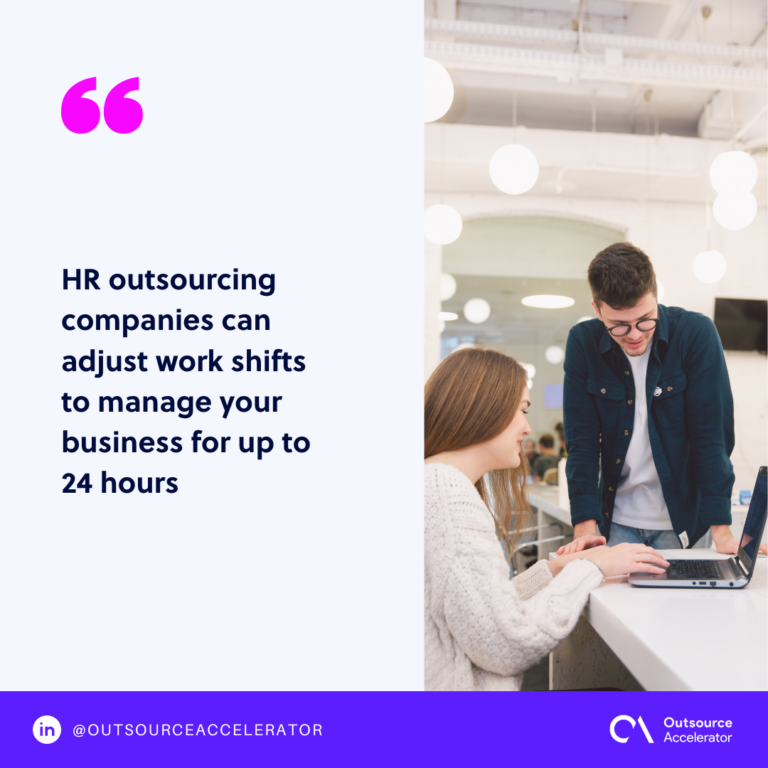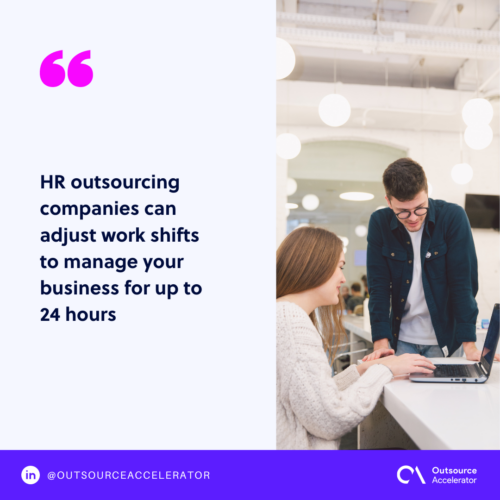 Offshoring's best strengths
1. Faster local market penetration
When you choose to offshore, the customers and consumers in that particular market will recognize, buy, and may even patronize your merchandise and the services you offer; thus, will lead to an increase in your market share.
2. Adaptability
Continuous adaptation of the central organization's strategies and business operations to the dynamic conditions in the country where you chose to offshore may certainly lead to the success of the business.
3. Compliance with local employment laws
To ensure business continuity, the home companies who choose to offshore are compliant with local employment statutes. The regulations include, but not limited to, health laws, minimum wage and compensation, discrimination, workplace safety, and child labor.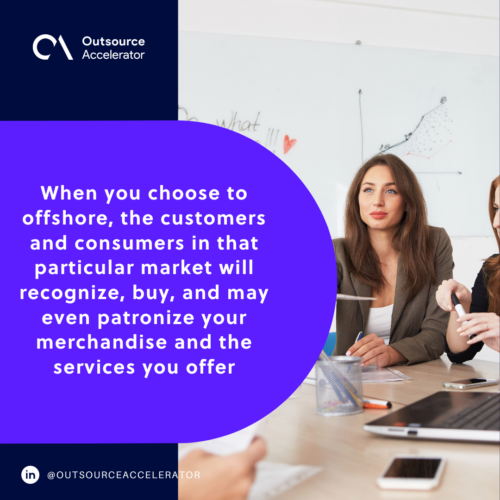 Explore different outsourcing support services
When you choose to outsource, you gain access to superior capabilities and world-class competence. You also free some of your internal resources to focus on the other aspects of your organization.
Here is a list of various outsourcing support services to help you think of which best suits your business:
1.  Human Resource Management – HR outsourcing offers flexibility in carrying out processes ranging from recruitment to processing employee benefits.
2.  Accounting – outsourcing accounting helps you save time and makes your organization more efficient and effective.
3.  Customer Support and Service – helps ensure that your customers gain superior experience through live phone, chat, email, and even social media support.
4.  Supply Chain Management – aids in cost control and in meeting excellent quality standards
5.  Marketing – allows financial flexibility and access to results-driven experts.
6.  Research – frees up your time from intensive studies and systematic investigations.
7.  Design – allows you to discover a new approach to creativeness.
8.  Engineering – external agencies work shrewdly to help free resources and deliver products faster.
9.  Content Writing – as it is hard and is time-consuming, outsourcing helps to save your time to allow you to concentrate on your expertise.
10.  Diagnostic Services – outsourcing medical diagnostics is prudent because it is beneficial in terms of reducing cost, saving time, and improving process and service quality.
Outsourcing vs. offshoring: make your choice
There are different factors to consider when choosing between outsourcing and offshoring. If your focus is on your business' expertise as well as lowering cost yet getting the same exceptional services at any time, you might want to opt for outsourcing some of your business peripherals.
You may think about offshoring if you also want to take advantage of the cost savings but would rather have your employees to perform the functions. In this option, you can retain control over your entire business operations although you have local rules and regulations to follow and changing conditions to adapt to.