Working with Filipino offshore developers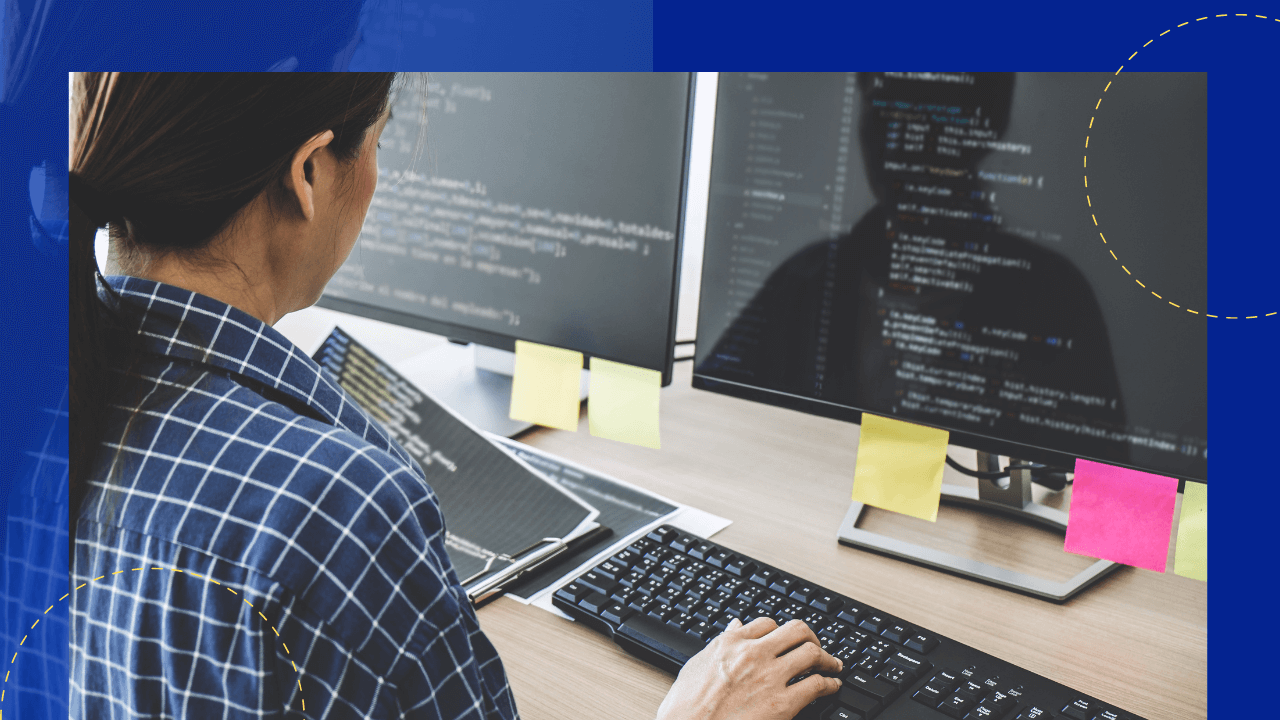 Offshoring development is a popular choice for businesses seeking to scale their workforce.
The main reason many companies choose to offshore is that hiring developers in other countries is much cheaper.
Building an offshore development team isn't easy – it can be challenging, especially for those new to it.
Hiring foreign teams gives companies significant advantages, like gaining a larger pool of candidates and a quicker turnaround time.
Additionally, having cutting-edge technology makes it easy to handle offshored teams.
Managing a dedicated offshore development team allows a business to expand significantly.
Why offshore your development team?
With the continued globalization, it's hard to ignore the economic benefits of offshore outsourcing.
You can have a group of specialists who can work over extended hours when you offshore your development team. Instead of hiring in-house, consider countries with a lower cost of living — such as India or the Philippines.
According to Statista, the most attractive destination for offshoring is India because of its financial attractiveness.
You may also consider offshoring in countries with "a good market to hire people," like the Philippines – as mentioned by Fred Joye, President of Arcanys, at the 415th episode of the Outsource Accelerator podcast. Arcanys is a Swiss software development outsourcing company in the Philippines.
Further, offshoring the right development team lets businesses offer high-quality products and services with a flexible budget.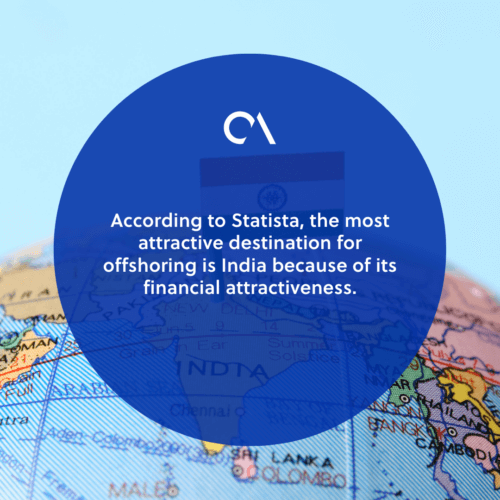 Hiring Filipino offshore developers
Filipino offshore developers are highly sought-after. However, with the other rising outsourcing destinations, competition has gotten tougher.
What it's like hiring Filipino professionals?
According to his podcast episode, Fred noted that most of the people they hire "came from a computer science background from universities." These people are the ones that have "learned how to code in school." They also have other developers who are passionate, so they "go online and try to do things and participate to international projects."
"Working for a company that is established in the Philippines," Fred says. As for patterns, the Arcanys CEO noted the following:
Fresh graduates "spend one or two years honing their skills and then seeing what it is to actually code in real life."

After two to three years, they gain experience and change jobs to get a much better salary,
Challenges in managing offshored development team
Working with an offshored development team also comes with a few complexities.
Organizations should be able to manage expectations and adjust to different time zones, including resources.
To explain further, here are three common challenges of managing an offshored development team:
Time zone differences
The biggest challenge of working with an offshore development team is the time zone differences.
In some cases, remote teams are difficult to manage because of conflicting time zones. As a result, some companies opt for nearshoring to countries with minimal time differences or nothing at all. 
Cultural differences
Cultural differences is also a big challenge when managing offshored teams.
Vlerick Business School professor Carine Peeters and two other researchers studied the influence of cultural differences on offshoring initiatives.
The researchers' findings are:
The larger the cultural differences in offshore countries, the longer it takes to attain desired service standards.

When cultural differences develop, the chance of businesses transitioning to desired service levels reduces dramatically.

Greater cultural differences are related to a lower possibility of meeting cost-saving goals.
The bottom line is it takes communication, understanding, and flexibility to work on cultural differences and achieve desired outcomes.
Language barriers
Communication challenges can be unavoidable when offshoring, especially if the offshored team doesn't speak the same language. 
While there may be countries with excellent developers, ineffective communication will mostly result in the failure of projects.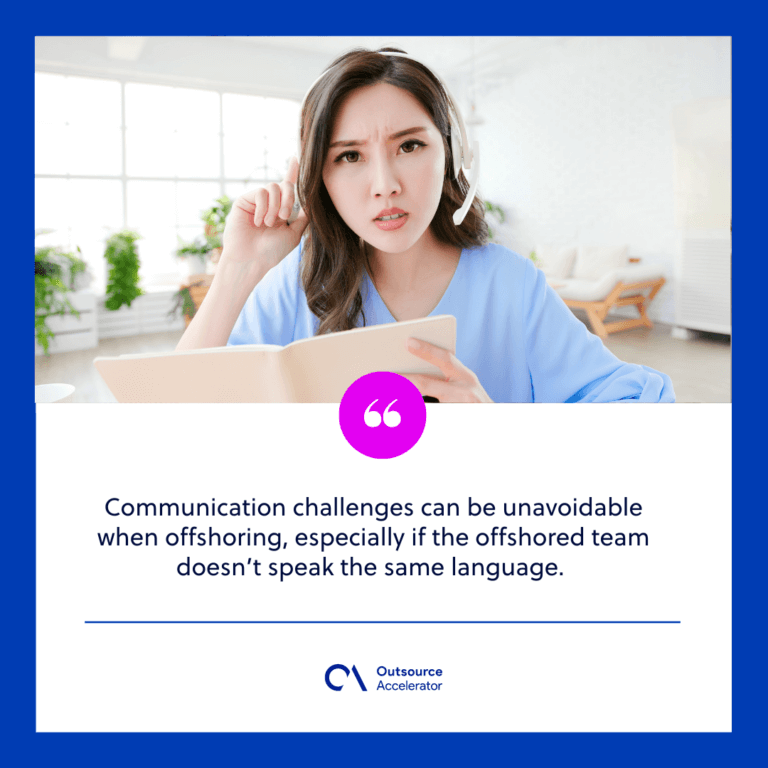 4 tips to manage your offshore development team
Here are four tips that can help you enhance your skills when it comes to managing an offshore development team: 
1. Enhance the communication system
Devise a way to encourage insightful communication among team members – such as:
Use software to facilitate transparent communication.

Avoid jargons that could confuse team members.

Conduct short calls to bring team members together.

To avoid potential misunderstandings, provide immediate and clear feedback.
2. Choose the right software development team
Select offshore development teams whose qualifications, skills, and experience align with your needs and objectives. 
This will help ensure the seamless operation of your project and the offshore team.
Consider the following factors before deciding on your next offshore software provider:
English proficiency

Highly talented and experienced specialists

Effective communication

Reliable and quality services
3. Apply agile methodology
Applying agile methodology means a more efficient process and smoother project management of an offshore development team.
It allows active communication between a company and its offshored development team, allowing transparency of a project's progress. 
4. Invest in collaborative technologies
Every organization must invest in technologies that enable collaboration.
Collaborative technologies make cross-functional teams more productive by sharing information and eliminating redundant tasks.
It also helps organizations to maintain up-to-date information and save time for other crucial tasks.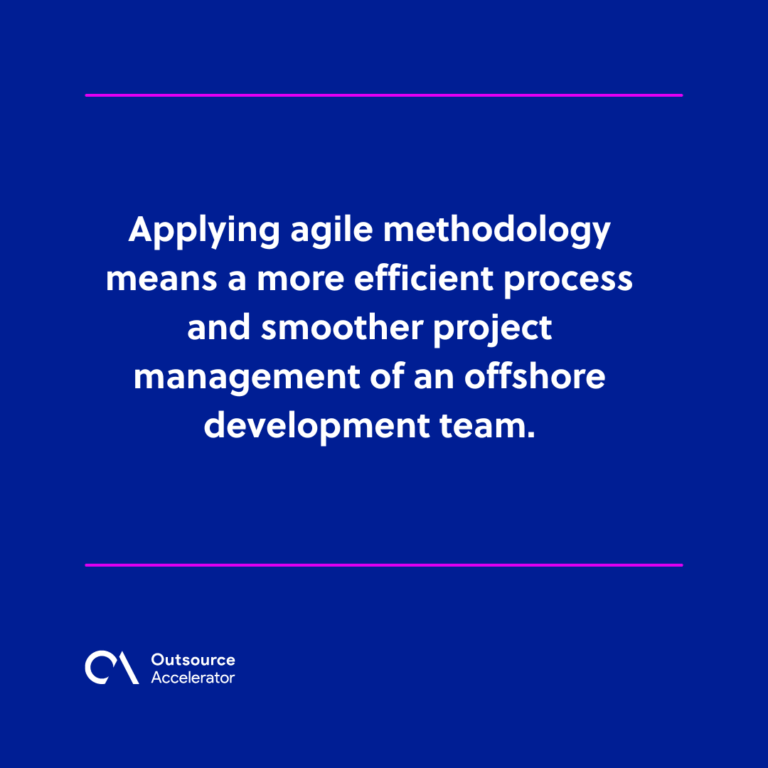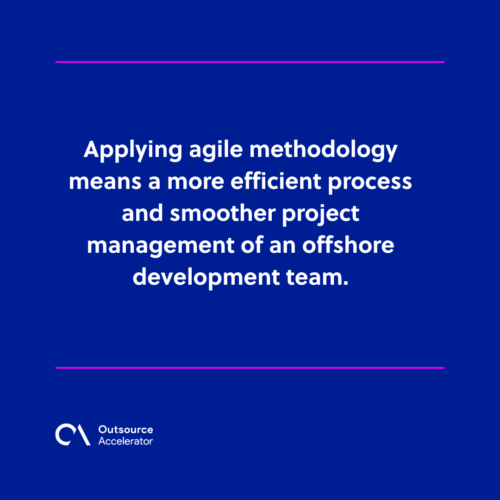 Achieve significant improvements with an offshored development team
It is vital to keep up with the demand for new technologies — one way to achieve this is by offshoring your development process.
The right offshore development provider can significantly increase your organization's efficiency, productivity, and profit.
If you want to expand your business through offshoring, connect with Fredrick Joye and his team of software developers.
Check out their website and listen to episode 415 of the OA podcast here.