The economic benefits of globalization
Globalization gave all of us easy access to anything we need. It gives every industry benefits when expanding businesses from one country to another.
Since the world is getting smaller, companies have to take advantage of globalizing their brand. Those who are not ready to embrace this change risks losing opportunities in different markets and getting bested by their competitors.
Read on to understand more about globalization and the economic benefits that it brings to the business community.
Defining globalization
The term globalization has been credited to the late Harvard Business School professor Theodore Levitt, who first coined it in 1983. 
It has been described as a movement that standardizes quality products at competitive, low prices and transcends "differences in national and regional preference." 
Globalization can be compared to an overflowing well where information, technology, goods, and services are accessible to every person in the world due to the international relations of countries in various industries.
Globalization allows corporations to expand their brand and reach international audiences. This also allows them to add more revenue streams to their portfolio and recruit a diverse workforce.
As a result of this free-flowing and interconnected system, the world has become smaller, and people are more connected than ever. Local brands can now have a chance to be recognized internationally.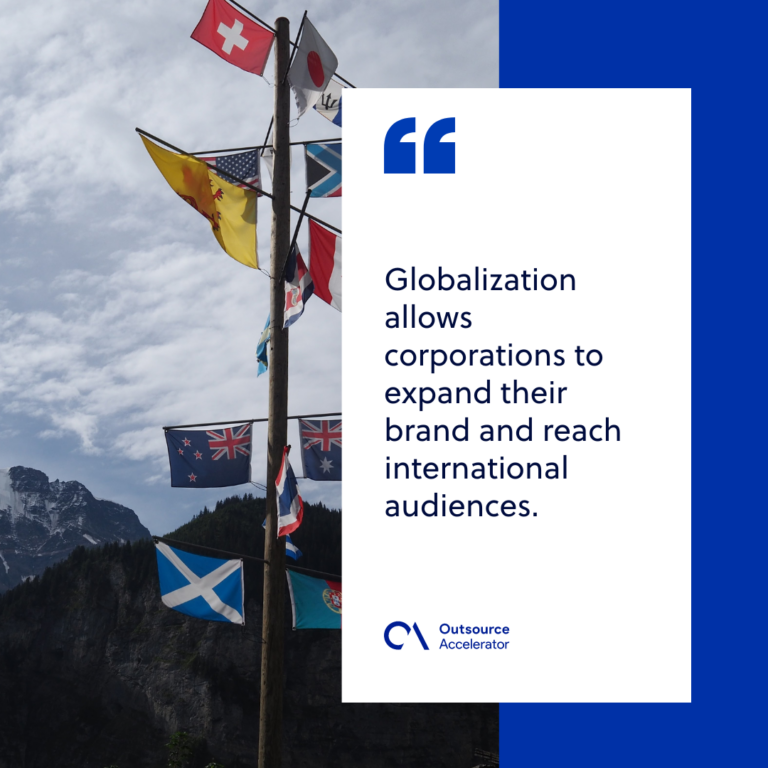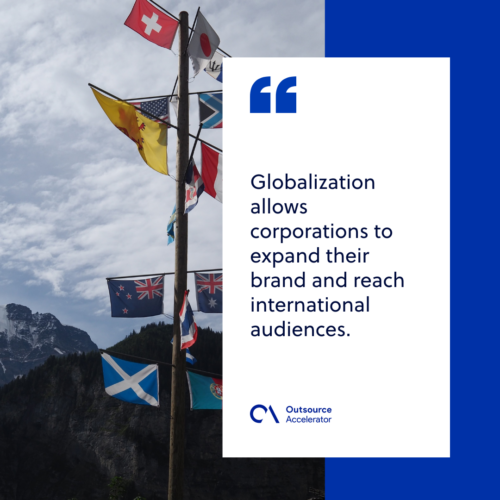 What are the benefits of globalization in the business community?
Several aspects of the company may change due to globalization. It can be extremely rewarding for growing businesses and, on a grander scale, the country's economy.
Those who have ventured into the global market have seen the following benefits in their operations:
Increased labor mobility
The first benefit of globalization is the increase of labor mobility in different countries. Since businesses can now establish a presence in another territory, they can employ locals who know local business practices better.
This also addresses unemployment and wage gaps in several countries, giving people the chance to find jobs that fit their skills. 
Global recruitment
Having a diverse talent pool is one of the most common benefits of globalization. If your company is open to remote working, you can have international talents to bring a new set of skills that may be unavailable in your location.
If you are establishing a presence in another country, you can hire people who can help you easily adapt to the local market. Each new employee brings new perspectives and possibilities, which can lead to a more inclusive culture in your organization.
Specific market opportunities
Access to unexplored opportunities in different markets is among the most appealing benefits of globalization. This provides an extended audience reach for local brands, as well as better market insights for the company.
You also do not have to worry about law restrictions if your country of origin has an established multilateral trade agreement with other nations. This makes it easy for your business to thrive globally without fearing restrictions and violations.
Higher-quality goods
Globalization also brings in higher-quality goods to consumers. Because domestic brands now see themselves fighting for customers with international companies and vice versa, they are now making sure to produce products that not only cater to the market's needs but are also effective.
At the same time, raw materials needed by manufacturers can now be obtained easily — and sometimes cheaper — due to agreements made between governments. This further makes it possible to produce high-quality products for everyone.
Choice expansion
Companies can easily expand due to globalization deals made by several nations. This allows companies to find new revenue sources for the business and a diverse set of new consumers.
One way to quickly expand businesses is through international professional employer organizations (PEOs). They make recruitment easier, allowing smooth operations with as many local employees as a company needs.
Improved international relations
Globalization strengthens international relations between countries and businesses. Many countries have now opened free trade agreements (FTA) with each other.
This interconnectedness means that the transport of goods is much cheaper and that countries can rely on other nations when needed.
Capital flows
Access to new markets also allows your company to develop new products and services for the local community, producing new capital inflows.
When branching out to other locations, businesses often have to adjust their products and services to what the community needs. This innovative approach creates a solid customer base, increasing your revenue streams beyond the originally planned products and services.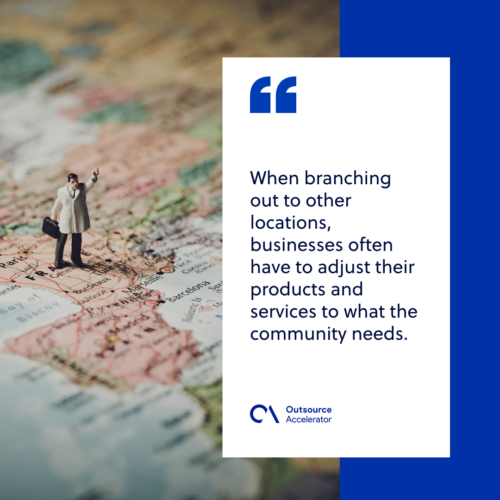 Does it mean that globalization doesn't have risks?
Despite the industry benefits of globalization, it does have risks that companies and economies should be prepared to address.
Here are the most common ones:
Exploitation
Access to a foreign workforce — especially in developing economies — could be easily exploited. Because third-world nations have a lower cost of living, companies could pay workers lower than their first-world employees.
Further, employers could use this situation to require them to work longer hours on a cheaper wage that does not reflect the nature of their jobs.
Job loss
Globalization could also cause other employees to lose their jobs. Because companies are aware that people from other nations could perform the same work under lower wages, they might terminate their local employees and go for the cheaper route.
High investment
Expanding a business to other locations requires a lot of research, money, and time. Setting up a local presence in international cities needs a lot of logistical strategies to make it work perfectly for the company and new employees.
Environmental degradation
Though it may be good economically, globalization could also hurt the environment. For instance, expansion to other markets requires increased fuel use, which ultimately contributes to greenhouse gasses.
Production demands, transport of goods, and international travels also cause more use of raw materials and fuels.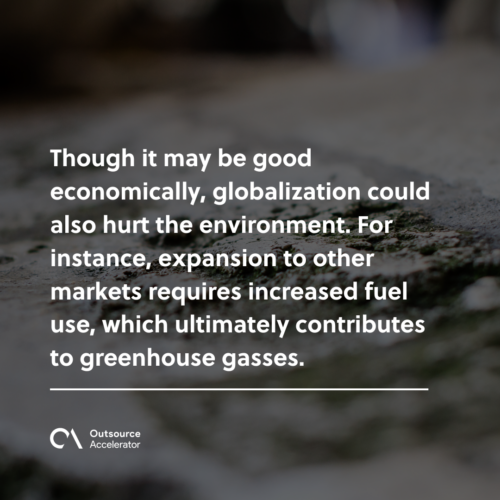 The future of globalization
We are not bound to go back to the past, and neither is globalization. Due to new innovations and technology, people from all over the world can now communicate better and access everything they need through physical stores or online.
Businesses can continue expanding their operations to other parts of the world without worrying about regulations. Agreements between different countries, as well as globalization experts, can help make the transition better and smoother.
Globalization also provides more employment opportunities to professionals across the globe. Gone are the days when businesses struggle to find the right people for a job. Through globalization, they can easily connect to a qualified candidate no matter where they live.