Professional employer organization
Definition
What is a professional employer organization (PEO)?
A professional employer organization (PEO) is a company that leases personnel to an employer in forming a joint-employment relationship.
It shares and administers most of those obligations and liabilities associated with employees. PEOs generally act as professional employers for their clients' employees.
Employee responsibility shifts to the PEO once the client firm declares its compensation under the PEO's Federal Employer Identification Number (FEIN).
Employers benefit from economies of scale by having a wider range of benefits to choose from, sometimes at cheaper costs.
PEOs are also beneficial since they help employers save money on health insurance and benefits. Companies who are not interested in co-employment but want some of the outsourcing benefits of outsourcing can use an administrative services outsourcing (ASO) arrangement.
Working with a PEO allows small and medium-sized firms to provide excellent benefits to their workers without burdening their HR administration or in-house Human Resources personnel.
Human resource activities such as employee benefits, salary, and payroll administration, as well as workers' compensation and employment taxes, can all be outsourced – depending on the PEO and the contract.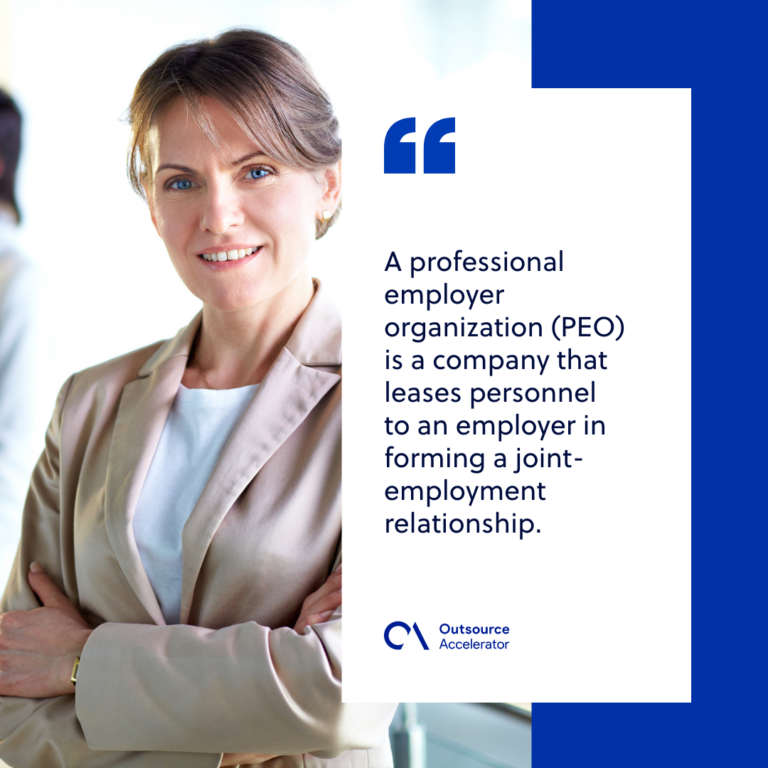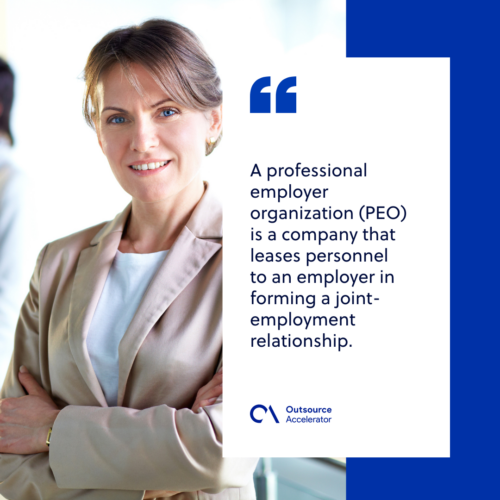 How does PEO work?
The customer agrees with their preferred PEO to lease their employees to do project work.
PEOS are then in charge of risk management, employee conduct, employee tax compliance, and other employment-related business concerns.
PEOs continue their search for employees and lease them to the customer at a specified hourly or monthly rate. The client firm or corporation, on the other hand, will be in charge of managing the leased employees' daily activities.
Even though PEOs lease their employees to their clients, they remain the employee of record in government forms.
In general, the client firm benefits from the services and labor performed by the workers while being relieved of the responsibility of human resource management, as PEO HR states.
PEO's HR department is responsible for agreed administrative tasks including hiring, terminating, and ensuring compliance.
Who should use a PEO?
A PEO may assist any firm in outsourcing HR, financial, and legal administrative functions. Small and medium-sized firms, on the other hand, have the most to gain by working with a PEO. 
This is possible since small and medium-sized businesses may concentrate on core business operations while outsourcing administrative tasks to a PEO.
Further, not every company has direct HR, legal, or tax expertise. These duties can readily be outsourced to PEOs who specialize in handling these tasks.
Large companies, mid-sized enterprises, and even small businesses are likely to use PEOs to help them expand internationally. PEOs are extremely useful for businesses wanting to grow into new markets, particularly when hiring their first foreign employees.
A PEO can serve as a major blessing to the work environment of small businesses. 
A global PEO, or one that administers payroll, HR, and benefits for an organization with employees in many countries, is designed to assist organizations in dealing with worldwide business issues.
For organizations developing internationally, especially those trying to hire staff in a variety of countries, a global PEO is now a useful partnership.
Employment and compensation regulations and cultural expectations differ greatly from state to country.
A global PEO can assist companies in effectively expanding into new areas by navigating legal and cultural differences.
Having a larger network of employees can help them provide more localized assistance and enhance cost-effective products to help their company grow.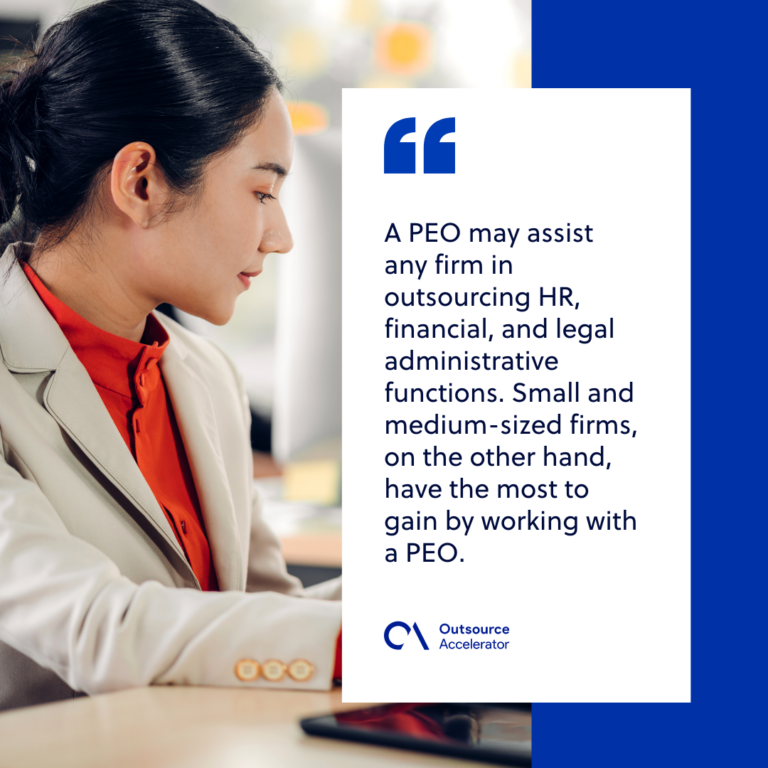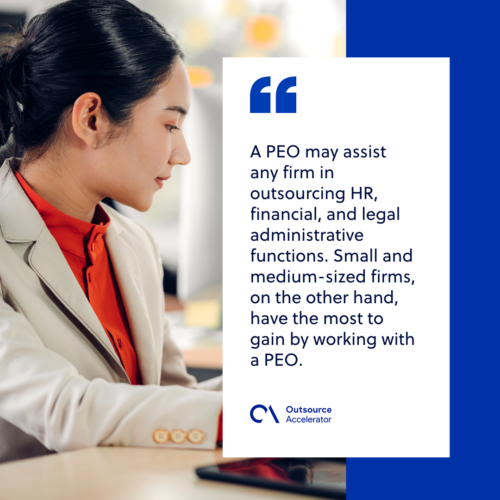 Benefits of using PEO in the Philippines
If a company wants to reduce labor costs, the Philippines is the place for the most cost-effective PEOs.
Here are some benefits of using a professional employer organization (PEO) in the Philippines.
Better recruitment and hiring process
Since a company works in a co-employment environment, it has fewer risks and liabilities because the PEO will manage workers' compensation and unemployment concerns.
Additionally, PEOs undertake the more complicated tasks of filtering candidates and doing background checks to identify the best personnel for their clients.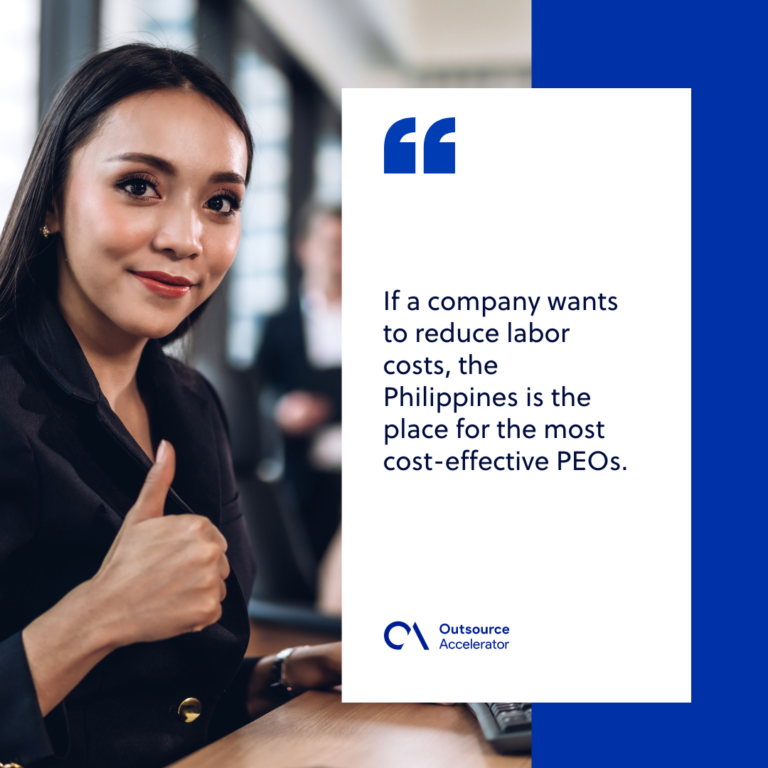 Easy payroll & tax management
PEOs frequently offer payroll processing services, which may save a company time and money by removing the burden of manual administrative processes, and reduce employee productivity.
However, keep in mind that the PEO will just process payrolls. The company is still responsible for preparation before the processing.
Reduced operational cost
When a company works with a PEO, it reduces the need to recruit more workers to do routine duties like payroll processing and other HR-related activities.
To maximize profits and develop the business, an organization can also focus on productivity in its important daily activities.
Compliance assistance (Laws & Regulations)
Employment regulations are complicated and change all the time. Keeping up with all of these regulations can put a lot of pressure on a company's budget. However, PEOs can assist.
Companies can be certain of support with maintaining employee compliance since PEO can supply HR specialists.
Increase employee development & benefits
The goal of a company's collaboration with a PEO is to provide cost-effective, relevant benefits to its employees while eliminating the workload.
PEOs provide various benefits to a company's employees through benefit plans, such as medical, vision, and dental coverage, as well as life insurance and retirement programs.
As its professional employer organization (PEO) takes care of all this, a company can concentrate on hiring more employees and taking full advantage of a wider workforce.
The core staff of a company can also experience increased productivity as a result of being able to focus on more essential tasks that are essential to the company's success.