A decade ago, back-office support outsourcing is still an unfamiliar concept to the majority of businesses around the world. Companies got used to housing almost all of their operations and managing them in one office. 
Nowadays, especially with the ongoing pandemic, outsourcing back-office support has become mandatory. This became one of their efficient ways to cut costs while maintaining their businesses afloat. Regardless if you intend to save on resources or grow your market, delegating these tasks can help you improve and adapt to the times.
This article tackles back-office support and how you can hire an outsourced team. 
How important back-office support is to a business
Back office support refers to roles that do not necessarily relate to customer support. Though, these are crucial in making sure the entire operations run smoothly. Unlike front office, back office does not require interaction with external clients of a business. They focus more on administrative and logistic tasks such as:
Human resource management

Document verification

Application and claims processing

Data entry and transcription

Content creation

Writing

Research

Other related tasks
Back-office serves as the backbone of a company. It helps the business grow by ensuring that its operation functions efficiently and without interruption.
It helps your employees work efficiently
Your back-office team will work on everything your team needs, from the equipment, cloud storage, phone, to document capturing devices, including maintenance and troubleshooting. This is to assure that they will work smoothly and more efficiently.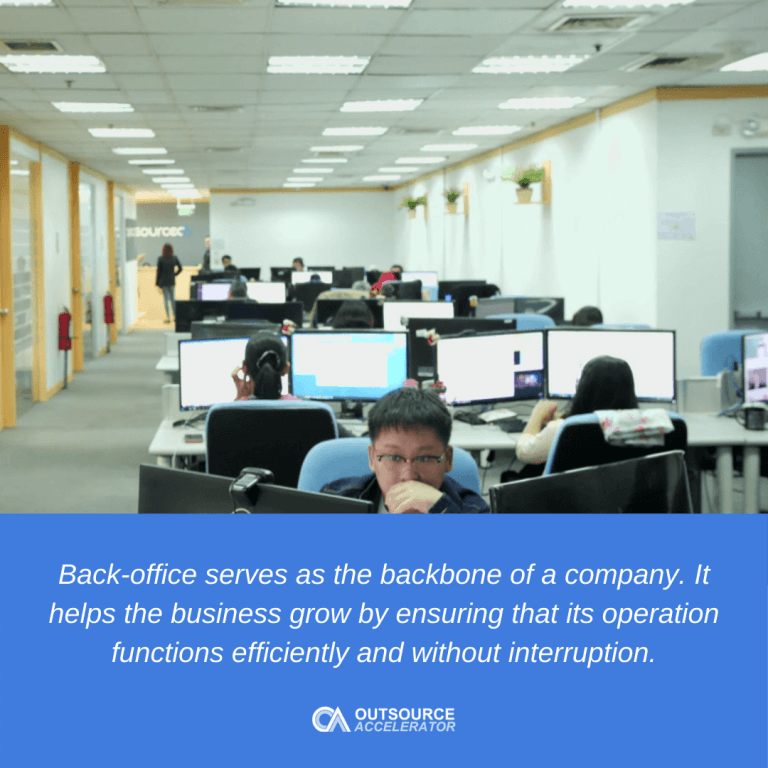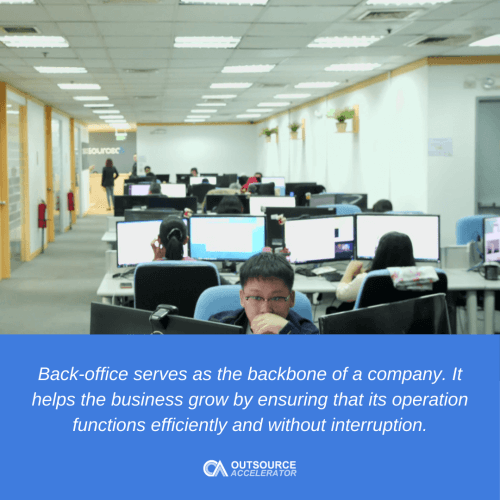 Efficient back-office affects customer experience
When you have proper, streamlined operations, it can affect customer experience and satisfaction easily. Nowadays, customer experience is one of the keys to retaining them into your business, and your back-office support team will help you with this.
Hiring offshore back-office helps you take care of your employees better
You can also delegate your human resource tasks to BPOs and PEOs offshore. This helps you manage your workforce better, avoid having a high turnover rate, and give them more benefits in the long run.
An offshore back-office team helps you save on costs
Lastly, an offshore back-office team helps you save on costs in labor and resources. You don't need to hire an in-house team and spend on additional office space and equipment. Instead, you can have a remote team that can serve as an extension of your current in-house team.
Top back-office roles you can delegate offshore
Basically, you can delegate any or all administrative services to a virtual assistant or a BPO company. They will serve as your secretary that will prepare documents, schedule appointment, and prepare other tasks for you. 
Aside from this, here are some of the top back-office roles you can outsource to third-party providers.
Accounting
Accounting may be a crucial and complex job you might want to do in-house. But, it is costly to maintain one if you don't have that much demand for them. Alternatively, you can hire an Accounting VA or a firm for short-term needs such as tax and documentary compliance.
Data entry and transcription 
Data entry is a wide and elaborate field. It requires time, focus, and attention to detail since you have to input customer information accurately. This is why you should outsource this work to a third-party provider who can make do this 
Human resources
A growing business requires a better human resources team that can handle their employees better over time. Many professional employer organizations (PEOs) handle every aspect of HR management, from recruitment, onboarding, training, to benefits management.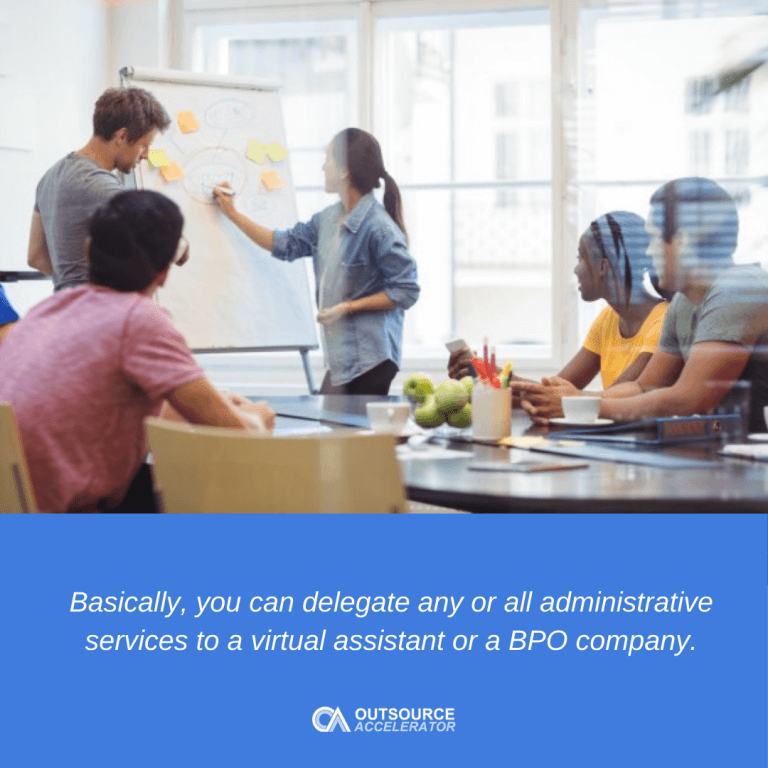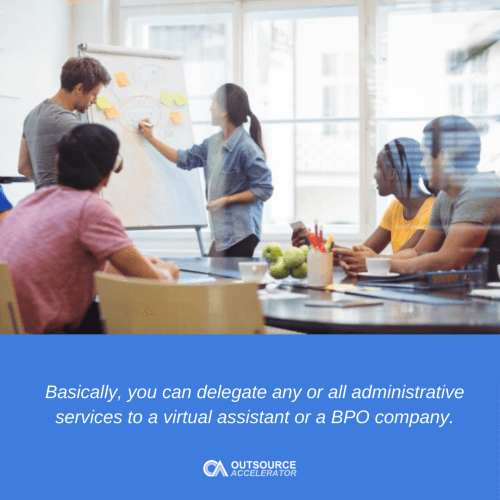 Payroll
You can't always handle payroll on your own. As your teams grow, you will have to increase your effort in updating their information, salaries, and benefits. A VA, staffing firm, or PEO can help you in this task so you can minimize errors in handling payroll and make sure that your employees get their salaries on time.
Creatives
Even when you can handle writing, design, or other creative tasks for your campaigns, it's still best if you outsource these. Creative professionals such as graphic designers, writers, and content strategists can handle this better so you can focus on planning better campaigns to attract customers.
IT support
Lastly, IT support is one of the most crucial tasks and should be one of the main focuses of a business, whether for their customers or employees. You can establish your IT and network services in-house, but your support, troubleshooting, and maintenance can be outsourced to offshore professionals who can handle this better.
Things to consider when hiring back-office support offshore
You can't just outsource your back office support and expect a high-yielding result without knowing the whole ordeal. To become successful, you have to plan and strategize your way into hiring and managing your offshore workforce.
Define your objectives in outsourcing
Whether you want to save on costs, improve your services, or diversify your workforce, you should properly define your objectives in outsourcing and how it will help your business in the long run.
Find out what to outsource
Then, you should determine which tasks you should outsource and which you should retain in the office. Remember that you can't just outsource everything without determining the need and demand for it.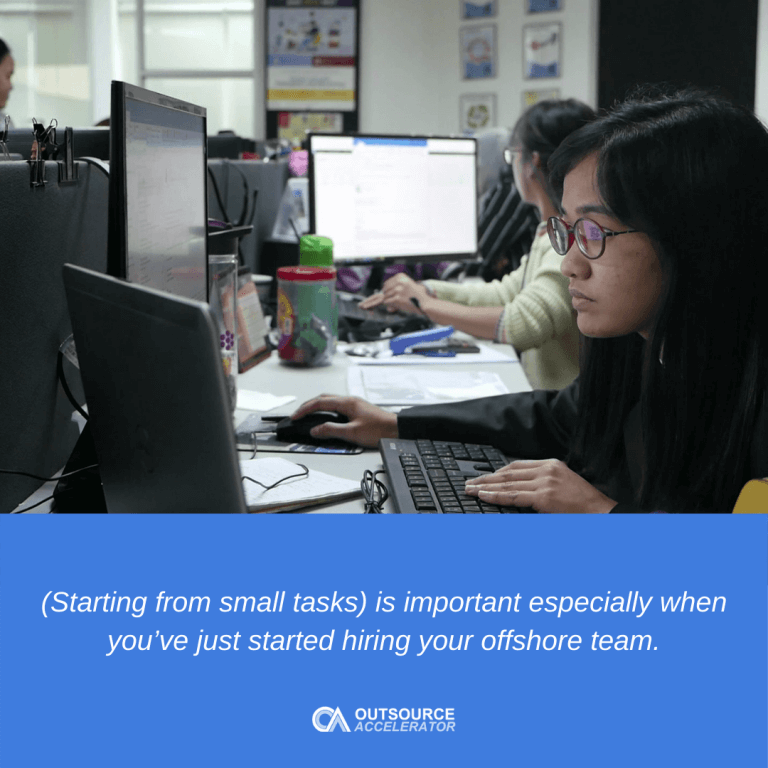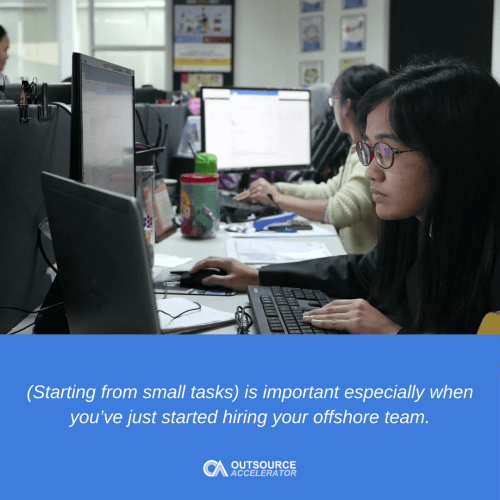 Learn about where you want to outsource
A bit of research helps in getting to know the company and location you're outsourcing. Get to know the company, its services, and the reviews they get from their clients and employees. There, you'll know what kind of company you will enter a partnership with.
Start from small tasks
Lastly, it's best if you will start outsourcing from small tasks. This is important especially when you've just started hiring your offshore team. Start with a few tasks they can do easily but are a part of your usual operations. With this, you can determine whether their services will fit your needs and their actual performance.