Nice inContact vs. Top Competitors: Review, alternatives, features & pricing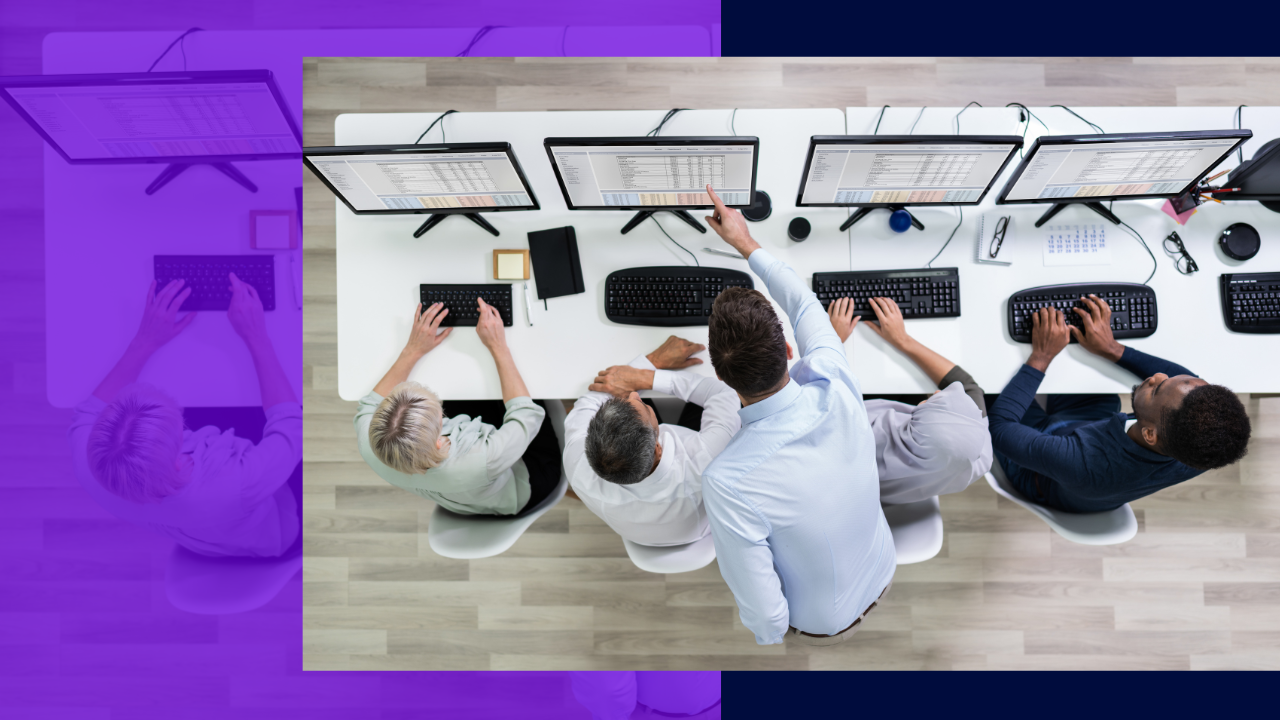 A cloud contact center has become an indispensable tool for call center operations. It's modern, efficient, and loaded with tools to help push your customer experience objectives to the next level. 
In terms of a cloud contact center system for customer experience, NICE inContact (or CXOne for their most recent update) is hard to beat. Still, it's worth looking into a few other products that offer a viable alternative. 
NICE inContact overview
NICE inContact (currently known as NICE CXOne) is NICE's cloud contact center software. NICE handles more than 1 billion customer interactions annually, establishing them as a leading call center solution provider today. 
NICE was founded in Israel in 1986 as the software company Neptune Intelligence Computer Engineering. Much of its early technology was developed for contact centers, financial services, and business intelligence markets. 
NICE primarily serves business process outsourcers, enterprise contact centers, and government entities. 
It has over 7500 employees (composed of scientists, engineers, and business and thought leaders) and operates in more than 30 countries to deliver effective customer experience. 
NICE inContact is known for its innovative end-to-end CX approach. The software combines digital entry points, journey orchestration, smart self-service, prepared agents, and a complete performance suite.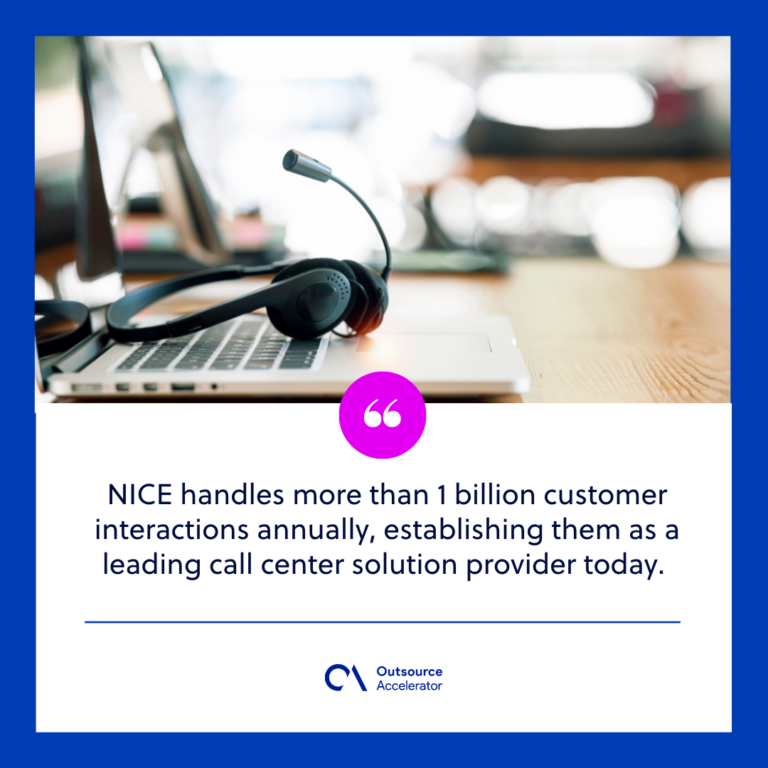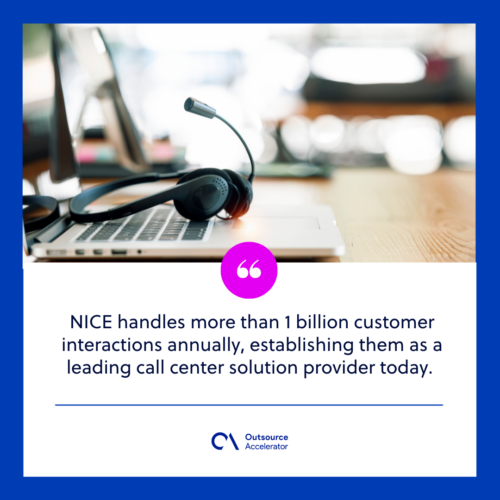 NICE inContact services, product features, and pricing
NICE inContact equips your call center with the right people, tools, and technology to deliver a successful customer experience. 
Its cloud contact center is cutting-edge and comes with the following aspects:
Services 
NICE offers services in the following areas, supporting your business so that you can place more focus on the customers:
Consulting and expertise

– NICE assists businesses in transforming their customer and employee experiences. It implements the right expertise, best practices, and innovative solutions to build a top-quality call center. 

Training and education

– NICE offers training and education taught by contact center experts, complete with on-demand access and skill assessments. 

Support

– NICE is a proactive partner that equips you with the right people, tools, and technology for all your contact center needs. CXOne also comes with the CXsuccess care package with self-service support.
Product features
NICE's products aim to be the next standard for exceptional customer experiences. The software delivers frictionless CX interactions across the end-to-end journey, utilizing the following features:
Digital self-service

– NICE allows you to meet your customers at any stage of their journey and empower them with intelligent bots, virtual agents, automated proactive engagement, and mobile engagement to find answers quickly. 

Journey orchestration

– NICE creates highly personalized interactions between agents and customers to guide them seamlessly across their chosen channels. 

Workforce engagement

– NICE understands that your business thrives when your team thrives. To that end, it provides powerful tools and data that give your agents full visibility to drive their performance. 

CX analytics

– by giving your agents the right information, NICE ensures better decision-making to improve productivity and

customer satisfaction

. 

Automation

– you can ensure an exceptional customer experience with NICE's intelligent process optimization. Employ intelligent process bots as an extended workforce to supplement your staffing. 

Open cloud platform

– NICE inContact/ CXOne is a public cloud with unlimited possibilities. It gives you the reliability, security, and flexibility you need to innovate and deliver globally. 
Pricing
NICE CXOne doesn't offer a free version of its software, but interested clients can take a free 60-day trial. For customized pricing, you may request a quote.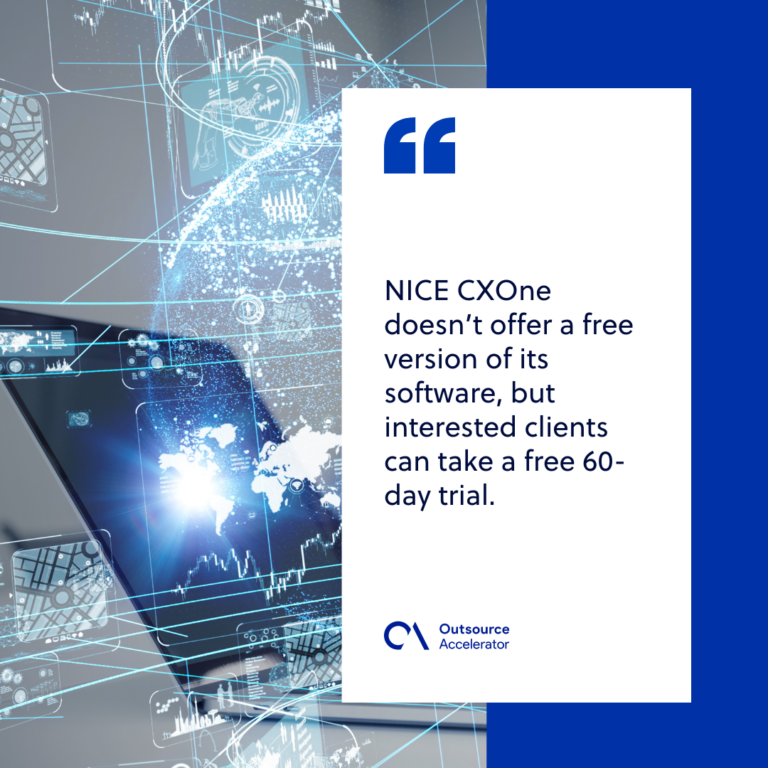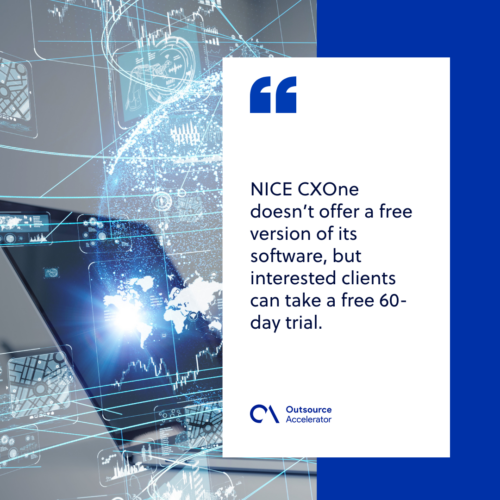 NICE inContact's top competitors
We've identified five of NICE inContact's top competitors in the CX sphere:
LiveAgent was developed out of a need to provide real-time customer service. Today it caters to over 150 million users and more than 40,000 businesses worldwide. 
LiveAgent is a helpdesk software that catches your customer communications and converts them into tickets for easier management. All communication gets centralized so your agents can manage them faster. 
LiveAgent's helpdesk system comes with advanced features like call center live chat, an IT service desk, and free knowledge base software. 
Features

Ticket management 

Live chat 

Call center 

Social media features 

Reporting 

Gamification

Multilingual 

Support portal 

Mobile apps 

Security

Browser extensions 

Integrations 



Pricing

Free

Small business: $9/agent/month

Medium business: $29/agent/month

Large business: $49/agent/month

Enterprise: $69/agent/month
NICE inContact vs. LiveAgent
| | | |
| --- | --- | --- |
| | NICE inContact/ CXOne | LiveAgent |
| Overall review | 4.2 | 4.7 |
| Ease-of-use | 4.2 | 4.5 |
| Customer service | 4.0 | 4.7 |
| Features | 4.1 | 4.6 |
| Value for money | 4.0 | 4.7 |
| Likelihood to recommend | 64.9% | 87.0% |
Five9 is a leading CCaaS platform that empowers your agents, managers, and your overall business. Serve customers across their chosen channel, gain visibility into your cloud center performance, and bring agility to your brand.
Five9 utilizes AI to evolve the contact center into a powerful CX platform. Five9 brings over 21 years of industry experience, serving 2000+ customers worldwide. 
Features
Agent call scripting

Call center data importing

Call center statistics

Call conferencing software

Call quality monitoring

Do not call compliance

Online contact database software

PBX

Speech recognition software

Text-to-speech software

Web callback service

Toll-free numbers



Pricing

Digital: $149 monthly 

Core: $149 monthly 

Premium: $169 monthly

Optimum: $199 monthly

Ultimate: $229 monthly
NICE inContact vs. Five9
| | | |
| --- | --- | --- |
| | NICE inContact/ CXOne | Five9 |
| Overall rating | 4.4 | 4.0 |
| Overall capability score | 4.4 | 4.4 |
| Evaluation and contracting | 4.3 | 4.4 |
| Integration and deployment | 4.3 | 4.1 |
| Service and support | 4.2 | 4.3 |
Talkdesk affirms that it offers a better way to intelligently reach the potential of CX. It leverages AI to enable brands to deliver frictionless customer experiences, utilizing the cloud contact center for tangible business growth. 
Talkdesk CX Cloud offers a full set of enterprise-level, integrated CX applications to drive CX-winning behaviors across your organization. Build personalized, productive, and profitable customer relationships that last. 
Talkdesk boasts several achievements, including ranking first in G2 Summer Reports, the most of any CCaaS provider. 
It's also a four-time Leader in the Gartner Magic Quadrant for CCaaS and a leader in the Aragon Research Globe for Intelligent Contact Centers. 
Features

Self-service experience 

Omnichannel engagement

Workforce engagement

Employee collaboration

Customer experience analytics 



Pricing

CX Cloud Essentials: $75/user/month

CX Cloud Elevate: $95/user/month

CX Cloud Elite: $125/user/month 

Experience Clouds: Request a quote  
NICE inContact vs. Talkdesk
| | | |
| --- | --- | --- |
| | NICE inContact/ CXOne | Livedesk |
| Overall rating  | 4.18 | 4.54 |
| Ease-of-use | 4 | 4.5 |
| Value for money | 4 | 4.5 |
| Customer support | 4 | 4.5 |
| Functionality | 4 | 4.5 |
*Software Advice: NICE vs. Talkdesk
Cloudtalk is a VoIP business calling solution for customer service and sales teams. Cloudtalk automates workflows and provides managers with integrated analytics to optimize performance and increase call efficiency. 
Cloudtalk lets you customize your CX to your business needs. The software comes equipped with over 70 features and CRM tool integrations to collect and process all your calling data. 
Features

Data and analytics 

Automation

Scalability

CRM integration
Pricing

Free trial for 14 days

Starter: $25/user/month 

Essential: $30/user/month

Expert: $5/user/month

Custom: Request a quote
NICE inContact vs. Cloudtalk
| | | |
| --- | --- | --- |
| | NICE inContact/ CXOne | Cloudtalk |
| Overall | 4.2 | 4.4 |
| Ease-of-use | 4.2 | 4.5 |
| Customer service | 4.0 | 4.3 |
| Features | 4.1 | 4.3 |
| Value for money | 4.0 | 4.2 |
Genesys handles billions of customer experiences for its clients every year in over 100 countries. Its technology maximizes the power of the cloud and AI to connect customer moments across marketing, sales, and service on multiple channels. 
Genesys is famed for being named an eight-time Leader in the Gartner Magic Quadrant for CCaaS. Users also rank it first in three out of five critical capabilities use cases. 
Features

Voice and digital channels

IVR and customer self-service

Outbound dialing 

Workforce engagement management

AI and automation

Reporting and analytics

Business communications

Integrations and apps
Pricing

Genesys Cloud CX 1: $75/month

Genesys Cloud CX 2 (Digital): $95/month

Genesys Cloud CX 2 (Digital + Voice): $115/monthly 

Genesys Cloud CX 3 (Digital WEM): $135/ monthly

Genesys Cloud CX 3 (Digital + WEM + Voice): $155/ monthly    
NICE inContact vs. Genesys Cloud CX
| | | |
| --- | --- | --- |
| | NICE inContact/ CXOne | Genesys Cloud CX |
| Overall rating | 4.18 | 4.32 |
| Ease-of-use | 4 | 4.5 |
| Value for money  | 4 | 4 |
| Customer support | 4 | 4 |
| Functionality  | 4 | 4 |