Exploring mentorship in the workplace: Definition, types, and benefits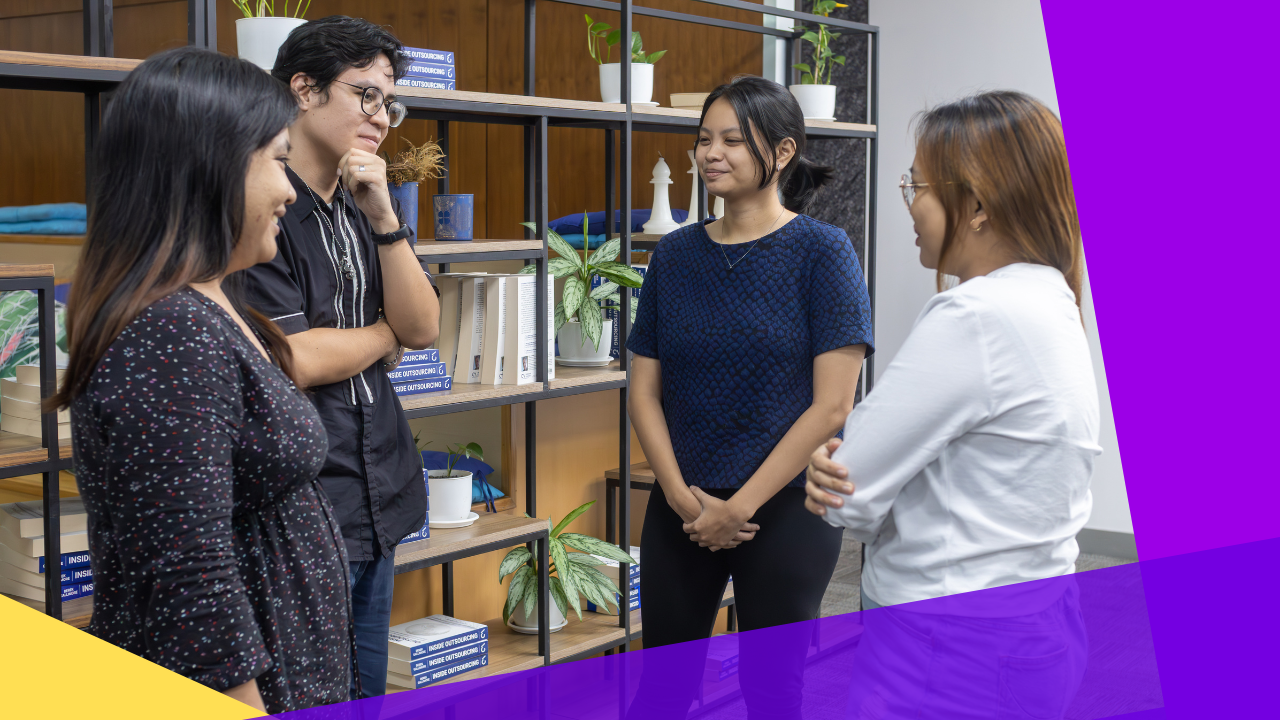 Mentorship is considered a widely important element for career success. Many companies offer programs that match new hires with experienced employees who serve as mentors to help them build skills and navigate workplace challenges. 
Mentorship in the workplace can be a powerful tool for your organization. Read on to learn more about how it works. 
What is mentorship in the workplace? 
Within the workplace, those in senior positions usually take the role of mentors, such as managers, executives, or directors. 
The best mentors are those who have experience being in their employees' positions and are better able to advise them. 
Mentorship in the workplace provides guidance and advice as employees navigate challenges and make important decisions. Mentors may also give feedback on projects and help prepare workers for advancement opportunities. 
Many companies implement mentorship in the workplace as a way for their staff to develop and grow their skills. These interactions are occasionally formalized through structured programs and defined levels of support. 
This benefits the organization as a whole, making it internally stronger and capable.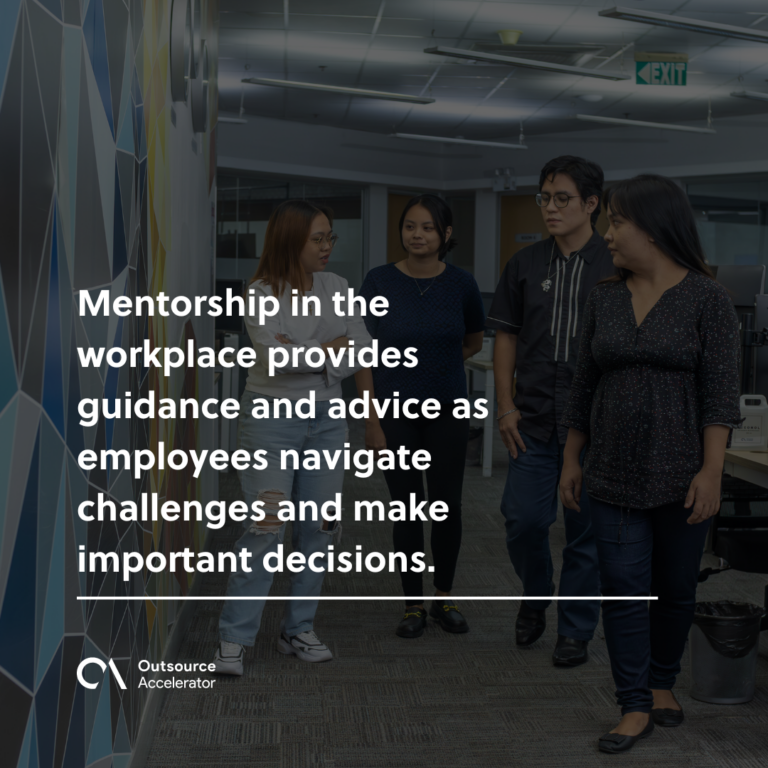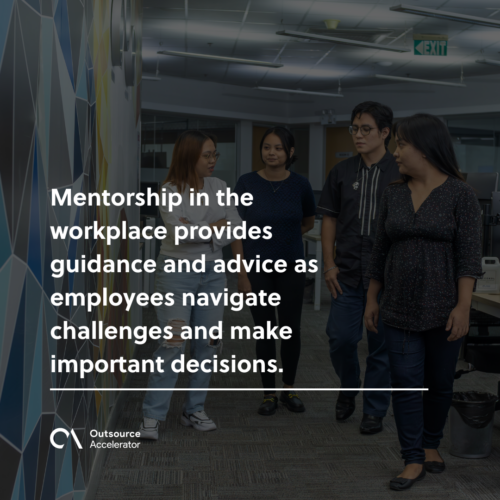 Types of mentorship in the workplace
Here are the five common types of mentorship programs you'll see in the workplace: 
Career advancement mentoring 
The most common type of mentorship in the workplace concerns career advancement. A more experienced colleague guides a junior one through the steps of success. 
The mentor helps maneuver through corporate politics or technical challenges. They help identify your strengths and weaknesses, set goals, and advise how to move forward in the company. 
The mentor's experience in this is invaluable as they are living proof that their advice and instruction lead to promotion. 
Leadership development mentoring
Leadership development mentoring is typically reserved for high-potential employees identified as future leaders. This type of mentorship in the workplace consists of programs that have people learn to:
Set goals

Evaluate progress

Develop new business plans
Mentors prime their employees to think from multiple angles and challenge them to go beyond their comfort zone. This mentorship program also frequently tackles interpersonal skills such as collaboration and communication. 
Diversity mentoring 
This is a new form of mentorship in the workplace that considers the growing awareness of the need for diversity, equity, and inclusion in the work setting. 
Diversity mentoring focuses on the development of minority employees. It's essential to keep in mind that diversity isn't just skin-deep. It also includes gender identity, sexual orientation, religion, and other aspects of someone's identity. 
This mentorship is a two-way process. The mentor gains insight into the experiences of people who are different from themselves, and the mentee grows as an employee. 
Diversity mentorship in the workplace is incredibly valuable today. It helps the organization overcome barriers that would otherwise be difficult for individuals to navigate on their own. 
It should be noted that if your organization has a diverse culture, this type of mentorship in the workplace occurs naturally.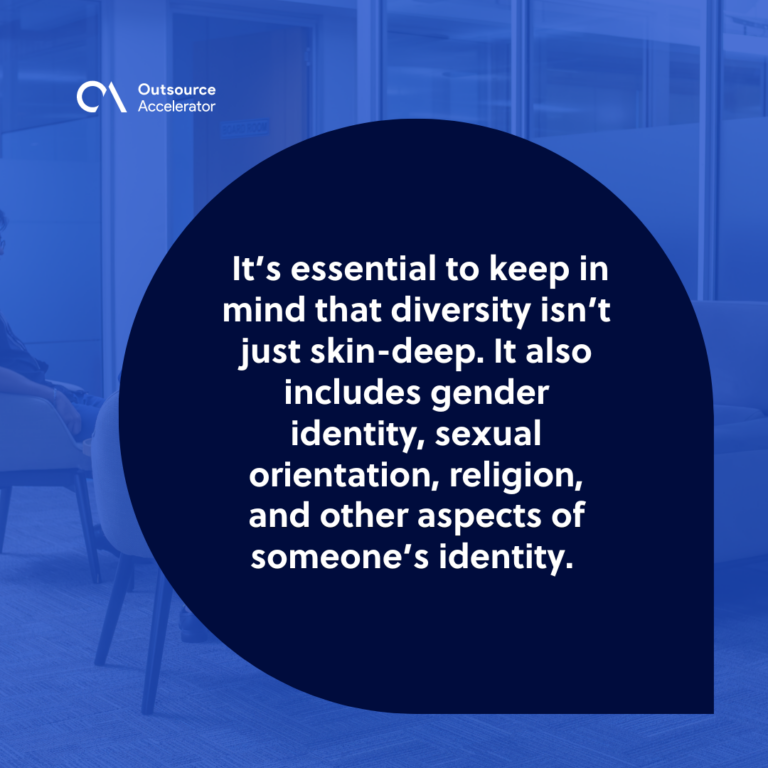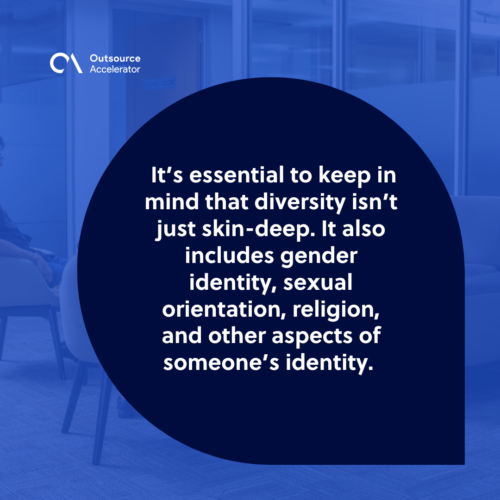 Knowledge-sharing mentoring
One of the most common forms of mentorship in the workplace is knowledge-sharing. Unique among the other types, this actually takes the dynamic of co-workers of the same level mentoring each other.
Knowledge-sharing mentoring is also referred to as horizontal or peer-to-peer mentoring. The goal of knowledge sharing is to help workers build expertise and become more capable at their job. 
While a manager may also do this, horizontal mentoring can also serve to build camaraderie within the team or develop leadership skills. . 
Collaborative learning and support mentoring 
This type of mentorship in the workplace aims to improve skills in communication, teamwork, and group problem-solving. It's the most informal of the main types of mentorship as it seeks to build more dedicated teams. 
Collaborative support mentorship is about helping others learn and grow as people, sharing knowledge and experience so that both parties benefit. 
The mentors may not be technical experts, but they're well-versed in facilitating connections, as well as being open themselves to learning. 
Benefits of mentorship in the workplace
Mentorship in the workplace has benefits not only for the ones being mentored but even for the mentors and the organization itself. 
Benefits of mentorship to mentees 
As the main target of mentorship in the workplace programs, mentees have the most to gain from the arrangement. 
Mentees receive the following:

Guidance and support in their role

Increased confidence in their abilities

Professional development and advancement opportunities

Practice accepting feedback from a consistent source 

The space to build a network of colleagues and expanded knowledge of the organization
Benefits of mentorship to mentors 
Mentorship in the workplace can be a two-way process, and mentors are also frequently assigned to develop their own skills and gain new benefits as well. 
Mentors gain the following:

Fulfillment and satisfaction of helping train newer or younger colleagues

Enhanced communication and relationship-building skills

Extended network of colleagues and community

Opportunity to examine the status quo and alternative approaches to work

Added sense of responsibility
Benefits of mentorship to the organization  
And, of course, leaders implement mentorship in the workplace to benefit the organization as a whole. 
The organization gets the following in return:

Growth and development of high-potential employees and leaders

Employee engagement

and retention

Reduced training costs

Improved talent acquisition efforts

An inclusive, diverse, and collaborative environment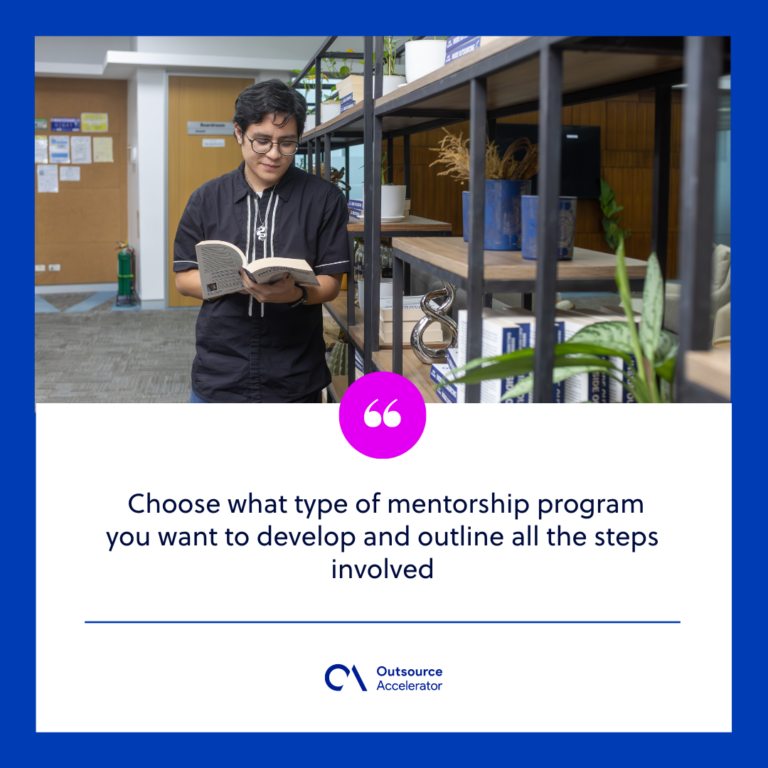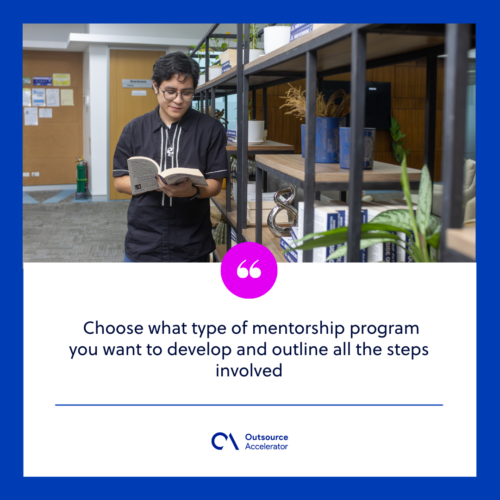 Building a mentorship program for the workplace
Consider these steps when building your own mentorship program for your workplace.
Define your goals

. What are you trying to accomplish? What do you want people to learn? Make sure your program aligns with your company's ideals and goes in the right direction.

Outline your mentorship process

. Choose what type of mentorship program you want to develop and outline all the steps involved. Identify what roles need to be filled, what tasks need to be completed, and what material to use.

Select the participants

. Select those who will benefit the most from mentoring and who can offer the most expertise. Consider also more personal factors so that people with different backgrounds can learn from each other. 

Match mentors and mentees

. Match people based on skills, experience, interests, and personality. This may be difficult, and you won't always get it on the first try. Having mentors volunteer to choose from will also be beneficial. 

Provide support and training

. Ensure the mentorship arrangements have everything they need for a successful outcome and be consistent. This includes training programs, coaching sessions, and other resources to help their careers.