Here's why upskilling and reskilling are essential in 2023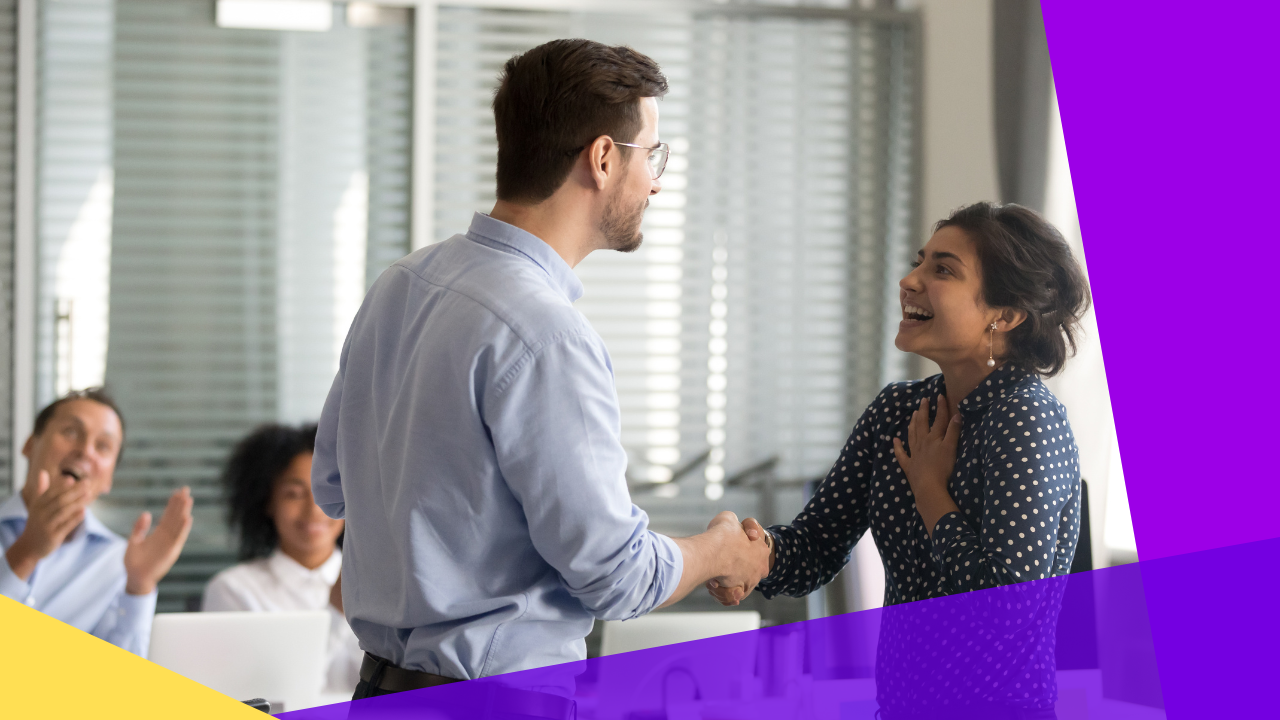 Here's why upskilling and reskilling are essential in 2023
Organizations should always look for ways to enhance operations and employee efficiency. What better way to improve employees' capabilities than administering upskilling and reskilling programs? These pieces of training are also perfect for smaller corporations that can't afford to hire new employees.
But it is not enough for employees to learn how to carry out their tasks and then advance to the next higher level of responsibility. They must constantly learn and adapt to be effective.
In the long run, nurturing employees' talent is highly advantageous to the firm. In fact, upskilling and reskilling is the top goal for 59% of L&D professionals globally.
According to Booth and Partners, companies that engage in staff training earn 24% more profit than those that do not.
In other words, training your workers and allowing them to learn additional skills give them the growth necessary to flourish in today's business environment.
Significant differences between upskilling and reskilling
Upskilling and reskilling include acquiring new skills and enhancing an employee's skill matrix. The two names are occasionally used interchangeably, but the crucial distinction is the context:
Upskilling

– focuses on employees

learning new skills

to help them perform better in their current job roles.

Reskilling

– the practice of

retraining and learning new skills

to take on new jobs within a company.
The simplest method to ensure your staff members succeed in their careers is to assist them in honing a skill. Booth and Partners know this well, as they provide training solutions to transform your staff into a high-performing team.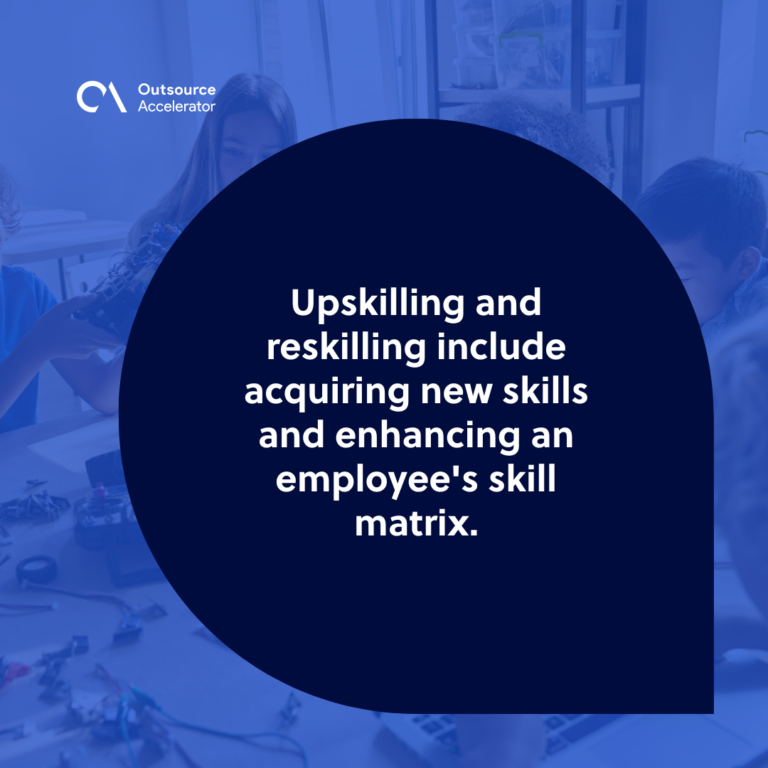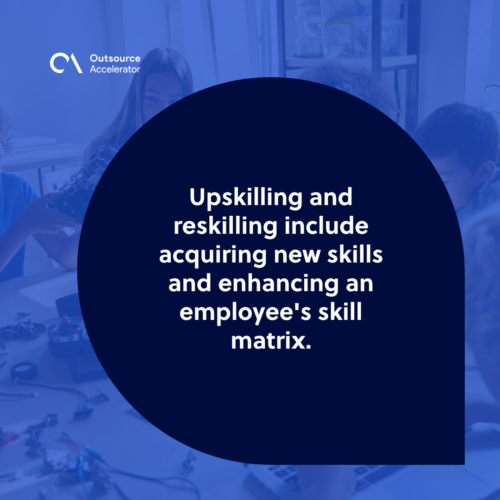 Upskilling and reskilling areas to focus on
The following are typical examples of upskilling and reskilling areas organizations should focus on:
Digital upskilling
Developing employees' digital abilities is vital in modernizing corporate processes. Booth and Partners can assist businesses in training their staff members to have adequate knowledge of new business systems or equipment.
Moreover, this upskilling and reskilling area is best for employees to learn the following:
Proper computer use

Learning new software

Programming abilities

Social media
Leadership
Managers and supervisors with solid leadership qualities can boost team productivity and performance.
Upskilling and reskilling training in this area should focus on the following:
Decision-making

Project management

Delegation

Staff motivation
This upskilling and reskilling area doesn't just pertain to the skills necessary to train teams to become great leaders. It also embodies how an organization should operate.
Booth and Partners exemplify this by promoting a culture that encourages leadership and a pleasant working environment.

Technical product knowledge
Sales and marketing teams frequently use technological tools that demand a high skill level to communicate with potential customers.
As a result, increasing staff's technical knowledge outside of the product team can enhance operations.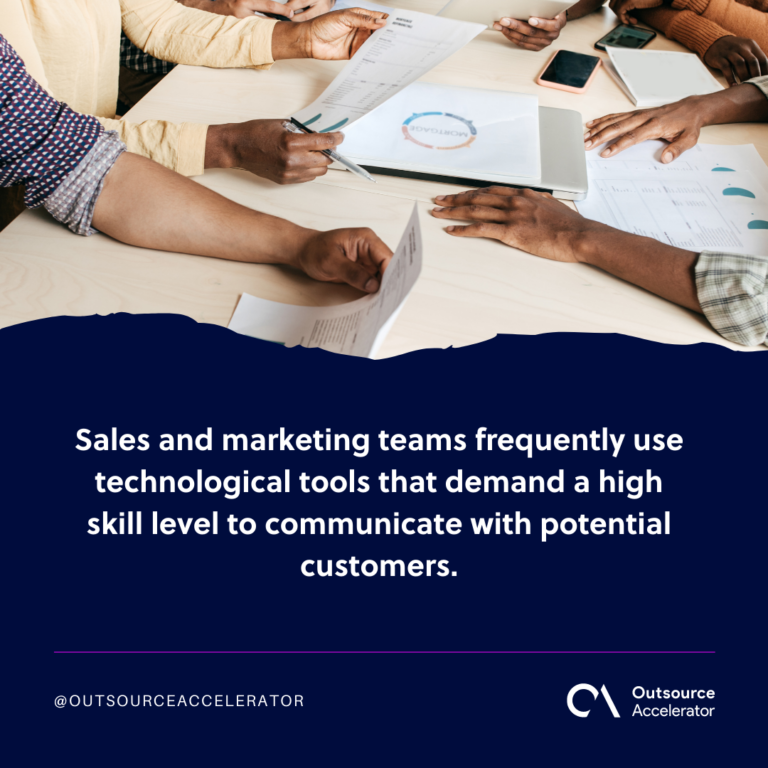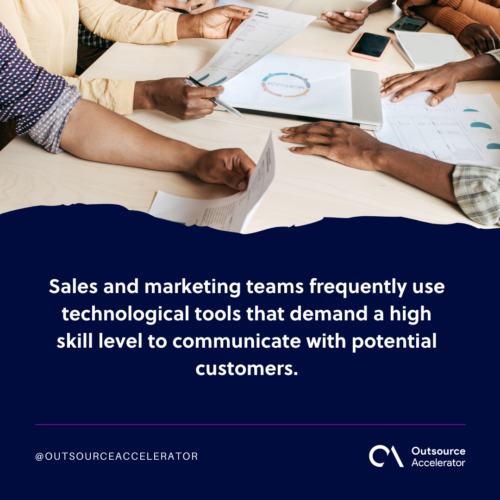 4 areas to focus on in upskilling and reskilling in 2023
Here are four areas to consider when executing upskilling and reskilling programs:
1. Increase your business's value
Upskilling and reskilling your best people may assist you in positioning your company as a talented, educated entity.
This means that your firm may be seen not only as a functioning, efficient company but also as a firm dedicated to expanding and adapting to the ever-evolving business requirements.
2. Set your employees up for success
It is critical to assist your employees in learning new skills to thrive in their present and future responsibilities. 
Part of Booth and Partners' training solutions is to help you inspire your employees to perform at their best. Upskilled and reskilled talents may help your firm expand and get closer to its long-term strategy.
3. Enable adaptability
Companies can only thrive if they can adapt to change. Support teams become more flexible as a result of upskilling and reskilling initiatives. 
For instance, someone who excels at ordinary customer service can learn to apply their talents to a rising backlog of complex inquiries. 
4. Bridge skill gaps
As per Booth and Partners, skill gaps can arise for a variety of causes, including:
Lack of sufficient skills

Poor task performance 

Outdated compliance knowledge
Whatever the source, upskilling and reskilling are effective methods for employees' development to bridge the skill gaps.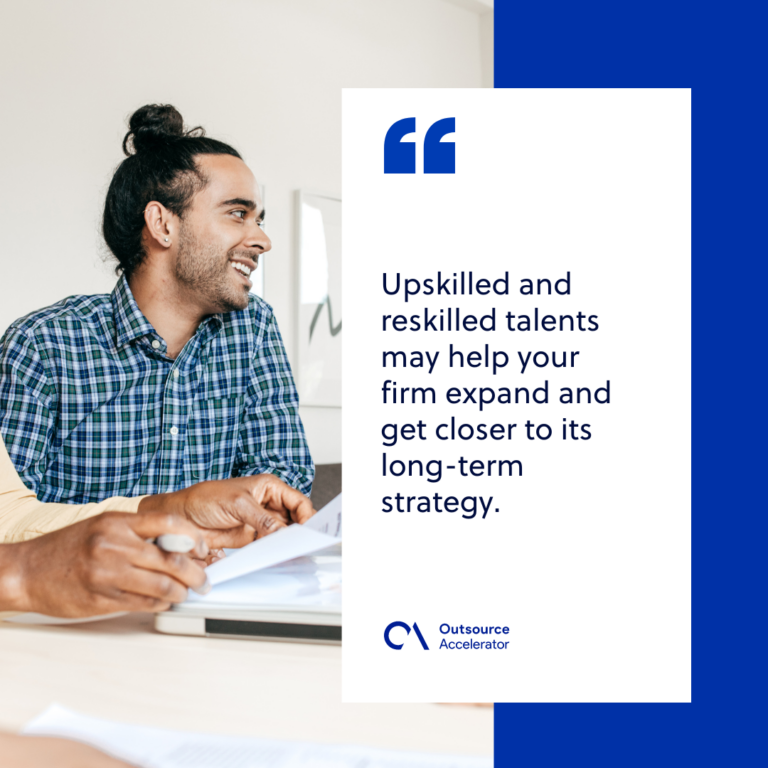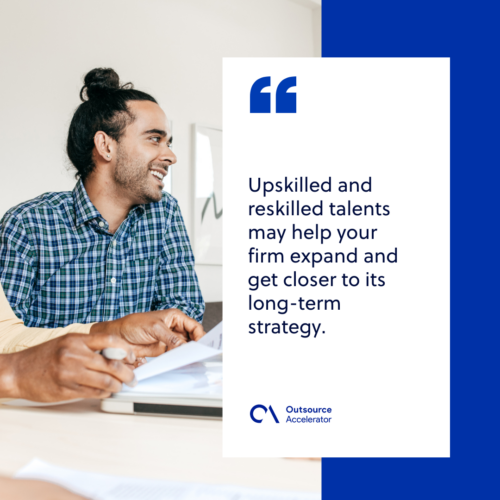 Booth and Partners offers upskilling and reskilling programs
Companies don't have to worry about matching market needs when employees have up-to-date capabilities. Consider hiring a service provider to develop your abilities to build a high-performance team.
Take the first step towards upskilling and reskilling your talents. Get in touch with Booth and Partners today!