A guide to the medical billing industry
The medical industry can be complicated to understand at times. Some seem like vast and complicated areas that need thorough understanding.
However, the medical billing industry is different.
Learning about it is easy when you have an idea of the basics. More often than not, you will be aware of how you use the medical billing process in your daily life.
Insurance, medical providers, and other healthcare-related things are part of the medical billing industry. They are the driving force behind how the entire system works.
Moreover, the medical billing outsourcing industry emphasizes the importance of compliance and risk management to ensure the accurate and secure processing of healthcare claims.
Learn more about the industry as you read through this guide.
What is medical billing?
Medical billing is the process of creating medical claims to insurance companies to get reimbursement for medical services provided by healthcare professionals and facilities.
The medical biller tracks the claim after converting a healthcare service into a billing claim to ensure the organization is paid for the work the provider completed.
For the process to work, you'll need a skilled medical biller to handle all these. An experienced medical biller can raise profits for hospitals, doctor's offices, or other healthcare facilities.
But what exactly is their function?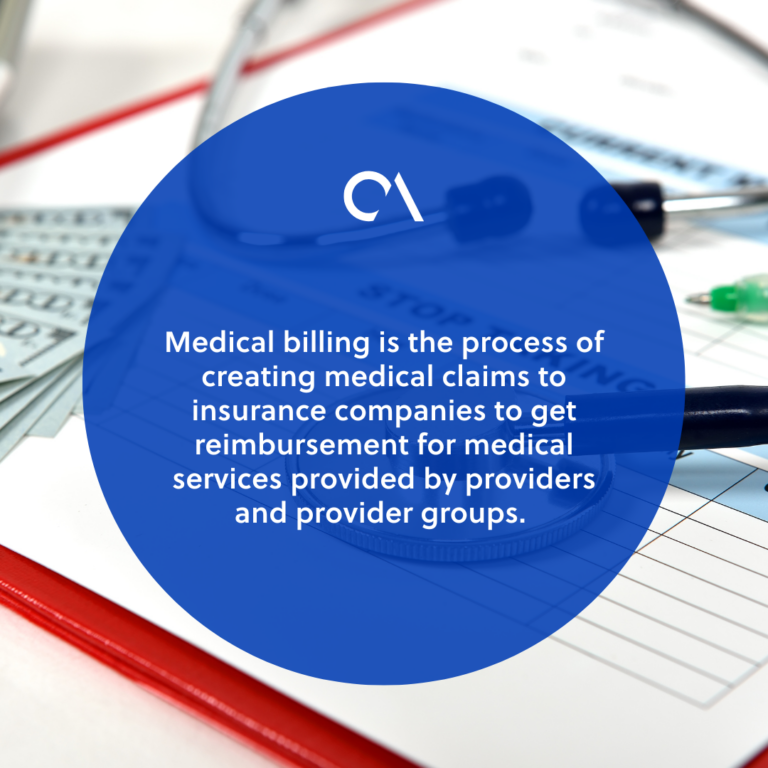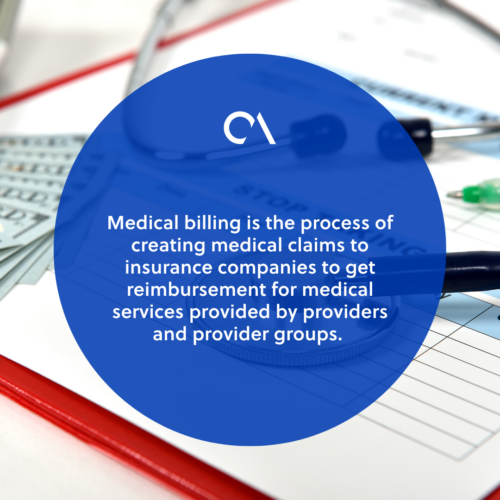 What does a medical biller do?
A medical biller, also known as a medical billing clerk, is a crucial component of the healthcare sector. Medical billers make sure that the billing of healthcare services is done appropriately and that the right person or business is invoiced or paid.
Auditing and submitting claims for patient visits, diagnoses, and medical treatments to insurance providers, patients, and other payers may be part of their day's work. They also handle billing issues.
When bills are past due, they might need to handle payments, file an appeal for a denied claim, or conduct collection calls. To ensure that the claim will be paid once submitted, they might also need to phone insurance companies to seek authorization for operations.
Some more facts about medical billers
They have professional certifications as a Registered Health Information Technician (RHIT) and Certified Tumor Registrar.
Their critical skills include technical and analytical ability, attention to detail, interpersonal, and trustworthiness.
Hospitals, physicians' offices, nursing, residential care facilities, and government agencies are the work environments they're usually at.
Medical transcriptionists and medical and health services managers are similar occupations to medical billers.
When it comes to education and training, a medical biller needs to have familiarization with medical terminology and medical insurance codes. Communication skills, customer service experience, and attention to detail are also expected to be of possession.
Lastly, medical billers should expect most of their time frequently working on the phone and more desk time.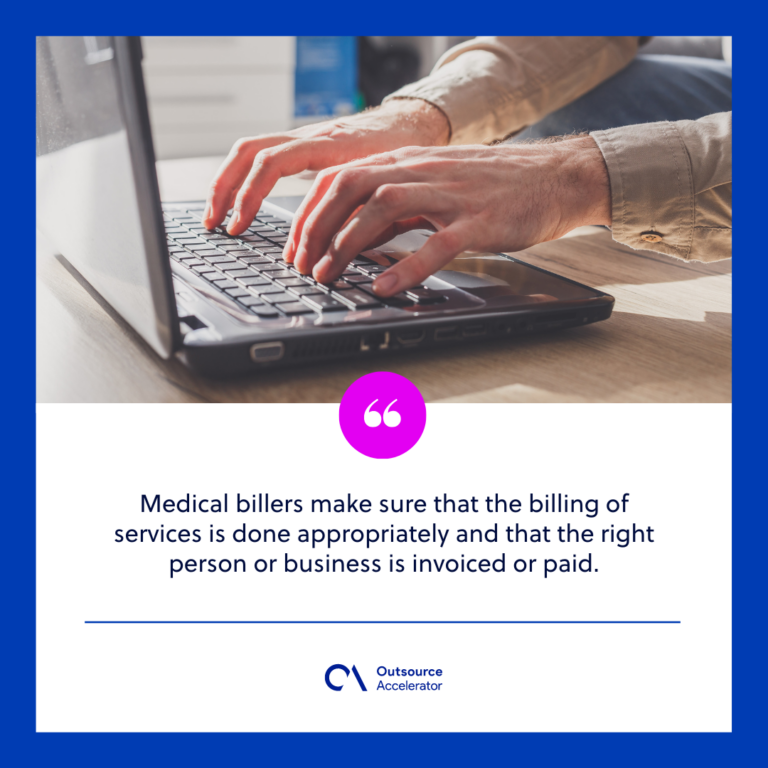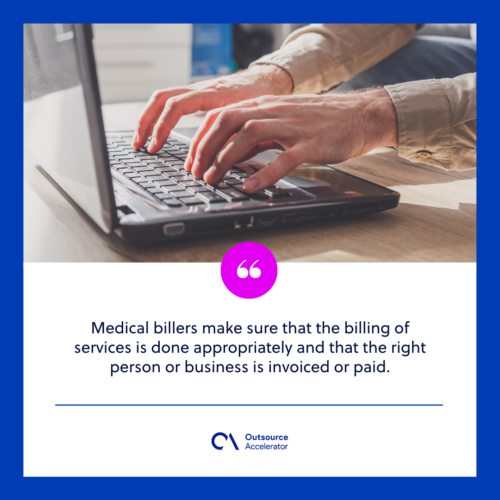 To gain the knowledge and skills for this career, completing a formal program in medical billing would be necessary. The most common option, certificate programs, usually take less than a year to finish.
You can also learn about medical coding in other programs. It assigns codes to medical procedures and other things you can find in a medical bill. You may also take advantage of learning medical vocabulary, medical coding, insurance billing, and human anatomy while enrolled in a coding or billing program.
Who are the parties in the medical billing industry?
There are different parties involved in medical billing, but the main ones are patients, insurance companies, and medical providers. All of these work together to establish and make up the medical billing industry.
How does the medical billing process work?
Every medical transaction goes through numerous processes, and medical billing is no exception.
Although several steps in the medical billing cycle might take a few days to many months, the top priorities are accurate billing and prompt follow-up. Most states mandate that insurance companies settle claims in 30 to 45 days.
On the other hand, payers establish claim submission deadlines that, if missed, void coverage. Without the chance to appeal, the late claim is rejected, and the organization is not entitled to compensation.
Errors can be costly in terms of lost revenue and administrative effort at any point in the billing cycle. Medical billers must control their part in the billing process. The efficiency of front-end and back-end billing employees is critical to the financial stability of healthcare establishments.
We can break down medical billing into the front and back end stages. From its term, the front-end is the pre-stage, where front-office staff first encounters a patient before seeing the doctor. It is where accurate billing depends.
After the patient has seen the physician, back-end billing takes place. The billing process resumes in the back office. The back-end activities are not patient-facing. Once the medical coder has finished their duties, the billing team can access the medical codes representing the patient interaction.
The front-end medical billing
One of the essential requirements for a medical biller is to be well-versed in their organization's payer mix. There will be many inquiries regarding how it works, what is needed, and much more.
Billers can verify insurance eligibility and stay informed of filing deadlines by being familiar with the various payers and health plans the organization accepts.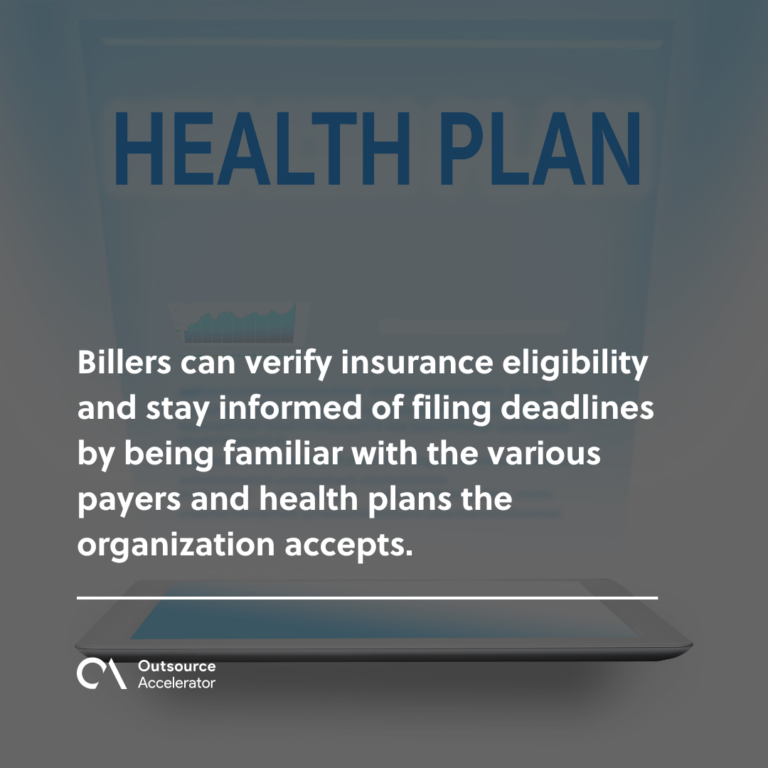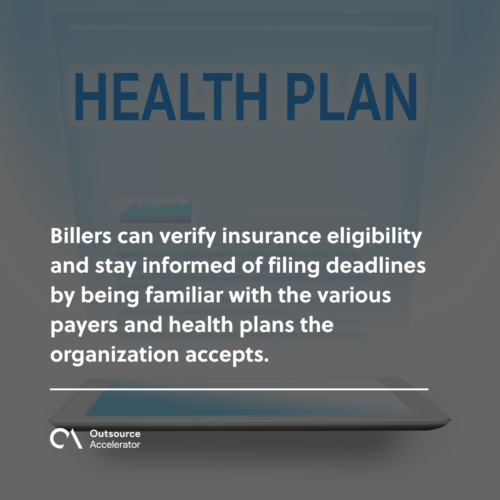 Pre-registration and registration
The first step to acquiring an insurance claim is to contact the provider's office and ask for a schedule of appointment or register directly at the hospital.
It is when the staff gathers important information like patient demographic and insurance information. The patient can also go on-site to fill up the registration.
Insurance eligibility verification
The next step is to confirm with the patient that services are part of the health plan. The staff and the patient can conduct this via phone or an insurer's electronic eligibility verification tool.
This process verifies eligibility effectivity dates, copay, patient coinsurance, deductible, and plan benefits.
Point of service collections
This step is essential to medical billing because it reduces the cost of patient balance follow-up and prevents write-offs and unnecessary debt.
Encounter form generation
The encounter form is generated to communicate information regarding the number and types of services given to the patient. Ultimately, the provider will check and sign the form to approve the services that are good for billing.
Checkout
The last stage of the billing cycle in the front end is when the staff schedules an appointment to see if the patient is good with the encounter form. Checkout is also a stage where you can take a second look for points of service.
Medical coders collate medical records and convert billable information to medical codes. The back-end medical billing
Medical billers will still need to communicate with the patient more often to clarify some more diagnoses or other necessary information. Familiarity with CPT®, HCPCS Level II, and ICD-10 codes is essential.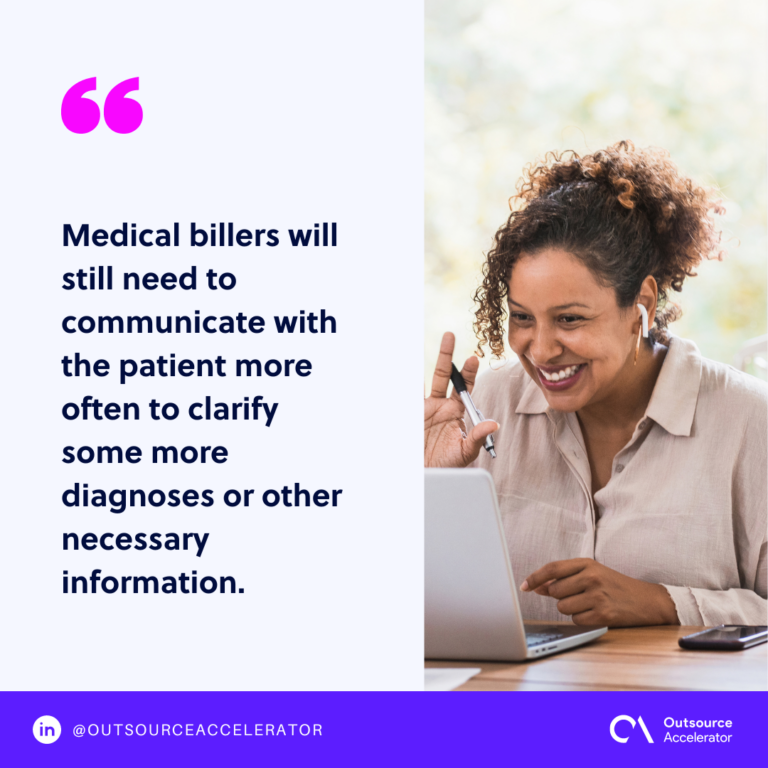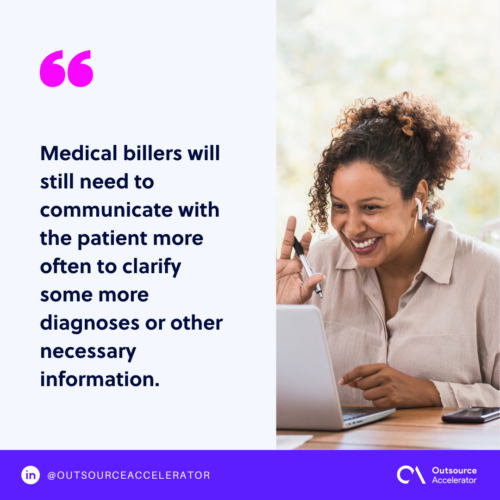 Charge entry
The encounter form informs the charge entry team about the services and procedures that were carried out and their justifications.
These charges, together with any payments received by the patient at the time of service, are then entered into the practice management system by the charge entry team.
Claim generation
Generating the claim is the process after all charges and payments are entered. Compiling costs, revenue codes, CPT®, HCPCS Level II, and ICD-10 codes are some things that the medical biller may involve in this process.
Claim scrubbing
Billers scrub claims as they are being prepared for payment to ensure that all operation, diagnostic, and modifier codes are present and correct. Ensuring all necessary patient, provider, and visit information is complete is another aspect of claim cleaning.
Medical billers generally run claims through claim scrubbing software, which detects and fixes problems, to complete this stage of the billing cycle.
Claims forms
There are two forms that medical billers often use to gather payments from insurers: the CMS-1500 claim form and the UB-04 claim form. Centers of Medicare and Medicaid Services made both forms.
CMS-1500 – the form for reporting professional services rendered by providers and Ambulatory Surgical Centers.
UB-04 – reports procedures and services performed at inpatient facilities like hospitals.
Claim submission
Provider organizations may submit claims directly to payers, typically through software that complies with HIPAA claim standards for electronic filing. However, most medical practices choose to file insurance claims via a clearinghouse.
Claim tracking
It is the medical biller's responsibility to track the claim status daily. When implemented, clearinghouses frequently provide dashboards that allow billers easy access to status updates for submitted claims.
Payment posting
The back-end billing staff is responsible for matching payments to the appropriate patient accounts, comparing fees to claims, and ensuring that information from Electronic Remittance Advice (ERA) or Explanation of Benefits (EOB) is in sync.
Medical billers must balance direct deposits received and posted at the end of the day.
Patient payments
Once the remittance advice is ready, all outstanding balances shall be sent out. It is the patient's responsibility to pay for it as soon as it arrives.
To avoid confusion, the statements should include – the services performed, service date, insurance reimbursement received, payments collected at the time of service, and the reason the patient balance is due.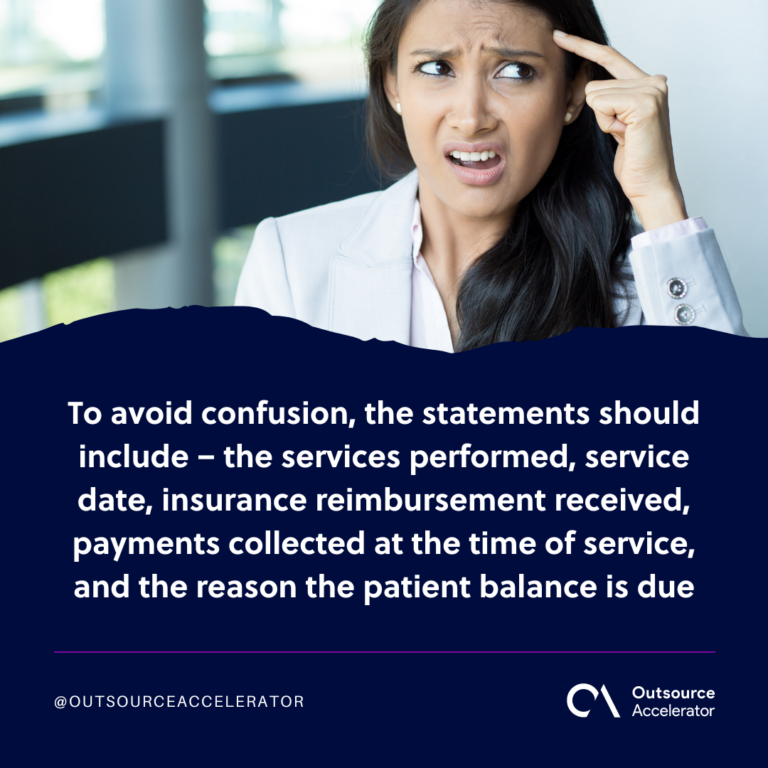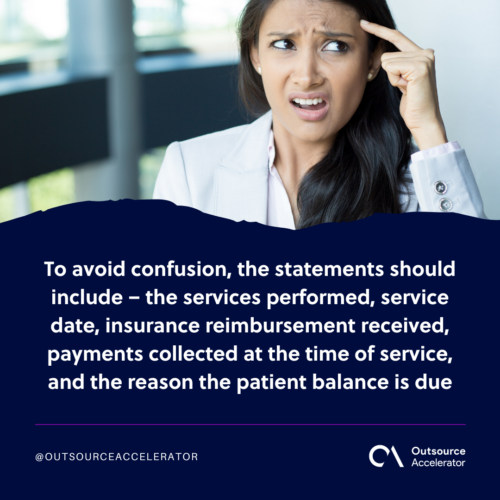 Denial management
When you receive denials or problems with reimbursement from insurers, address them as soon as possible. The remittance advice gives billing employees a denial code and a concise justification for the claim denial when a payer rejects a claim.
The billing team should analyze the denied claim to see if more information is required, if any errors arise, or if a call for appeal is required.
A/R collections
It is the final step of medical billing. When delinquent accounts appear, the medical biller's responsibility is to follow up on patients who fail to pay on time.
Medical billers send the revenue to accounts receivable (A/R) management, where payments are tracked and posted after they have been paid.
Credit balances
While a credit balance may result from various circumstances, the medical billing team is responsible for locating overpayments and swiftly returning them to the rightful recipients. Inaction could lead to legal action and civil monetary penalties.
How systems operate in the medical billing industry
The medical billing industry comprises different areas that function together to provide a seamless process for patients and healthcare workers. Several steps are taken into consideration to ensure that everything is processed accordingly.
Medical billing and coding electronic health records go hand in hand. Integration makes sense because both systems use the same data to carry out their tasks. Additionally, they efficiently enhance each other's functionality. The valuable patient data in EHRs improve the accuracy of the billing process.
As the medical billing industry progress, more healthcare sectors are now inclined to adopt a faster and simpler process.
Many healthcare providers are now opting for medical billing outsourcing services to streamline their revenue cycle management and capitalize on the growing medical billing outsourcing market.
The future of the medical billing industry
The current trend in today's medical industry is to digitize and automate all forms. More healthcare providers switch to secure online patient management systems, thus, opening an opportunity for a payment rate increase.
There is more pressure to draw customers in a cutthroat industry. Again, before choosing a medical practice, patients want to be assured that their personal information is secure. Regardless of their insurance provider, they typically have various treatment options.