How to measure the effectiveness of outsourced facility management services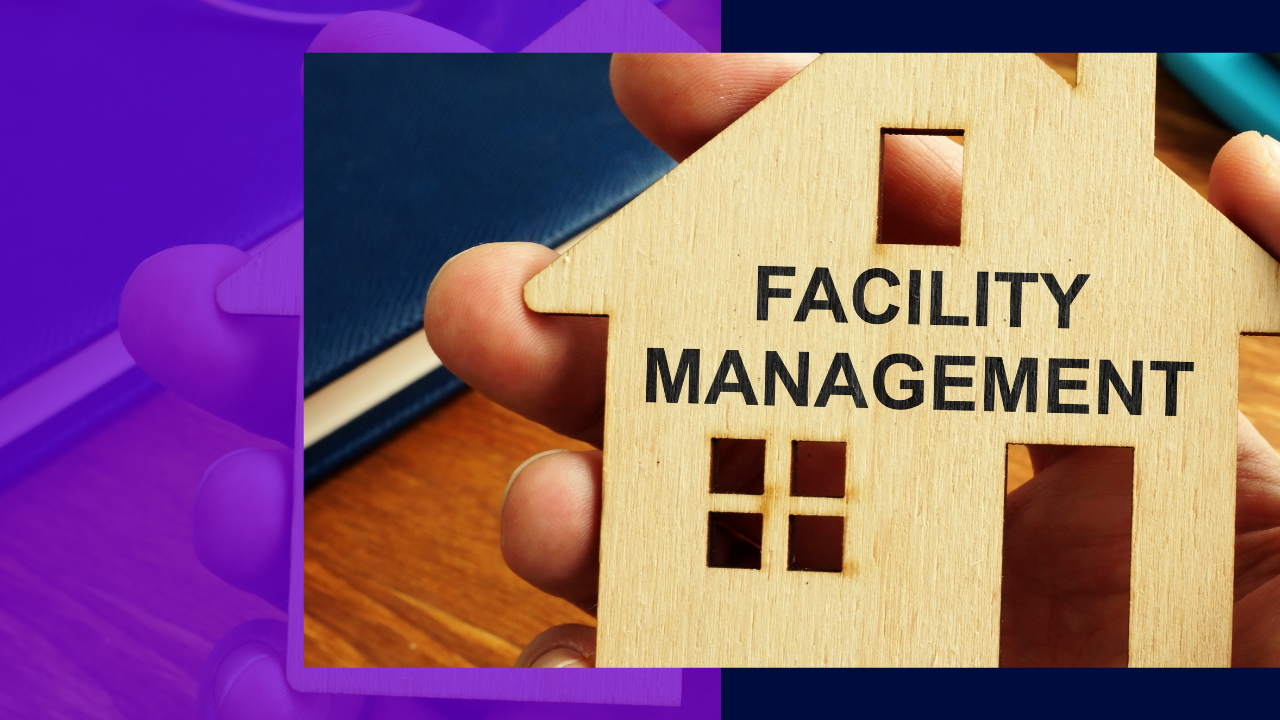 As medium to large businesses grow and expand, they might eventually need to consider outsourcing their facility management (FM) services.
According to Statista, North America was the biggest global market for outsourced facility management services with a market size of US$202.5 billion as of 2017.
Additionally, Mckinsey reports that more companies are adopting outsourced facility management services. Outsourced FM is now a viable option for reducing costs and improving productivity. Delegating time-consuming maintenance tasks can work wonders for a business. It leaves time and space for an organization to focus and grow its core businesses. 
However, the decision to outsource a part of any business should be approached thoughtfully. Some points to consider are choosing a suitable outsourcing business model for your business. You should spend a good amount of time in finding an effective facility management services provider.
This article can help you determine when to outsource. We'll also provide tips to measure the selected FM company's effectiveness.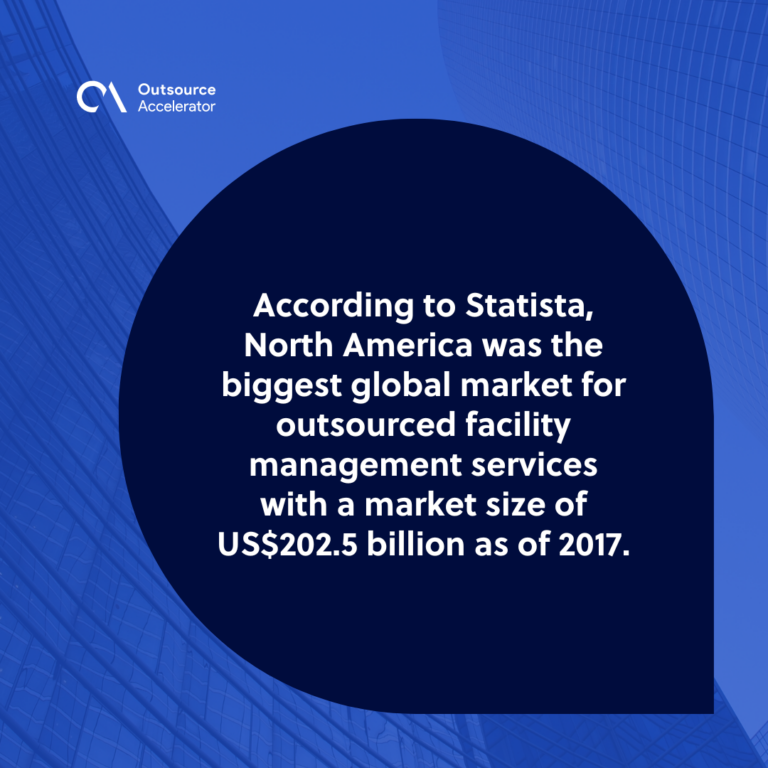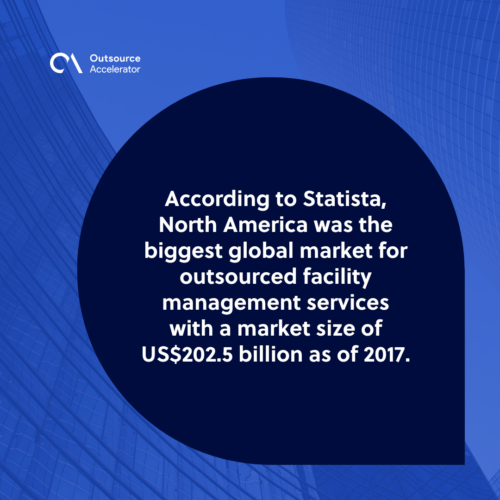 When to outsource
Deciding to outsource facility management is a crucial business move. It can save a company from lots of frustrations from wasted time and funds. Here are some indicators that it is time for a business to consider outsourcing its FM:
A growing maintenance backlog
When staff members have to make frequent emergency calls for maintenance-related issues, there is a problem. This reveals that the company needs a dedicated facility manager to stay on top of these issues. Concerns can range from faulty air conditioning and heating, clogged plumbing, or electrical problems. Whatever the issue is, it needs to be fixed immediately.
Some companies ask their in-house staff to handle issues like these. However, doing so can become toxic for these employees in the long run. This will affect their day-to-day activities and output quality. In addition, they'll feel overworked for something that is not in their job description.
When these 'emergencies' keep occurring, it enables a culture of inefficiency that will affect the company's general operations.
Unmanageable costs
It is undeniable that regular maintenance costs money. But if the facility continues to endure various repairs and issues, the company needs a professional facility manager to fix and maintain the area. The outsourced facility services manager will then need to immediately address these concerns. After all, business' profits can be severely impacted by costs of repairs. Worst case scenario, it can contribute to the closing of business.
Poor workforce coordination
When a company has an in-house team yet they regularly face maintenance issues, it may be time to outsource a facility manager. As mentioned above, a non-conducive work environment can deeply affect the company's employees. More so, bigger problems may rise out of these issues.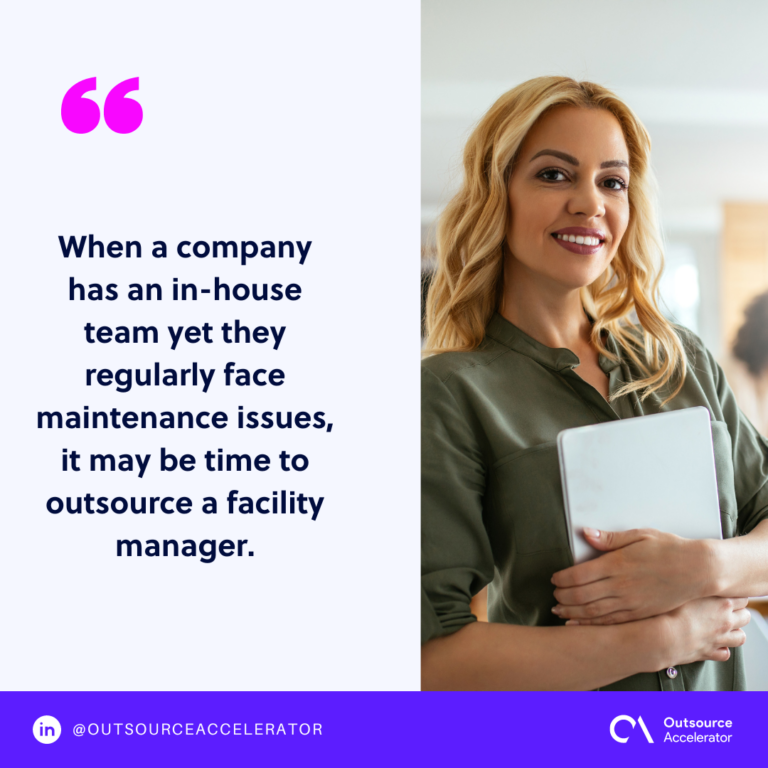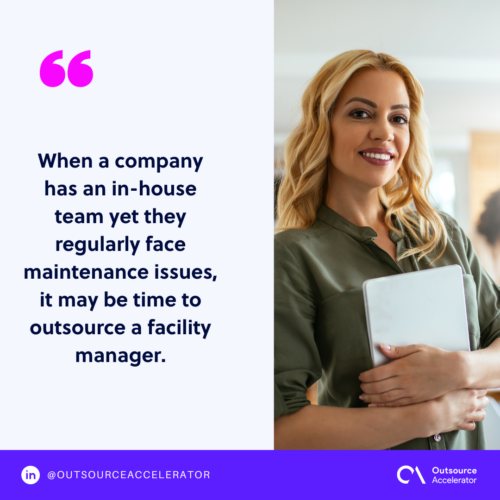 Measuring the effectiveness of an outsourced FM Company
As a client of an outsourced FM company, here are some tips that can give insights into their performance.
There should be an agreement between the client and service provider about the areas to focus on. The client can start by clarifying the most pressing areas for improvement. The pain points will vary from one organization to the other. Still, the most common issues tend to revolve around saving cost, reducing equipment failure, and improving workforce productivity. To get clarity on maintenance objectives, ask questions like:
Where are we struggling the most?

Where do we want to be?

When do we want these improvements to begin taking effect?

What do we need to do to get there?
Which factors should be measured? What methods will the parties use? How will they use it? The ideal way to do this is to choose and track their maintenance key performance indicators (KPIs). KPIs are quantifiable performance measurement indicators. They can show how well an organization is moving towards agreed goals.
Some examples of KPIs are: 
Reducing maintenance costs by 20% over the next quarter.

Increasing the ratio of planned repairs to 70% within the next 12 months. 
Set milestones early
Working with an outsourced facility management services company is a strategic partnership. It should be noted that this isn't like any other everyday business arrangement. There are vital managerial processes and procedures that need to be agreed early on in this partnership. Both sides should be clear on areas like communication, reporting, and meetings.
Some factors to consider include: 
Who reports to whom and when?

What kind of reports are we expecting?

When are these reports due?

What communication channels will be utilized?

Are there any penalties for failing to meet specific deadlines?
Suppose an outsourced service provider is consistently unable to meet deadlines. This may indicate some internal problems and unreliability. These little issues seem small now, but they would negatively impact this partnership as time passes. It's important to consistently stick to your milestones and metrics to track progress.
Track customer satisfaction
Measuring customer satisfaction is a key business tool for checking and improving service delivery quality.
If the building users and occupants are dissatisfied, the arrangement has already failed. Therefore, it is advisable to gauge customer satisfaction as early and as often as possible. This is achievable by running a satisfaction survey, which can be done within the first six months of the new FM company taking over.
Companies can use this basic guide on customer satisfaction surveys from SurveyMonkey. This guide can be adjusted to your specific facility.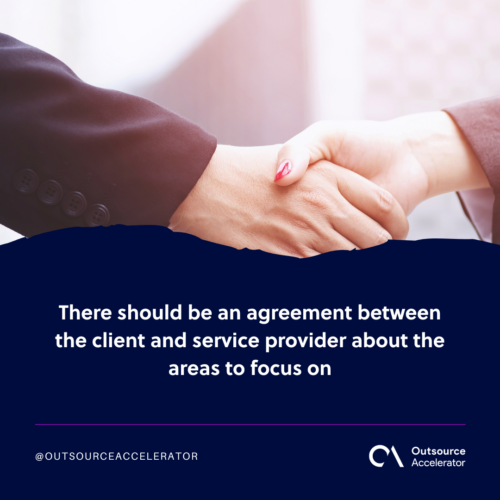 Check their compliance levels
Let's say both parties have agreed on several areas. However, you shouldn't be complacent. As a client, you still need to check the behind the scenes scenarios. This is so you're directly involved in any decision-making that may rise on the spot.
Imagine a scenario where the FM company seems to be meeting its deadlines and goals. Everything seems to be going well.
Then out of the blue, government auditors visit the premises and they uncover a lot of safety violations. This will attract heavy fines and penalties. This issue could also ruin a company's name and reputation.
To avoid such scenarios, the client should put checks in place to verify that the company lives up to their promises. Clients should check if the FM firm is working accordingly. They should deliver to the contract terms without resorting to shortcuts and illegal activities. Unannounced site visits and inspections by the client are few avenues for monitoring compliance. You can also ask for regular safety and security reports for assurance.
Check their technological flexibility
Modern facility management goes hand-in-hand with technology. It's vital that the client checks the provider's ability to implement changes and upgrades. They should be able to perform this without causing major disruptions to daily operations on the facility.
Regardless of how effective the provider appears to be, it wouldn't matter if their infrastructure and systems are not reliable. For one thing, it will be daunting to integrate their data with software from other departments. The last thing we want is a critical issue.
In conclusion
Outsourcing to a facility management services provider is a great way to streamline maintenance management. This is helpful especially for organizations that want to focus on their core service. There must also be a structure in place for measuring their effectiveness. However, for an FM company to be effective, the client should be willing to relinquish some control over their operational activities.
Hopefully, the above tips will help with finding the right long-term FM partner.
Bryan Christiansen is the founder and CEO of Limble CMMS. Limble is a modern, easy to use mobile CMMS software that takes the stress and chaos out of maintenance by helping managers organize, automate, and streamline their maintenance operations.