Mainframe modernization: Revitalizing legacy systems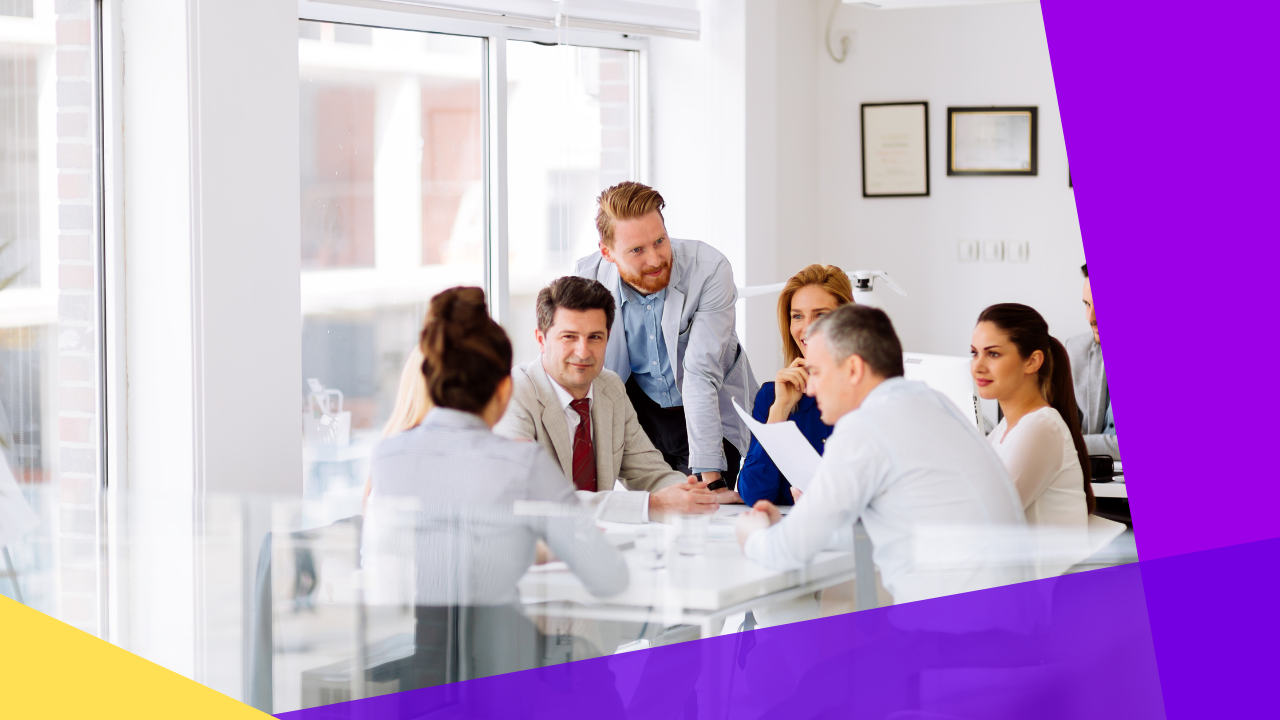 Mainframe systems and applications are a significant driving force in business operations because they impart reliability, security, and scalability to a company's process.
With that in mind, mainframe modernization is always vital, with the constant updates and upgrades to technology and with mainframe systems often being outdated.
This article explores mainframe modernization, its benefits, and how organizations can develop successful strategies under it.
What is mainframe modernization?
Mainframe modernization is the process of updating and improving an organization's current or legacy mainframe systems to adapt to the demands of modern technology. 
Legacy mainframe systems are often left behind in terms of contemporization as we make continuous technological advancements. Therefore, legacy systems often end up with limited capabilities and high maintenance costs. 
Mainframe modernization can counteract those limitations by revitalizing businesses' critical  infrastructure and applications.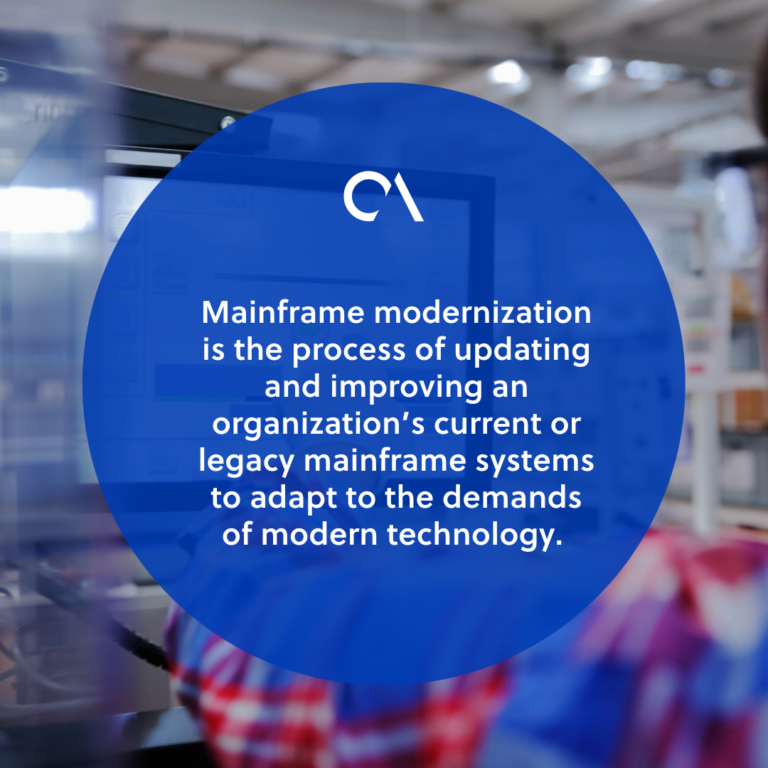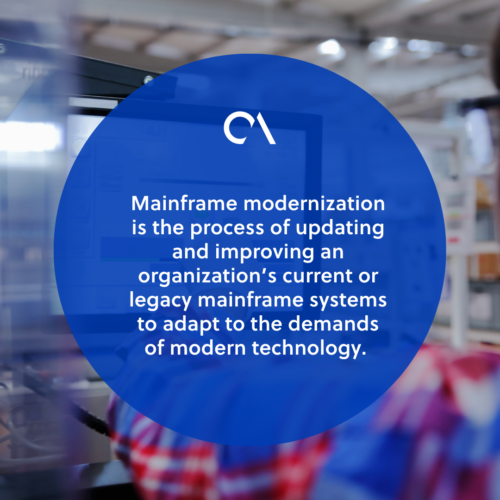 Characteristics of mainframe systems
Mainframe systems have several characteristics that make them important for business operations:
Reliability

– mainframe systems typically have built-in redundancy and fault-tolerance hardware, software, and mechanisms to minimize downtime and make quick updates when issues are detected.

Availability

– deals with hardware recovery, which should supply

high uptime and low downtime

.

Serviceability

– refers to the capability to diagnose and resolve issues quickly.

Security

– includes robust security features like

encryption

, access controls, and auditing capabilities.

Scalability

– mainframe systems can handle massive amounts of data and transactions used in critical business applications.

High-performance

–

mainframe systems possess specialized hardware and software to maximize performance and make them capable of tasks that require high processing power.

Legacy support

– some mainframe systems have long lifespans that can support legacy applications and data formats, making them un-obsolete for businesses that rely on older systems.
Challenges and limitations of legacy systems
Aging mainframes present several issues that can decrease efficiency and the risk of system failures. Some of these challenges and limitations are:
Having high maintenance costs

Limited support for modern technologies

Difficulty integrating with other systems
Why mainframe modernization should be applied to legacy systems
Organizations looking to revitalize their business process and operations can use mainframe modernization to upgrade their legacy systems. The process allows legacy systems that house massive amounts of important data to thrive in the digital age. 
Mainframe modernization lets businesses keep important archival and current data and applications critical to their operations. It also extends the lifespan of legacy systems containing important information without fear of having and using an obsolete system.
Advantages of mainframe modernization
By modernizing mainframe systems, companies can unlock a plethora of benefits, such as:
Improved scalability and flexibility
By updating legacy systems through mainframe modernization, companies can better handle increasing workloads. More so, they can adapt to their ever-changing business needs.
Reduced maintenance costs
Updating legacy systems with modern tech that is more reliable and accessible can ease maintenance costs. This means firms do not need to invest more to enhance their systems further. 
Increased efficiency and productivity
Businesses can streamline processes, reduce manual intervention, and improve overall system performance if they undergo mainframe modernization. As a result, they become more efficient and productive. 
Enhanced security and compliance
Mainframe modernization updates legacy systems with modern security features. Firms are better protected against cyber threats and ensure compliance with industry regulations.
Easier integration with modern tech
Mainframe modernization makes integrating with modern techs (ex. Cloud computing, mobile devices, and web apps) much easier. This results in an improvement of an organization's overall system interoperability.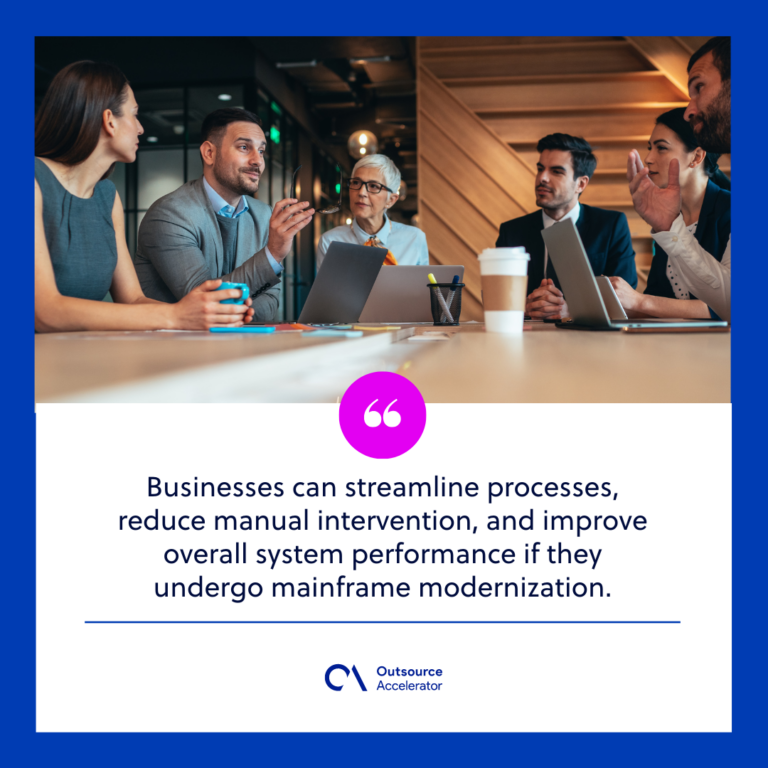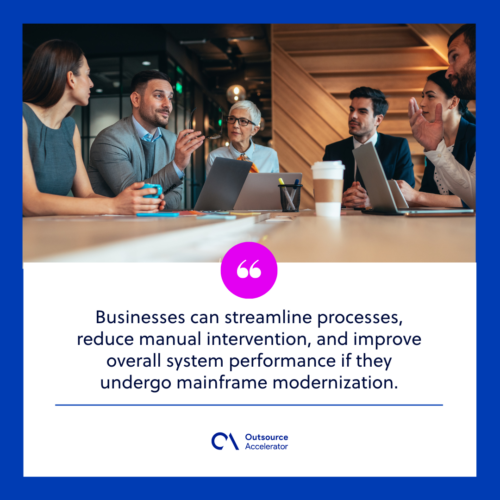 Tips for successful mainframe modernization strategies
Successful mainframe modernization strategies require meticulous planning and implementation. 
Here are some tips to make mainframe modernization a simpler process:
1. Prioritize efforts
A business's needs and goals should be at the forefront when mainframe modernization is being implemented. Conduct a thorough analysis of the current system and identify areas for improvement so a company's objectives are realized.

2. Embrace change
The mainframe modernization process typically requires adapting to using cloud-native technology during and after. 
So it's important to ensure a company can handle incoming changes without sacrificing basic functionalities during the process. This can be accomplished by providing training and support so operations can smoothly transition to the updated system.
3. Set goals and plans
Plan the mainframe modernization process based on what a business's goals are and what it wants to achieve. Consider the best way to get there, whether it's migrating data and applications to the cloud or adopting a hybrid model.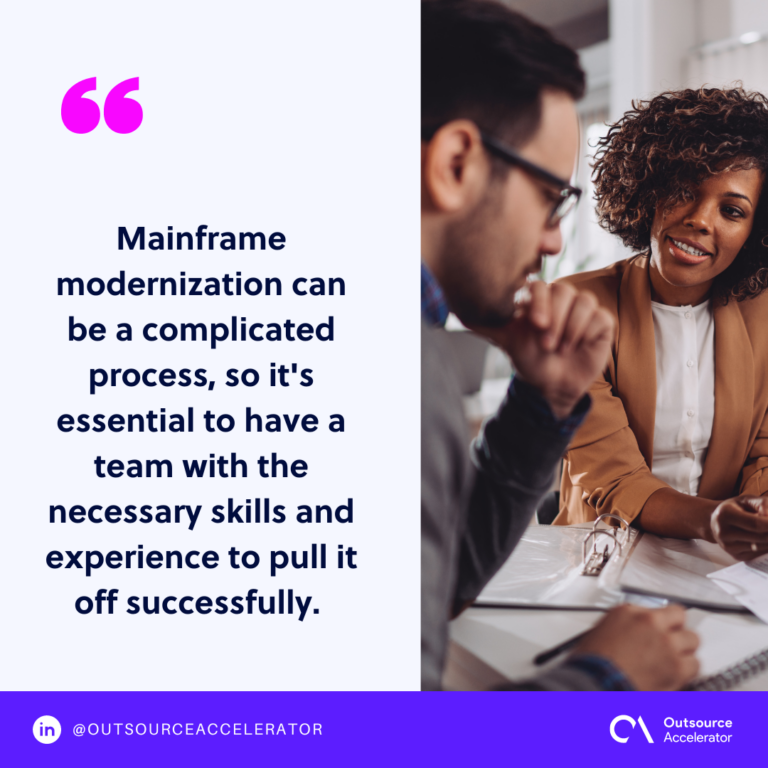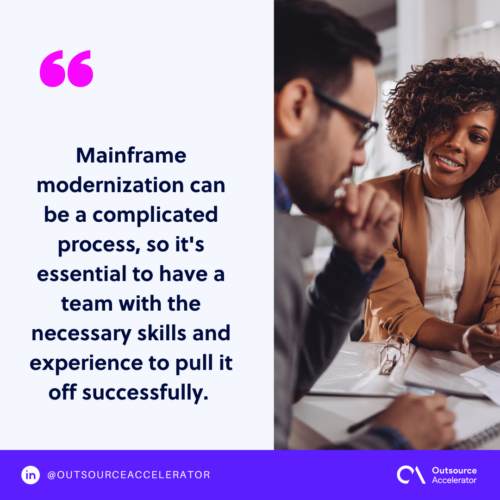 4. Partner with experienced vendors or consultants
Mainframe modernization can be a complicated process, so it's essential to have a team with the necessary skills and experience to pull it off successfully. 
Consider outsourcing some or all of the work to those specializing in programming, software development, and other things related to the process.
5. Find success stories
It's a good idea to find organizations that have successfully undergone mainframe modernization. Identifying the issues other successful companies have encountered will help you know what to look out for and learn from their experiences.
Ultimately, mainframe modernization offers various benefits to how organizations function and operate. Revitalizing and maintaining current or legacy systems helps businesses avoid getting technologically left behind.