What are the new ways of working in this digital age?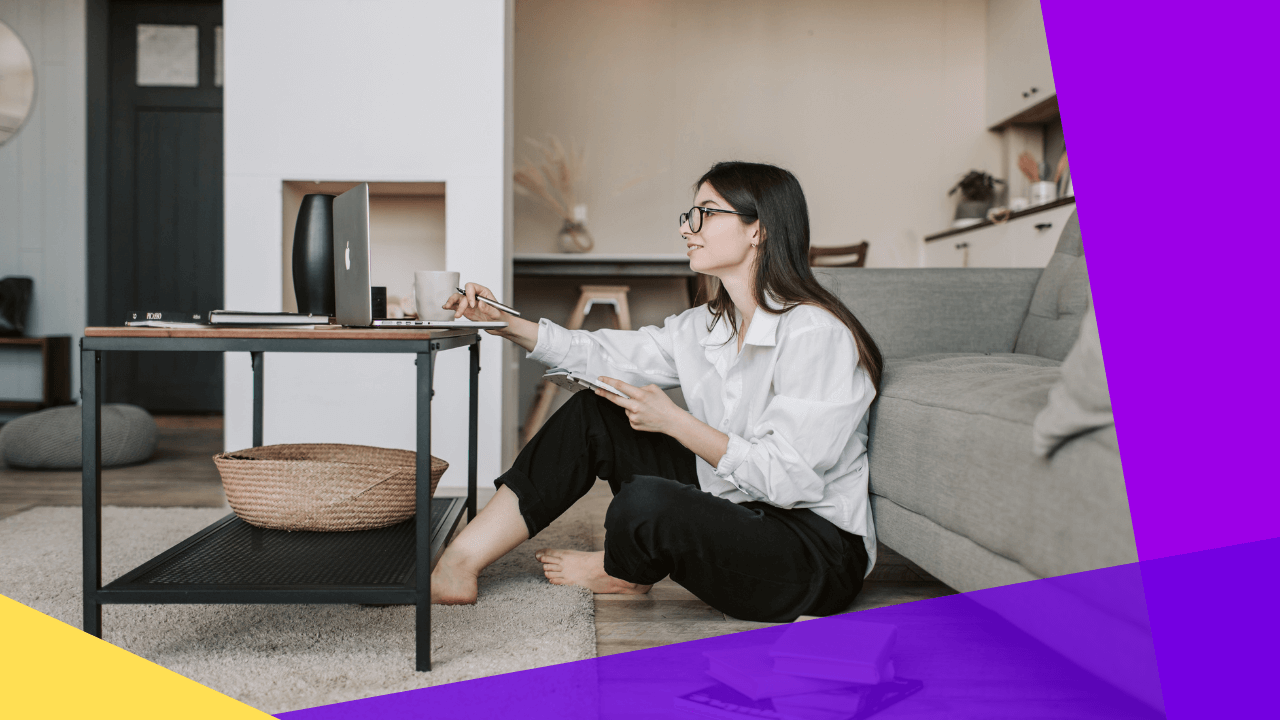 Work is a vital feature in an individual's life. It is a primary source of income to sustain daily living needs and a defining element of a person's identity and place in society. 
With the advent of the internet and digital technology and the new norm brought by the aftermath of the COVID-19 pandemic, new ways of working have been introduced to cater to modern times. 
How working is transformed: Post-pandemic age and digital age
Thanks to technology, the workplace will never be the same, and it only keeps improving. Technological advancements have evolved the modern workplace and made it more efficient for employers and employees. 
Communication has also been more convenient between workmates and clients by using online chat and video conference applications. Companies can also manage their costs better by cost-cutting paperwork and travel expenses for meetings or renting conference rooms.
The aftermath of the pandemic and digitalization paved the way for the transition from a traditional workplace to new ways of working, like remote, hybrid, and work-from-home setups.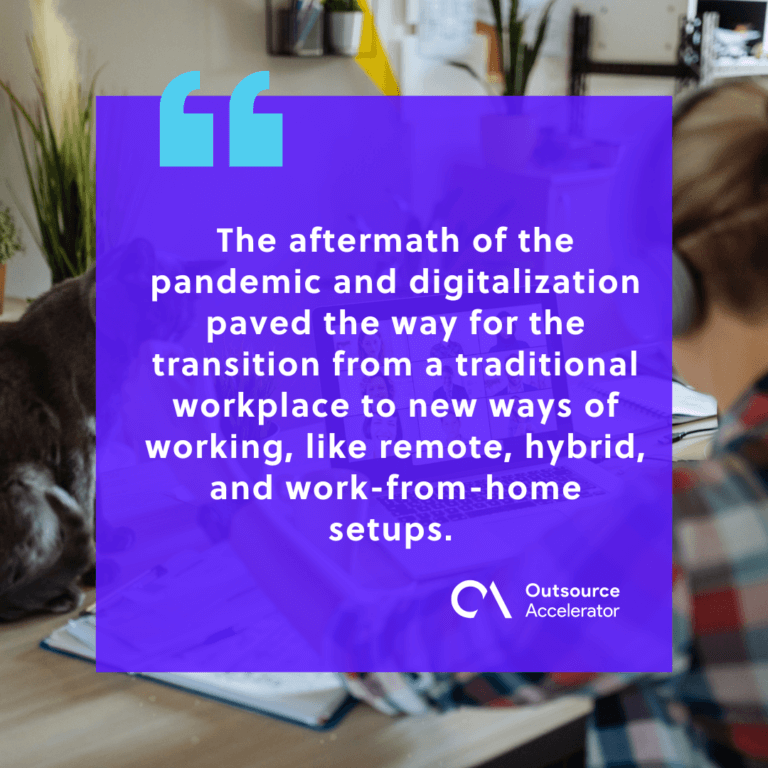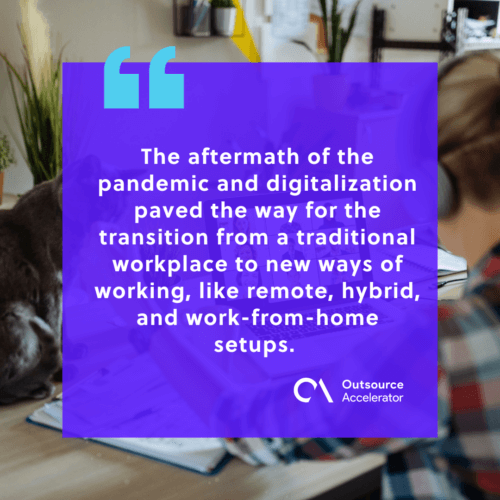 Work from home vs. remote vs hybrid setup
Before, it was just the tedious cycle of eight-hour shifts with a daily commute and short coffee breaks in between. No one knows that working at home, in a cozy coffee shop nearby, or simply in and out of the office is possible.
Nowadays, people have the chance to choose where and how they render their work. Below are the relatively new ways of working in the digital age.
Work-from-home (WFH)
This is a new way of working setup where employees arrange a home office with a desktop or laptop and an Internet connection to do their daily tasks.
Although the work-from-home (WFH) setup is risky and prone to distractions, especially without the supervision of a boss, nowadays, it is a more convenient and preferred option for working, according to Pew Research Center. 
While there might be some downsides of the WFH setup, one can find it more comfortable – like being able to dress smart and professionally from the top and wearing more relaxed bottoms – and more flexible in time to achieve work-life balance.
Remote work 
This working option is best for those who prefer to work outside of their homes but not necessarily in the office. By the word "remote," this new way of working is where employees choose to do their work in remote places.
Some of the best locations for remote working are coworking spaces, coffee shops, and local libraries. But for those with an extra budget, hotel staycations are also possible for remote working as long as the area has an Internet connection and power supply.
A flexible schedule is the primary benefit of remote work, followed by the ability to work anywhere, according to Statista.
Hybrid work model 
This is where both WFH and remote work comes in. The hybrid work model is a flexible new way of working with a people-first approach.
This setup allows employees to be productive at their preferred time and place. It is a win-win solution for employers and workers because it gives them a more dynamic work style while spending less on resources and still getting the job done. 
The hybrid work model comes in various setups according to the organization's needs. Here are the most common hybrid work setups:
This setup allows employees to customize the day(s) they wish to work in the office. However, hybrid at-will means no fixed schedule and is one of the most challenging policies to follow.
Yet most employees prefer this the most because of employee flexibility. 
The company arranges for the employees a split-week schedule, or when they would work on-site and remotely. 
Planning is crucial in this type of hybrid work to organize which individuals or a whole team or department come into work on specific days to collaborate.
Hybrid manager scheduling:
This time, the manager sets the schedule for their employees. The least common of all the hybrid setups, this allows for the managers to collaborate with their teams and be productive together. 
A mixture of all three hybrid setups. Here is where managers and employees plan together for their work schedules.
Full-time and Part-time
Despite the significant shifts in types of work, some companies still follow the traditional work setups like full-time and part-time. 
Full-time employment is the regular eight-hour daily shift or approximately 40 hours a week, depending on the employee and the employer's agreement. On the other hand, a part-time employee has fewer work hours and days compared to the latter.
Skeleton workforce
When speaking of new ways of working, one might encounter the term skeleton workforce or staff. It is defined as the smallest number of people a business or organization needs to operate. 
This type of work style is typically applied to government offices, especially during the peak of the pandemic. 
Benefits of new ways of working, according to studies
A 2021 study found that companies and organizations became more confident in their employees' performance when they work from home or remotely as they work according to their preferences.
It became one of the critical factors that made the employers transition to a highly remote setup. 
These new ways of working have been a significant leap in the employment industry due to the major changes it has brought. Statista also outlined some of the advantages of remote working:
Substantial reductions in the companies' work-related expenses

Flexible schedule

Flexible work locations

Better financial management

Effective communications 
An emphasis on work-life balance
In a journal titled "Work and worker health in the post-pandemic world: a public health perspective," one of the remarkable effects of the post-pandemic is the emphasis on well-being and health in the workplace.
This enforced a trend in the employment industry to adopt the work-life balance. 
Work-life balance is an essential aspect of a healthy work environment. It is having the convenience of managing personal and professional activities and have equal time and priority for both. It helps prevent burnout and reduce chronic stress, one of the most common job-related health problems and the possible root cause of more sicknesses, such as hypertension and heart problems.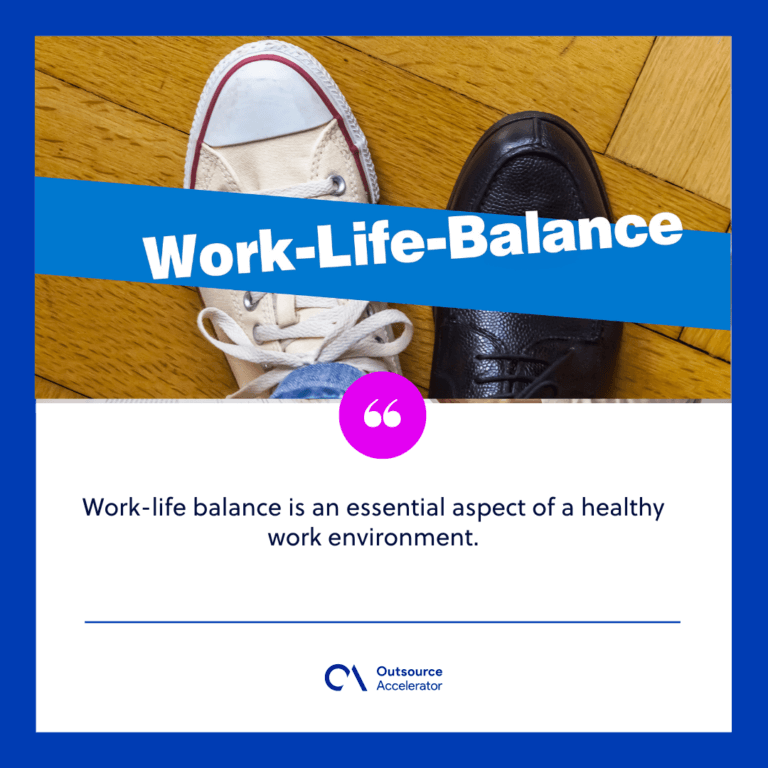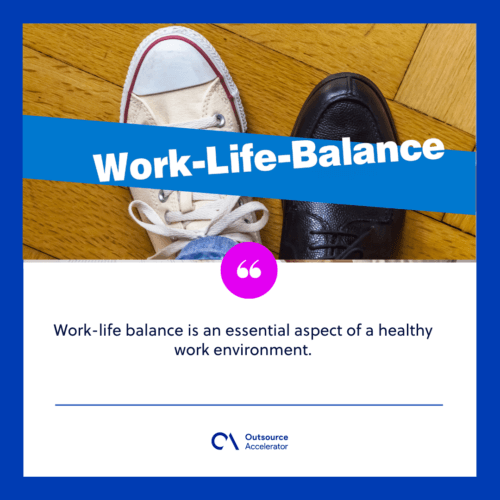 By maintaining a healthy boundary between job and personal life, employees can benefit from the modern work setups through work-life balance, time management, and more ways to lead to a more productive performance at work and, eventually, a more fulfilling life. 
Outsourcing as a new way of working
The evolution of modern working styles is not limited to the in-house workforce. Globalization and digitalization transform the present labor and employment setting, paving the way for another type of business practice: outsourcing. 
Outsourcing is a business activity where a company hires a third-party employee, or a worker outside of the organization, to perform services and produce outcomes that are traditionally expected from an in-house employee. 
This practice is a good strategy for businesses seeking additional support for back-office processes or needing to perform cost-cutting measures. It also allows organizations to hire talented employees from other countries who specialize in their required activities.