10 examples of Japanese companies that outsource to the Philippines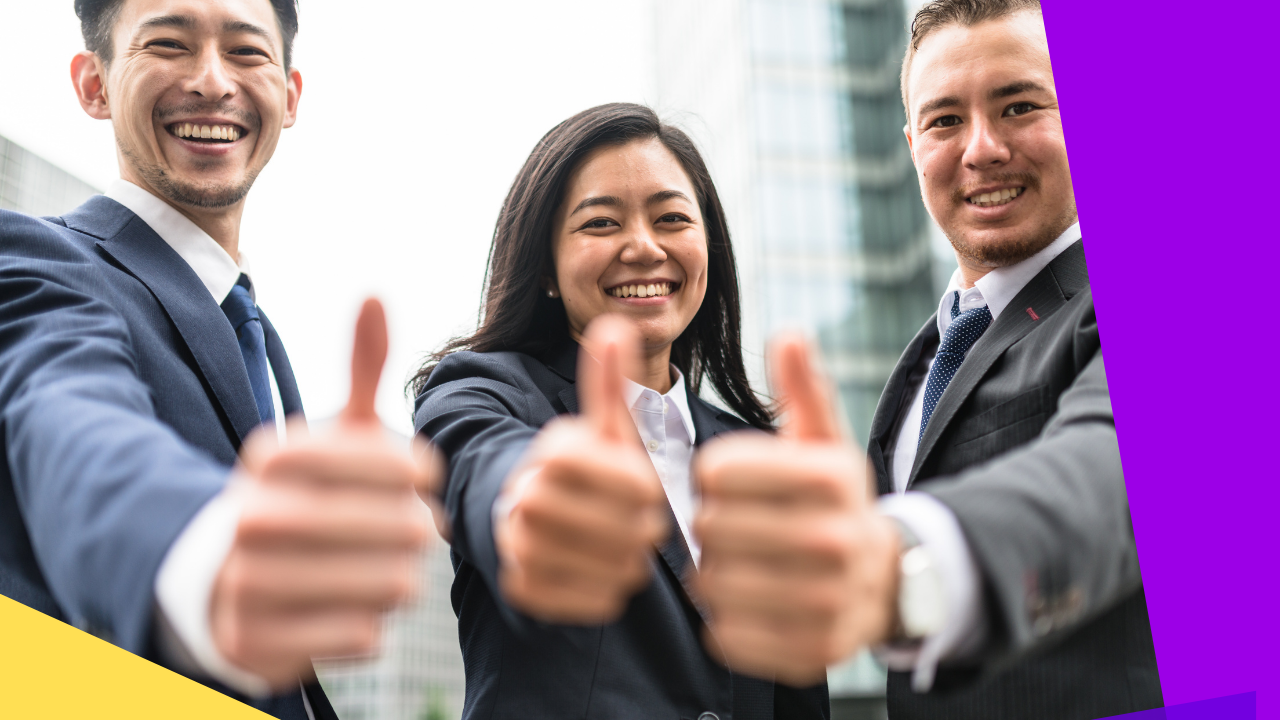 The outsourcing industry has always been one of the biggest contributors to the Philippines' emerging economy. 
For many years, a lot of companies from across the world have been establishing operations in the country. They get access to Filipino talents in manufacturing, technology, creatives, telecommunications, and other sectors. 
The BPO industry has been steadily flourishing and is foreseen to grow further from this year onwards. And among the biggest investors that the country has today are Japanese companies that outsource parts of their daily operations to the Philippines. 
In this article, we will be highlighting ten Japanese companies that outsource to the Philippines. What draws these Japanese companies to acquire various outsourcing services to Filipino talents? 
Read more to find out!
What attracts Japanese companies that outsource to the Philippines? 
It is true that Japanese companies that outsource to the Philippines continuously grow year by year, even with the global pandemic. 
However, the country has also been the go-to offshoring destination for the global outsourcing market, especially Westerners. 
What makes it an ideal outsourcing hub for foreign companies, particularly for Japanese companies, is mainly due to the following reasons: 
Cost-saving labor fees
Offshore outsourcing to emerging countries like the Philippines allows foreign companies to save massively on labor costs. Japanese companies that outsource will only have to pay a fixed price for their outsourced staff, compared to employing in-house staff.
Foreign companies that farm out services to the Philippines can save up to 70% on their labor costs. On top of that, they will also not be required to invest in training and other resources like office space and technology.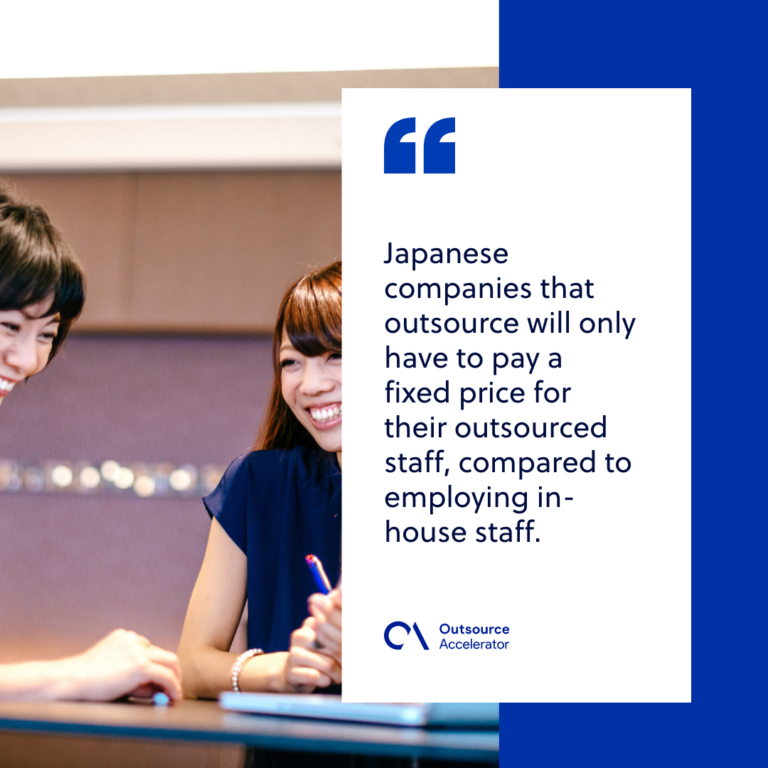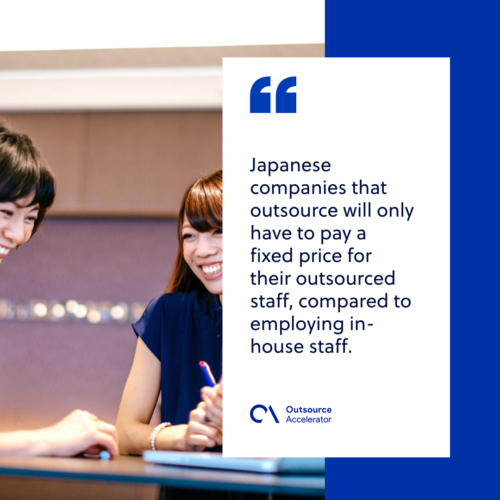 Flexibility
BPO companies in the Philippines cater to global companies. Thus, Filipino workers employed in this sector are used to working arrangements according to different time zones. 
In most cases, BPOs, especially call centers, operate 24/7 daily. 
English language proficiency
Most Filipinos consider the English language as their first or second language. The Philippines is also among the leading countries in Asia with a strong English proficiency. 
Japanese companies that outsource to the Philippines can communicate clearly to the global market. At the same time, they are also able to successfully reach out to a wider demographic through this practice. 
Cultural compatibility
Relative to the Japanese, Filipinos are also known for their superb work ethic. Filipinos work hard so they won't disappoint the people around them, and this is one strong trait that is also present in Japanese culture. More so, both nations are recognized for being welcoming, respectful, and warm. 
In this regard, Japanese companies that outsource services to BPO providers in the country will not have a hard time working with their outsourced staff. 
Government support
As mentioned, the BPO industry has become the forefront of the country's economic growth and development. What attracts more and more Japanese companies to outsource to the Philippines is the government's full support of the industry. 
Over the years, the Philippine government has imposed laws and regulations to back up Filipino BPO workers and foreign investors. One example of this is the RA 10173 or the Data Privacy Act 2012 that aims to strictly protect individuals' private information.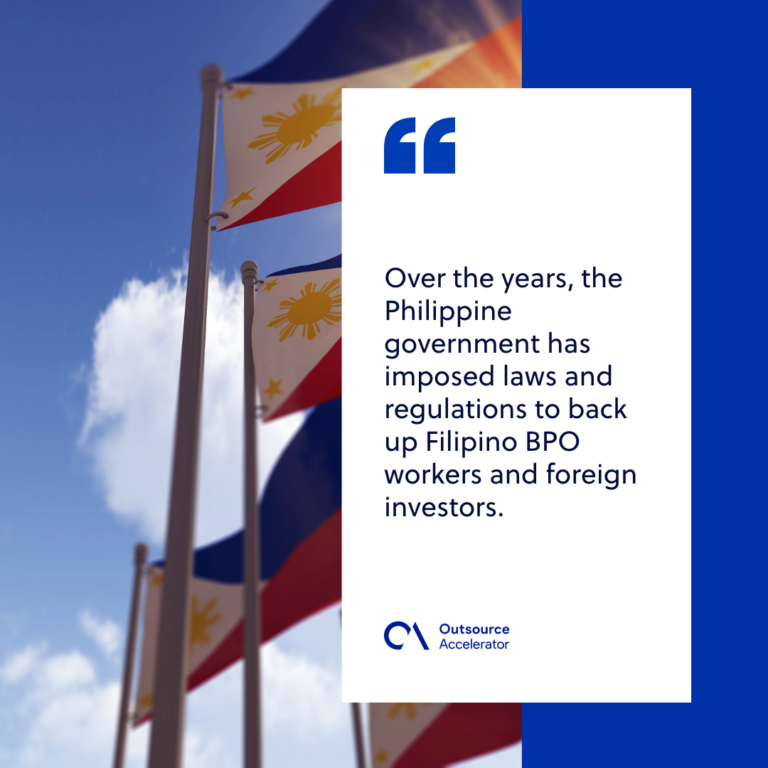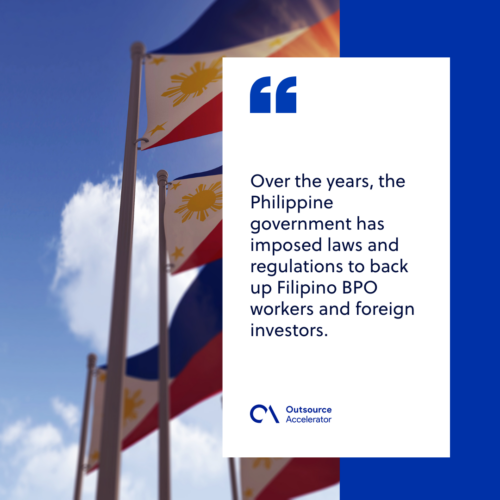 10 examples of Japanese countries that outsource to the Philippines
Here are ten examples of Japanese companies that outsource parts of their day-to-day operations to the Philippines. 
Hitachi, Ltd is the parent company of the Hitachi Group and DKB Group of companies. This company is considered to be highly diversified as it operates and manages 11 business segments, which include electronic systems and equipment, social infrastructures, and digital media.
How they outsource
The branch of Hitachi Asia Ltd. in the Philippines was established in 1993. This business move was aimed to cater to the needs of the company's Filipino customers. 
It also opened job opportunities for Filipino workers in the information and telecommunication systems, social infrastructure and industrial systems, and the company's other business segments. 
Marubeni Corporation is considered one of the leading and largest sogo shosha not just in Japan but also overseas. Apart from trading and export, it also regulates other businesses across a wide range of industries like construction, agribusiness, ICT and real estate, and infrastructure. 
How they outsource
Marubeni Philippines Corporation (MPC) is known to be one of the essential and the oldest of Marubeni's network of companies around the world. It operates as a 100% subsidiary of Marubeni Asean Pte. Ltd. MPC caters to both Philippine and international clients. 
Bizwind was founded in the year 2005 and is headquartered in Taito-Ku, Tokyo, Japan. It specializes in IT solutions like software development, internist ASP services, business development, system maintenance, including IT consulting. 
How they outsource
As a part of its global expansion, Bizwind established its Philippine office in 2012. Bizwind Philippines today employs Filipino IT professionals who handle offshore development projects for various clients across the globe. 
Nissan is a world-renowned multinational automobile manufacturer that is originally headquartered in Nishi-Ku, Yokohama, Japan. The company sells various types of vehicles under Nissan, Datsun, Infiniti, Nissan Crossing, and Heritage. 
How they outsource
Nissan Philippines Inc. was brought to being in 2013 through the joint ventures of Nissan Motor Corporation, Universal Motor Corporation, and Yulon Philippines Investment Co. Ltd. Besides dealerships all over the country, Nissan Philippines also provides technicians for servicing and maintenance. 
Toyota is considered one of the biggest automobile manufacturers worldwide. This multinational automobile company produces over 10 million vehicles yearly, which are under five brands, namely: Lexus, Daihatsu, Hino, Toyota, and Ranz. 
How they outsource
Toyota Motors Philippines is a subsidiary of Toyota Motors Corporation and is based in Sta. Rosa, Laguna. Toyota Philippines was founded in 1988, and since its inception, it has remained in charge of the assembly and distribution of Toyota vehicles in the country. 
ASABA specializes in developing and manufacturing products related to agriculture, industrial, stock breeding, food, and environmental. Since its founding in 1949, ASABA has become a world leader in terms of producing state-of-the-art piping systems and mist-controlling nozzles. 
How they outsource
In 1988, ASABA Philippines was built for the company's overseas production and expansion. ASABA Philippines is located in Calamba, Laguna, which is where their aluminum and zinc die-casting molding, molding maintenance, and resin injection molding are performed.
Fujifilm Corporation is an internationally acclaimed conglomerate that produces a range of products under biotechnology, optics, photography, office and medical electronics, and chemicals. 
How they outsource
Fujifilm Philippines was built in 2012 as a sales subsidiary of Fujifilm regional headquarters in the Asia Pacific. It mainly caters to the Philippine market, providing products and services related to medical systems, industrial, graphic systems, electronics, and photo imaging products. 
Murata manufactures an extensive range of electronic components around the world. It also provides applications and solution technologies for medical, healthcare, automotive, mobile communication, and other sectors. 
How they outsource
Murata has two offices in the Philippines. One functions as a sales office, established in 1998. In the year 2012, the Philippine Manufacturing Co. of Murata (PMM) was built for the production of multilayer ceramic capacitors. This factory is also considered the company's largest production facility in Asia. 
BANDAI is a toymaker and manufacturer, and it is also a producer of several plastic model kits. From 1981 to 2001, this toy company also manufactured video game consoles. BANDAI's products are sold under many brands like Tamagotchi, Digimon, and Gundam Luminous. 
How they outsource
BANDAI NAMCO PHILIPPINES INC. was founded in 2013 in Lipa, Batangas. At present, the factory employs over 1,500 locals for export production of toy products. 
Toyota Tsusho Corporation is one of the two sogo shosha Japanese companies that outsource to the Philippines. It is a member of the Toyota Group of companies and is regarded as the Toyota Group's sole general trading company.  
How they outsource
Toyota Tsusho Philippines Corporation is based in Calamba, Laguna. This warehouse and storage facility was built in 2004, and it currently employs over 250 local staff. 
What's next for Japanese companies that outsource to the Philippines? 
These Japanese companies that outsource to the Philippines have also opened their branches in the country. And these are only a few of the many Japanese companies that outsource services to Filipino talents. 
Japan has always been one of the top sources of direct foreign investments in the country. This has been proven during an online roundtable discussion of Japanese investors with Trade and Industry Secretary Ramon M. Lopez. During the meeting, over 10 Japanese manufacturers have expressed their eagerness for their plans for business expansions in the country. 
One thing is for sure — even with the looming uncertainty of the global pandemic, more Japanese companies are expected to invest in the Philippines.