Is Payoneer safe? Uncovering the truth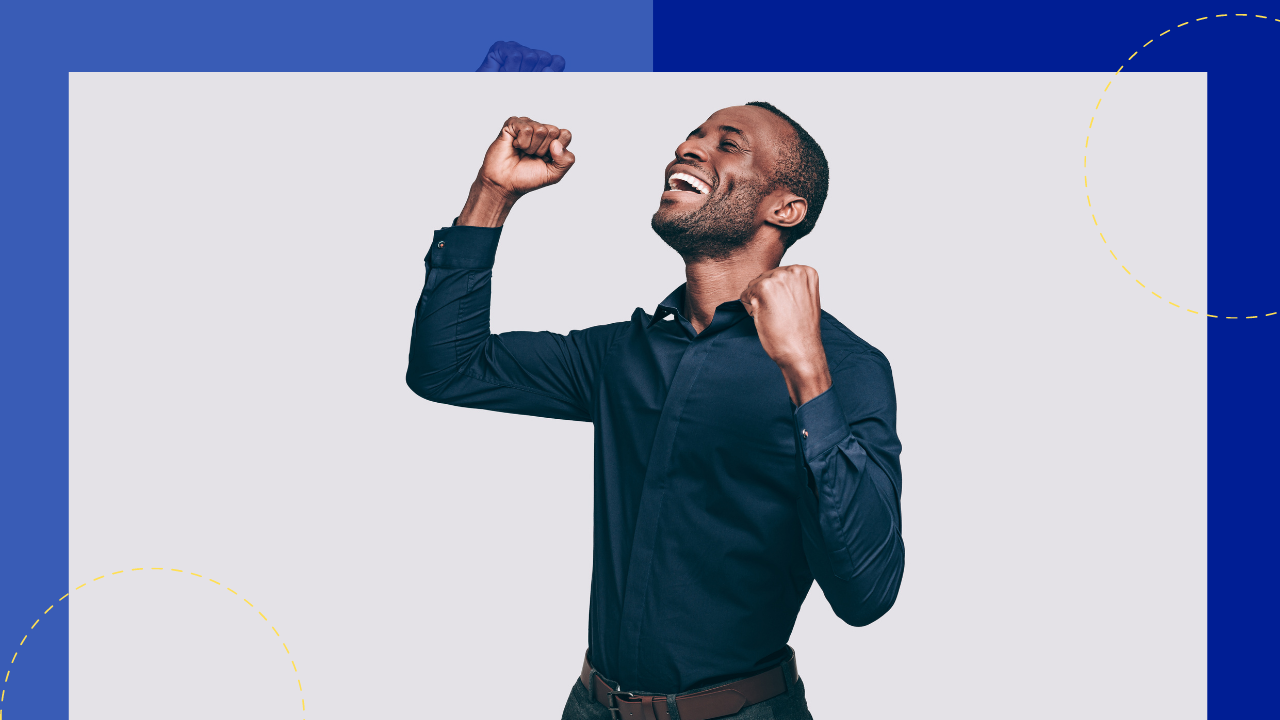 Payoneer is a global payments service platform where everyone can transfer cross-border payments online instantly and hassle-free.
When entrusting your money with an intermediary, it's important to know that they are safe.  So we take a look at their business, reviews, and case studies.
The Payoneer platform offers low-cost (up to free) transfers, different currencies they can use and switch to instantly, and a minimal currency exchange fee. It is perfect for freelancers and businesses alike who do transactions across the globe in real-time. 
Signing up is free, with minimal documentary requirements and questions needed for account verification. The platform gives its users multiple virtual accounts for them to accept payments in different currencies.
Transferring to another Payoneer account is free, while another service provider has a fixed rate of 1-3%, depending on the payment method (local bank transfer, eCheck, and credit card).
Exchanging to a local or foreign currency within the platform, meanwhile, has a minimal fee of 3% of the amount to be transferred.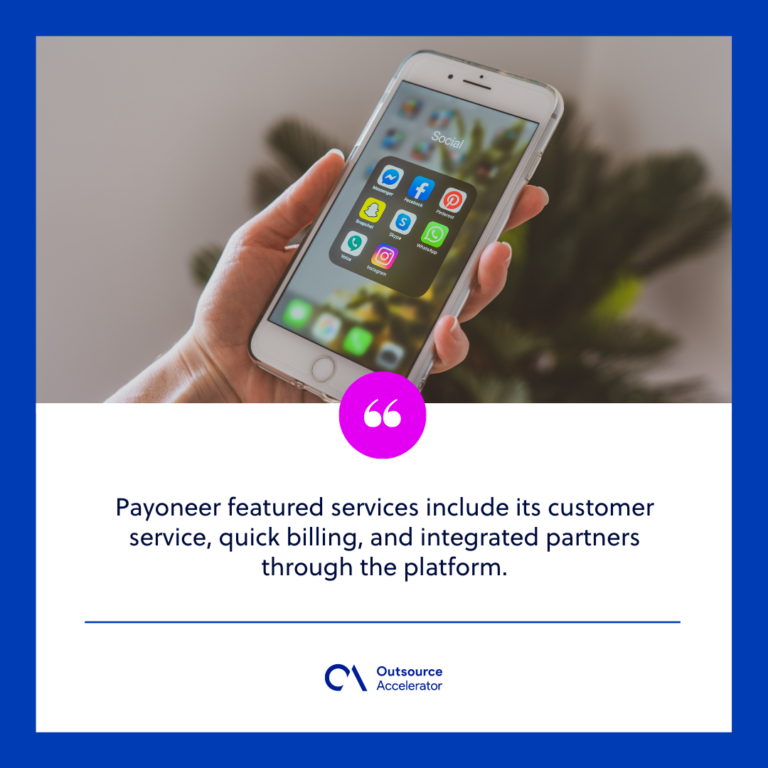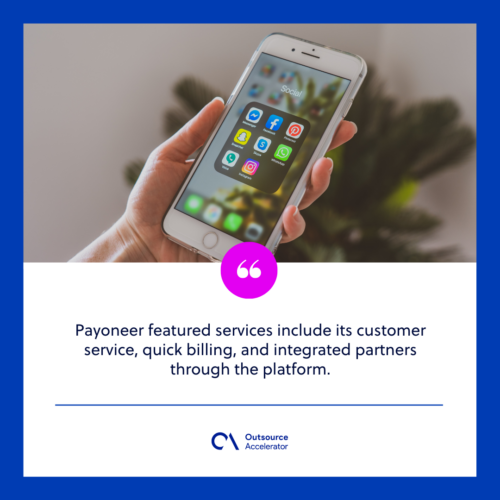 Whether Individual, SME, or Enterprise account, Payoneer offers a debit Mastercard for easier withdrawal of funds to ATMs worldwide.
For businesses, Payoneer offers VAT payments for transactions in the EU and the United Kingdom free of charge, and mass payouts for accounts with international beneficiaries of at least $30,000/month.
Since 2005, Payoneer has been a reliable payment partner of marketplaces across the globe. It has garnered five awards by different International institutions and is regulated by different agencies such as the PCI Data Security Standard and the European Commission.
Payoneer top reviews
Payoneer has garnered high reviews in reliable sites such as Trustpilot, Sitejabber, and FinancesOnline, proving that the site is highly recommended by freelancers and sellers across the globe. 
With a rating of 4.6 out of 5 stars on TrustPilot, one of the leading consumer review websites. Around 81% of more than 11,000 consumer reviews gave it 5 stars, highlighting on its customer support and its features. 
Meanwhile, Payoneer has a 4.4 rating on Sitejabber, another customer review website. Out of over 3,700 reviews, 2,800 users gave it a 5-star rating, highlighting its easy-to-use platform and great customer service. 
Among its competitors, Payoneer has a 99% satisfaction rate and a score of 9.0, according to FinancesOnline.
Its featured services include its customer service, quick billing, and integrated partners through the platform.
Payoneer success stories
For more than a decade now, Payoneer has helped millions of its users ease their burden of online payments and save costs with the lowest fees possible.
With this, businesses were able to provide smooth payment processes to their clients and expand over time and freelancers were able to focus more on providing the best work to their clients.
Amazon seller using Payoneer
One of these success stories comes from Paul Donnely, the Managing Director of Something Crafty Ltd. from the UK.
From his 9-5 job, Paul ventured into online selling, with his wife's suggestion of selling beads. He first started sourcing his products from different countries such as Brazil, China, and India, and sell the curated collections at marketplaces such as Amazon. 
Before, one of the struggles he faced was the high costs of cross-border transactions, since he expanded his market as well from the UK to Europe and the US.
This struggle was resolved since he started using Payoneer in 2017 for his Amazon disbursements. 
The Payoneer team, he said, was friendly and helped with possible solutions to his emerging business needs, providing him with insights and opportunities to expand his business in different marketplaces across the world.
Freelance online payments
Oussama Kotaich, a freelance graphic designer from Lebanon, was also helped with his burden of getting paid thanks to Payoneer.
When he started working online in 2009, he started working 4 hours a day with different projects, then decided to start his online business in 2013.
Working online, he said, increased his profits drastically and helped him move back to his home country from working overseas for 10 years. 
As a freelance worker, he struggled with getting paid online. He tried different payment platforms online and ended up quitting them over delays with his payments and other negative experiences. He discovered Payoneer when he moved to his full-time job a few years ago.
Oussama was delighted to receive his payments on time and get access to his funds instantly without waiting for days to be transferred to his bank account.
With Payoneer, his work volume increased and he's become more motivated.
eCommerce and Payoneer
Payoneer also helps local eCommerce in the Philippines to thrive. Marvin Espina, an eCommerce seller, is an example of this.
He opened his online store after his success on the platform Teespring. Aside from shirts, he also sells watches and sunglasses and has established a market in the US, the UK, Canada, and Australia. 
Like any startup business, he tried every payment option in the market his supplier has suggested, including bank transfers and remittance.
The downside: Long lines at the bank and the hassle of paperwork to fill up. As a result, aside from consuming a lot of time and energy, it also risks the security of his payments. 
This was until he heard Payoneer from a top seller print-on-demand company where he was a virtual assistant.
He linked his US virtual account to another payment platform, and with Payoneer, currency exchange to USD became more affordable and became a win-win for both him and his suppliers. He as well linked his debit Mastercard to Facebook to pay for his ads.
Thanks to Payoneer, he said, now he can focus on scaling his business.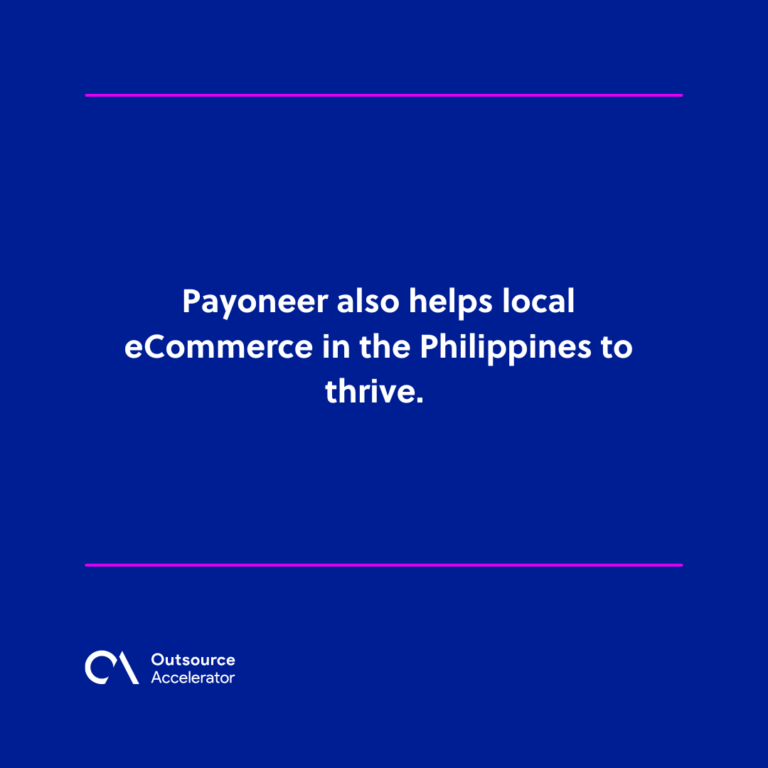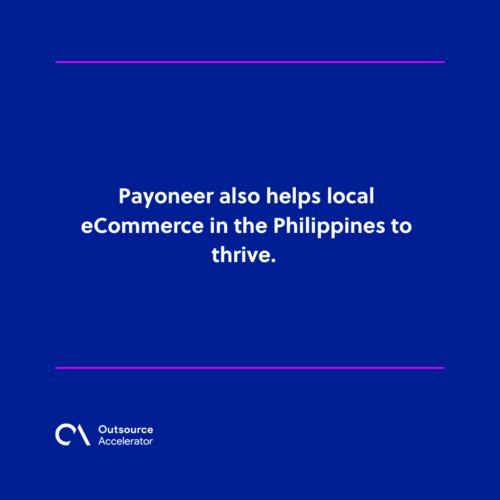 Online publisher managing payments
Another user that grew his business through Payoneer is Rob Palmer, the CEO of Platinum Publishing in Thailand.
Established in 2012, the company's vision is to market a range of books that provide quality information and advice to help people transform their lives, with a market in over 200 countries, the majority of it in the US and the UK. 
They hire remote writers, designers, and marketers who are paid weekly. Aside from this, Amazon cannot pay directly to a Thai bank account so the company gets its revenues via checks.
Dealing with 20-30 checks over different parts of Amazon created a lot of administrative issues for the company, so they tried to look for a better solution until they found Payoneer.
They use the US virtual account to receive payments from Amazon and Clickbank and the platform itself for billings and payments. Payoneer has been integral to its business since then.
Web hosting using Payoneer
Last but not least on these success stories is from Kushal Raha, CEO, and co-founder of Host4Geeks LLC, a full-service web hosting and Infrastructure as a Service (IaaS) provider based in India.
The company aims to provide a simple, reliable, and stable web hosting platform for individuals and online businesses.
On dealing with clients across the globe, one of their struggles is to find a payment provider that works for everyone, as well as dealing with payment transfers to their local bank account that is hassle-free and with minimal charges.
Kushal knew Payoneer since he started his company but was not aware of the latest expansions on the site until he visited it and created an account. 
From there on, he experienced a smooth and flawless payment process through the platform. He said that since they're a small business, smooth cash flow is very important, and Payoneer's quick service helps them pay their vendors, employees, and service providers on time.
Without Payoneer, he added, they'll still experience hoops and loops of getting their hard-earned money.