Streamline your finances by automating invoice processing services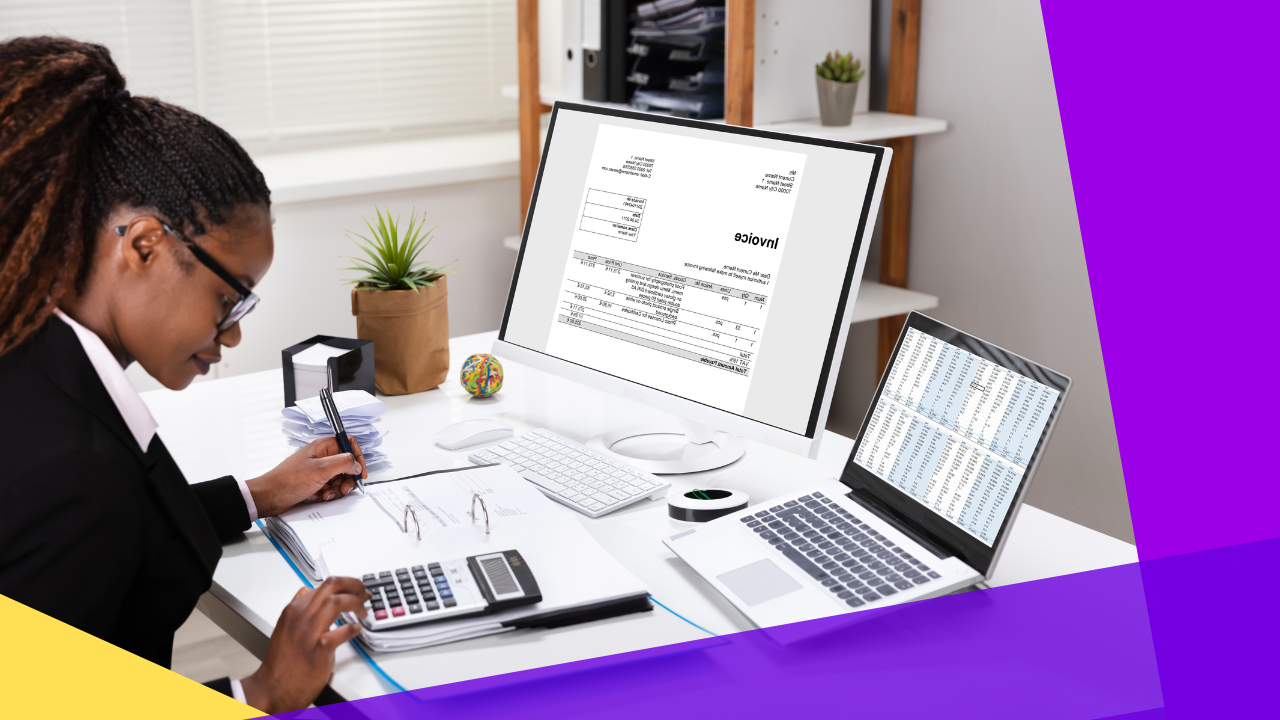 Invoice processing services are an integral part of any business. To keep your company running smoothly, you need a system in place to process invoices regularly. 
Invoice processing records and sends out invoices to clients and customers for payment. Businesses use invoices to record transactions. 
Recently, moves have been undertaken to automate the industry. Invoice processing software comes with easy-to-use tools that make sending invoices easy, tracking their status, and managing customer relationships from start to finish. 
Skyquest Technology Consulting estimates that the invoice processing software market will significantly grow in North America as businesses digitize their processes. It's projected to hit 4.6 billion USD by 2030. 
What are invoice processing services? 
Invoice processing services are professional financial services offered by third-party organizations to help process invoices and payments. The procedure can be too time-consuming for a company's internal accounting department to do alone. 
The service works by issuing an invoice to a client to pay for goods or services rendered. The purpose of an invoice is to provide proof of payment and itemized billing. 
Invoices are functionally the opposite of receipts, except they are issued to prompt payment. They also serve as records so your business knows how much needs to be collected. 
Invoice processing services are especially helpful for small businesses that lack the time and resources to handle the work involved. Outsourcing to an invoice processing service company can save them time and money.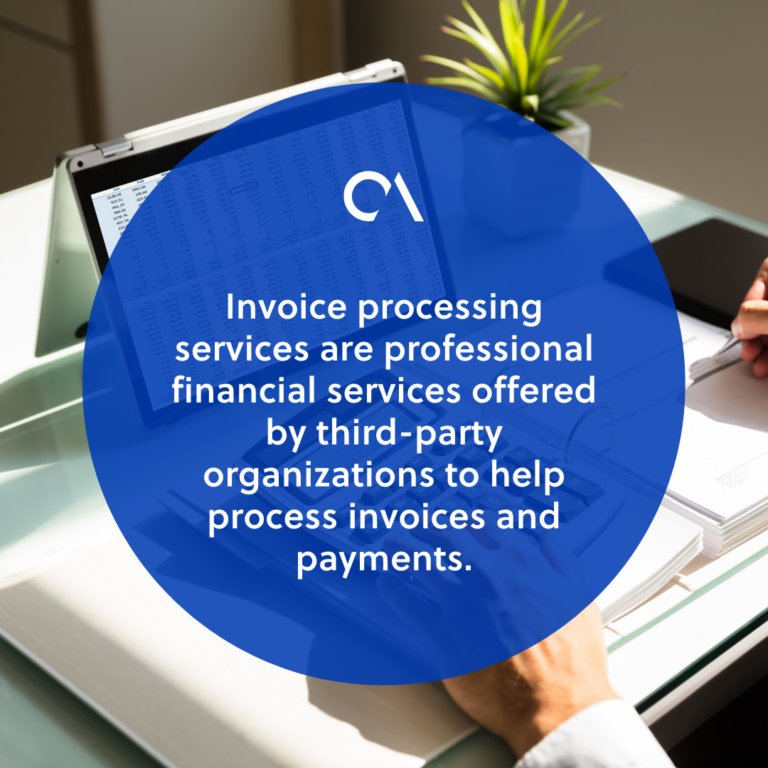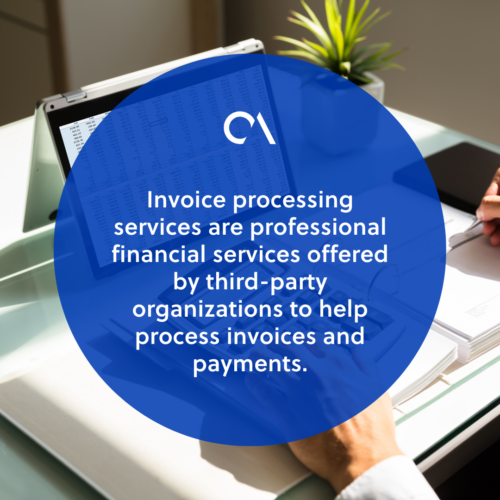 Key steps of an invoice processing service workflow
The invoice processing workflow is an essential part of your accounting operations. Through the workflow, staff members can track the entire life cycle of an invoice and make sure payment is made on time and in full. 
Invoice receival 
The workflow begins when your accounts payable team first receives the invoice. This formal request is also referred to as an invoice to pay. 
Companies must have their own centralized system to process invoices consistently. Disparate workflows lower efficiency and increase human errors. 
In this stage of the invoice processing service, the team checks the following:

Invoice date

Contact details

Product description

Pricing and total amount owed
Invoice matching
This stage concerns recording invoice data and matching it with the right paperwork. 
Invoices are assigned a general ledger (GL) code and labeled with the corresponding purchase order, delivery receipt, and inspection report. 
If there's any discrepancy between the amount billed and the amount on the original purchase order, the issue has to be resolved with the vendor before approval. Formal verification is done to avoid duplicates and fraud. 
Doing this manually frequently results in typos, errors, and data duplication. 
Invoice approval
Invoice approval processes vary by company, industry, invoice type, and policy. Two or three executives are usually permitted to approve or deny payment depending on the company's size. 
Manual approval tends to be slow, resulting in penalties and late payments. Automation is the best strategy for this process. 
Automating this stage of the invoice processing service keeps approval workflows in the software system. It also creates a definitive timeline for when everything needs to happen. 
Invoice submission for payment
Next, the invoice is submitted for payment and processing. 
To process the payment, the accounts payable team needs the following:

Total amount owed 

Vendor information

Payment identifiers

Types of payment accepted
This process can be sped up by automating your invoice processing, even allowing companies to avail of early payment discounts. These discounts occur when businesses cover invoices early. 
Invoice archiving
Finally, when payment is processed, all data is captured and archived. Storage in a digital database provides a convenient audit trail that's easily accessible whenever needed. 
Automating invoice processing services 
To save time and money on invoice processing, many businesses have outsourced the task for automation. 
The best invoice processing software automatically matches invoices with payments received. Your accounts receivable goes down while your income goes up. 
With automated invoice processing services, you won't need to worry about manually entering data or tracking down payment information. It also helps you avoid late fees and penalties for bounced checks or the hassles of dealing with insufficient funds.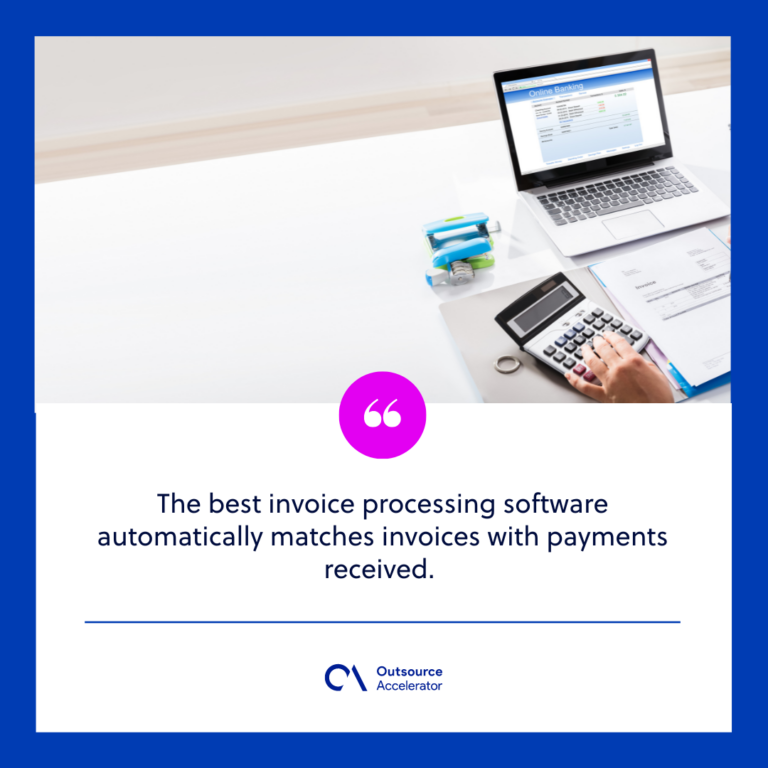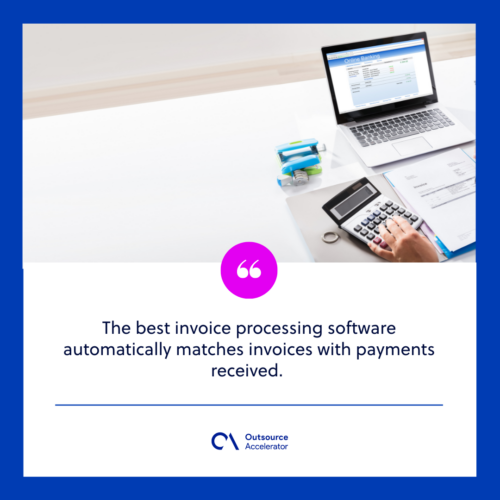 Benefits of automating invoice processing services 
Here are the primary benefits your business receives from automating invoice processing services:
Real-time information
Automating invoice processes gets you real-time information about your business. You'll see how much money spent on each invoice and when it was paid. This is useful because it provides you insight into where your money is going. 
Real-time information helps you generate reports at any point in time, letting business owners make important decisions based on facts instead of rough estimates. 
Digital data storage 
It's much easier and more convenient to store digital documents than paper ones. You can keep them in a safe, secure location that is accessible anywhere and anytime. 
Automating invoice processing services means the software stores all your invoices digitally and organizes them according to your preferences. This makes it easier to find specific invoices and saves time when you need to search for them. 
Fraud protection
A company with high volumes of invoices is especially prone to errors and fraudulent information being input by careless employees. Human errors like these could result in lost revenue or even identity theft. 
Automated invoice processing services use algorithms that are designed to detect anomalies in data entry and prevent them from entering the system. By automating, you ensure every transaction goes through error-free.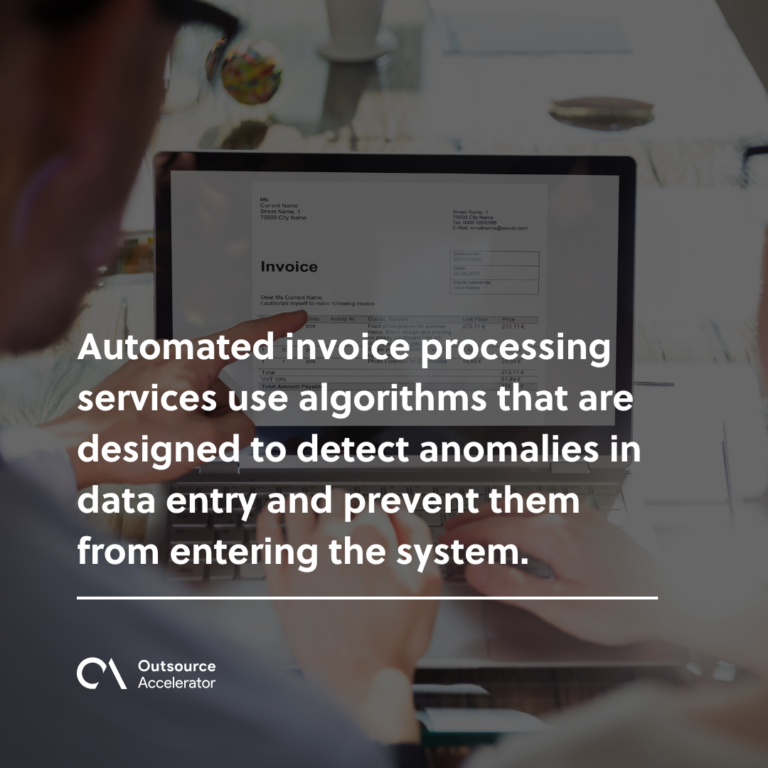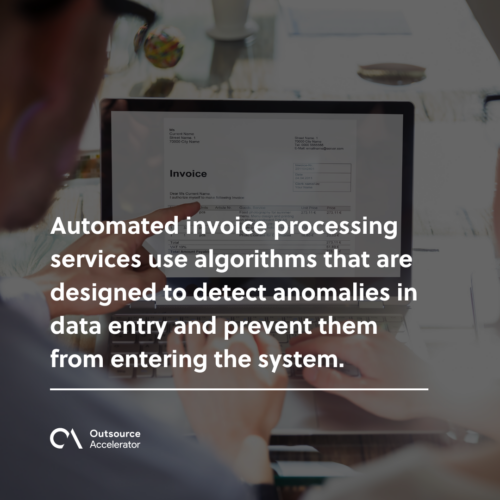 Centralized dashboard
A centralized dashboard for your invoice processing makes it easy for different users to access information about billing cycles, payment status, and other relevant data. 
This feature gives you an overview of all your invoices, who owes money, and what needs to be paid. This can help you avoid missing or late payments. 
Efficient reporting 
Automated invoice processing services can quickly generate reports that show the status of all your invoices. 
And with a cloud-based system, you can access your data from anywhere. This is useful when you need to make better decisions about how to grow your business.  
Time and cost savings
If you're spending a lot of time and money manually entering data, it's time to outsource and automate. Automation massively reduces the time you spend entering invoices, meaning your staff can focus on other, more important tasks. 
Automation also saves time and money by reducing errors in your invoice processing service, making it easier for you to find problems before they become costly mistakes.