Why you should consider hiring an insurance virtual assistant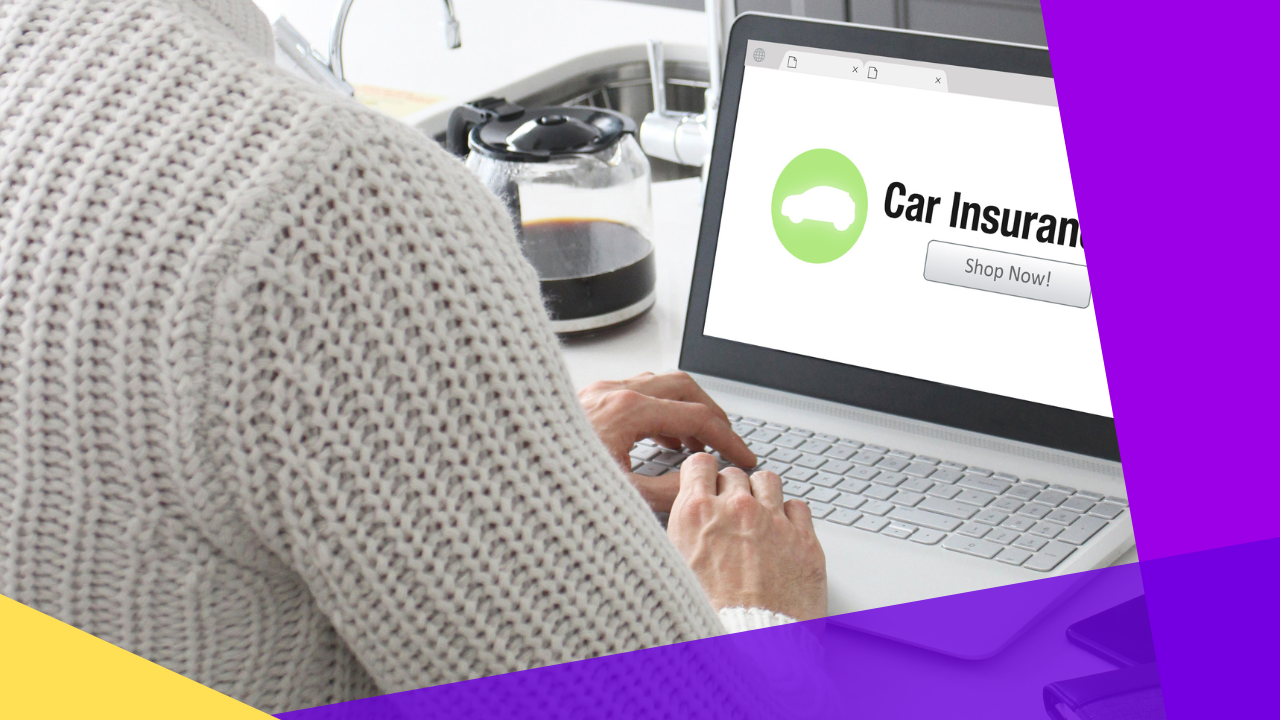 If you're in the insurance industry, you know how demanding managing tasks and responsibilities can be.
That's why many organizations are turning to virtual assistants (VAs). These remote workers help streamline their operations and increase efficiency. 
Gitnux reported that from 2022 to 2028, the virtual assistant industry will grow at a CAGR of 22.3%. This shows how VAs have become a must-have asset for many firms. And the insurance industry isn't exempted from that need.
This article explores the tasks handled by an insurance virtual assistant and the benefits of hiring one. We'll also share tips for choosing the right VAs and working effectively with them.
What is an insurance virtual assistant?
An insurance virtual assistant provides administrative, sales, and customer support for insurance professionals. This type of VA also works remotely, using virtual tools and technologies to perform the required duties.
By hiring an insurance virtual assistant, you can offload time-consuming and repetitive tasks to free up your time. This allows insurance firms to focus more on their strategic aspects.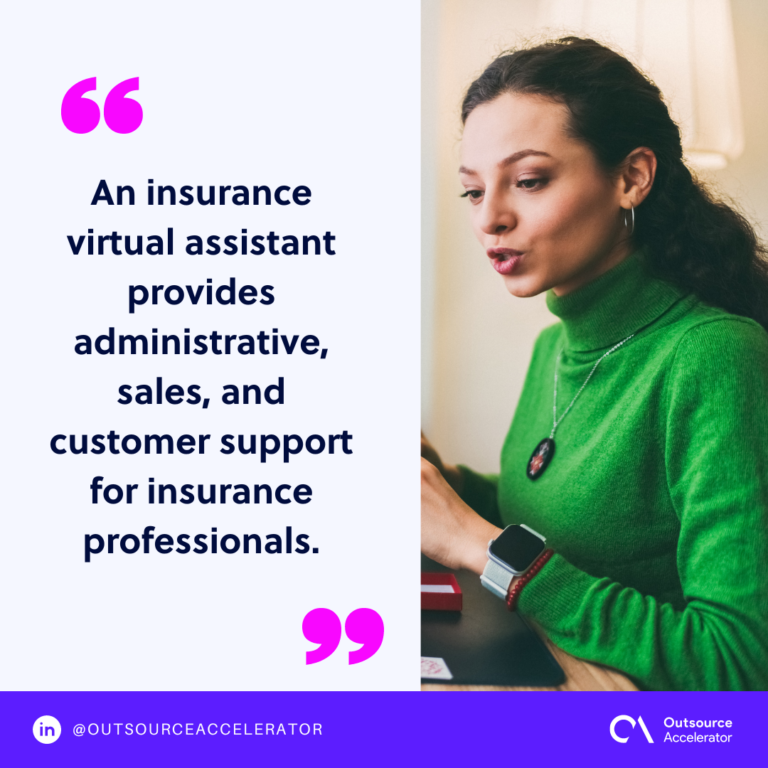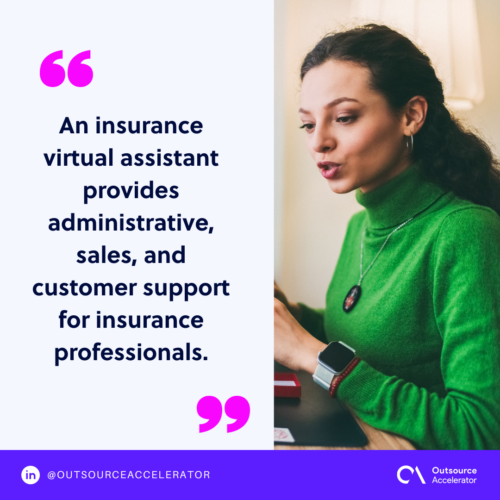 Benefits of having an insurance virtual assistant
There are numerous benefits to outsourcing an insurance virtual assistant. 
Here are the main advantages of having a remote insurance aide:
Get more stuff done

. With an insurance virtual assistant handling tedious tasks, your business can focus more on core work.

Save some cash

. Hiring a full-time employee can be expensive, but working with a VA saves you from all those costs. This is because they work as independent contractors.

Flexibility that suits your needs

. An insurance VA can adapt their hours and tasks to fit your requirements perfectly.

Tap into specialized skills

. Remote insurance assistants have experience and expertise in data entry, underwriting, and

telemarketing

. Hiring one means you're getting a skilled pro without the need for extra training.

Customer service superstar

. VAs can handle tasks like email management, phone receptionist duties, and endorsement processing. With their help, your clients will get prompt and efficient service, leading to happy and loyal customers.
10 tasks an insurance virtual assistant performs
Insurance virtual assistants can perform various tasks to support your firm. Here are ten essential tasks they can handle for you:
1. Data entry/cleaning in the AMS/CRM
Insurance virtual assistants excel in managing and organizing data in agency management systems (AMS) or customer relationship management (CRM) software. 
They verify accurate and up-to-date records, eliminate duplicate entries, and maintain a clean and well-structured database.
2. Endorsement processing
Handling policy endorsements can be time-consuming and requires attention to detail. VAs can manage documentation, communication with underwriters, and policy updates. 
In addition, they ensure seamless policy adjustments for clients.
3. Email management
Insurance professionals often receive a high volume of emails. Insurance VAs can efficiently handle email correspondence, filter spam, categorize messages, and prioritize urgent inquiries. 
They make sure important messages are promptly addressed and unnecessary clutter is eliminated.

4. Underwriter warm transfer
VAs can facilitate warm transfers between insurance agents and underwriters in complex scenarios. These remote assistants gather and organize necessary information for a smooth transition and improved communication between all parties involved.
5. Sales pipeline management
Managing the sales pipeline is vital for insurance agencies. Virtual assistants can update and maintain the sales pipeline, track leads, schedule follow-ups, and manage customer relationships. 
This allows insurance professionals to focus on converting leads into valuable clients.
6. Quote preparation for new business and renewal
Preparing accurate insurance quotes is time-consuming. With an insurance virtual assistant, you can gather needed information, analyze coverage options, and create comprehensive quotes.
This helps insurance companies provide clients with prompt and competitive quotes for new business and renewal policies. 
7. Payment processing
Insurance virtual assistants can handle invoicing, payment reminders, and reconciling accounts. 
They assure timely and accurate processing of premium payments. It minimizes the risk of payment delays or discrepancies.
8. Phone receptionist
For insurance agencies, managing incoming calls is essential. VAs can serve as receptionists. They can answer calls, take messages, and direct calls to the appropriate departments or individuals. 
This allows smooth communication and enhances the professional image of the insurance company.
9. Telemarketing
Remote insurance assistants can aid telemarketing campaigns, reach out to potential clients, and generate leads. They can also conduct market research, initiate cold calls, and schedule appointments for insurance agents.
An insurance virtual assistant can effectively contribute to lead generation efforts and business growth.
10. New policy issuance
Once a policy is bound, remote assistants can prepare and issue policy documents. These documents include policy certificates, endorsements, and other related paperwork. 
VAs can guarantee accurate and timely delivery of policy documents to clients.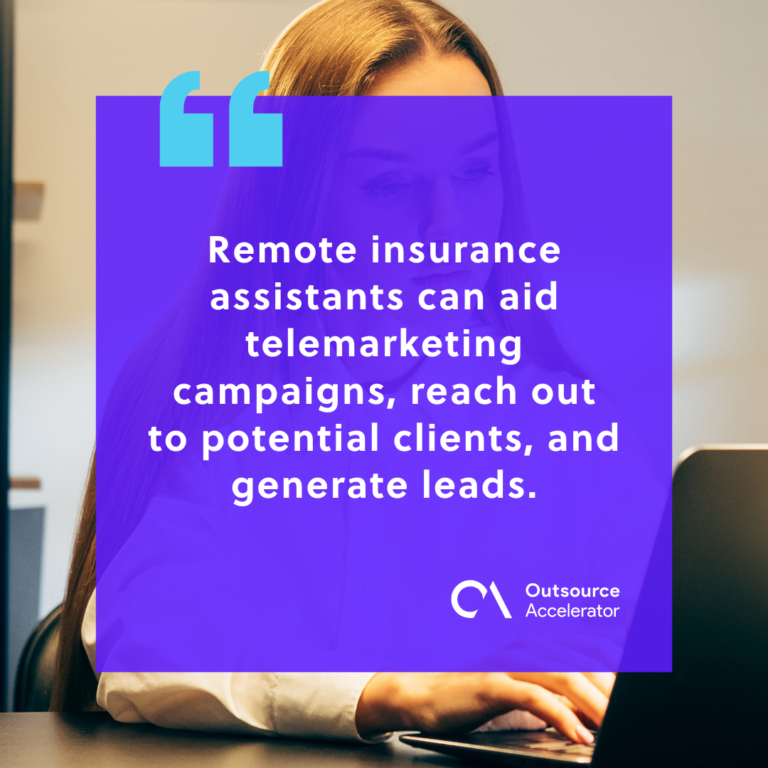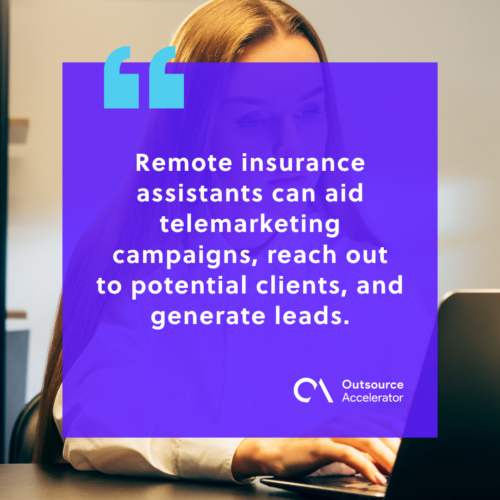 Choosing the right insurance virtual assistant
Selecting the right insurance virtual assistant maximizes the benefits to your firm. Here are some essential considerations when choosing an insurance VA:
Identifying the insurance tasks in need of support
Before hiring a VA, identify the specific tasks within your insurance operations that need help.
Determine which administrative responsibilities are consuming valuable time and resources. Focus on the areas where an insurance virtual assistant's expertise can impact the most.
Evaluating a VA's skills, experience, and certifications
Check a potential insurance virtual assistant's skill set, industry experience, and relevant certifications. 
Look for individuals who understand insurance terminology, policies, and processes. Verify their proficiency in using industry-specific software and tools.
Reviewing the VA's reputation and references
Research the candidate's reputation within the insurance industry. Seek testimonials or references from previous clients to gain insights into their professionalism, reliability, and quality of work. 
An insurance virtual assistant with a solid track record and positive reviews is more likely to deliver exceptional results.
Tips when working with an insurance virtual assistant
To ensure a successful partnership with your insurance virtual assistant, consider these tips:
Establish communication channels, like email, phone, or project management software. This lets you have easy and prompt correspondence.

Define the tasks, deadlines, and quality expectations upfront to avoid misunderstandings or miscommunication.

Create a workflow that outlines how tasks will be assigned, completed, and reviewed. It helps ensure a smooth and efficient process with your remote insurance assistant.

Schedule regular check-ins to review the progress of tasks and address any issues or concerns. Doing so helps you maintain accountability and quality.