The do's and don'ts of warm transfer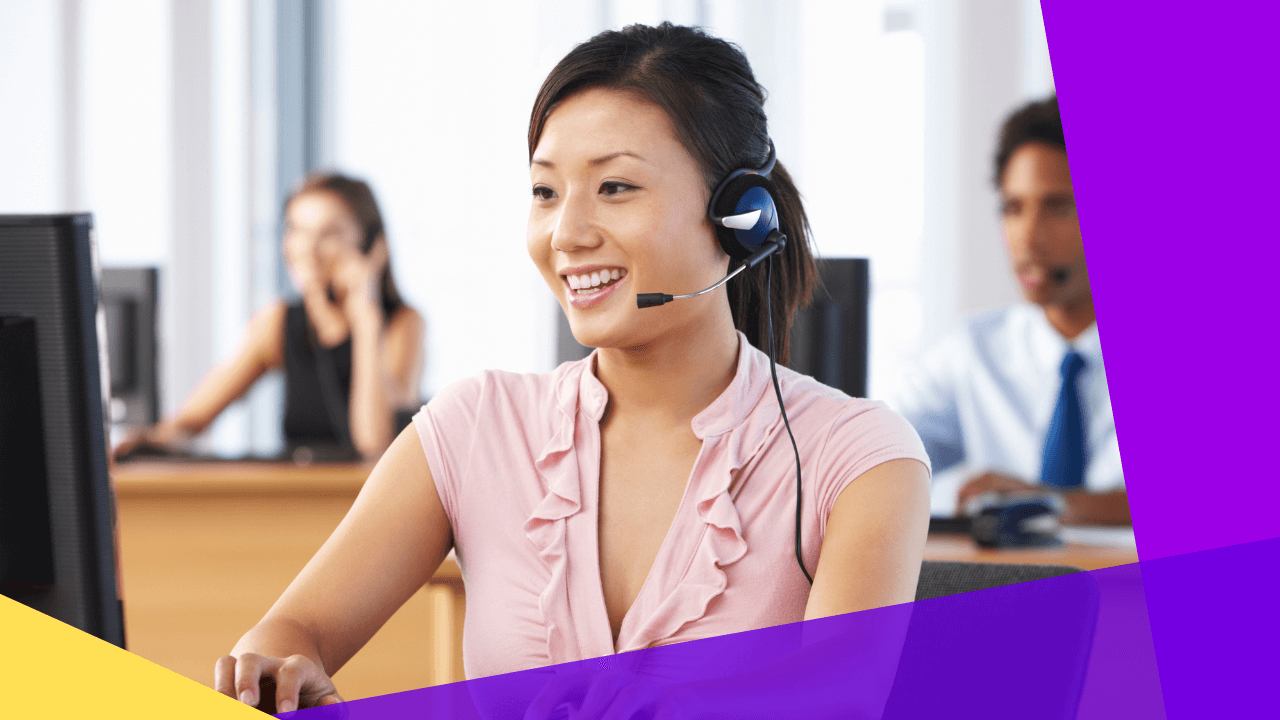 In the age of digital technology, there are now more ways for businesses to connect with their customers and address their needs. They can use live chats, AI-powered chatbots, and e-mail as means of communication. 
Despite the convenience of using this digital technology, many people are still looking for the human touch. In fact, in the 2022 CSG study, 36% of the respondents said they prefer to speak to a human agent than to an AI-powered virtual assistant. 
For this reason, voice support is vital. Regardless of the type of business you are running, having an inbound call strategy is a must. A warm transfer is one technique you must always apply to ensure a positive call experience. 
Why is warm transfer important?
Did you get a call that should have gone somewhere else? Then you need to perform a call transfer. This task may be simple since most VOIP systems have a feature that lets you move a call from the original recipient to another. 
Now, how do you make sure a call transfer is successful? It's simply through a method called – warm transfer. The goal is to provide a smooth and friendly call experience by assisting the caller in reaching the right recipient. 
In a warm transfer, the caller must be put on hold while the original recipient calls and informs the appropriate agent. Valuable information will be exchanged before the appropriate agent answers the call.
A warm transfer is important because it can eliminate the need to repeat information over and over. It helps the caller feel accommodated or that the issue they are escalating is being handled seriously.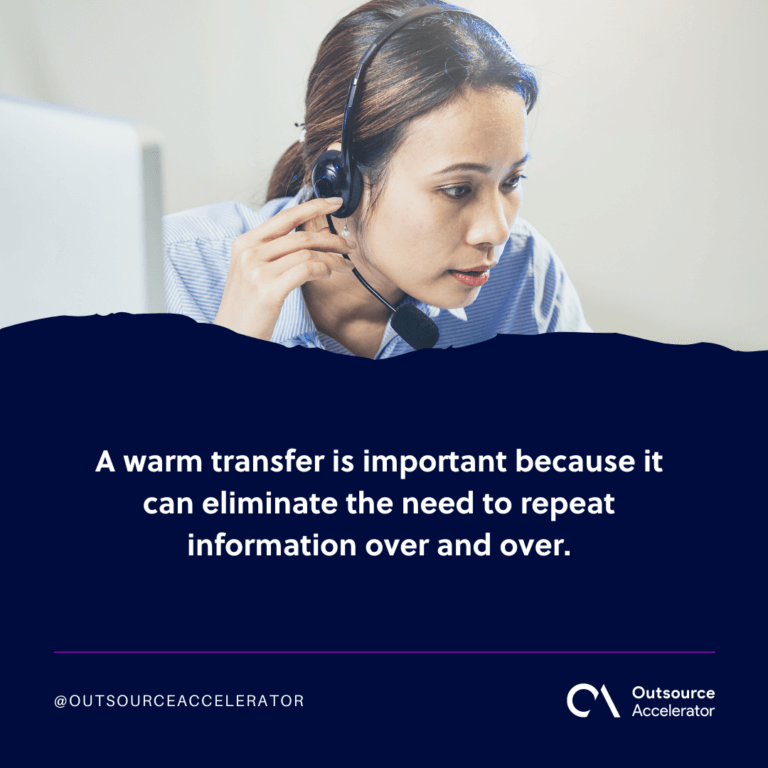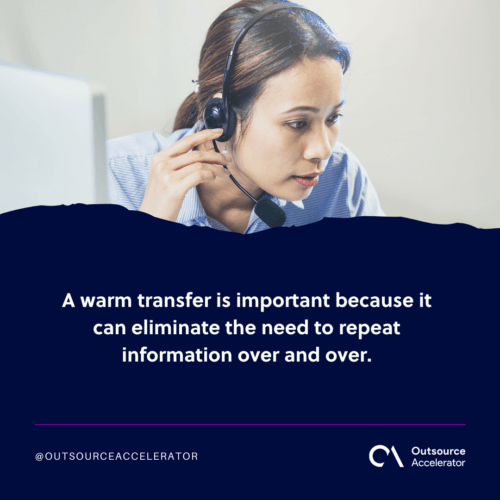 The do's of warm transfer
There are quite a few things to keep in mind when transferring a call to another agent. Here are some of them: 
1. Do equip agents with essential skills
Unless they have the skills and knowledge on what to do, your agents cannot provide exceptional call experience all the time. Hence, training is a crucial part.
The company must provide agents with materials containing phone etiquette guidelines and common questions to ask the caller. Remember, they are representing your company, so they must be courteous and professional. 
Moreover, they should also be trained in navigating the telephone system and managing incoming calls.
2. Do train everyone on how to use the telephone system
In one way or another, employees in your company will have to answer a ringing phone. So, it pays to ensure that everyone knows what to do should the call be meant for another person. 
Take a quick survey of your business, and you will be surprised how many people are pressing the wrong buttons or do not have any idea on what to do when answering a call. 
If you don't want even one client getting irritated while waiting on hold, be sure everyone understands how VOIP works.
3. Do seek permission to transfer the call
Putting the call on hold right after saying that the caller has reached the wrong person or department is a big mistake. Not all customers have the time to wait on hold.
First, tell the customer that there is another person who is better suited to address the issue. Explain further why you need to transfer the call and then ask for permission.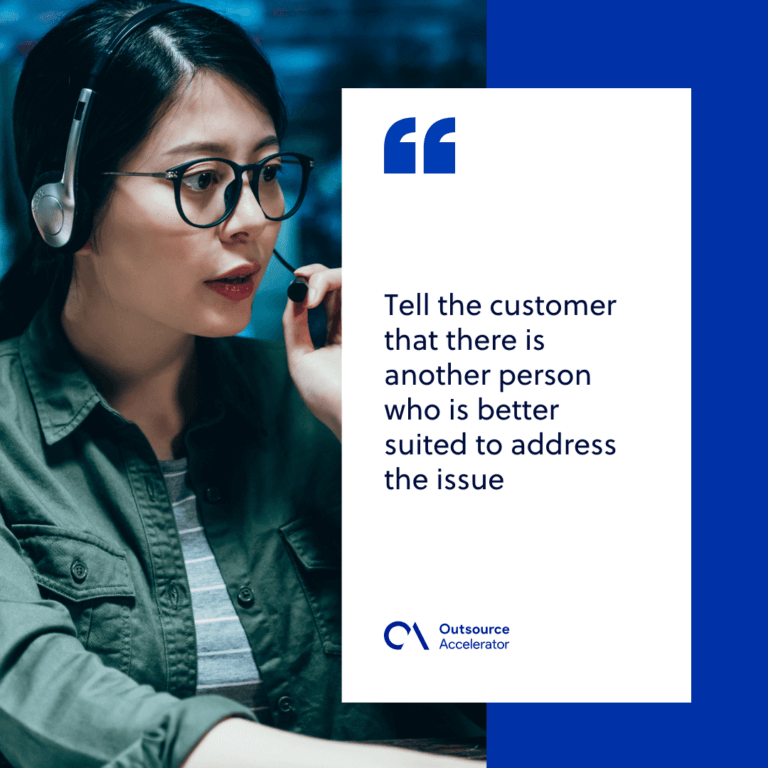 4. Do get a callback number 
If the other agent is not available to take the call, apologize to the customer. But inform them that they will get a callback as soon as possible. 
Do not forget to get their number, or if you have gotten it already, remember to verify it again. This will give the customer the assurance that the problem will be handled and not ignored.
5. Do play soothing holding music
Soothing and calming music is your best friend when putting a customer on hold. It's definitely better to hear music while waiting on the other end than to hear nothing. 
With music, the customer will know that the call hasn't been disconnected.
6. Do thank the caller for waiting
Once the appropriate agent answered the call, thank the customer for waiting. Then, introduce the agent's name and title. Before hanging up, ensure to inform the agent about the issue that must be addressed.
The don'ts of warm transfer
There are also things to avoid if you want to ensure a smooth and positive call experience. 
1. Don't transfer the call without talking to the agent
You want to make sure that the appropriate agent is available to take the call. Another thing you should do before transferring the call is to brief the agent about the caller. Mention all details, including the name, request/query, and any information that may be needed.
2. Don't make callers repeat information
The last thing an irate customer wants is to repeat personal information over and over again. You should have taken their personal details and asked about their problem the first time. 
Before transferring a call to another agent, be sure that the issue is clear to you. After all, this will help you determine the right person to handle it. And this will help avoid multiple call transfers.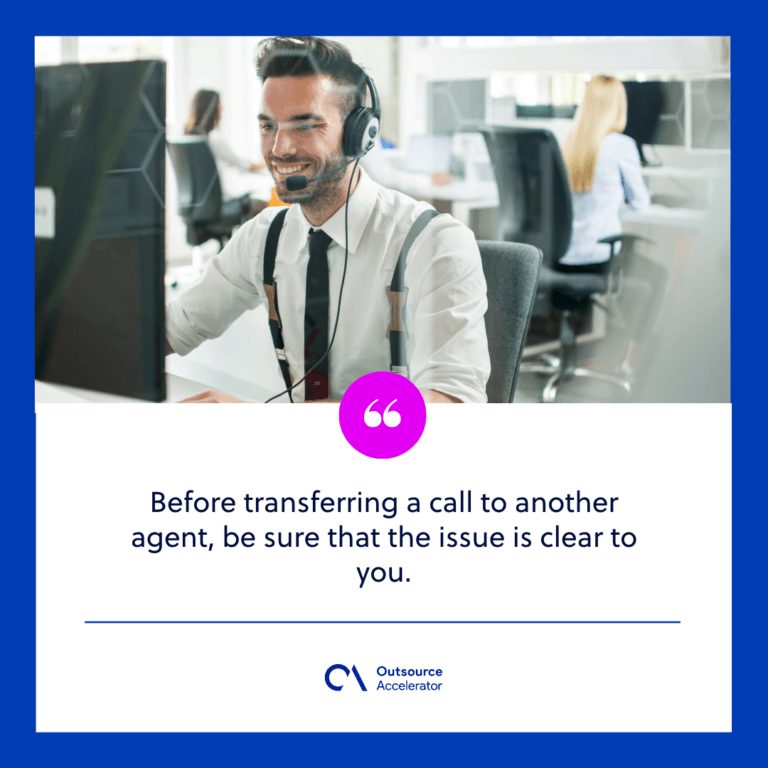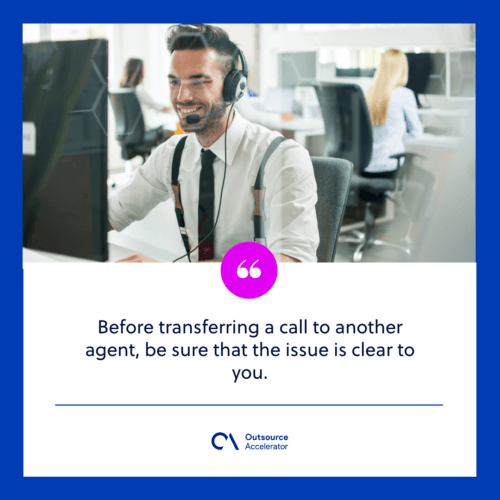 3. Don't do multiple call transfers
Nobody wants to be passed around from one agent to another. One call transfer is enough. Again, to avoid a wrong call transfer, find out the problem and check the agent's availability. 
If the right agent cannot take the call, inform the caller that he or she will receive a callback as soon as possible.