Help desk vs technical support: How they support each other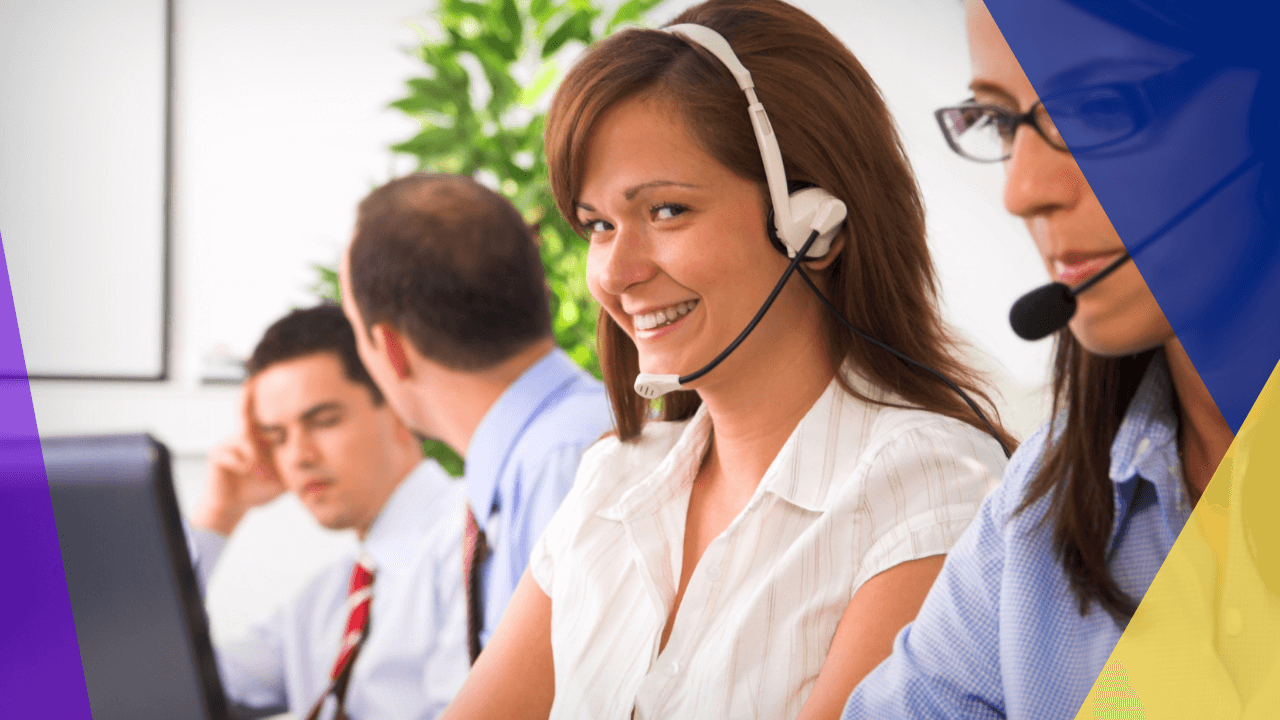 In a company, there will always be departments that may seem like they could've been merged. To untrained eyes, the help desk vs technical support department is one of those situations.
These two departments have a lot of similarities, but their differences are what makes them important. If only one of these units existed, it would not be practical, especially for technology and service-focused businesses.
What is a help desk?
A help desk exists to help the end-users or the customers with problems, issues, or general questions about a company's products or services.
It usually handles the majority of the tickets and delegates them to the proper channels.
For instance, if the nature of the complaint is too technical for help desk associates, they can divert the call to one of the tiers of tech support.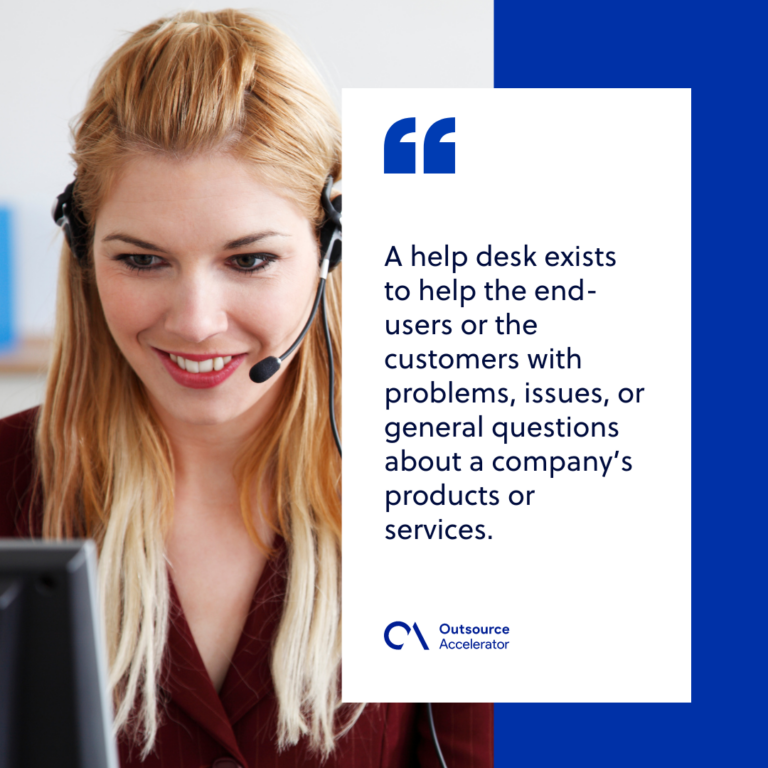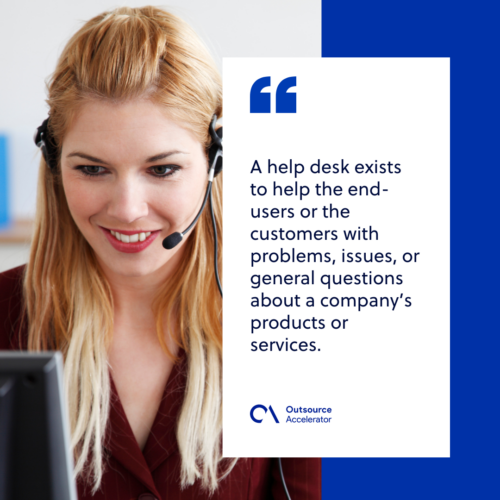 What is technical support?
Technical support, or simply tech support, is often mistaken as a subsection of the help desk. Contrary to popular belief, this "subsection" is a whole other division itself. It is where highly technical tickets and calls get diverted from the help desk.
The technical support team comprises different tiers or support levels. And these levels are what makes the unit even more organized.
Despite the number of tickets that go through the system every day, these tiers help tech specialists be more present, productive, and efficient with their daily operations.
Technical support levels decoded
In this department, there are about three to four tiers involved, depending on the number of customers the company handles on a daily basis.
Tiers
Nature of problem and trigger response
Level 0
Pertains to self-help sections for customer service:

Online knowledge bases
Interactive voice response (IVR) prompts
Frequently asked questions
Automatic chat responses
Official how-to forums
Manuals

If the issue cannot be resolved, it can be endorsed to L1 support.

Level 1
Basic technical support that involves the end-user's cooperation.
L1 tech specialists often have a script to follow procedures.
If there are no viable solutions, the call will be diverted to an L2 specialist.
Level 2
Those that can't be handled by Tier 1 are escalated to experienced Level 2 tech associates.
They have in-depth product knowledge used to create a solution.
If not, the ticket then goes to the next tier, L3.
Level 3
Subject matter experts (SMEs) can be found in this tier. They have a profound knowledge of how the product works inside and out.
Most tickets are solved in this tier but if it's not, it goes to the final level: Tier 4.
Level 4
This tier is the last known measure that tech support analysts can go through. This level is "reserved" for issues that are out of the company's reach.
This is where vendors and other external parties get involved to solve a ticket.
Help desk vs technical support: Differences and similarities
Help desk vs technical support have differences that make them complement each other. 
For instance, a help desk representative may not have the capacity to handle a technical issue, while a general inquiry may eat up a tech specialist's time for solving more complex issues. 
This segregation of duties allows the company to deliver better and more seamless service to its user base.
Meanwhile, both help desk and technical support have a common purpose and end goal. And that is to provide after-sales support and resolve customer issues in the fastest way possible. 
They also usually utilize the same systems and support channels such as phone, email, and chat—although technical support is more inclined to use the phone, especially for more complicated problems.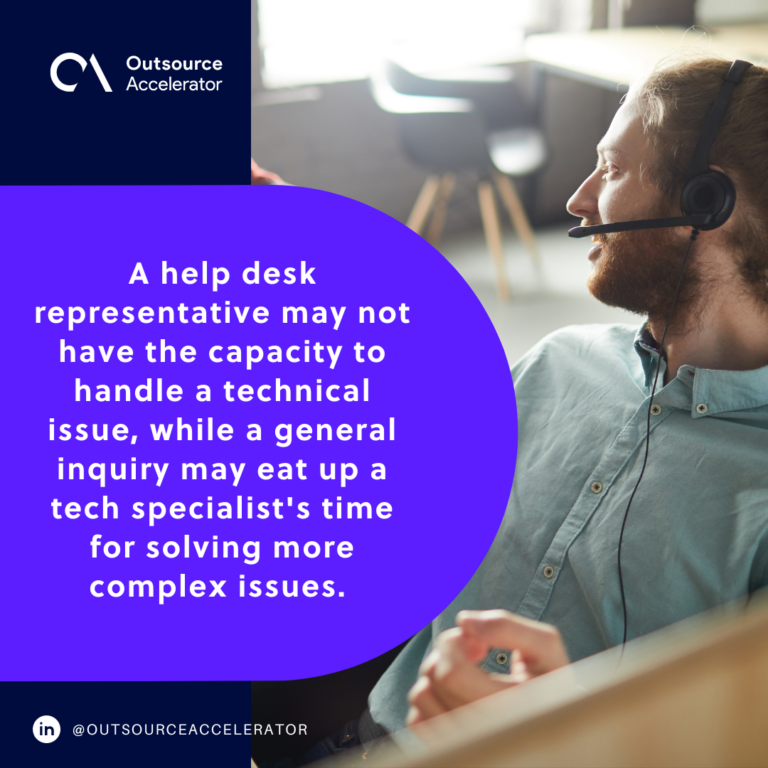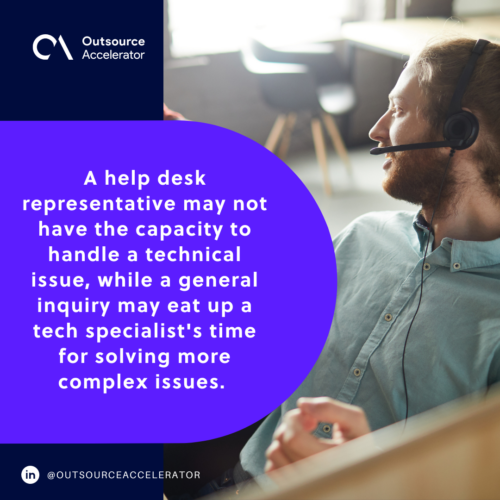 Help desk vs technical support: Tools and software
There are tools and software necessary for help desk and technical support specialists to perform their functions effectively. As mentioned, in many cases they utilize the same systems, and here are some of them.
Ticketing system
A ticketing system, also known as an issue tracking system, is software that allows every customer service representative to keep track of how many tickets are in the queue.
It is a form of queue management for incoming requests. The system helps agents be more organized and productive throughout the day.
Customer relationship management tools
Customer relationship management programs are essential for both help desk and technical support as these tools consolidate all the necessary information about the customer on the phone. 
This includes whether they're a new or loyal customer, their communication and request history, existing tickets, and contact information, among others. All this on one system saves agents time manually searching for the information they need.
VoIP cloud system
VoIP, or voice over Internet Protocol, is a system that allows departments to receive calls without using landlines. It's one of the fastest ways to get hold of someone, and it's more sustainable and reliable than standard phone lines.
Cloud office suite
Google Suite and Microsoft 365 dominate this field. Even outside of the tech industry, people are using these productivity and collaboration tools.
They allow people to work and access their files and tools anytime and anywhere. All you need is a compatible device, like a laptop or a tablet, and an internet connection.
Help desk vs technical support: FAQs
To better understand the roles of help desk vs technical support, we answer the most commonly asked questions below.
FAQ 1: Can help desk be turned into tech support and vice versa?
It is possible, but to do so is impractical. Training will be necessary as there is certain subject matter knowledge required for each unit, especially for technical support.
FAQ 2: Are help desk and tech support the same as customer support?
While they all provide assistance to customers, they can be considered as a subsection of a bigger unit. Customer service is considered the umbrella term for any and every department that serves the user base.
FAQ 3: Can these two be without each other?
Yes, help desk and technical support can exist without each other but only to a certain extent. If a company isn't dabbling in tech, it can just have a help desk to deal with customers.
But if the business is in the tech industry, it simply cannot function well without a tech specialist department.
FAQ 4: Can they coexist in one department?
Yes, they can coexist in one department, but as mentioned, it is important to set clear distinctions between their roles.
Moreover, some companies opt to outsource one of these sections to save up on resources such as office space and overhead costs.
FAQ 5: Can help desk and technical support be outsourced?
Yes, both help desk and technical support departments can be outsourced together.
In recent years, more and more businesses turn to outsourcing to reduce costs and increase availability. Outsourcing providers usually have staff available 24/7 and added capabilities that allow companies to enhance their customer experience.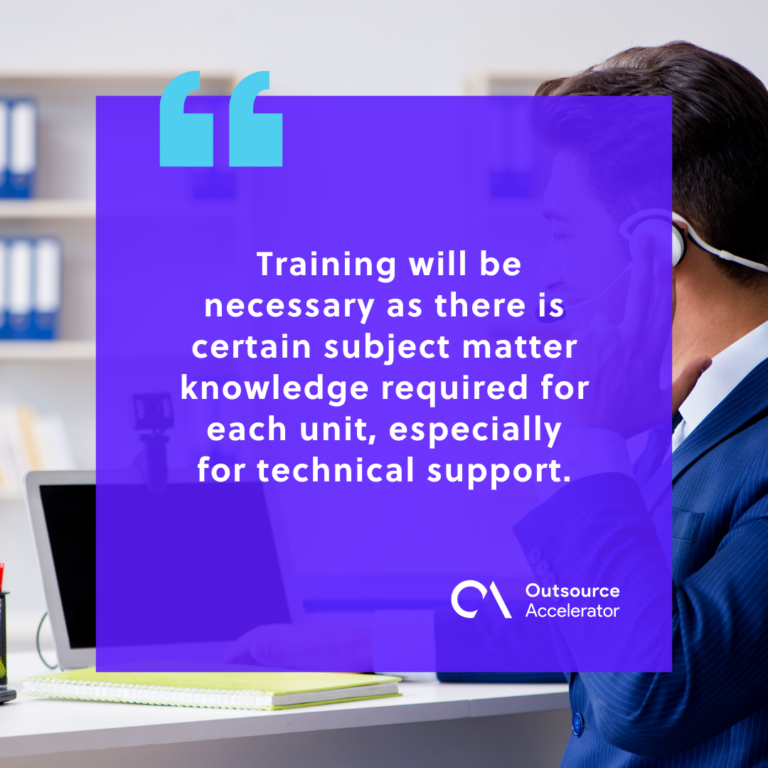 Reasons to outsource help desk and tech support in 2023
If the handsome figure of 70% cost savings hasn't made you decide to outsource, here are some more reasons why many organizations are partnering with outsourcing companies like SixEleven.
Lower labor costs
In comparison to developed countries, the labor costs in some developing nations are much lower than their first-world counterparts. This is because of the lower dollar-to-local currency ratio and the overall behavior of their economy.
Lower overhead expenses
When you outsource, you don't have to worry about investing in additional office space or equipment separately as providers already have this covered. This makes it easier for your business to scale, depending on the market needs.
More opportunities for growth
The more organizations participate in outsourcing, the more they open their doors to job seekers and untapped talent. Business process outsourcing companies around the world often conduct mass recruitment to ease the demand of their biggest clients.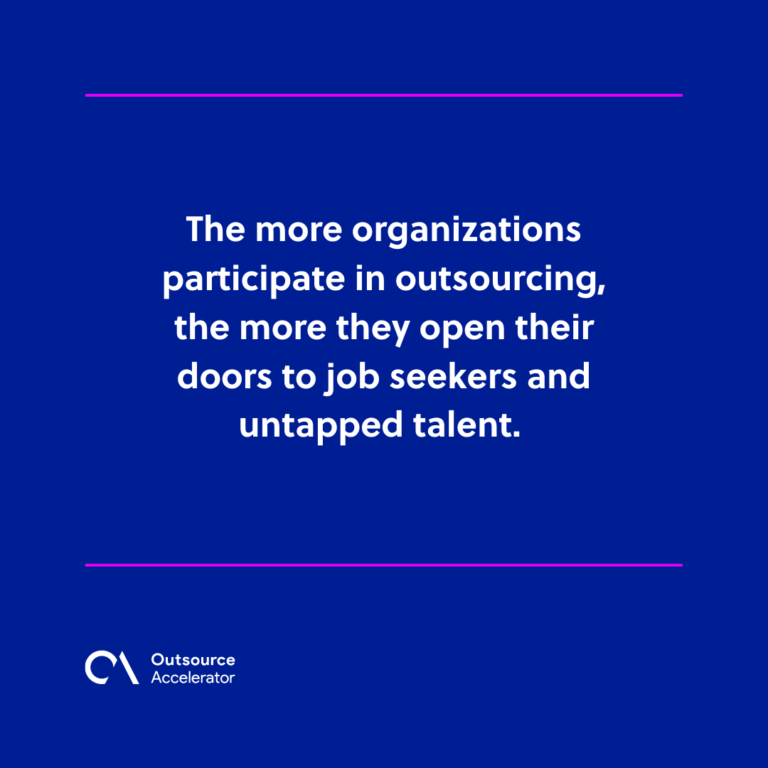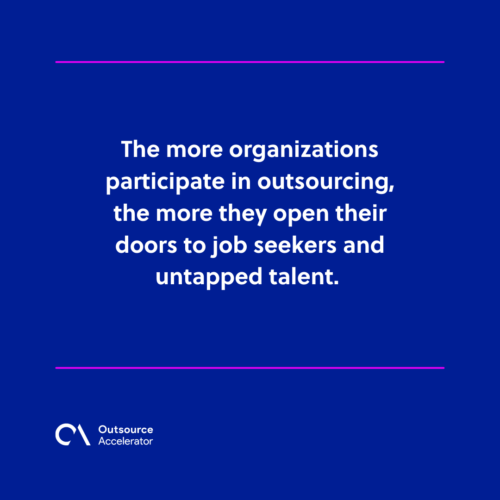 Help desk vs technical support: Two peas in a pod
All things considered, these divisions are just like two peas in a pod. They are often mistaken for the other, but their differences and unique capabilities are just enough for them to shine through. 
Meanwhile, their similarities create an environment of harmony and cooperation as they both strive to support customers no matter what.