Advantages of outsourced help desk services
Last updated: October 14, 2022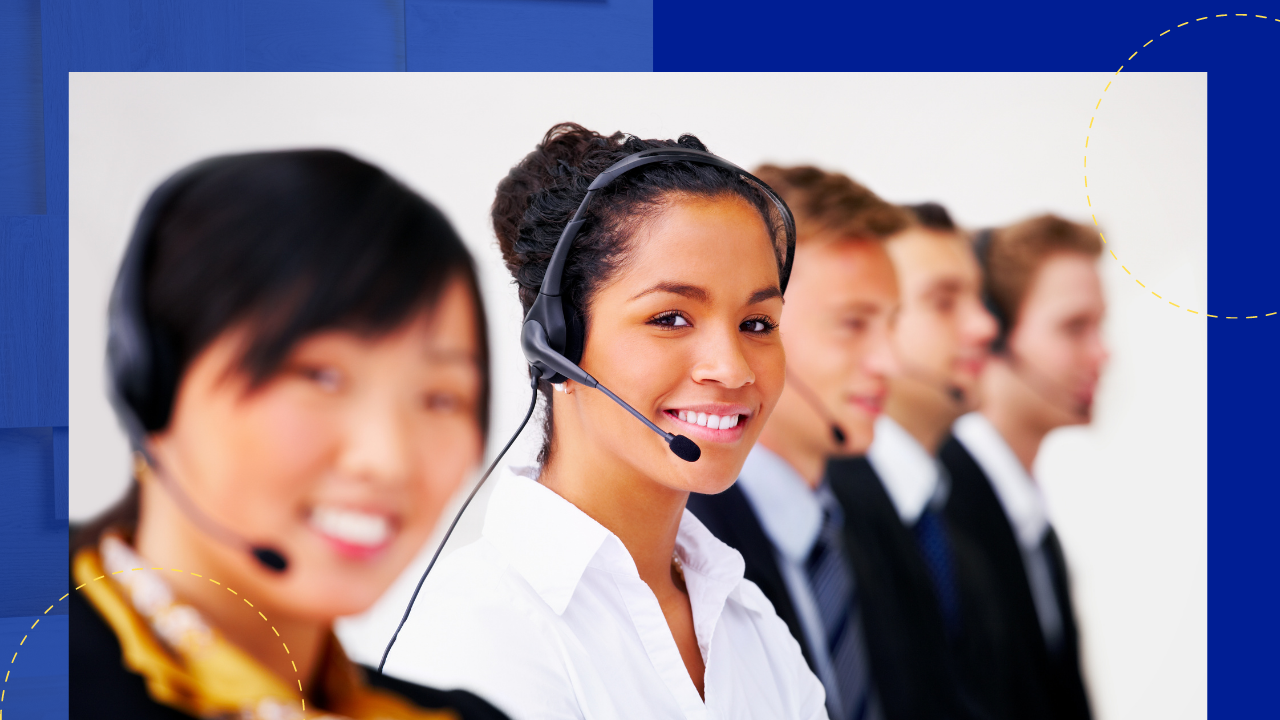 With new digital innovations in businesses, it is only natural that people would occasionally need help in using these services. Due to this, most companies use help desks to give support and assist the needs of their clients.
Outsourcing this particular task has also picked up these past few years. It became a popular solution for companies who need an easy, cost-effective way to modernize their technical support.
After all, external providers are capable of providing effective IT management and support to any establishment at an affordable cost.
What is a help desk?
Help desk support refers to the assistance provided consistently and critically by the company's representatives to the customers. They are run by service agents with extensive knowledge in troubleshooting and managing problems raised by clients.
This type of support typically uses software to deliver fast assistance to anyone who will reach out to the company. Organizations with a dedicated help desk team usually track the technical issues until further resolutions have been provided.
While some businesses still hire in-house support, smaller organizations with limited resources tend to outsource their help desk services. This approach allows their internal staff to prioritize other essential tasks that are part of the integral aspects of their practice.
Small, mid-sized, and large enterprise benefit by partnering with the right third-party providers that offer help desk outsourcing services and gaining access to an additional resource in their in-house employees.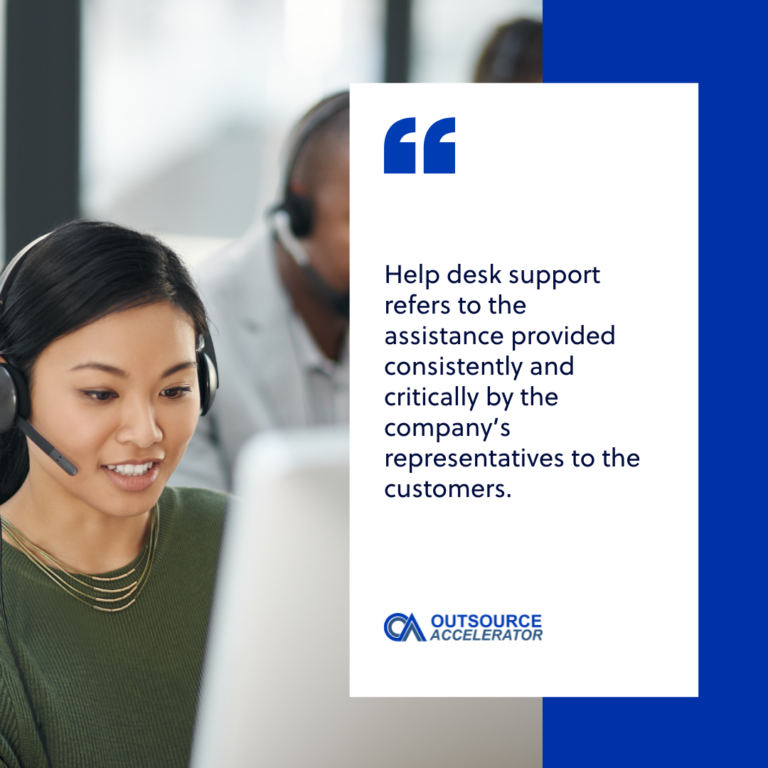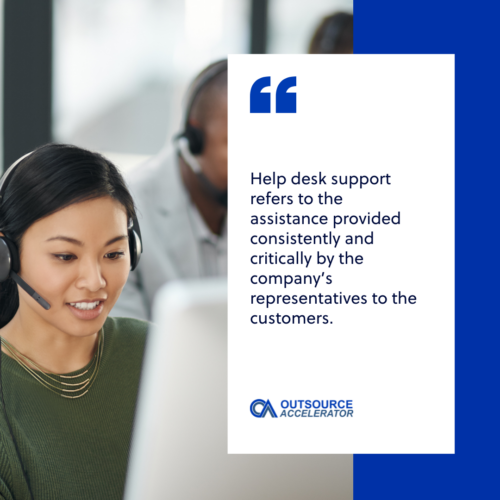 Why do companies outsource their help desk services?
Every business needs to provide their customers with excellent help desk service. Partnering with a third-party service provider enables you to turn an ineffective support process into something that the clients would love.
Here is a quick look at other ways that your company can benefit from outsourcing your help desk.
Improve response times
Outsourcing service providers have a clear process for prioritizing customer concerns – ensuring an improved response time.
They also have a wide range of outsourced help desk personnel with various skill sets so that requests are handled by the right team member.
Service providers are better equipped to provide 24/7 help desk support. They can serve users in different time zones or people sending concerns in off-peak hours so that urgent requests are answered immediately.
Support from highly-trained specialists
Third-party service providers can provide your company with a team of highly-trained specialists. The majority of these agents are equipped with the right credentials, training, and industry experience, which gives your brand a strategic advantage over competitors.
In addition, outsourcers are continuously working on ensuring that their help desk teams are updated with the best practices, technical tools, service management processes, and training on new technologies.
With training and experience, outsourced service desk agents are experts at troubleshooting and resolving problems raised by customers.
Flexibility
The frequency of concerns raised in help desk support is never consistent. Sometimes, help desk agents may experience an increase in volume. Other times, communication lines are left idle.
Outsourcing makes it easy to scale resources up or down as demand changes. It presents flexible and reliable support in various situations.
This ensures that your team does not need to hurry the hiring and training process whenever there is an uptick in services.
Gain valuable insights
Service providers that offer outsourced help desk support make it part of their work to provide valuable insights to clients on different trends that increase or decrease ticket volumes.
Outsourcing partners usually strive to give high-performance service desks that proactively identify, resolve, and prevent problems before they could impact your company.
They also track important performance indicators, metrics, and other statistical reports so that you would know the areas that are thriving in your service and those that need improvement.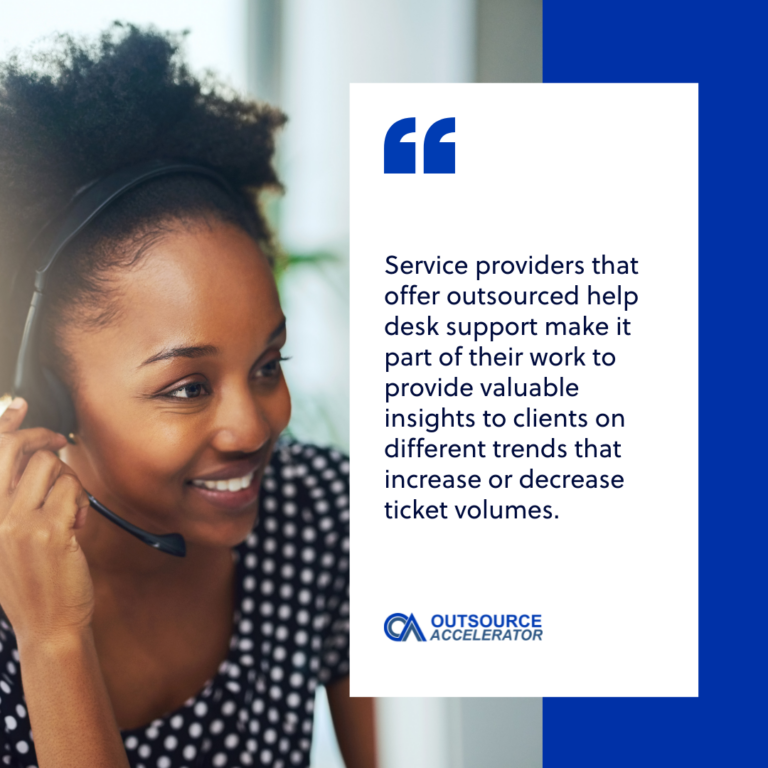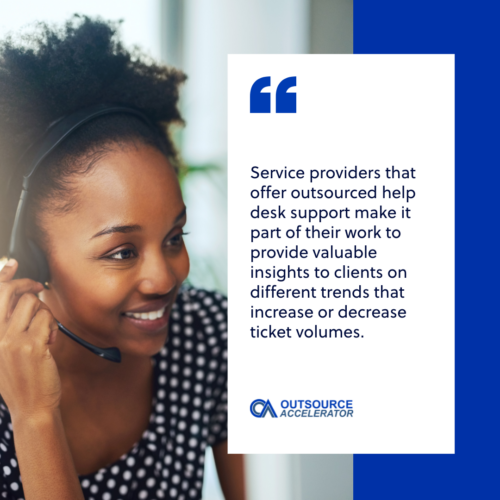 Diverts management responsibilities
Working with an outside help desk provider gives you a chance to divert management responsibilities. This means that your in-house employees can work on a broader range of tasks without worrying about who would answer the clients' inquiries.
With a highly-trained team of outsourced employees, you are assured that your support services are being taken care of. Your internal team can also focus on their main workload instead of trying to fix a problem that is outside of their area of expertise.
Outsource your help desk services with SixEleven
With innovations emerging every hour, a well-run help desk is no longer only an option to have in a company – it is now a necessity. A proactive outsourced help desk service boosts user satisfaction and ensures a smooth operation of your business services.
If you need an outsourcing partner that offers professional help desk services for your organization, then SixEleven BPO may be the right one for you.
This Philippine-based solution-oriented contact center ensures flexible, affordable, and excellent staffing for 24/7 help desk support. With their outsource help desk expertise, they can keep your company running while you focus on your core competencies.
They also have competitive pricing that lets you access a complete, highly-skilled team that can help your business right away.
Visit SixEleven BPO now and explore other outsourcing options that you can use for your business.