7 healthcare back office services you can outsource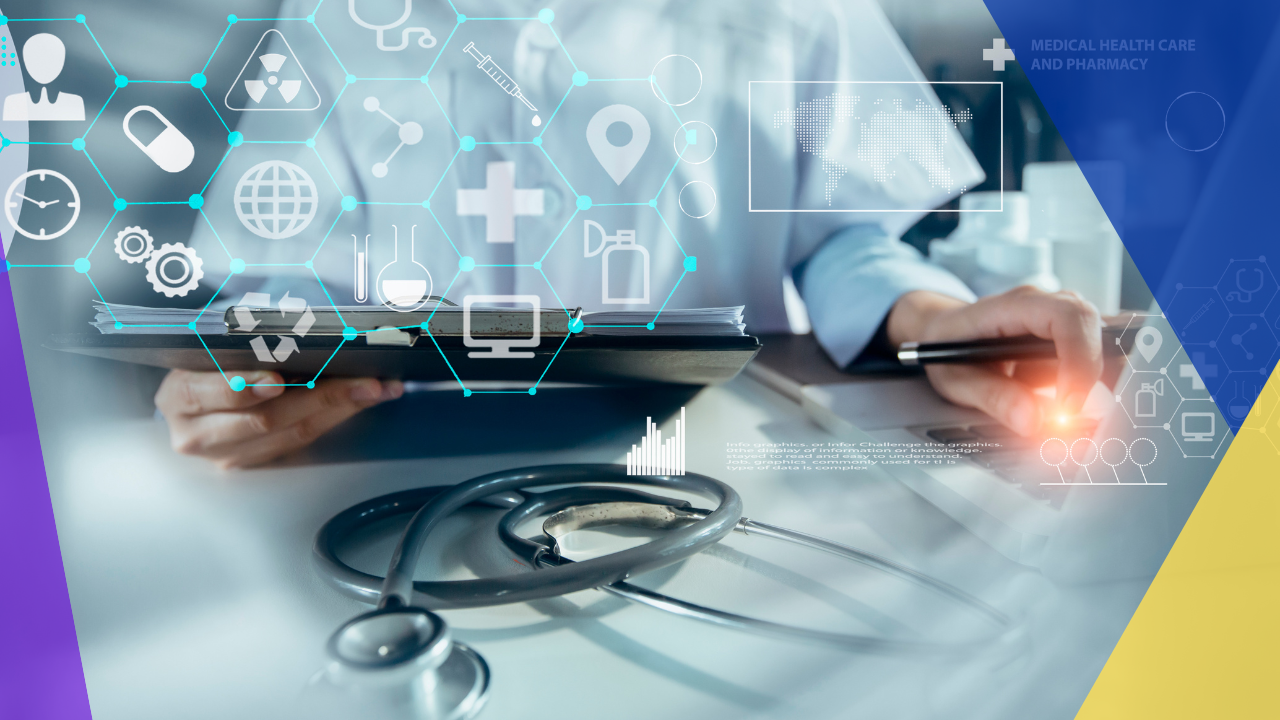 People learned a lot of things during the pandemic, especially in the economic aspect. 
Digitization proved to be not just an era but also a necessity. The number of remote workers is on the rise, and the demand for outsourced services has increased. Even healthcare back office roles are now being outsourced by companies. 
Over the past years, healthcare providers have significantly invested in clinical systems. Now, it is time for them to invest in their finance and operation systems through outsourcing. 
What is the healthcare back office?
Healthcare back office can be referred to as the "behind the scenes" operation in a hospital or medical organization. 
It involves administrative and support tasks that are essential for the efficient operation of a healthcare company but do not directly involve patient care. 
Back office processes help oversee a healthcare organization's daily operations and guarantee the efficiency of the front-line services. The non-medical tasks of the back office include billing, payment and follow-up, insurance verification, and collections. 
Because they are not involved directly in patient care, healthcare back office activities can be outsourced and worked on remotely, such as to firms like StaffWiz.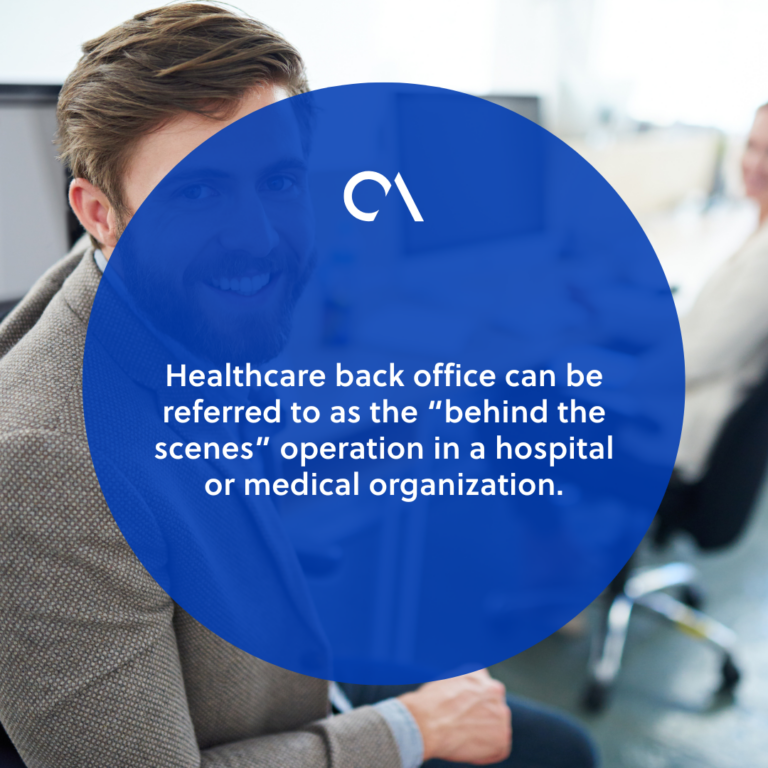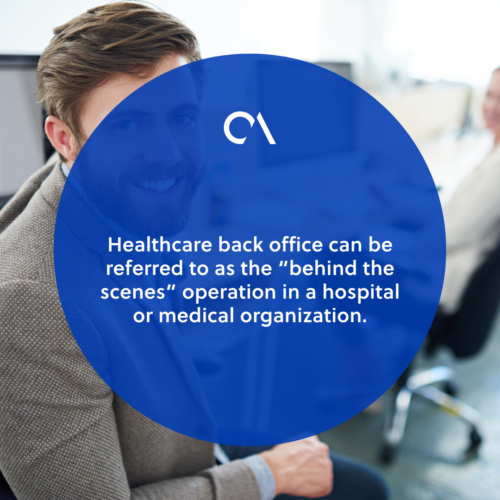 7 healthcare back office outsourcing services 
Considered to be healthcare organizations' financial and operational systems, healthcare back office services are wide-ranging, and most of them can be outsourced. 
Here are the seven commonly outsourced healthcare back office services:

1. Medical transcription
Medical transcription involves converting spoken medical reports into written documentation. Trained medical transcriptionists provide this service by listening to audio recordings of healthcare professionals and transcribing their dictations into written reports. 
The written reports may include patient histories, physical exam findings, reports from diagnostic tests, and report summaries. The transcribed reports are subsequently added to the patient's medical file, where they are readily available to medical professionals. 
2. Medical data entry
Medical data entry is the input of patient information into electronic health records (EHRs) or other medical databases accurately and efficiently. The patient data may include demographic information, medical history, insurance information, and physical examination results. 
A critical component of the healthcare system, medical data entry ensures that patient data is current, correct, and complete. This is essential for providing high-quality patient care and making informed clinical decisions.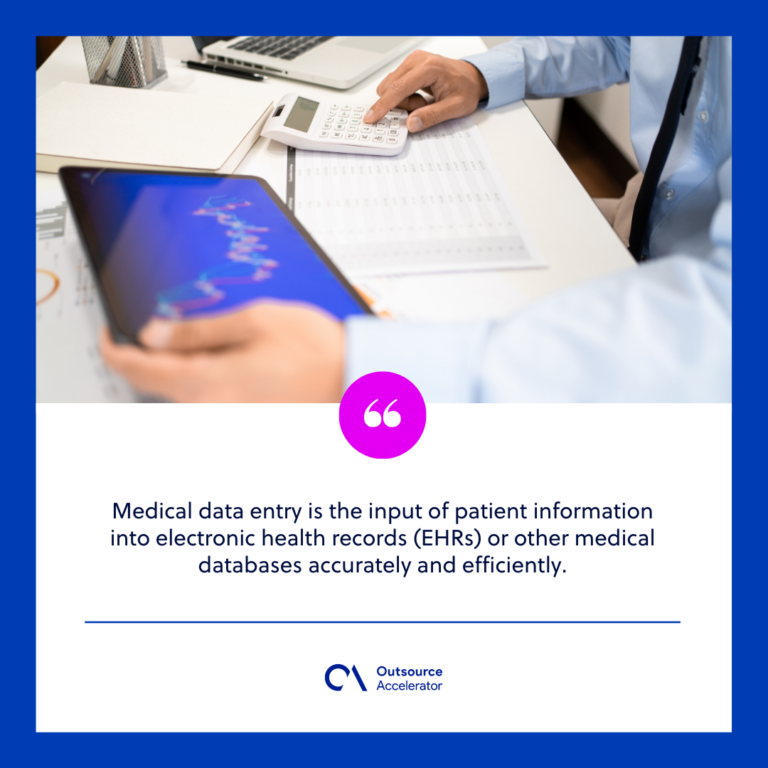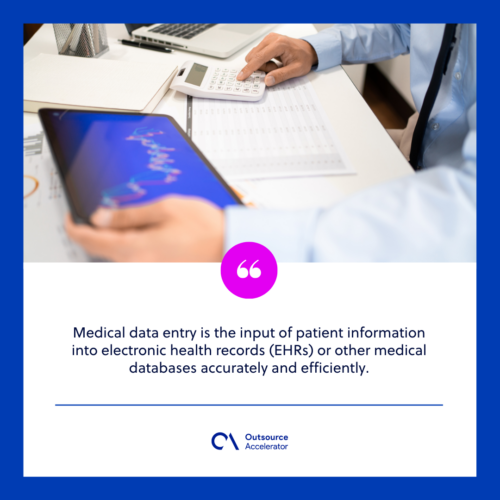 3. Medical coding and billing
Medical coding and billing involve assigning standardized codes to medical procedures and diagnoses to submit insurance claims and collect payment. Certified medical coders and billers often do this task. 
In this healthcare back office service, the medical procedures and diagnoses are classified using classification schemes such as:
International Classification of Diseases (ICD)

Current Procedural Terminology (CPT)

Healthcare Common Procedure Coding System (HCPCS)
The invoice or claim submitted to the insurance companies for payment is made using the coded information. Medical coding and billing ensure that healthcare practitioners get paid for their patients' services. 
4. Claims processing
The submission of claims to insurance companies for payment is another vital component of the healthcare back office. 
The process begins when the healthcare company bills the insurance provider for the services rendered to the patient. The insurance provider then reviews the claim to ensure it complies with its policies on coverage and payment. 
The interactions between the healthcare provider, the patient, and the insurance company during this process can be complicated. 
Claims processing ensures that the patients are not overcharged for medical care and that the healthcare providers are fairly compensated for their services.  
5. Denial management
Identification, investigation, and resolution of insurance claim denials are all part of this healthcare back office function. 
Denials can happen for many reasons, including inaccurate billing information, failure to meet the requirements for medical necessity, or lack of prior authorization. 
Denial management experts are trained to correctly determine the primary reason for denial and take the necessary actions to fix it. This is an important function because it ensures that physicians get paid correctly. Plus, it lowers the possibility of insurance misuse and fraud.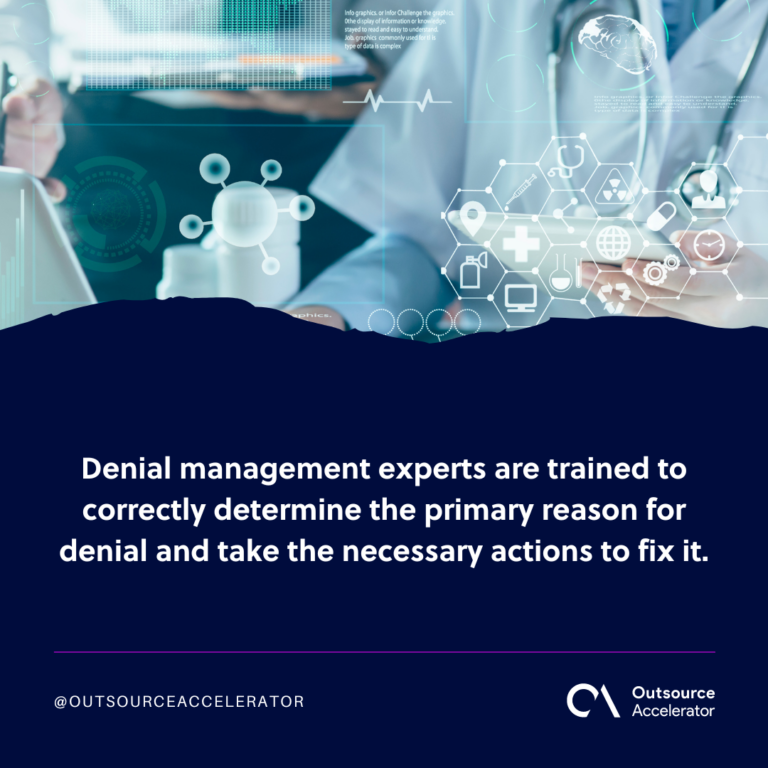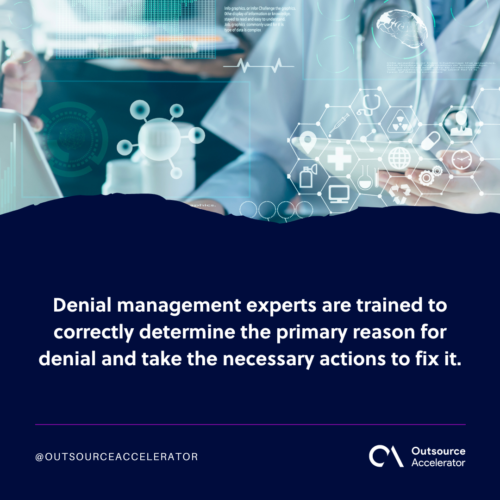 6. Medical appointment setters
Medical appointment setters book patient appointments with healthcare professionals. They are in charge of:
Establishing initial contact with patients

Organizing appointment scheduling

Confirming the healthcare provider's availability. 
They also work with the patient to choose an appropriate time and day for an appointment. These professionals may be employed in various healthcare facilities like clinics, hospitals, private practices, and health insurance firms. 
To organize appointment scheduling, they could collaborate with patients or physicians directly. 
7. Virtual medical scribe
A virtual medical scribe is a qualified professional who uses remote technology to help healthcare practitioners with documenting and charting during patient visits. 
As the doctor or nurse evaluates and treats the patient, they operate remotely, often from a central location, to record patient data and medical histories in real time.
Virtual medical scribes relieve healthcare professionals of the time-consuming and repetitive duty of documenting patient information. This enables the doctors to give patients their undivided attention, resulting in better care and an enhanced patient experience.
Why outsource these healthcare back office services?
The majority of practices find it challenging to manage administrative and operational tasks on their own. Unfortunately, it leads to claim denials and underpayments that impact their revenue cycle. 
Medical offices outsource back-office support services to prevent such issues and to preserve regular revenue flow.
Here are other reasons to outsource these services:
Cost-efficiency
Hiring internal personnel can be costly because it involves paying salaries, benefits, and training. These expenses are eliminated with outsourcing because the provider handles all employee-related costs.
Additionally, because the outsourcing provider often provides office space, software, and other infrastructure, healthcare firms also save cash on those expenses.
Time-saving
Healthcare businesses can assign work to specialized providers by outsourcing these services, freeing up time for more essential tasks. 
The strain on internal personnel can be reduced by outsourcing administrative duties like data entry, appointment scheduling, and billing. This allows them to concentrate on providing patient care.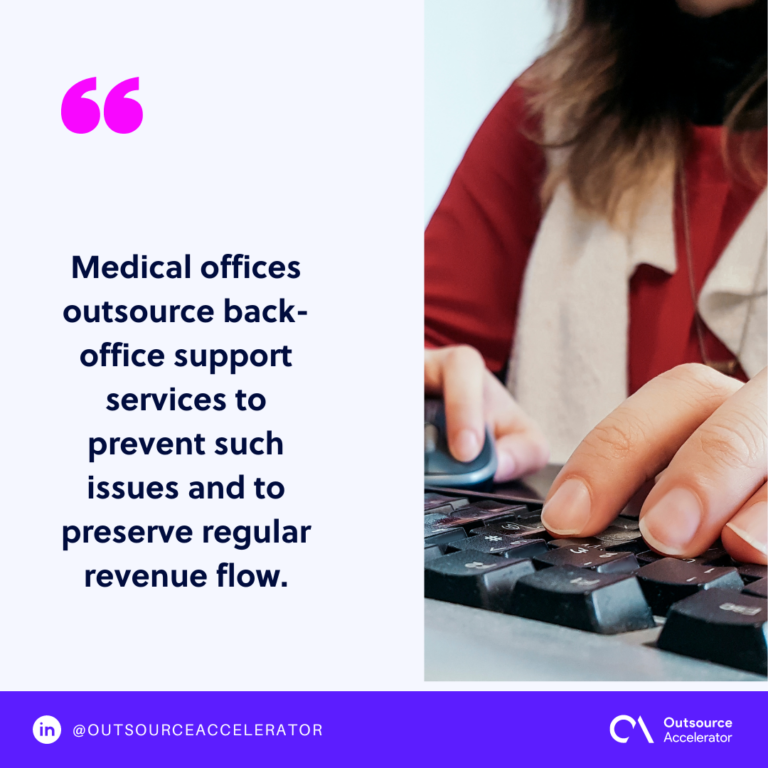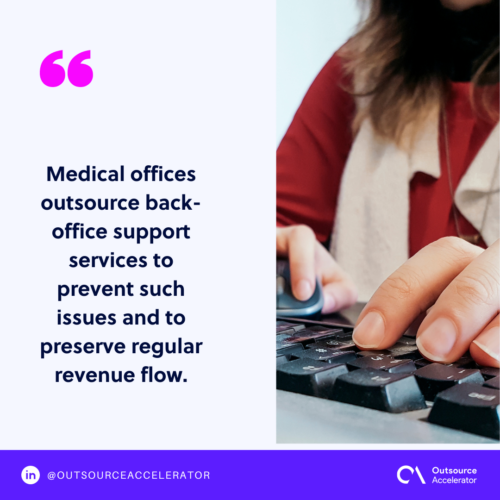 Access to a wider talent pool
When healthcare organizations outsource back office services, they are able to tap into a larger pool of skilled professionals, allowing them to benefit from specialized expertise. 
Outsourcing providers often have a diverse workforce. This provides a wider range of services and expertise than what is available in-house.
Access to expert service
Healthcare businesses can gain from the knowledge and experience of specialized providers when they outsource back-office operations. 
These service providers invest in creating required procedures, frameworks, and resources to carry out specific activities for which they are accountable professionally.
Increased efficiency
Healthcare businesses can take advantage of the knowledge and experience of specialized providers. This streamlines back-office duties and increases overall productivity. 
As a result, healthcare companies can provide better patient care and more successfully achieve their objectives.
How these healthcare back office roles can help your business
The healthcare sector is becoming more focused on patient care and revenue generation. With the changing times, the role of the back office workers in hospitals and clinics is also becoming more important.
Outsourcing healthcare back office roles offers many advantages that can help a medical company flourish. It is cost-effective in many ways and more efficient with a range of other resources to offer. 
Overall, outsourcing healthcare back office services can help organizations enhance operations, boost income, and improve patient care. These primary advantages can help them thrive in the competitive healthcare sector.