15 graphic design trends to look out for in 2024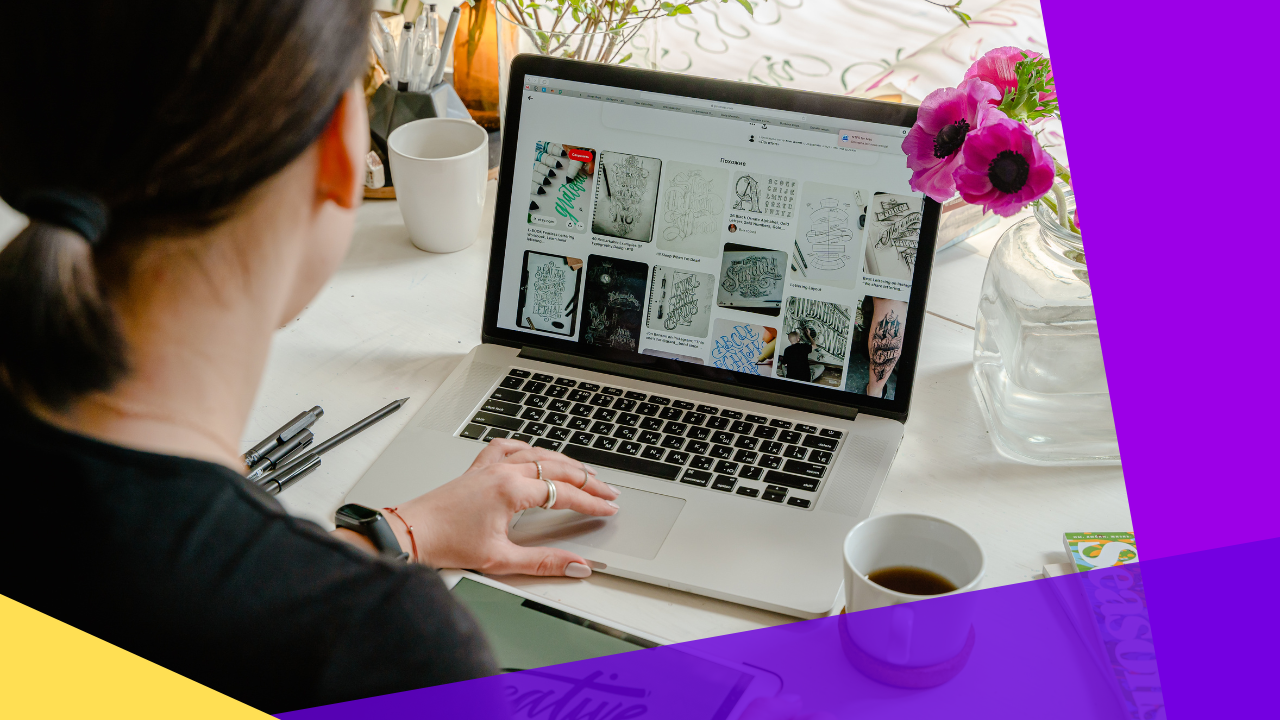 List of graphic design trends in 2024
When used effectively, visual graphic design can improve brand recognition and elevate marketing. It is the face of the company to people, the first thing they see in their minds when thinking of the brand.
Everyone knows the golden arches or the partially bitten apple, but it's worth noting they didn't start in the forms we know today. No matter how big you are, all companies are subject to the graphic design trends that control branding.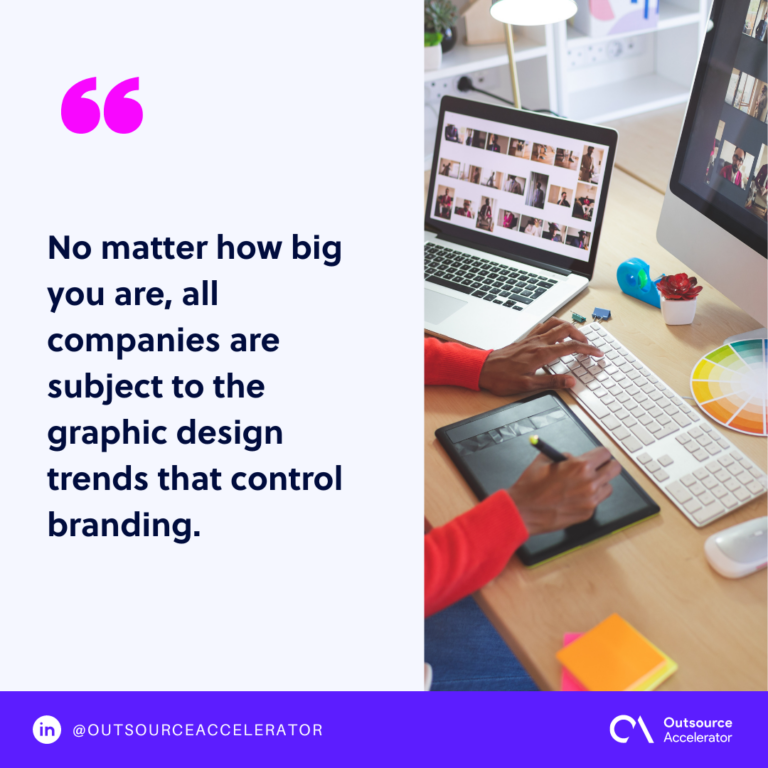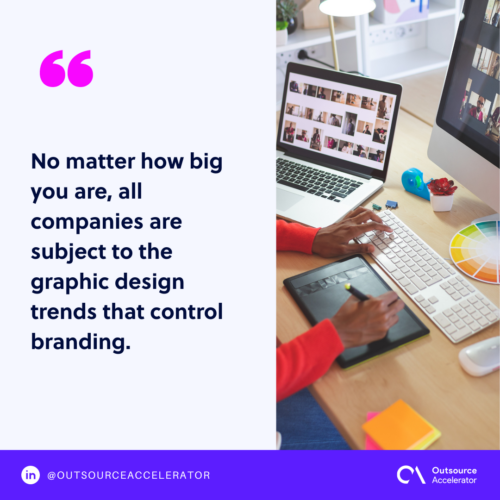 The changing industry of graphic design 
Graphic design trends are influenced by major historical events,[1] and the events of the past few years have left quite a lasting collective memory. It didn't take long for global changes in politics and climate to influence artists. 
These influences don't just impact individual artists' design but also design spaces in the corporate world, marketing, and businesses in general. This also speaks to the widespread role[2]] graphic design plays in everyday life.  
There are a few patterns that can be observed. Original visuals still drive the most engagement, beating out videos and presentations, charts, stock photography, and internet memes. 
It also appears to be a constant that the past trends will re-emerge and somehow find themselves with more engagement than ever due to the nostalgia factor.[3] Because of terrifying events like a global pandemic, people look for styles that feel reassuring and safe.
Still, there is always an audience looking for something new and different. If done well, individuality, or bucking the trend, becomes a trend of its own. And they gain more attention because they stand apart from common graphic design trends.
The rules around what forms the graphic design industry aren't set in stone. Everything from available technology to customers' purchasing behavior can factor in a graphic design trend. 
What matters is that companies be aware of what is out there, then consider what will work best for their brand.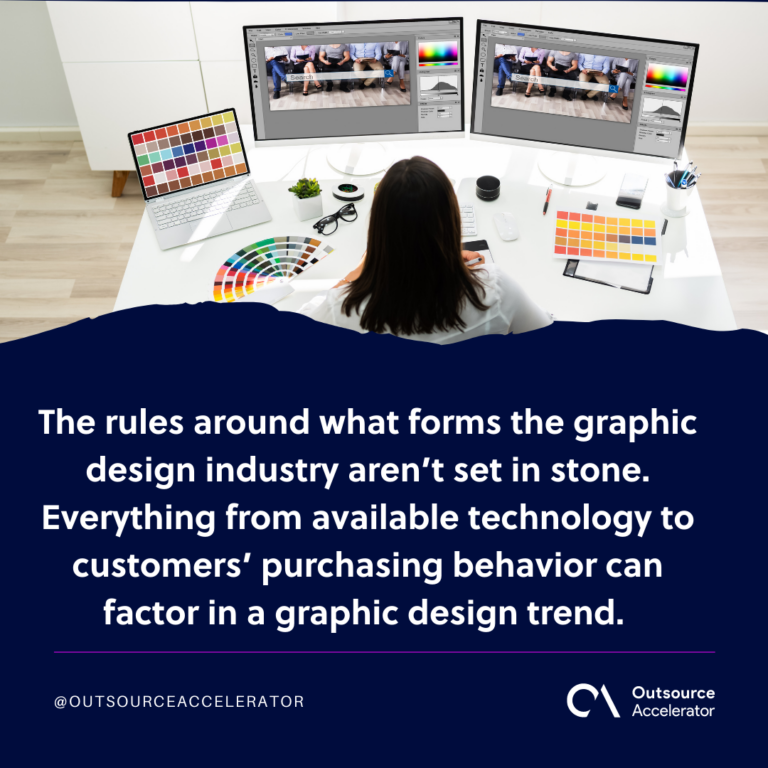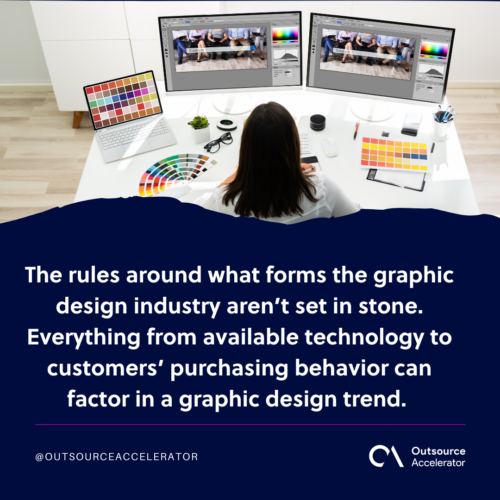 Top 15 graphic design trends for 2024
We've collected what we believe will be the most prominent graphic design trends for the coming year. 
Some may be familiar and new, but all are guaranteed to bring fresh flavors to companies that use them.
1. Illustrations 
Classic drawings will never go out of style. Illustrations in this landscape of sleek, cleanly rendered CGI graphics seem to stand out even more. 
Authenticity is highly prized in today's graphic design world, and personal hand-drawn illustrations are among the most honest. They bring a familiar, homely look to your brand, inviting consumers in to feel safe. 
The other positive to unique hand-drawn illustrations is that other brands cannot copy them, as that image will be unique to yours. 
There's a multitude of applications that one can do with even a limited set of illustrations. A picture paints a thousand words, and yours can do so much more. 
2. Typography
Bold fonts and typography are very effective at catching the eye. They immediately present strength and vibrancy, and of course, easily tell the consumer what's going on. 
Going a step further, 3D typography is also on the rise. In a 3D setting, there is even more of a canvas for the graphics of the typography to shine through. 
Words in the background may not be considered very classical. But that is precisely why this graphic design trend has and will continue to resonate with those looking for more creative freedom in their branding.  
3. Serif fonts
This one deserves a spot to itself. A classical font, which looks too old-fashioned, led to it no longer being used in branding. However, it has since regained its status as a graphic design trend. 
Giving a nostalgia factor to font design, serif fonts evoke a feeling of security and tradition. As one of the older fonts, it also carries a character and history that many others don't. 
4. Inclusivity
Inclusivity covers gender, culture, race, ability, and accessibility. This trend isn't affecting just graphic design but humanity as a whole. 
As we become more connected, we become more aware of how diverse we really are. Opening the doors to that in graphic design showcases the beauty of who we as species are. 
Representation makes space for more voices, ideas, and perspectives that have been largely ignored for much of history. Displaying that as a graphic design trend signals the change towards a more cultural landscape. 
5. 3D design
It's much easier now to render 3D design elements. Whether in static images or animated, the 3D design brings a sense of realism to your graphic design, like the brand is jumping right toward you. 
It's hard to look away from the 3D design. An entirely new dimension becomes available for graphic designers to work with. 
When done well, it will seem like brands have new life breathed into them. 
6. 90s nostalgia
We've just about combed through the entire 80s pop culture catalog for inspiration, so now the graphic design trend moves on to the next decade. Nostalgia will always be a powerful influence on branding. 
The 90s look, in particular, will be making a strong comeback. Those who grew up in the 90s are now in the position to make a change, including people in the graphic design and marketing industry.   
In the wake of the pandemic, people will look for familiar styles to serve as comfort. The retro look of the 90s fulfills that while also bringing a unique flavor of its own. 
7. Dark mode
The dark theme began on mobile devices, then shifted to social networks, and now it's on most websites and interfaces. The simple light text on a dark background has proven surprisingly flexible. 
This has the added effect of actually being good for your eyes. Consumers spend a lot of time on their devices looking at screens, whether for work or entertainment. Dark mode ensures that eye fatigue is reduced.
This graphic design trend comes with a sleek, modern visual appeal and sharpness. Designers should consider this if they want their consumers to stick around on their site for a while. 
8. Motion and animation
It's not enough that brands have a good-looking image. That image also has to move. Motion and animation are part of the new graphic design trends set to conquer the industry.
Similarly to 3D, animation brings a new sense of life to flat pictures. Technology has just made it more possible for designers today. 
9. Geometric shapes
Clean shapes, bright color palettes, and geometric diagrams are what this graphic design trend is all about. The appeal is in its simplicity, which also gives the brand an image of transparency. 
A good designer can do the most with the least. In contrast to the somewhat limited visuals that a more abstract shape will give, geometric shapes are simple enough to be combined in myriad ways.   
10. Nature-inspired
As more and more research comes out, it becomes increasingly clear that our planet is not getting better. For every tree that we plant, it seems there are 10 more that get bulldozed down. 
The concern is easily seen in this graphic design trend favoring nature-inspired and eco-friendly visuals. In previous years simply putting the color green as a major color was enough to convince consumers, but now they're not so easily convinced. 
Graphic design about meeting environmental standards is a new challenge for creators, and about time too. The pandemic has also left its mark here, as many yearn for the calmness of the outdoors. 
11. Monochrome
Ever since debuting as a graphic design trend around 2017, creators have experimented with making images and converting them to monochromatic or duo-tone pieces. Nowadays, any smartphone filter or mockup generator can easily transform images into stunning monochrome visuals.
This trend stems from the modern design philosophy of using a limited color palette. Should you use this in your branding, the effect is a soft feeling image that is pleasing to the eyes.
12. Minimalism
A more colorful variation of minimalism is trending, completely redefined from its black and white roots.   
Modern graphic designers strip off all unnecessary elements and stick to the basics, creating pieces with eye-catching flair. To set this era, a mix of futuristic elements, bold fonts, and simple gradients is injected. 
13. Data visualization
Data is visualized to make it easier to understand. It's a relief that this has become a graphic design trend, as it shows the need to educate and bring statistics into a form accessible to more people.  
Given the amount of information people consume nowadays, it's a challenge to make sure your brand conveys what you need to. But skilled graphic designers can take the information and have their design tell the story.  
14. Brutalism
Brutalism is meant to look raw, haphazard, and practically crude. It almost comes off visually as the response to minimalism, yet somehow still in a way that presents its graphic design with finesse. 
Such a method inspires designers not to hold back, perhaps explaining its status as a graphic design trend. A brutalist-style enables them to express themselves fully without restraint. 
15. Augmented reality
The idea of graphic design meeting with augmented reality is a thrilling one. Like many other graphic design trends, AR brings the opportunity to tell a unique story through its design. 
Augmented reality is being touted as the next big thing in technology, with many social media networks already making moves to adapt to the platform. If technology continues at its current pace, AR may soon be a constant in the graphic design world. 
Why follow these graphic design trends? 
Graphic design can define more than just a brand's identity but also its cultural footprint. The best graphic designs empower brands to educate, inform, or persuade audiences through unique combinations of colors, words, shapes, and forms. 
The graphic design landscape is constantly changing. Trends that were popular even a few years ago no longer bring the same flair to audiences today. In order to keep up, designers must take note of what's current. 
Being updated with current graphic design trends shows an ability to innovate, advance the design sector, and personally improve one's design philosophy. Brands whose creative directors consider graphic design trends also quickly place themselves in the customers' view. 
The target market is dynamic. Brands that are also dynamic are better at connecting with their consumers than those who stubbornly stay in the same style. 
Of course, it's not a good idea to keep changing your identity every time a new trend comes up, but it's important to keep in step with the industry. 
References
1.Bastos, W. and Levy, S.J., 2012. A history of the concept of branding: practice and theory. Journal of Historical Research in Marketing.
2. Walia, N. and Singh, B., 2020. A Review Of Growth of Research and Job Opportunities in Graphic Designing.
3. Zulfiqar, A., Jawad, S. and Khan, M., 2022. A Review of the Relationship between Art, Culture, Heritage and Nostalgia. Pakistan Languages and Humanities Review, 6(2), pp.950-958.