4 signs that it's time for rebranding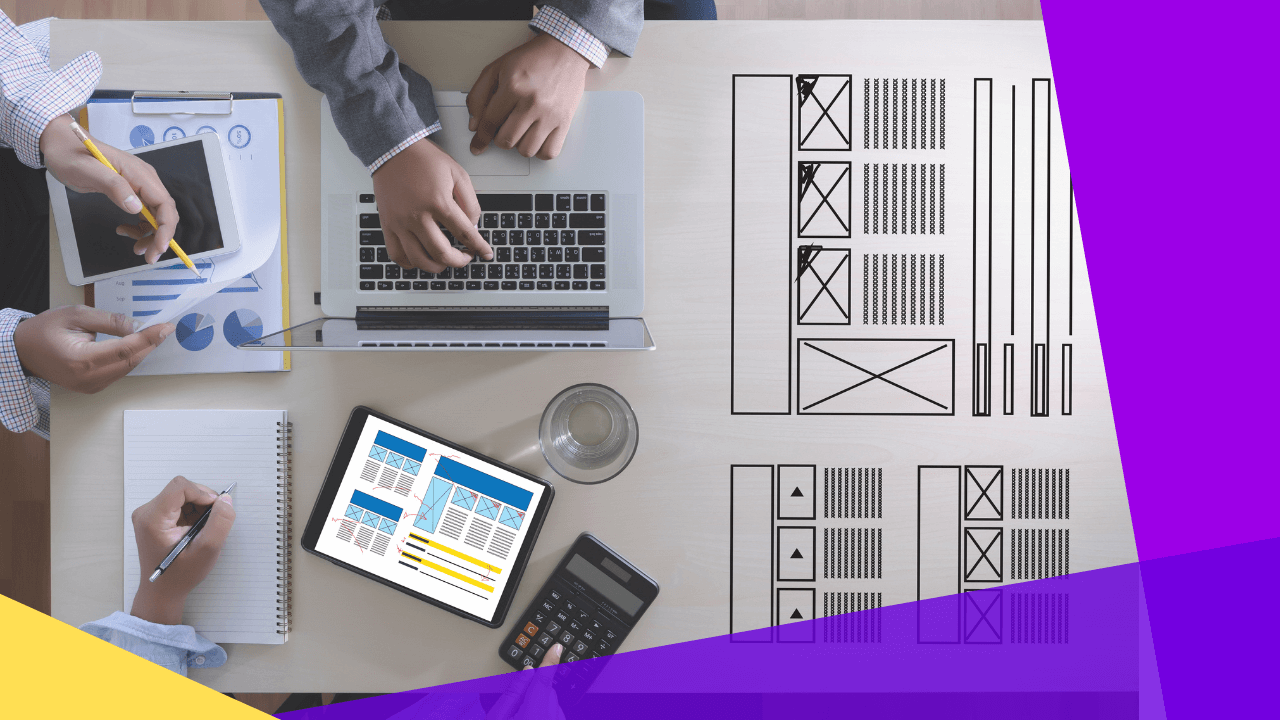 One of the most essential stages in establishing a business is where you need to define your own branding. Branding is like a cloak that separates your image from the rest of your competitors. 
With powerful branding, buyers can identify your products even from a quick glance. Beyond the visuals of your packaging, it includes the perception it evokes towards your business. Your branding also encompasses your purpose, values, and customer service.
However, along with the rapidly changing market trends, customers' brand perception also changes. What do you do amidst these changes? You will need a makeover — also known as rebranding. 
Read on to discover what rebranding is and the telling signs that it's time for you to finally rebrand. 
Why rebrand?
Over the course of time, changes in consumers' behavior, buying patterns, and priorities change. These changes affect how the market evolves. 
There will come the point where your branding efforts today might no longer be relevant in the coming years. If customers' priorities change, so should yours. 
Keeping up with the market trends will also help you determine if it's time to give your business strategies an overhaul. This can help you maintain your brand reputation and attract more customers.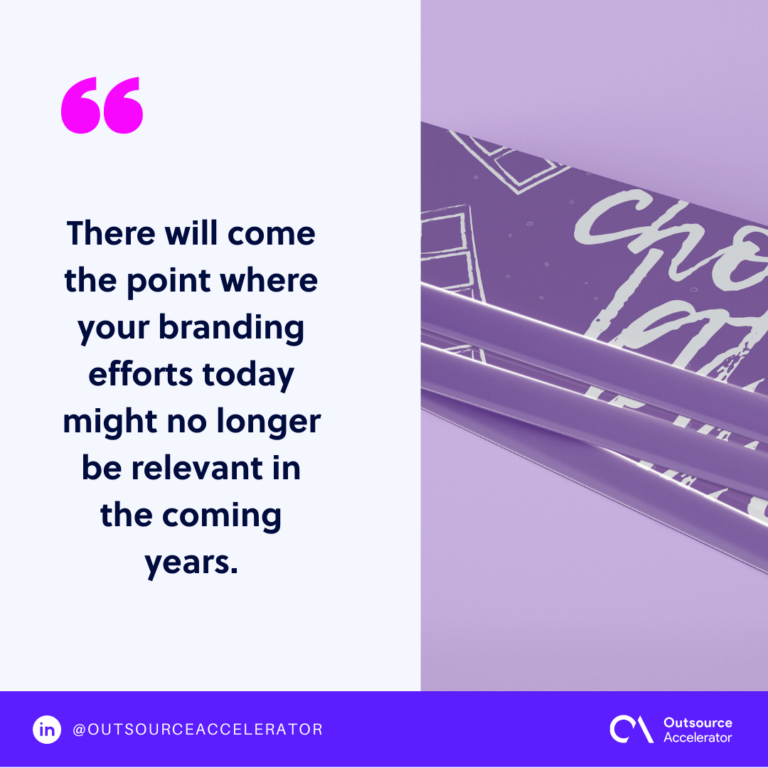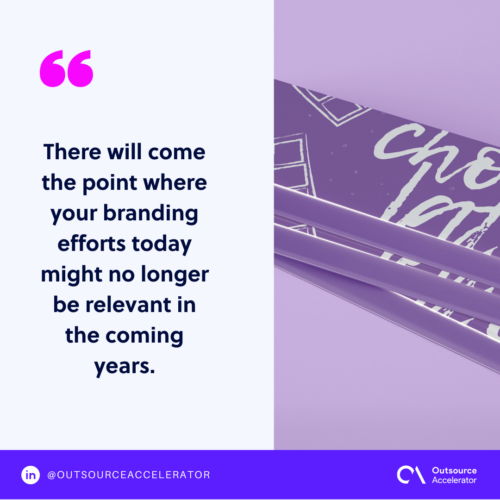 Signs that tell it's time for you to rebrand
Rebranding is more of a question of when and how. That's why we've listed down signs that will tell you if rebranding is the best choice for you.
You don't look unique, you don't feel unique. 
The very goal of your brand effort is to separate yourself from the rest of the brands out there. Every savvy brand has its own unique way to stand out, and so should you. 
If you no longer look or feel unique like before, this is because other brands have been keeping up with the changes in the market. 
For example, if other brands have updated their color palette then you might also want to tweak a little on that aspect. Your brand can try color-coordinating your entire year's color palette with the Pantone color of the year. 
Your business model has changed.
Business model refers to an organizations' entire structure plan for creating actual profit. This includes the decisions they make on retaining or changing certain products or services.
If your entire business model has changed, it's not just reasonable but also a must to rebrand. At this point, rebranding to align your goals with your newly developed business model can make or break your success.
You welcomed mergers and new acquisitions.
If your company has welcomed new mergers and acquisitions, you must rebrand to include these new partnerships in how you present your entire brand. 
This way, the people would know that these brands are now operating under one identity or company. It will send a unified message that will, later on, develop into new brand recognition.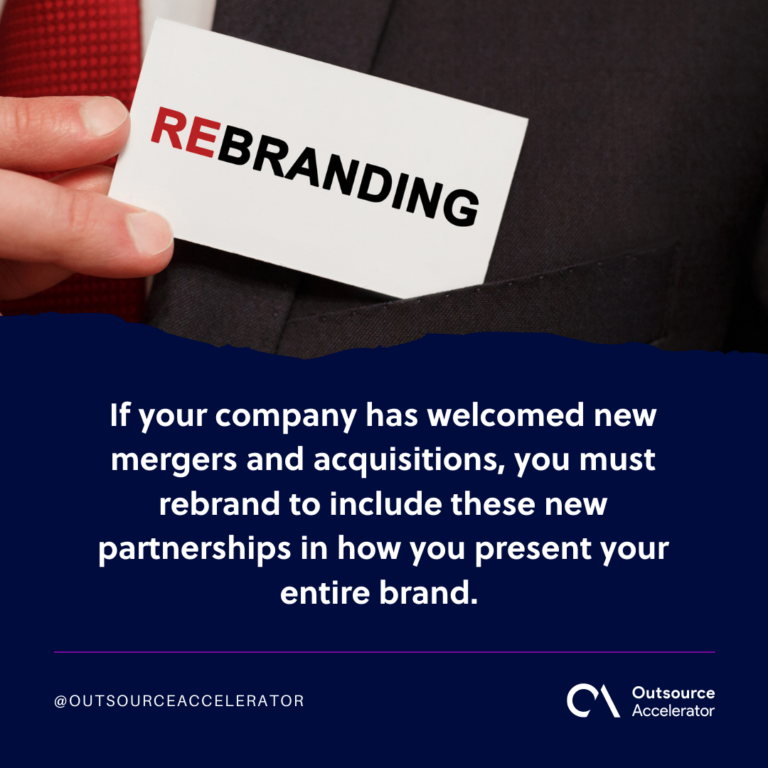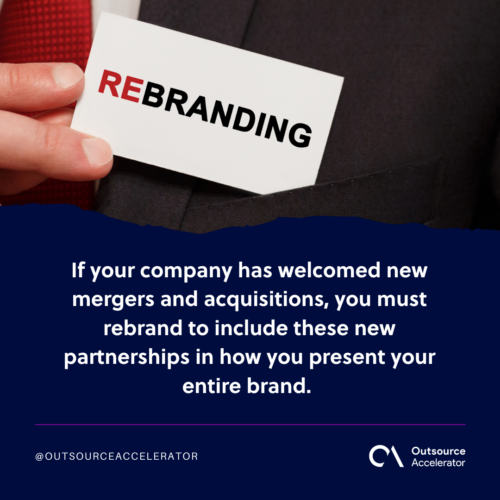 You need to detach your brand from a negative image.
In the world of business, some events are beyond your control. These are usually negative perceptions of the public towards your brand.
If something so impactful has happened over the years that caused people to leave your brand or cost you more damage than what you earn, rebranding can save your business. 
This doesn't mean that you have to throw away every single thing that you've worked hard for and start from scratch. Instead, you can benefit from rebranding by presenting a fresh new look and a messaging that shows how your company has evolved from the past crisis.
Is your business showing these signs?
If yes, this might be a good time for you to consider rebranding. It may sound like a daunting task, but with the right market research, planning, and proper setting of expectations, you can successfully start over.
Rebranding does not only save your business, but it will also squeeze the best out of your marketing efforts. Make sure you're ready to take on the changes needed to explore a new adventure that is rebranding.