Globalization challenges businesses should be aware of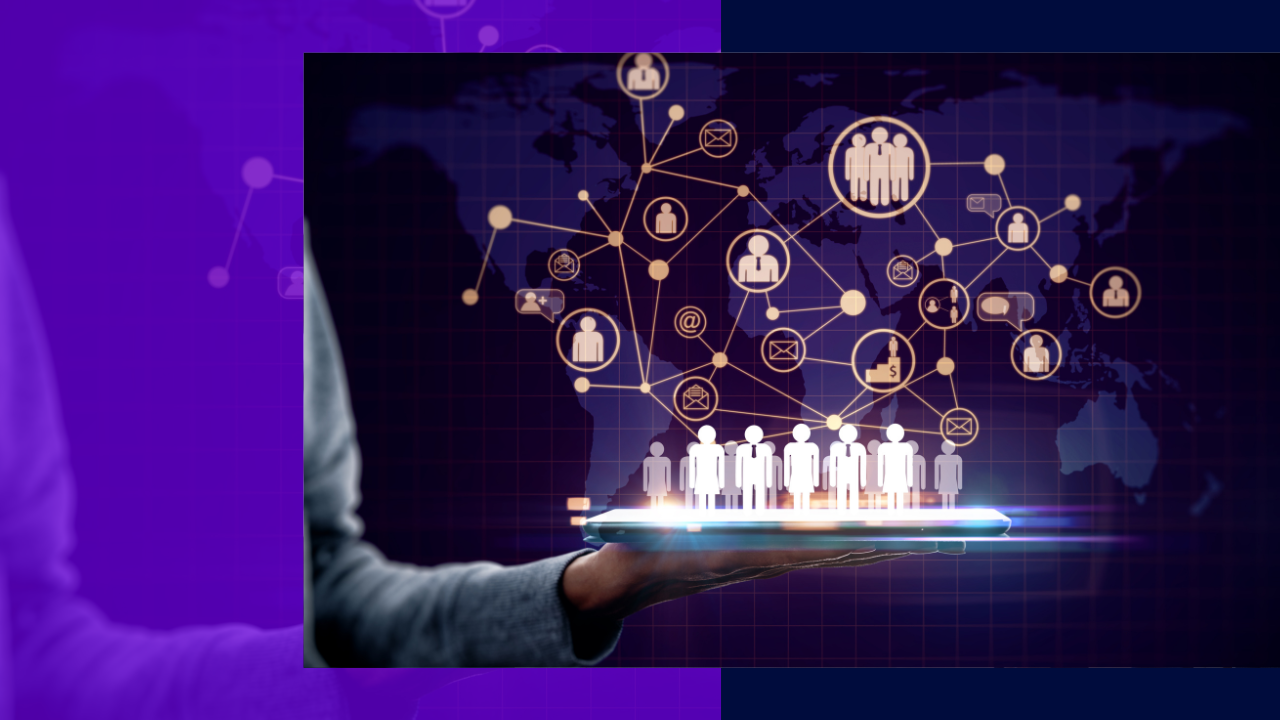 Globalization challenges businesses should be aware of
Globalization is still a major thrust for large corporations today. Using a global market is very tempting in terms of cultural diversity, new opportunities, and of course, increased revenue. 
However, many dilemmas have revealed themselves in the years since attempting this. Companies should be aware of globalization challenges, whether issues with the strategies implemented or pain points within the different countries. 
What is globalization?
Globalization is the concept of interaction and integration among different nations, people, companies, and governments. It's a process driven by international trade and investment and is aided by information technology. 
This phenomenon has increased rapidly in recent decades. It is mainly due to technological advances like telecommunication and transportation systems as well as political changes.
Globalization has been seen as both a positive and negative force in human affairs since at least the late 19th century. Some scholars have credited it with increasing economic productivity because it encourages economic specialization among countries. 
It's also criticized[1] for causing increased disparities between developed and developing nations. This comes largely from unequal access to technology and knowledge.
Many developing countries have attempted to use their natural resources to become more competitive in globalization while also trying to protect their environment. 
A major globalization challenge is improving the economy without causing natural damage.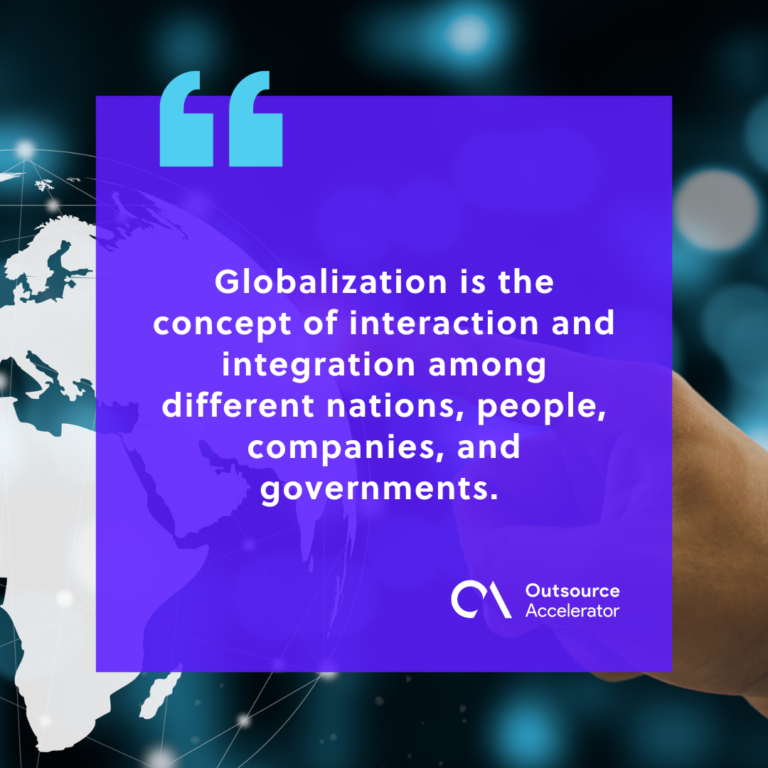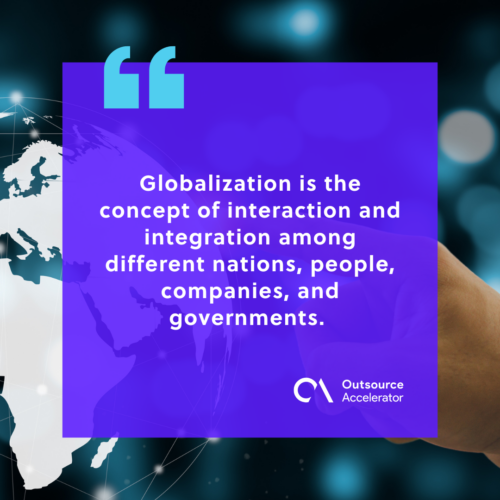 How globalization impacts business
Globalization has had widespread effects on how companies run their business. Here's how globalization affects businesses: 
Increased competition
Globalization resulted in heightened competition for businesses. This is partly because of the increased availability of information and communication technology (ICT). ICT has made it easier for companies to locate, access, and share information about each other.
The increased competition can be seen as one of the globalization challenges for domestic businesses. But it can also have positive effects, such as improving efficiency and productivity through better use of resources.
Diversified workforce
Globalization has brought many cultures together, creating a diverse workforce[2] in many companies. This is especially true for large corporations with locations around the world.
Workers need to communicate effectively with each other despite language barriers to keep up with customer demand and solve problems.
Friendship and respect for other cultures create an inclusive environment where everyone is treated equally.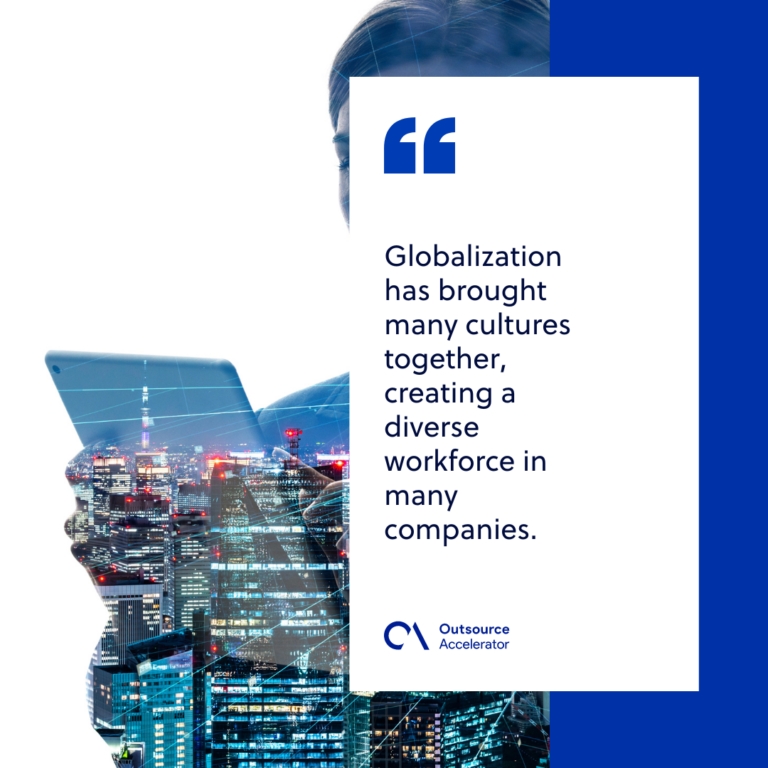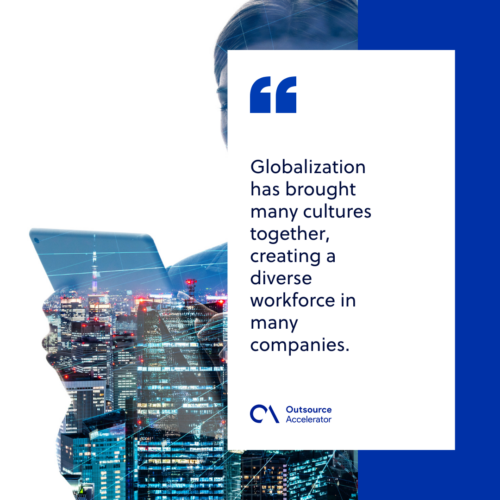 Shared knowledge and technology
Before globalization, companies would only share information with other companies within their country. Each company had to develop its own technology and processes to create products and services. This was expensive and time-consuming.
The sharing of knowledge and technology[3] has helped to reduce the cost of production, which in turn leads to lower prices for consumers. 
The more companies share their knowledge, technology, and experience, the more efficient they become at producing goods at lower costs. 
Larger and more diverse markets
The world has become a global marketplace, and businesses need to be able to operate in that environment. Companies now have access to previously inaccessible markets due to distance or language barriers.
Globalization makes it possible for companies to reach customers all around the world. A product or service may appeal to people from many different cultures. Companies can expand their customer base by offering those products and services internationally.
Marketing and communication changes
Marketing and communication have changed to meet a global market's needs. Businesses now have to market their products in several languages, which requires translation services.
In addition, they must understand how cultural differences affect how people perceive their message and how they react to it. As a result, they must create messages that appeal to their target audience while remaining culturally relevant.
Common globalization challenges 
Globalization has not been an easy ride. There are many globalization challenges that companies deal with, only sometimes overcoming them in the end. 
Here are the challenges companies commonly face:
Foreign worker exploitation
Many international companies hire foreign workers because they're cheaper than their own local talent. However, the globalization challenge is that they often don't pay their employees a fair wage or provide adequate benefits. 
This is especially true in industries like farming, where labor costs are high and profits are low. It's also common with small businesses that don't have HR departments or other resources to help ensure that they're treating their employees properly.
Labor exploitation hurts all of us. It leads to higher prices for consumers, lower wages for workers, unsafe working conditions, and even human trafficking. 
To combat this globalization challenge, we need more regulations on employers who hire foreign workers. There also needs to be better enforcement to ensure these regulations are carried out properly. 
High investment costs 
Expanding into new markets requires significant investment, particularly when it comes to travel, legal fees, and translation services. Companies must also ensure they have adequate insurance coverage for their employees and equipment in case something goes wrong overseas.
When companies expand into new markets, they must invest large amounts of money in infrastructure, factories, and hiring employees. This can be among the major globalization challenges for small businesses that need more capital or knowledge in managing an international operation.
Some companies have dealt with these challenges by setting up plants in developing countries where labor costs are lower than in developed countries. The only way to overcome this globalization challenge is through innovation and technology. 
Legal compliance
Legal compliance is a key consideration and is also one of the globalization challenges for any business. It can be hard to stay updated with the ever-changing legal landscape, so it's important to have the right tools in place.
Legal compliance can be difficult for an international organization that operates in multiple countries and has employees working remotely or traveling abroad. 
The risk of your business being sued for violating local laws is high, especially when dealing with countries that have different legal systems than you're used to.
Companies often hire law firms to help them navigate foreign laws and regulations, but this can take time and money. Some companies outsource parts or all of their legal departments to get around this globalization challenge. 
Employee immigration 
Employee immigration is one of the biggest globalization challenges facing business leaders today. Employee immigration has become more complex as companies look for talent that can help them further their business goals. 
Some companies have moved their operations to other countries to take advantage of lower costs. Others have hired foreign employees to improve communication and collaboration with local customers and employees. 
However, many countries have strict policies on who they will allow into their borders. This can make it difficult or impossible for companies to hire the right people.
With so many staff, it can be hard to track who's working where and when they're supposed to be there, especially employees who are not permanent residents of your country. 
Localized job loss and loss of cultural identity
Many people are concerned about losing their cultural identity as globalization increases and more people from different parts of the world interact with each other. 
They worry that they will lose their language, customs, and beliefs as they become more integrated into a global economy.
People in traditional agricultural communities often feel that globalization threatens their culture and way of life. They believe they are losing their traditional values and sense of community as they move from rural areas into urban centers.
The next most common globalization challenge is the loss of jobs in local communities. Workers who have been making a living in agriculture or manufacturing often lose their jobs when these industries move to other countries where labor costs are lower. 
This means that people have fewer options for work. The result is that it often leads them to migrate to other countries in search of work.
Environmental degradation 
Environmental degradation is the deterioration of the environment. Specifically, this is through the depletion of resources such as air, water, and soil; the destruction of ecosystems; habitat destruction; the extinction of wildlife; and climate change. 
The rapid pace at which natural resources are being consumed means that many ecosystems are being damaged beyond repair while others have already collapsed completely. 
It may present a substantial globalization challenge to international agreements concerning sustainable development.
The increase in human population and economic activities has degraded the environment. In particular, the world needs to take urgent action to reduce the effects of global warming.
Weak regulation
Globalization has made it easier for companies to move their products and services around the world. This can be a good thing because it helps businesses find new markets and customers, but it also brings risks. 
Some companies move their production facilities overseas because they can hire workers at lower wages. But if these workers aren't properly trained and protected by regulations, it can lead to dangerous working conditions.
The lack of effective regulation is also one of the main common globalization challenges faced by all countries. It is particularly acute in developing countries where national governments do not always have the resources or expertise to regulate their economies effectively.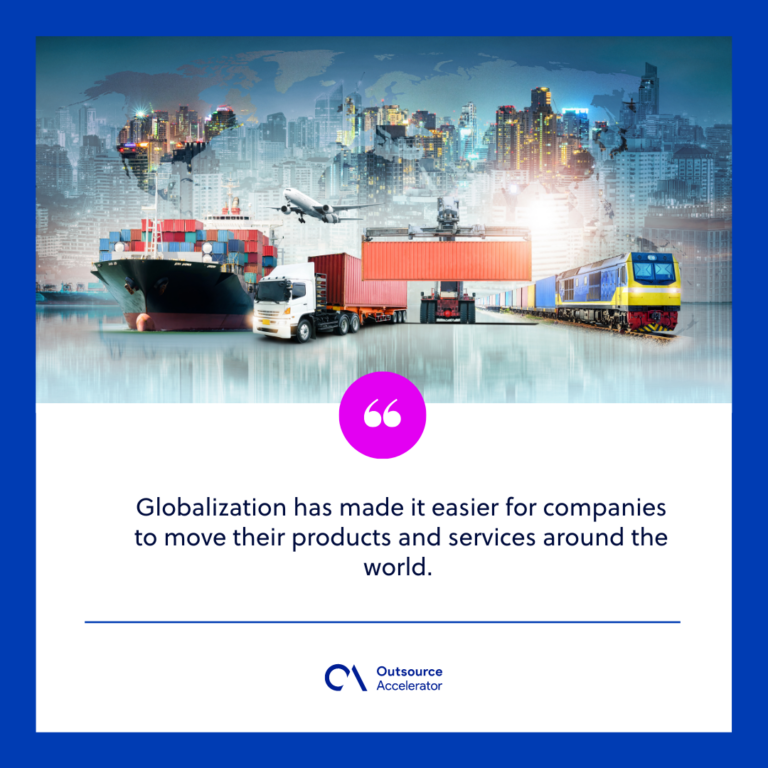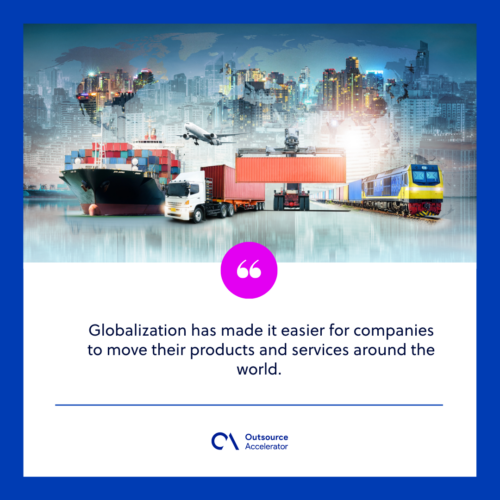 So what's next for these globalization challenges? 
Globalization has always been an enticing prospect, not just for businesses but also for many countries. At face value, it seems like an idea for guaranteed success with little or no downsides. 
However, the journey so far has been far from smooth sailing. It seems such a lofty goal that may not be perfectly realized just yet. We as a world still have to deal with multiple globalization challenges. 
Indeed, these are problems that a single corporation cannot solve alone. Globalization aspirations will continue to remain in the minds of top executives and leaders. 
But there must also be calls for accountability and systemic changes to ensure that this world will survive the interconnectedness we want from it. 

References
Criticized.

Walter, S., 2021. The backlash against globalization. Annual Review of Political Science, 24(1), pp.421-442.

Diverse workforce.

Zaki, A.R., Karim, A.S. and Khan, H., 2019. Managing workforce diversity in multicultural organizations: some observations. Journal of European Studies (JES), 35(1), pp.79-91.