Why is cultural compatibility important in outsourcing?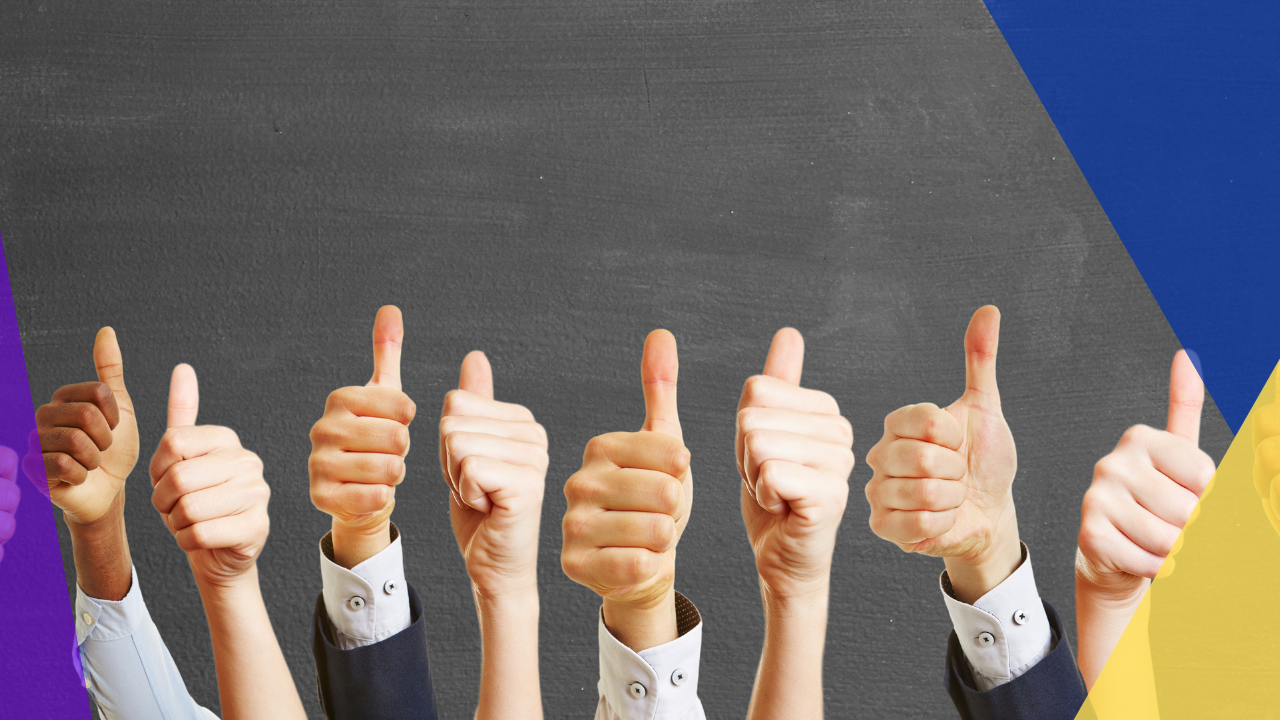 The wonders of modern technology have overhauled the industry of recruiting and maintaining manpower. Outsourcing lets business owners hire far-flung talents and perspectives that may not be similar to what they have in their backyards. 
It also helps their businesses be more well rounded, diverse, and unique. Hiring outsourced work has tremendous benefits both for the employer and the employee. However, just like any other good thing, certain challenges come along with it and one of these is the barrier caused by different cultures.
According to a study conducted by the Economist Intelligence Unit, "cultural differences" and "intercultural communication" are some of the most frequent answers that multinational companies gave when they were asked about the difficulties they face in cross-border collaborations. 
This is highly understandable since while globalization through outsourcing is basically new, cultures have existed since civilizations were created. Culture is deep and ingrained, and adjusting them for professional collaborations is easier said than done.
That doesn't change the fact though that this does cause certain hindrances to businesses' goals. 
Cultural compatibility definition
Cultural compatibility moderated the effects of industrial flexibility on financial success. It entails being able to comprehend different cultures and respecting their practices and beliefs. 
Firms that achieve cultural alignment with their supply chain partners may use production flexibility to increase market share and profitability.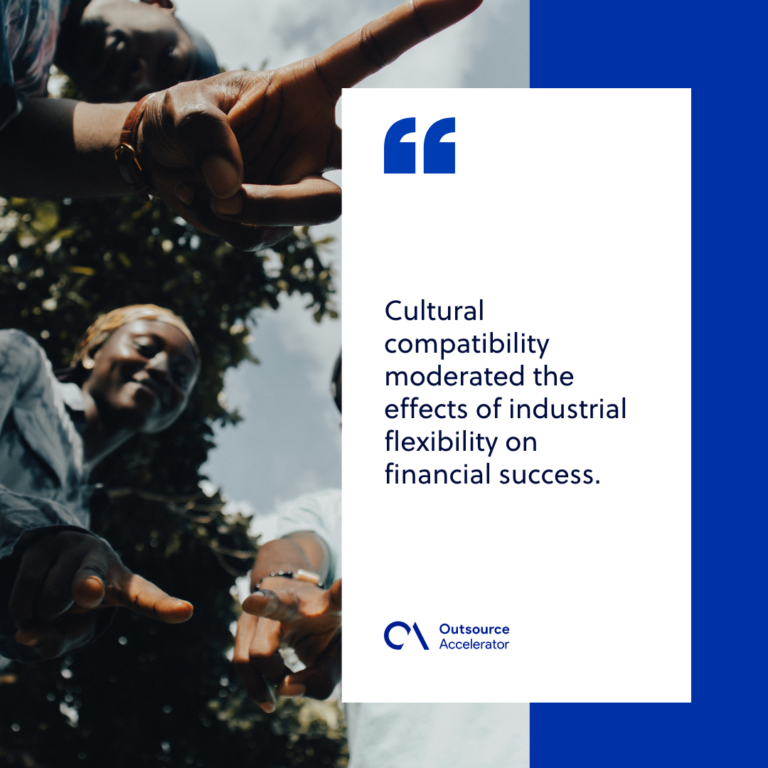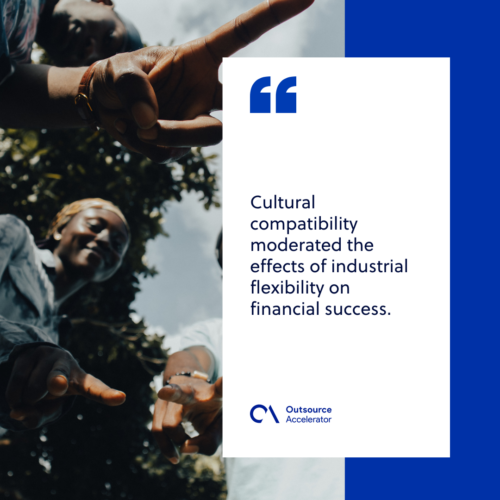 In addition, cultural differences do not only create language barriers such as misunderstandings and misinterpretations. It also conflicts in beliefs, norms, behavior and even in knowledge and skills. These ripple to every part of the business.
This is why cultural compatibility is a crucial aspect that must be considered when outsourcing remote staff. Entrepreneurs and employees can maximize the fruits of outsourced work better if they can wisely choose which national cultures can go well together, while still respecting each others' differences.  
The benefits of cultural compatibility in outsourcing
Choosing an outsourcing partner from a country that has several similarities with the same culture as yours has various advantages.
Obviously, language is an essential pillar of a smooth working relationship. Working with another country where outsourced employees are fluent in the employers or clients' language not only greatly decreases problems in misunderstandings and misinformation, but also fosters an engaging exchange of ideas.
A client's brief will take less time to be explained, mistakes will be avoided, and brainstorming sessions and meetings will most likely be effective and meaningful processes instead of awkwardly forced snooze fests.
Aside from fluency in expressing thoughts, good communication also requires having good thoughts to express in the first place. This is another benefit of cultural compatibility.
Working with a company that isn't updated on the trends and news of your nations' industries will present some problems. For example, if you have a digital marketing agency in the financial industry, it will be music to your ears to hear that your VA actually knows how insurance works in your country. 
Or just imagine that you want your graphic designer to take inspiration from a movie or tv series shown in your city to appeal to specific market. You'll definitely be alleviated from some stress if your graphic designer knows what your talking about because it's also shown in their city, or that he knows how that market thinks. 
Everything can be learned, but expert knowledge comes from immersion, and a culture that is compatible to yours is usually immersed in the same zeitgeist that you are in simply because their own culture also reflects that.
That breeds familiarity, and familiarity is good for the well-being of the employee and employer because studies show that it decreases anxiety, among other things.
When there's cultural similarities, people tend to have more compassion and relatability to each other, which in turn contributes to their psychological well being.
Your in-house and outsourced team will feel less stress and other negative emotions that come from treading into the unknown, and that helps improve productivity and teamwork.
Another significant thing that must be considered is the traditions and norms that outsourced employees have. It might be religious, or political, or simply social, but it will definitely affect your bottom line.
Certain beliefs might clash, and some behaviors expected of them might not be compatible with yours. We must respect our differences, so it is important to assess first if your working together will be beneficial or detrimental to both of you.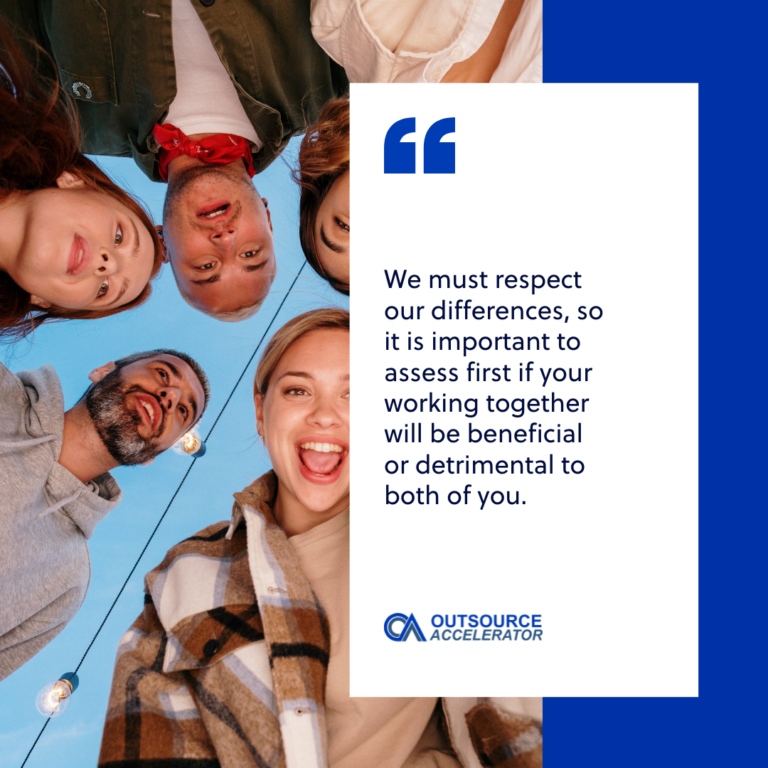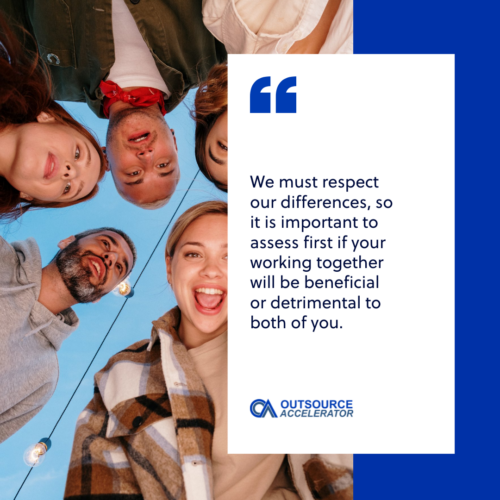 Outsourcing from the Philippines is a perfect example of maximizing cultural compatibility
If you need an example of the prowess of cultural compatibility, look no further than Filipino workers. The Philippines is greatly immersed in Western culture, from entertainment and politics, to business  and tech. 
The Philippines was colonized by Spaniards, Americans, the Chinese and the Japanese in the past, and continue to embody some of their values and cultures until the present. 
This greatly places them in a strategic position where they can relate and understand to several nations, while still embodying their own principles such as hard work and perseverance, as well as warmth and friendliness.
Another example of Philippine culture's compatibility to other countries is the Filipinos exceptional fluency in English. Along with Tagalog, English can be considered as the country's official language. 
It was taught to students in school as early as kindergarten and at home earlier than that. In fact, L.A. Times has branded the Philippines as the call-center capital of the world. Additionally, BBC made a report about the Philippines' rise as the world's affordable English teachers. Even Filipinos' accent is remarkably close to a clear American accent.
These factors made the Philippines as the go-to outsource resource for the USA, Australia, Britain, and other parts of Asia, and still counting.
As entrepreneurs, you need to focus on your business' core competencies, so you need to leave the other details to somebody who understands your vision and can execute it well. 
Cultural compatibility should be one of the things to consider when choosing who to give this valuable job to. Never underestimate the importance of cultural compatibility, because it can be the key to elevate your business to the next level.