Why game development is being outsourced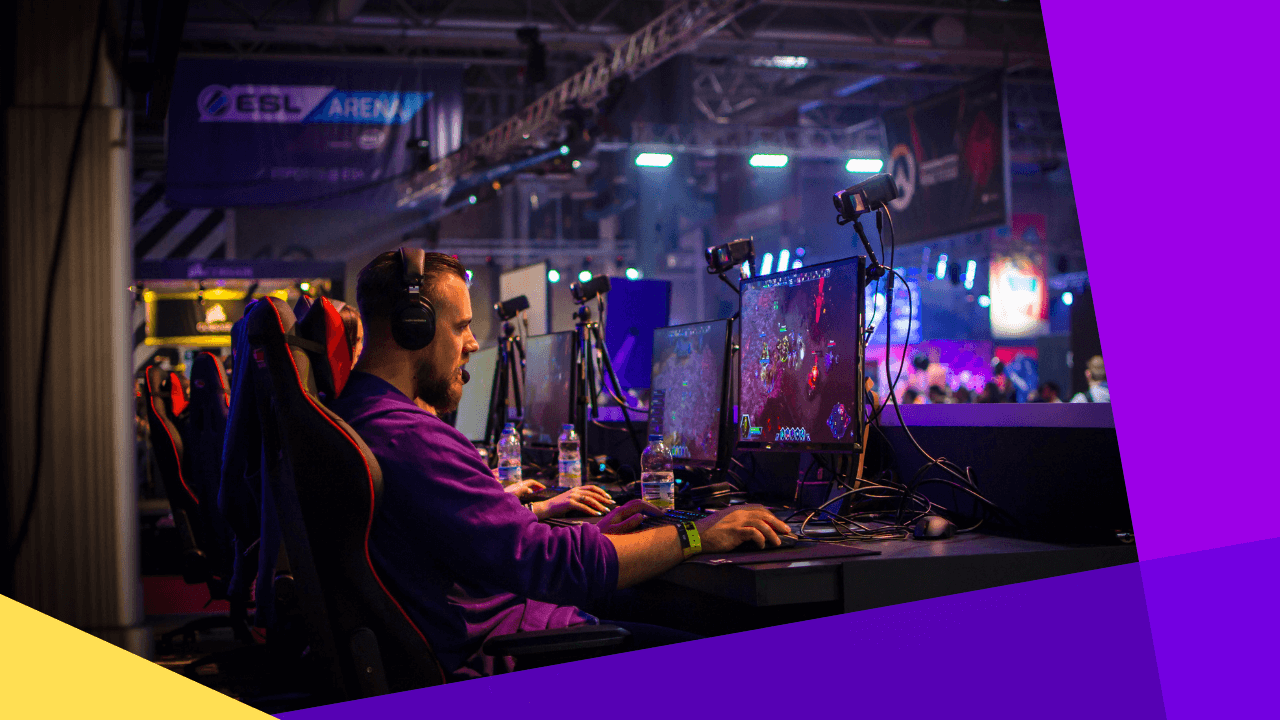 Game development is a tedious yet fulfilling process when creating a game. Be it a multi-platform video game or an exclusive release, the phases of development stay the same.
Even the big names such as Nintendo and Sony outsource some of their projects to outsourcing agencies that focus on game development.
Game development definition
Game development refers to the process of developing, designing, writing, and testing a game before its public launch. 
Indie game developers team up with their colleagues to ensure that the load is dispersed evenly and that the plan timeframe is moving accordingly.
What are the five stages of game development?
Game development is usually divided into three parts: pre-production, production, and post-production.
These five stages of game development, namely prototyping, progress, ship, watch, and repeat may fall neatly into the categories above.
Prototyping falls into pre-production, production encompasses progress, while ship and watch fall right into post-production. Repeat, like the word suggests, is just a phase wherein developers have to do it all over again.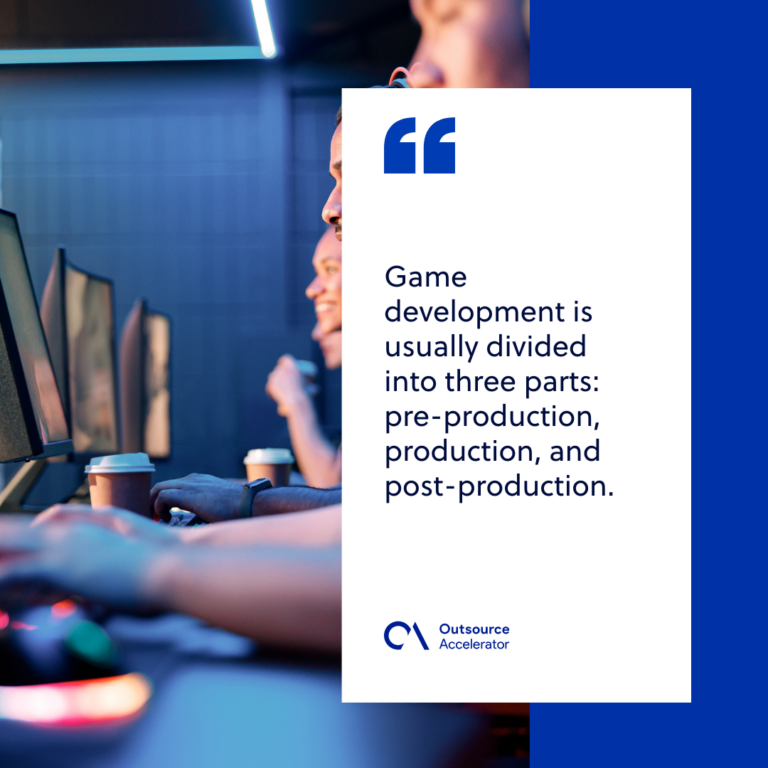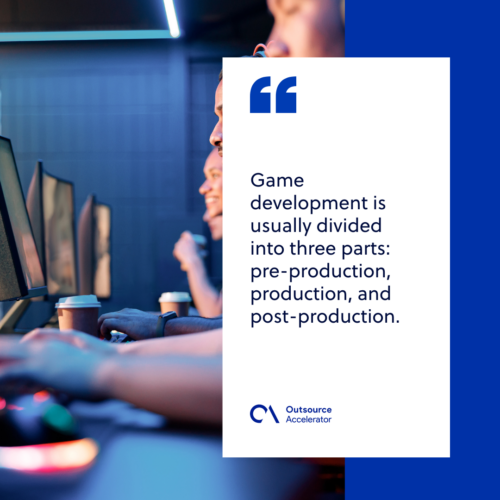 Game development vs game design
While game developers and designers work in the same team, their responsibilities differ from one another.
The latter focuses on the backend "logistics" of the game while the former focuses on the frontend of the project. Developers focus on how to make the game work while designers focus on how the game feels.
Outsourcing game development to Philippine offshore teams
The outsourcing industry in the Philippines is booming right now. From multinational conglomerates to small-time freelancers and independent contractors, outsourcing is the root of their jobs.
With the Filipinos' resiliency and world-renowned work ethics, it's not surprising that clients continue to choose Filipinos and Philippine-based organizations to service their companies.
The Philippines has an abundance of professionals, both experienced and novice—the local talent pool is brimming with eager minds. Established BPO companies like MVP Asia Pacific could help in expanding the capabilities of a company in the game development industry.
Advantages of game development outsourcing
There are general advantages when it comes to outsourcing. Some benefits only cater to a specific industry and some are much more subtle.
Historical data and personal anecdotes of employees will identify just what advantages they had.
Cost-effective
There's no doubt that outsourcing is a cost-effective way to reduce overhead costs and count in any company, regardless of their niche and industry. 
By reducing the overhead costs, companies can use their newly freed up revenue. Things such as seminars and continuous training for their employees are pertinent to the company's growth.
Time-efficient
Working on a time-sensitive project, you would need a team of expert game development specialists to ensure that deadlines will be met.
Outsourcing firms and game development companies are notorious for meeting deadlines way ahead of time. With their vast network of developers, designers, and programmers, this shouldn't be a surprise anymore.
Not to mention that your in-house team (should you choose to keep it hybrid) will have less work to do aside from their core responsibilities.
Flexibility
When you choose to outsource, most (if not all) outsourcing agencies will delegate a team to work on the project they've been assigned with. If you chose to work with freelancers and independent contractors, that would take some workload off from your in-house team as well.
This way, your in-house team can focus on their core responsibilities—ensuring that the project will be done within the prescribed time frame.
Specialization
Game development is a time-sensitive process that needs a team of experts working on several phases.
Professional game developers often focus on one specialization to hone in on. In a team of developers, you would have a lead programmer, an AI programmer, a UI programmer, and a game designer.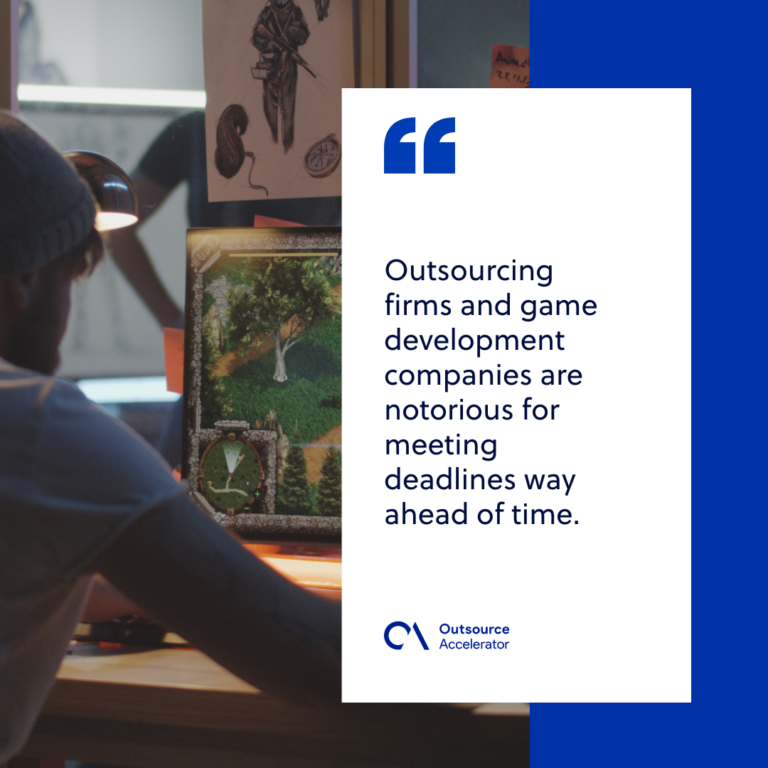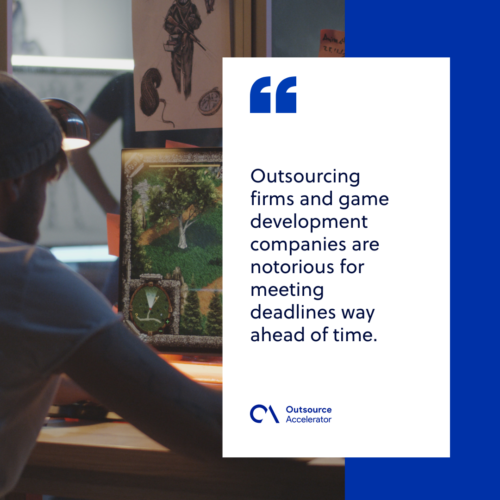 Just like in any project, the output would be so much better if people were allowed to work on what they do best.
Access to world-class talent
There's no doubt that outsourcing to external firms will get you access to a bottomless pool of talents from all over the world.
Working with local developers and gaming companies still isn't off the table. But, overseas candidates are much more likely to deliver the same quality for a better price.
Why you should outsource game development to the Philippines
The game development sector in the Philippines is a budding industry. But it's not surprising that there are a lot of international animation companies that outsource to Filipino game developers. 
Game developers may come from agencies, as a freelancer, or an independent contractor. It's important to gauge the range of the project for you to choose the right outsourcing avenue.
From the quality of the work to the professionalism of the artists, clients—both new and existing—come flocking back to Filipino game developers.