Is outsourced game development for you?
Last updated: December 21, 2021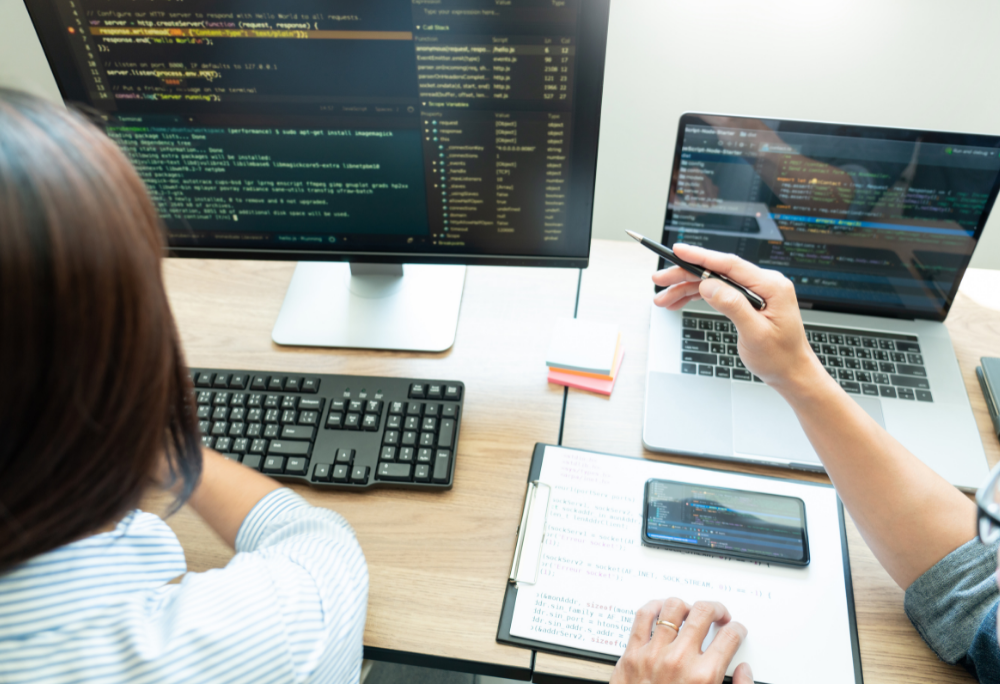 Whether you're a startup game developer or part of a much bigger corporation, outsourcing can improve your processes and lighten up the workload. If you're thinking that outsourcing your game development department is right for you, keep reading.
In this article, we're going to list its advantages and a short and sweet guide on how to get started.
To get started, let's take a look at outsourcing. Outsourcing is the process of offloading tasks and responsibilities on third-party service providers. It's a well-known cost-cutting model that most businesses get into early in their development.
Top 10 biggest gaming companies
The video game industry has seen nothing but rise since its conception. With every generation, video game development has been tremendously backed up by its respective industry.
From indie developers to household brand names, everyone loves to immerse themselves in a game, no matter what the genre is. 
As listed by AllTopEverything, here's the top ten biggest gaming companies in the world:
Gaming revenue: $25 Billion USD
Sony is the brain and the muscle behind the most coveted gaming console of 2021, Playstation 5. The company is known for making games exclusively for its console line, counting their handheld console Playstation Vita.
Gaming revenue: $13.9 Billion USD
Die-hard fans of League of Legends know that Tencent owns Riot Games, the name behind one of the biggest online multiplayer games out there. The company also developed Honor of Kings, a video game popular amongst mobile gamers.
Gaming Revenue: $12.1 billion USD
The world's oldest gaming company is Nintendo. Founded in 1889, the Japanese company started out selling handcrafted gaming cards. As of writing, Nintendo had released its biggest game yet, Animal Crossing: New Horizons. They were responsible for popularizing handheld gaming devices such as Nintendo DSi, 3DS, and the most recent one, the Nintendo Switch.
Gaming Revenue: $11.6 billion USD
A household name when it comes to operating systems and top-of-the-line laptops and computers. Microsoft is also known for its Xbox console and game line. From the first generation to the latest Xbox Series X/S, the company brought its best foot forward. Microsoft owns Mojang as well, a Swedish video game company that developed Minecraft, the most popular video game in history.
Gaming Revenue: $8.1 billion USD
With the merger of Activision and Blizzard Entertainment, Activision Blizzard made history with the Call of Duty video game series. Not to mention that they also developed an MMORPG, World of Warcraft. 
Gaming Revenue: $5.5 billion USD
Electronic Arts had span across different genres in developing video games. From developing the city-building game The Sims to releasing FIFA games every year. EA has never failed to put out games that capture the general audiences.
Gaming Revenue: $4.2 billion USD
Epic Games was founded in 1991 and found fame with its battle royale-esque game, Fortnite: Save The World. Spanning fame across the globe, Epic Games started relatively small. Tim Sweeney founded the company as Potomac Computer Systems, located in Maryland.
Gaming Revenue: $3.1 billion USD
Founded in New York City in 1993, Take-Two Interactive found its roots with two publishing labels: Rockstar Games and 2K, which, respectively, came out with the Grand Theft Auto series and NBA 2K series.
The gaming company spanned out with their genres, bringing the masses games like the Red Dead and WWE 2K series.
Gaming Revenue: $2.3 billion USD
Sega Sammy was the sum of the merger between Sega and Sammy Corporation in Japan. The company produced games such as Sonic the Hedgehog and Pachinko which captured the masses' interest.
Pop culture references about Sonic (especially after the Hollywood movie) made the game even more popular.
Gaming Revenue: $2.2 billion USD
Another company made out of a merger, Bandai Namco was founded 15 years ago. The multinational video game company had produced hundreds of games throughout the years, one of which being the Tekken series.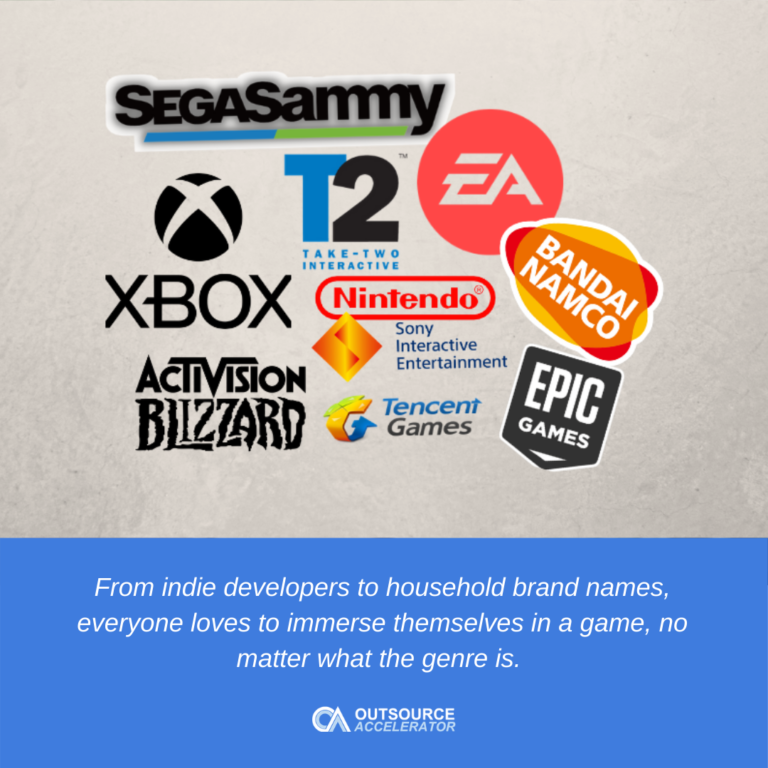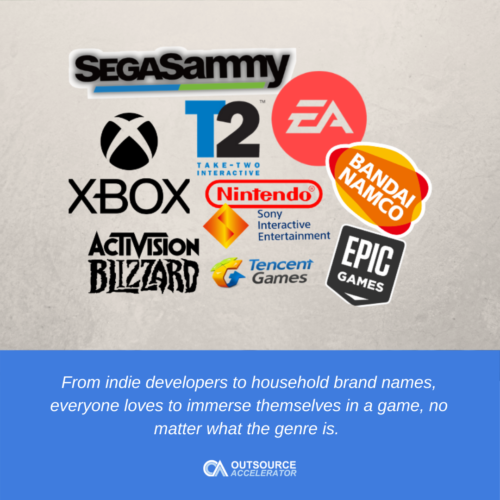 Outsourced game development advantages
What could be the benefits of outsourcing game development?
Less workload for the in-house team
When you outsource half of the game development process, you can free up your in-house teams from excessive workload. Remember that working in a development team requires focus and flexibility.
Flexibility in the working arrangement
Speaking of flexibility, acquiring an outsourced team means that you can think about going hybrid. Managing a mix of onsite and offshore game developers is a good way to boost up productivity in the workplace.
Cost-effectivity in the long run
It's not a surprise that outsourcing is an effective way to cut costs without sacrificing the quality (very important in game development) of any of your outputs. 
How to outsource game development services
In general, when it comes to outsourcing, you need to find a company that operates on the same vision as you. Working with a firm that goes against your core values is already a bad start.
The same goes for when you're looking to outsource on a smaller scale. Outsourcing on a smaller scale means that you will be delegating tasks to a freelancer or an independent contractor.
Work with people and agencies that will put you first, be open to any suggestions, and always remember that outsourcing doesn't have to be an end-all-be-all decision.