Definition
What is a hybrid workforce?
A hybrid workforce is a mixed workforce that includes workers who work from home and others who work from a central location.
Any or all workers in a hybrid workforce can spend half of their time working remotely and the other half working in an office. As a result, hybrid worker typically divides their time between in-office activities and remote tasks.
Organizations that successfully handle hybrid work models will create a more versatile, digital, and rewarding future for their workers. A hybrid workforce leads to many business advantages, including greater access to top talent, satisfied staff, and increased creativity.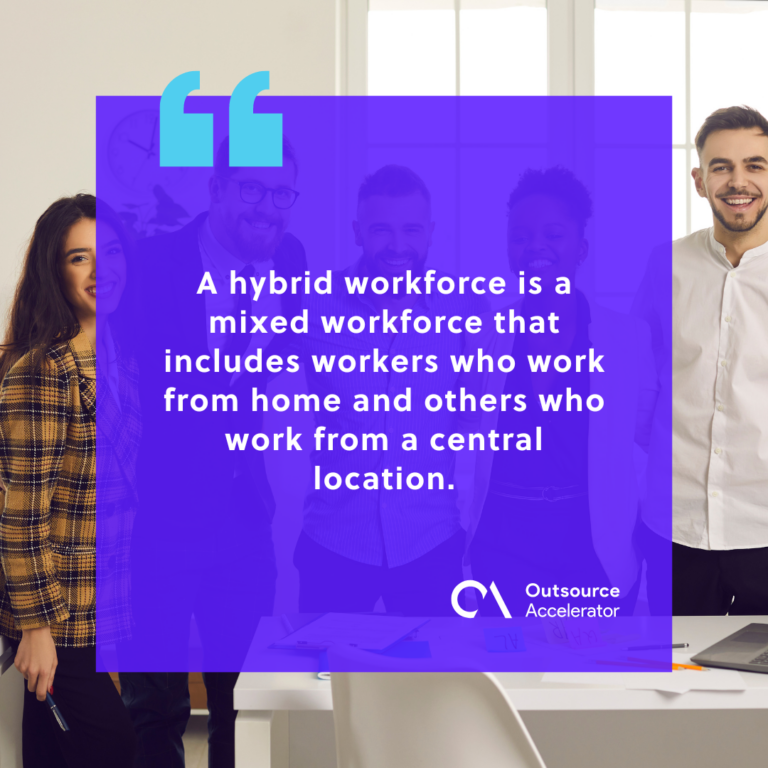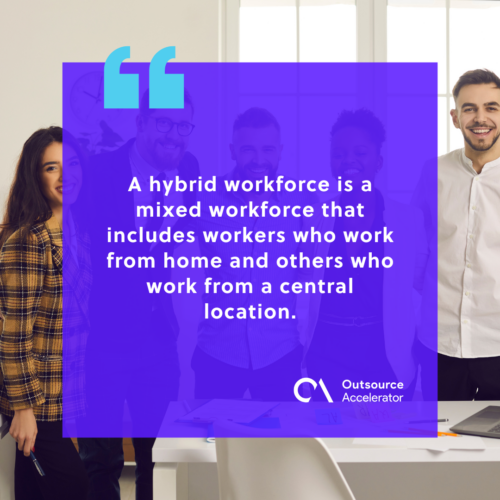 The hybrid workforce trend
As a result of the pandemic, the world suddenly switched to remote work as countries locked down and imposed restrictions. With the gradual rollout of vaccinations, several companies are steadily transitioning to a hybrid workplace model.
No aspect of work has changed more rapidly in the last year than the way work is accomplished. Employee priorities are shifting. There is a need to promote safety and career development for all employees. This means redefining efficiency to include teamwork, learning, and well-being.
The advantages of a hybrid workforce model
Hybrid models are the future of work for many businesses, especially post-pandemic.
Here are a few reasons why you should consider implementing a blended workforce:
Enhanced efficiency
Flexible employees make better use of their time in a hybrid workforce. A hybrid workforce lets employees concentrate on assignments without being distracted by the sounds and interruptions of the conventional office setting. 
Employees perform better when they are satisfied, more relaxed, and less stressed. They have the option of working when they are most active. 
Simplified collaboration
In a hybrid work setup, team collaboration is made simpler by office-based work and the face-to-face interaction that comes with it. You have the opportunity to socialize with coworkers, talk with them at coffee shops, and pick up valuable information through casual in-person conversations. 
Increased employee satisfaction 
Allowing employees to work from home increases their job satisfaction. As a result, employee satisfaction is higher, staff turnover is lower, and the workforce is more motivated to assist the organization in achieving its goals.
Lower company expenses
Increased employee satisfaction saves your business money on staff turnover and the costs associated with finding suitable candidates to fill positions. Improved performance from your experienced workers contributes to an efficient business workflow, better client servicing, and a boost in your revenue.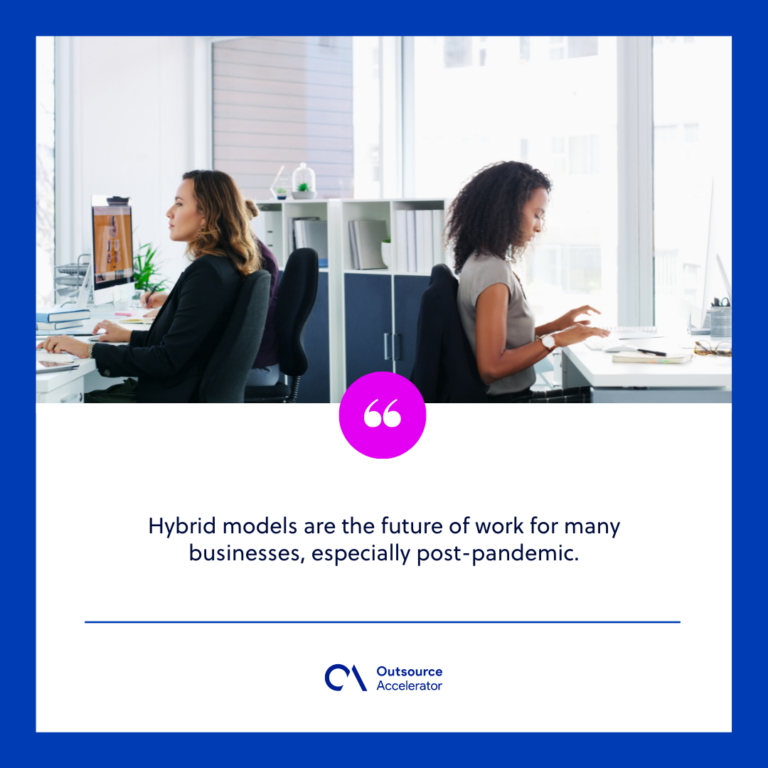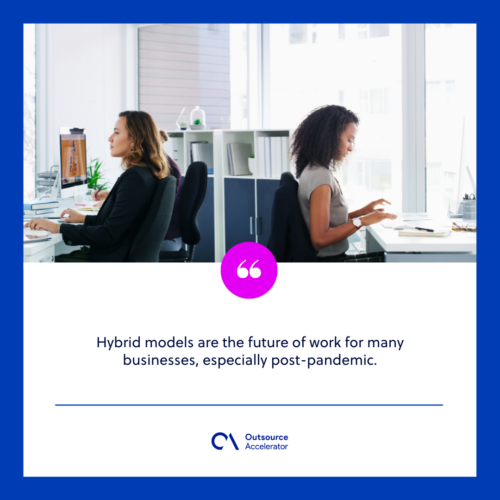 The disadvantages of a hybrid workforce model
Not everybody is suitable for a hybrid work environment. It is widely acknowledged that certain people excel in structured office environments while others prefer a more relaxed setting.
Here are some of the challenges you might encounter when implementing a hybrid workforce: 
Potential burnout 
A culture of overworking will creep into a hybrid workplace model if left unmanaged. In comparison to their in-office counterparts, remote workers are more likely to work longer hours and take fewer breaks. 
Remote workers may be concerned that their in-office colleagues will think they are taking time out of sight. They tend to overcompensate by working extra hours or making themselves available beyond the regular working hours.
Poor team dynamics
It is a challenge to establish and maintain connections with coworkers in a hybrid workplace. Poor group dynamics can lead to a disruptive work setup.
A manager can organize daily social gatherings that are open to everyone, regardless of location, to help boost morale and productivity.
Exposure to cyber threats
When operating and interacting from different locations, cyber attacks and data loss are more likely. Since businesses are more vulnerable to data breaches when employees are working outside their digital infrastructure, they must protect their digital footprint through regular software updates, password protection management, and multi-factor authentication.
How to manage a hybrid workforce?
Handling both a remote and in-office team can be overwhelming and complicated. To manage a blended workforce, the company must balance the benefits of remote work with face-to-face communication opportunities in a physical office setting.
To ensure that your projects are moving, your workers must have complete insight into their activities regardless of where they are. Team members should see expectations, deliverables, and the work that needs to be done to achieve project goals.
Consider integrating project management software such as Microsoft Teams Planner or Trello into your systems. This will allow team members to quickly see priorities, deliverables, and the work they need to do to achieve project goals.
If you're having trouble linking the remote and in-office teams, try some virtual team-building exercises. Though it takes time away from a workday, it helps inject some energy into the monotony of managing a hybrid team and effectively brings workers together.