Solve accountancy skills challenges with ConnectOS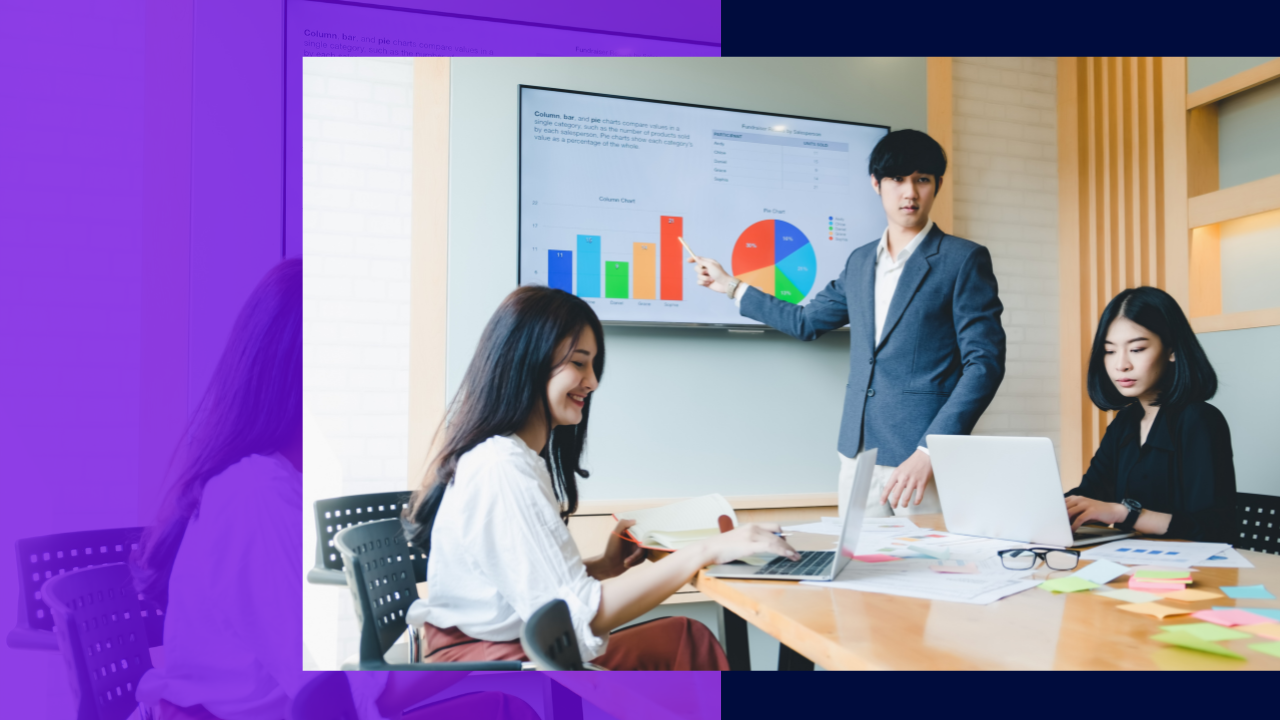 A company's financial operations is one of the most crucial components when it comes to running a business smoothly. However, many companies are grappling with finance skills shortages and soaring costs to hire. 
Offshoring finance processes or functions – in part or in full – provides businesses with access to skilled, qualified professionals from anywhere in the world. 
Global resourcing firms like ConnectOS represent the new face of offshoring, specializing in sourcing and hand-selecting the right candidates to fit your needs. 
How finance services offshoring works
Businesses can call on expert financial service providers to handle their needs when operations reach a new capacity or restructuring calls for different capability. Many companies tend to consider outsourcing aspects of their finance operations after experiencing a period of noteworthy growth.
Likewise, in today's climate of scarce skills and economic instability, offshoring can help businesses reduce costs and increase productivity. 
Instead of investing in the recruitment, onboarding and establishment costs of hiring new employees or investing internally, offshore resourcing solutions enable a remote team to handle the workload.
Any aspect of finance and accounting processes can be efficiently and seamlessly offshored – over the long term, for short-term projects or during periods when team capacity is stretched. 
Offshored financial service teams function in the same way as a company's internal financial team. They will follow the same cash flow processes, procedures, and company standards and practices.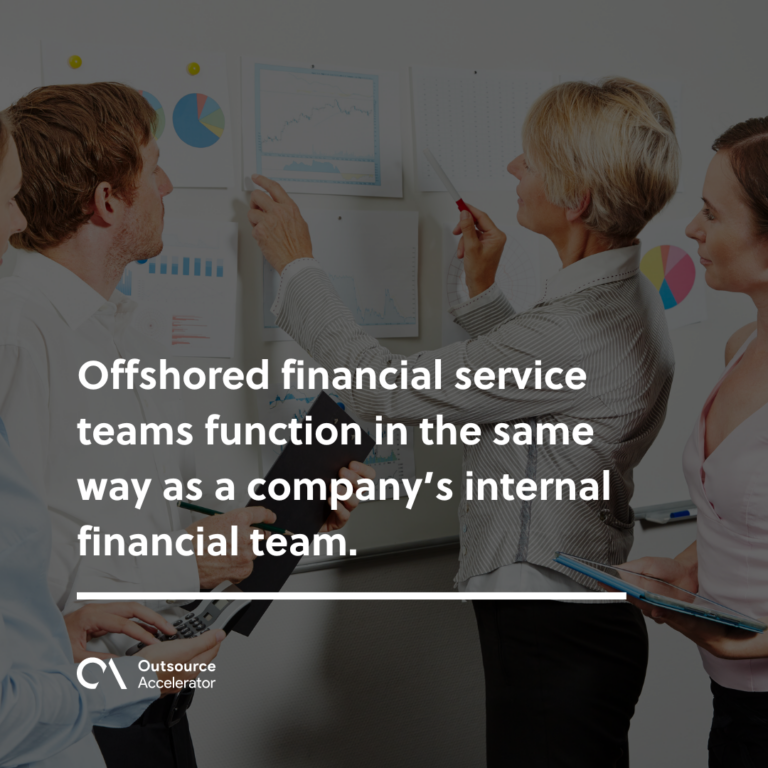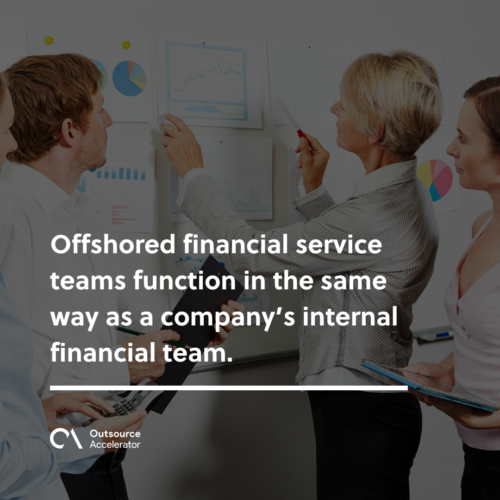 Offshore employees have qualifications, accreditations and experience levels that align with onshore Certified Public Accountants (CPA) requirements.
Flexible offshore finance service providers will work with you to determine the scope of work, headcount and experience level to offshore.
The firm you choose will handle the recruitment, onboarding, security, technology, office space, HR and payroll. You'll have full management control of your offshore employee's day-to-day work.
Types of finance services that can be offshored
As businesses grow, their financial capabilities and requirements grow too. Here are the types of finance services that can be successfully outsourced: 
Financial controller services
This is one of the most common types of finance services to offshore. Providers will oversee all the company's accounting activities and ensure ledgers are managed accurately. These services are frequently offshored because they are so broad in scope. 
Bookkeeping is another essential service in maintaining and recording financial processes. Finance service providers also prepare a business's budget to plan for different functions.
Financial reporting also fall under this service. Offshore finance resource providers prepare and audit year-end accounting reports in compliance with specific laws.   
Industry-specific financial services
Banks, insurance companies, and real estate businesses are among the sectors that require finance services specific to their functions.
These sectors have specialized management processes for their businesses, requiring experienced teams to handle them. 
Investment management
This finance service involves designing strategies for handling company assets and investments. 
Investment managers assist businesses with asset allocations, stack selection, and portfolio management. Essentially, they ensure company assets are maintained and maximized. 
Underwriting and claims payment
Underwriting is a process where a financial risk, such as a loan or investment, is taken. Many companies, like insurance groups, allow offshore finance resource providers to accept underwriting risks on their behalf. 
Financial analysis 
Businesses need to perform financial analysis before making any long-term plans and decisions. Both corporate finance and investment finance settings benefit highly from financial analysis services. 
Offshore finance resource providers help businesses evaluate economic levels, set financial policies, and plan for future business activities. 
Financial analysis aims to help fund managers and aid investors in making smart business decisions. By thoroughly examining a business's financial statements, finance service analysts expertly choose the best opportunities for a profitable future.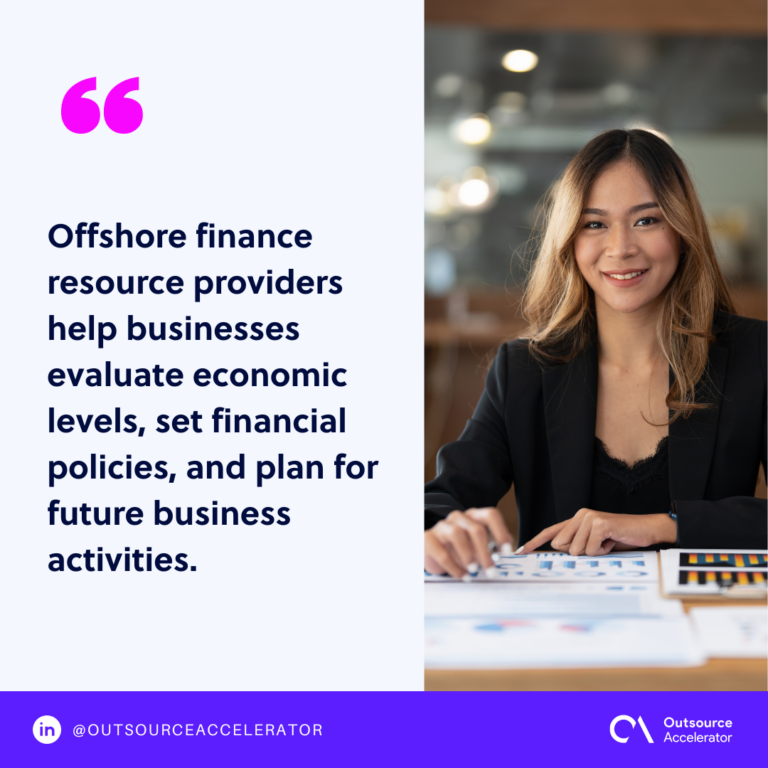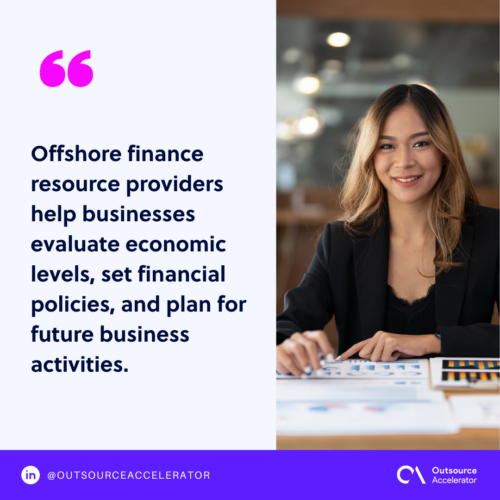 Partner with the leader in Integrated Resourcing solutions 
Offshore finance resourcing with ConnectOS allows you to tap into a specialist pool of university-educated, experienced accountancy talent to hire.
ConnectOS seamlessly integrates your new offshore employees with your finance processes and core teams.
ConnectOS creates tailored integrated resourcing solutions specifically for each client. While they hand-select candidates and provide expert guidance on the ideal structure of your offshore team, the final hiring decision is yours to make.
Once onboarded, offshore employees are no different to any of your other employees: they align to your company values and work directly for you.
Aside from finance services, ConnectOS offers roles across more than 80 job categories and multiple industries. You can save up to 70% in operational costs by introducing ConnectOS Integrated Resourcing solutions to your business today.