How executive recruitment works in a remote setup
Executive is challenging enough in the conventional setup. So how do recruiters cope with finding and hiring executives in the remote work setup? Do traditional methods still apply? 
Here, we'll cover all you need to know about executive recruitment and how the pandemic has affected the process in a remote setup.
What is executive recruitment?
Hiring executives requires a different approach than your rank-and-file employees.
Executive recruitment is a process that focuses on sourcing, recruiting, and hiring C-suite or executive personnel for a company. These include chief executive officers, chief marketing officers, and directors.
Executive recruitment can be done by in-house HR practitioners, or it can be outsourced to headhunting firms, freelance recruiters, or recruitment process outsourcing companies.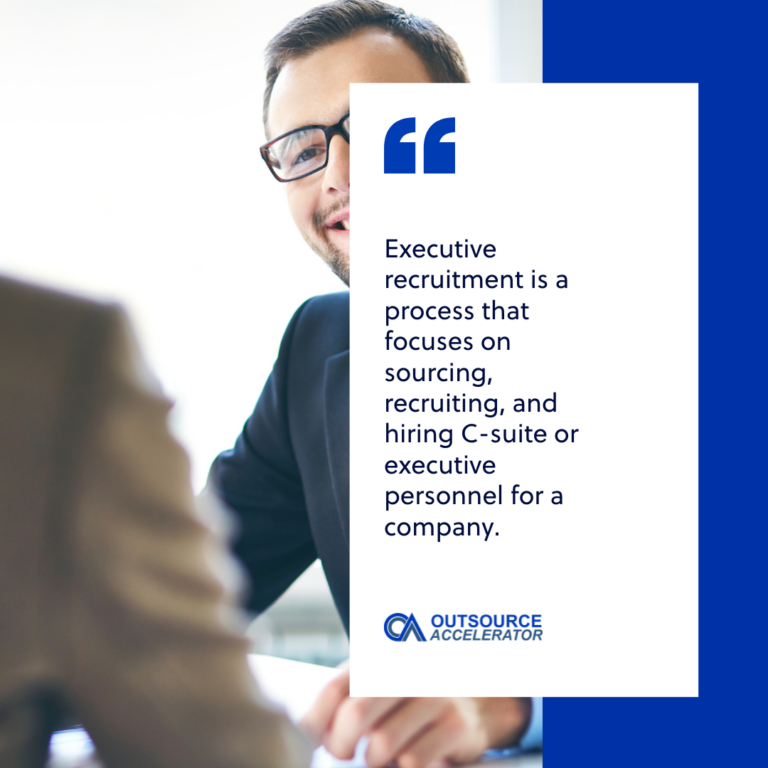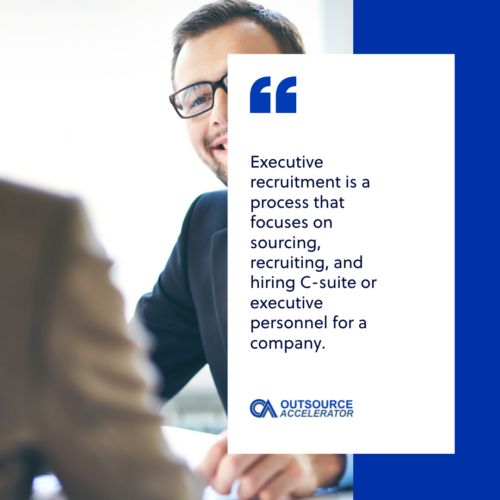 How the pandemic changed the recruitment process
When the pandemic hit full force in 2020, industries immediately halted their onsite operations and went into remote work in just a matter of days.
This change also affected the recruitment process in every company imaginable. Job orders and hiring activities froze up just as suddenly with both candidates and recruiters left hanging in the air. The inevitable employee churn didn't help either.
Initial interviews became a quick phone call instead of an onsite meeting. To compensate for the lack of face-to-face screening, a series of online tests became the norm to determine whether a candidate is an excellent fit.
These changes caused some to raise their eyebrows and for some to sigh in relief.
Executive recruitment in a remote setup
Executive candidates and recruiters are not immune to the pandemic-induced changes. They too have had to undergo the remote recruitment process and, for now, bid farewell to lunch-out interviews. 
Sourcing candidates
If not enough C-level candidates submit their résumés and CVs, recruiters will then turn to professional networking platforms like LinkedIn. The famed networking platform has a feature exclusive to those looking for job opportunities and people to hire.
Other recruiters would also turn to Indeed, CareerBuilder, and Glassdoor to fill up their open roles.
Most executives would have tags for "Chief Heart Officer," "Chief Marketing Officer," or "Chief Technology Officer" that cut down searching time in half.
You can also source executive candidates through outsourcing. Firms like Arcanys offer a CTO on-demand for businesses that have a more flexible arrangement.'
Online interview
It's safe to say that most of us are well-familiar with Google Meet, Zoom, Skype, and other communication tools in the workplace. Online interviews have become a practice not just for remote-first companies but for every organization hiring during the mandatory lockdowns.
Some people might oppose this, but skillful and attentive recruiters are able to gauge a candidate through a screen just as well as from across a desk.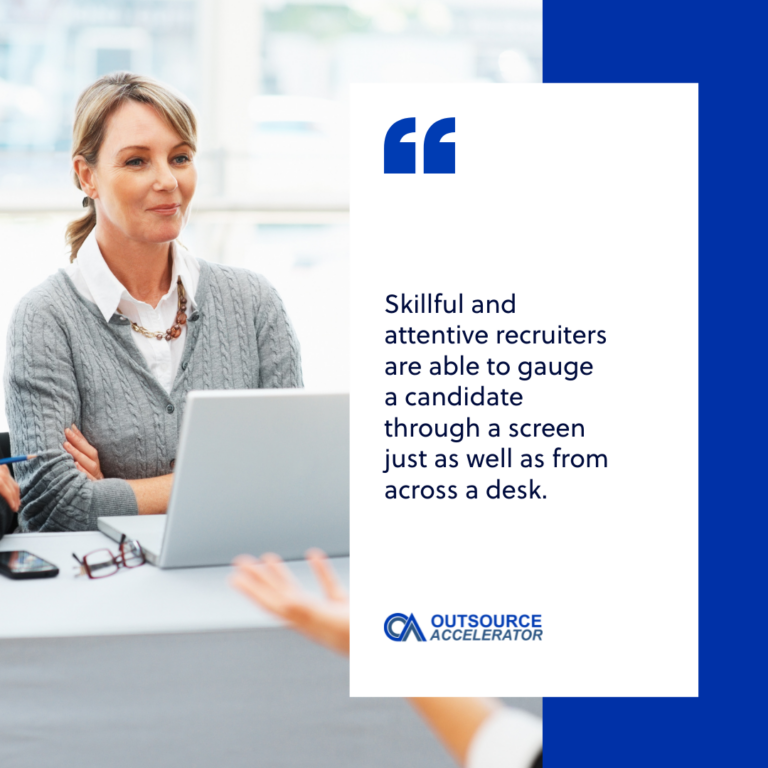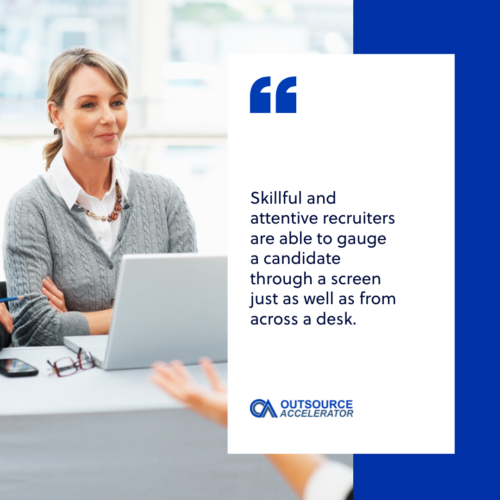 Deliberation with hiring managers
This part has got to be one of the more nerve-wracking parts of recruiting—both for the candidate and the recruiters themselves.
Oftentimes, hiring managers would determine at this point if the recruiter did their job right. On the other hand, candidates would wait days, even weeks, before getting an update.
Communicating with the candidate
Once all has been said and done, this is the make-or-break part of the executive recruitment process. 
There are only two ways to start that email:  "We are pleased to inform you…" or "We regret to inform you…"
Top three things that headhunters look for executives
On top of job orders and acquisition forms, executive recruiters have to scrutinize every candidate profile and background to find the perfect fit for a job posting. But does the perfect candidate even exist?
Short answer: no.
No matter if it's a rank-and-file or an executive position, candidates may lack a skill or two. However, there are certain qualities that make the best candidates stand out from the crowd, and these are the things that good recruiters look out for.
Experience
Experience can either be tangible or intangible. Some job listings made by executive recruitment teams have years of experience to go by, and some don't. 
10 years of experience is usually a good number to start with when it comes to executive positions.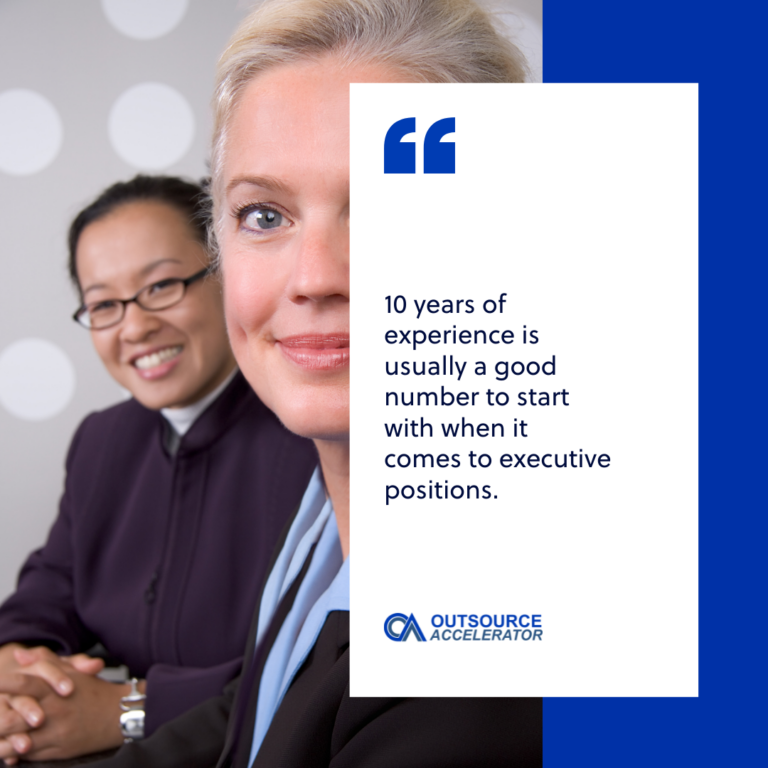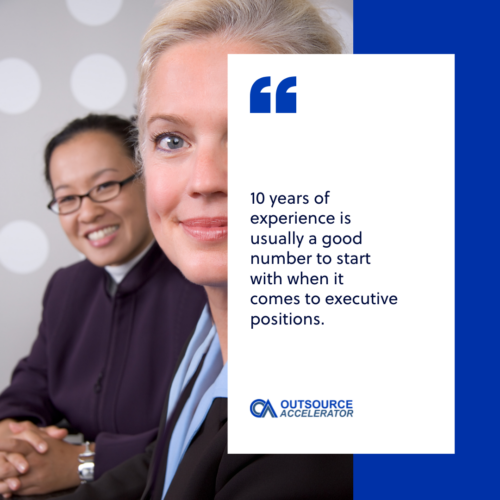 Employment duration
Even if a candidate has years of industry experience, if they were known to be "job-hopping" for most of their career, it raises a red flag.
Job-hopping refers to the phenomenon of employees leaving companies without rendering at least a year of service. While there may be reasons for a candidate to justify job-hopping, this habit is generally frowned upon and may be a sign of poor work ethics. 
Career milestones (with numbers)
Executive recruiters love numbers—especially if they are on a résumé.
Career milestones with tangible results are one of the strongest predictors of how efficient an employee is, even if they're not on the executive level just yet.
Here are some examples of good milestones to note on an executive résumé and interview.
"Automated 100% of the process in 11 months."

"75% of the investors approved the plan my department and I presented during the quarterly meeting."

"5 out of 7 team members conducted successful research under my supervision."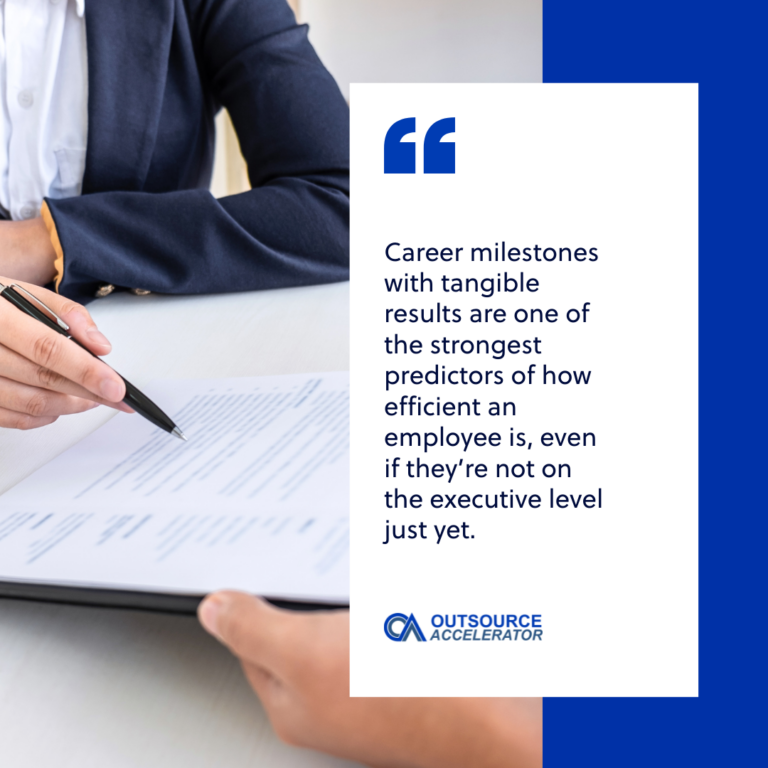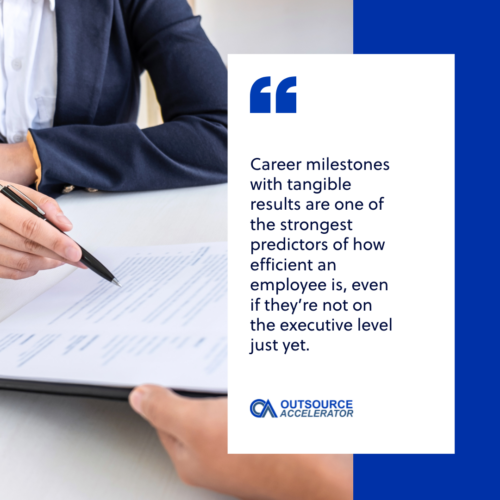 Why headhunters are relentless with executive recruitment
Recruitment teams often work with multiple open job orders that need to be filled before a certain date. This, plus the added pressure of reaching out to C-levels, is what makes them relentless in looking for candidates.
Recruitment is both fulfilling and challenging at the same time. You help people find their next careers and make sure that they're a near-perfect match. On the other hand, you've got jobs that no one wants and candidates that no one wants as well. 
At the end of the day, execution of the right methods, be it on-site or remote, and proper coordination with recruitment team members and leaders will surely bear fruit in the executive recruitment process.