What is a chief heart officer?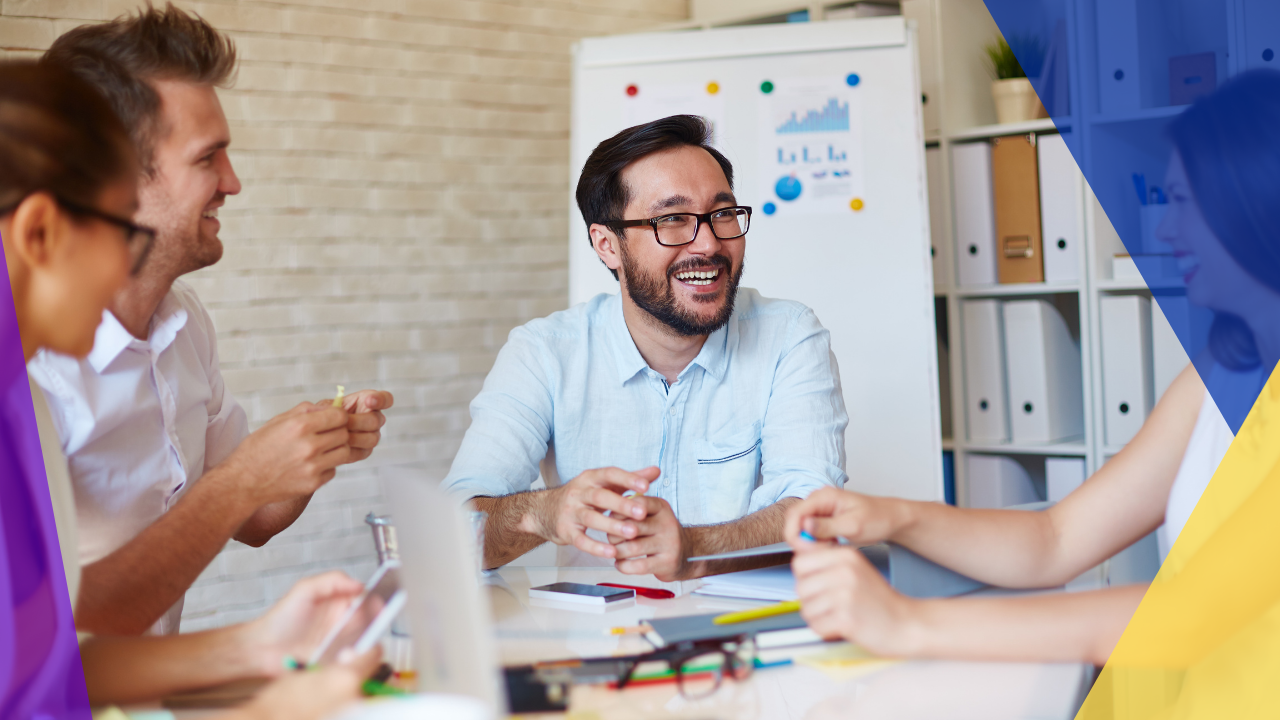 Employees are the most valuable component of a company. They have unique insights into how customers interact with the brand. However, many companies forgot that their employees' wellness must be included in their strategy implementation. This is where the role of a chief heart officer enters the picture.
Fostering cultures of collaboration will help move teams to the next level of the company's success in all areas. People are more likely to stay with your organization if they are in a healthy working environment.
What is a Chief Heart Officer? 
In business, a Chief Heart Officer is in charge of the well-being and overall pleasure of the company's personnel. The Chief Heart Officer brings out a desire for happiness in the workplace and a pleasant employee experience.
When employees feel they are valued, they become more efficient and productive. Chief Heart Officers know the practical and motivating aspects of every employee they handle.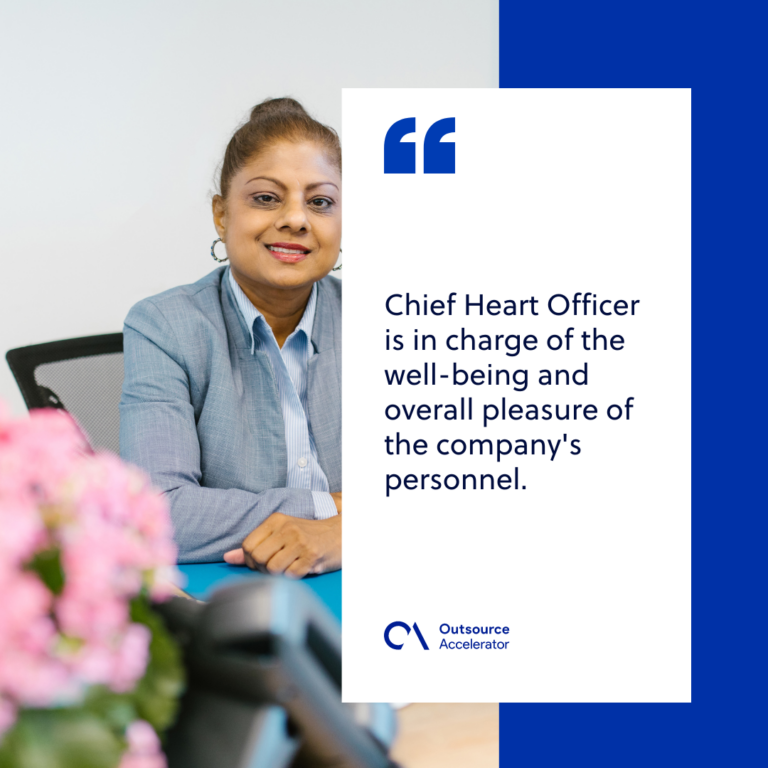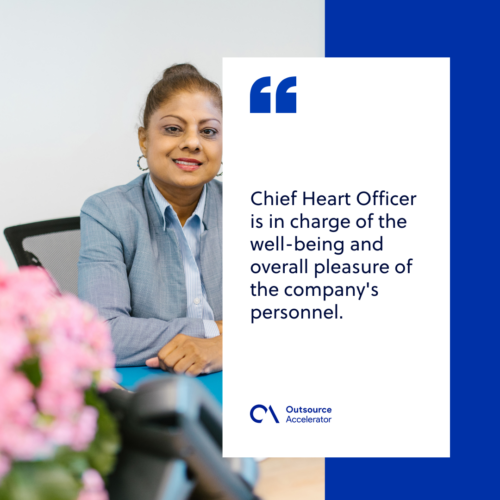 Roles of a Chief Heart Officer
Employees are the company's internal customers, and the Chief Heart Officer must identify what their employees need and respond accordingly.
It's also essential that they're able to coach and drive individuals toward their own personal objectives while inspiring and leading them through change.
However, the idea of having a Chief Heart Officer is a little more complicated. It goes much beyond what is often associated with human resources.
Chief Heart Officers don't work on administrative tasks. They are more likely to work on the company culture.
Characteristics of a Chief Heart Officer
A Chief Heart Officer is someone who has a grasp on the company's employees' hearts and minds. However, not anyone can be a Chief Heart Officer. 
Here are some of the attributes of an effective Chief Heart Officer:
Empathic and sincere
Empathy and sincerity go a long way in helping an employee feel comfortable and confident. It also encourages clients to be open with one another about their personal information. 
Chief Heart Officers know how to avoid judging their clients by being emphatic and sincere. They build relationships with a solid basis of warmth and understanding. 
An attitude that puts others first
Selflessness means putting the interests of others ahead of your own. Becoming unselfish enables us to identify with and form relationships with other people.
When companies hire a chief of heart officers, they are looking for a giving and compassionate candidate. Chief Heart Officers must have a more vital ability to connect with their clients, be more focused and innovative at work.
Open-minded of other cultures and ideas
When you're open-minded, you're willing to admit that you don't have all of the answers. It implies seeing the diversity in people as strengths rather than weaknesses.
Chief Heart Officers must not pass judgment on their clients in any form. This can be challenging in some cases, but it is the foundation of a successful counseling partnership. 
Chief Heart Officers show the clients are accepted and respected. When a client receives unconditional positive respect, it opens the door to exploring possibilities for change.
Confident in role and responsibilities
People who have a positive mindset and are self-confident are more likely to succeed in the long run. People who are confident encounter new difficulties with less ambiguity, anxiety, and fear. 
This is especially true for anyone in the counseling field, regardless of how long they've been practicing.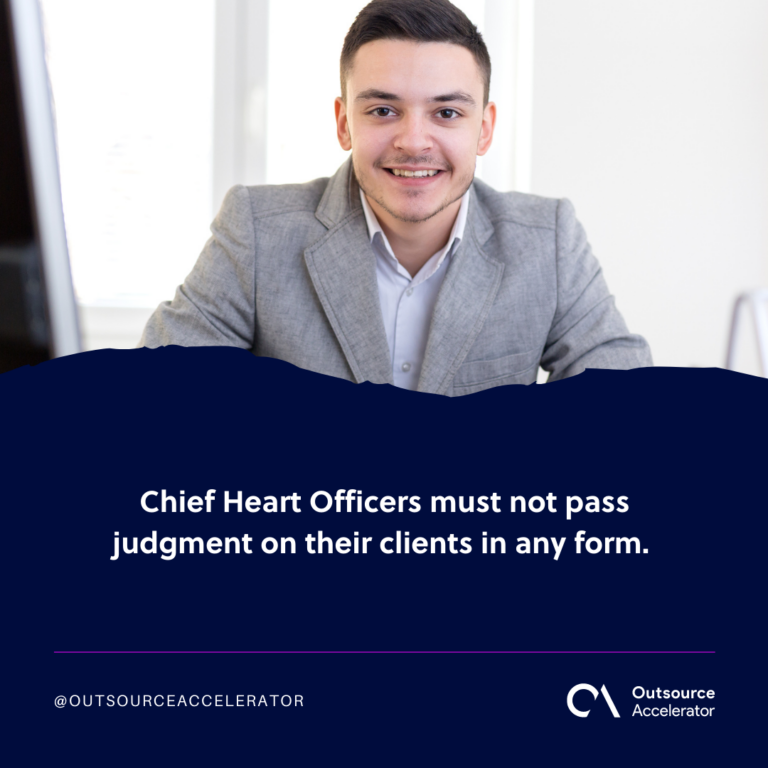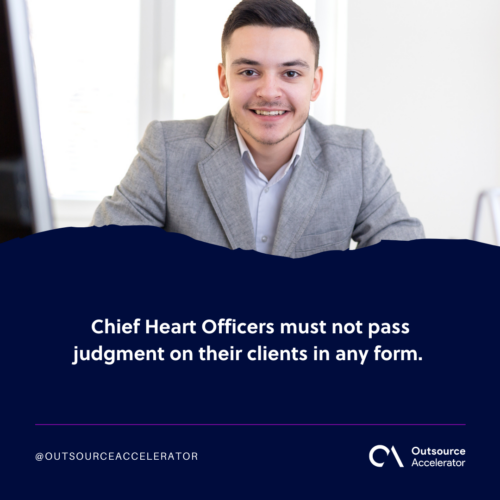 Why should your company hire a Chief Heart Officer?
The Chief Heart Officer is somewhere in the middle between an HR professional and a therapist. They can boost the morale of the employees and motivate them to be more productive.
Companies must understand the power of improving employee well-being. Contented and satisfied employees will reduce turnovers which can be cost-effective for the companies.
Take note of these benefits you can obtain when you hire a Chief Heart Officer:
Increased productivity as a result of improved staff performance

Reduced employee

turnover rates

Become known as a company that values its employees

It helps employees in becoming more self-aware.