10 Employee wellness programs to inspire productivity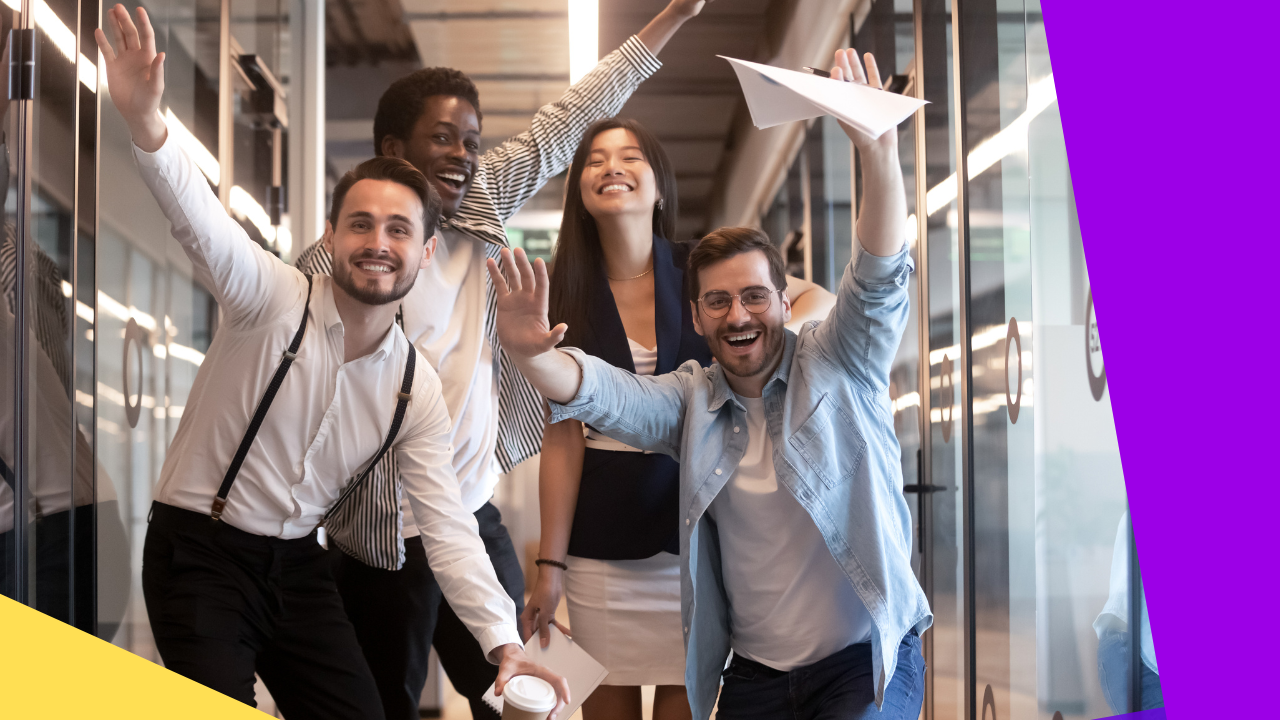 Many businesses are now recognizing employee wellness programs, and these have also become common among medium and small-sized companies. 
The core of every wellness program is behavior change. People change for the better with the proper education, skills, motivation, tools, and social support.
When employees are well taken care of mentally and physically, they can put their best foot forward at work. Companies that acknowledge and treat their teams as human beings, not machines, reap the benefits.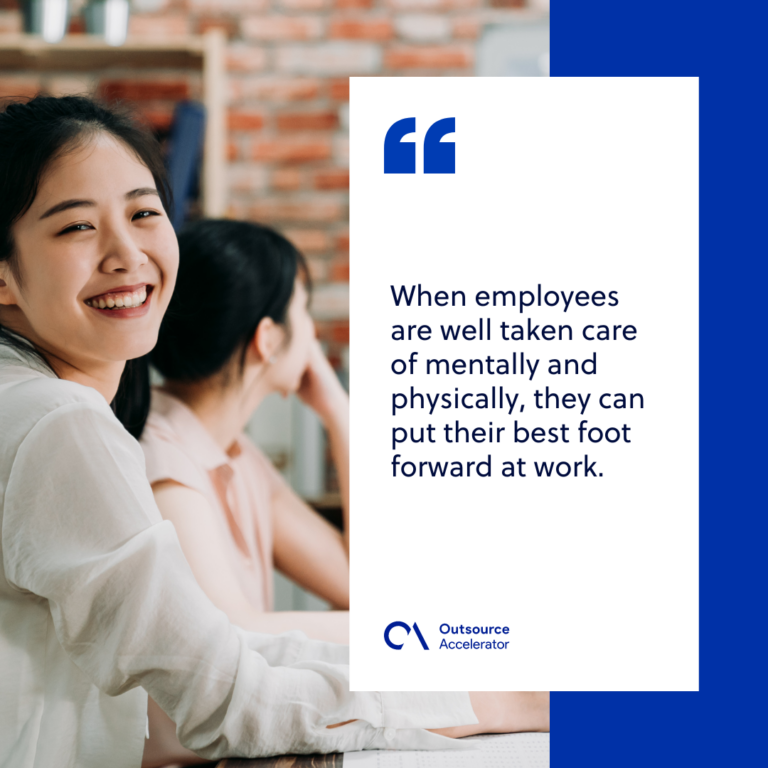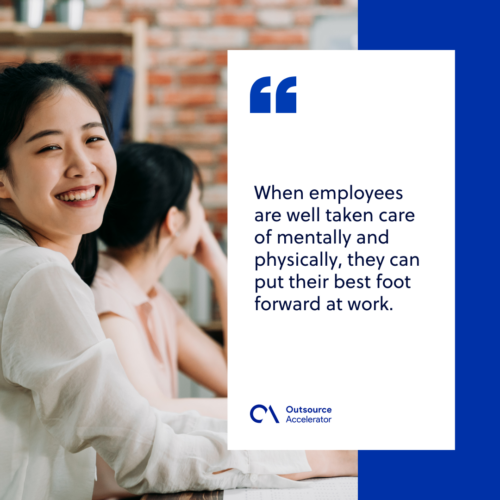 What is an employee wellness program?
Employee wellness programs are health activities undertaken by an employer to:
Improve employee health

Help employees overcome particular health-related problems

Prevent

burnout
Employee wellness programs commonly refer to a collection of organizational initiatives to promote healthy lifestyles among employees.
Wellness programs can range from ideas with a specific purpose, such as helping employees stop smoking and gain or lose weight.
Some companies partner with businesses to provide and run an employee wellness program to save time.
Employee wellness programs can improve employee engagement and boost employees' morale.
Based on Gapin Institute's report, companies with highly effective health and wellness programs receive 11% higher revenue per employee and 28% greater shareholder returns.
Companies implementing good employee wellness programs help them hire and retain the best employees. If your company does not offer an employee wellness program, you will be competing with companies that do.
However, companies are not required to provide employee wellness programs because there are no such rules that businesses must follow such plans.
What do employee wellness programs offer?
Employees' health and wellness directly impact a company's productivity and revenues. Many firms recognize this and are willing to invest extra money in such programs.
Employee wellness programs offer tools and solutions for employee involvement that benefit not just the employees but also the teams and businesses they support. 
Specific employee wellness programs include the following:
Reduced healthcare costs

Reduced absenteeism

Reduced injuries on and off the job

Higher employee satisfaction

Higher employee productivity

Higher employee morale and loyalty
How do you promote employee wellness?
Employee wellness initiatives can assist in attracting and retaining good employees since they see it as a benefit.
The question is, how will you promote employee wellness?
There are no rules specifying what constitutes wellness programs. Yours could be anything from providing information on healthy eating habits to having scheduled workshops about health.
Here are some ideas to promote employee wellness programs:
Workplace weight loss program

Company gym

Implement ice breaker hours

Install healthy vending machines
You can also plan other activities for employees to build better relationships with each other. For inspiration, you can also ask your employees what activities they would participate in if they had the opportunity.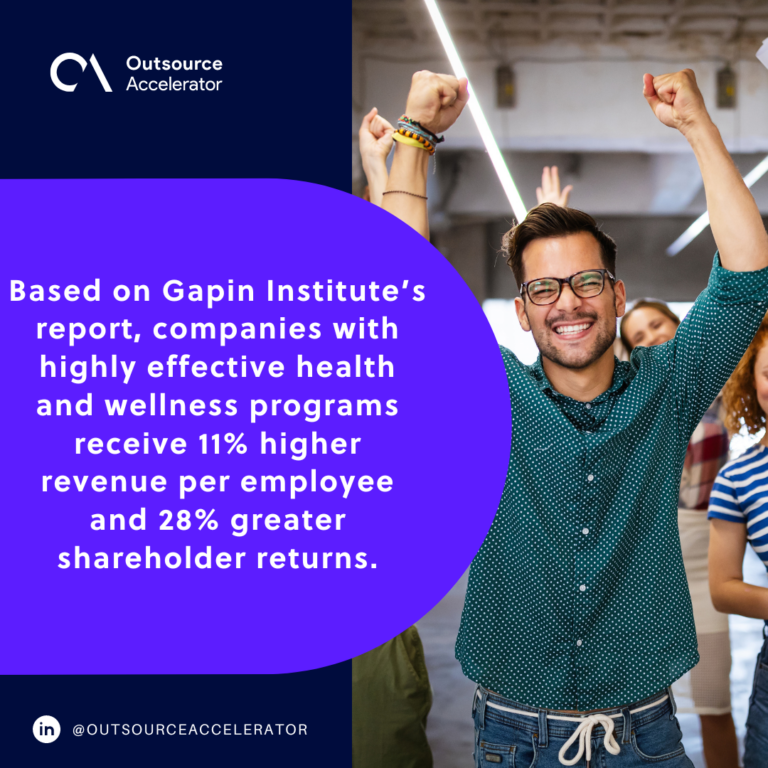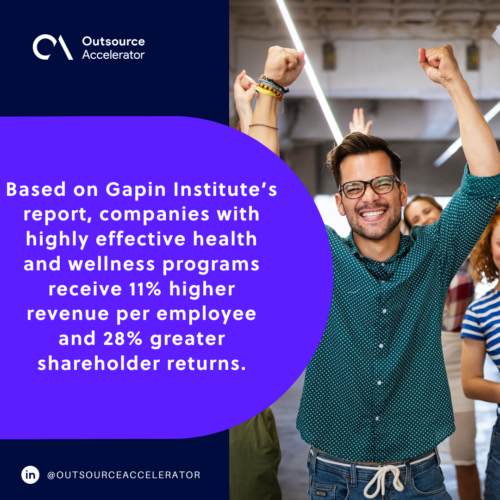 Four key dimensions of well-being
Setting up an employee wellness program requires initiatives to determine if a company can qualify to set it up. These initiatives address different dimensions of well-being:
Physical
Anything that tackles exercises and nutrition falls in this dimension.
Physical well-being encompasses the smooth running of all bodily functions. It is the most accessible dimension to promote employee wellness programs' pervasiveness.
Emotional
Emotional well-being refers to the capacity to regulate emotions and communicate them effectively.
A closely related concept to this dimension is mental health. Organizations can improve the workplace by investing in employees' emotional well-being. 
Being emotionally healthy means that employees can handle more than just stress resulting in productivity and positivity at work.
Financial
Typically, financial wellness refers to a person's financial stability. Employers can assist in acquiring financial literacy–a need for achieving this dimension.
When individuals have this aspect of financial well-being, their actions and thoughts support their short-and long-term objectives.
Occupational
Occupational well-being is rarely addressed within the context of employee wellness programs. It is a vital component of the program since it impacts other aspects, such as mental and financial health.
Additionally, occupational well-being is an essential driver of the value of employee wellness programs. Companies increasingly focus on recruitment and retention benefits programs.

10 employee wellness programs
The key to having a successful employee wellness program is encouraging the overall well-being of employees while still keeping it fun.
Below is the list of 10 employee wellness programs your organization can consider implementing.
1. Recognition and rewards program
Whether your employee closes a significant transaction, completes an assignment, or meets a quarterly target, rewarding them can encourage them to put in more effort at work.
Hosting workplace reward programs is a great way to celebrate accomplishments, thank employees for their contributions, and encourage general employee well-being.
Rewarding and recognizing employees boosts employee retention and contributes to a more favorable overall working environment.
Incorporating incentives and recognition programs increase employee engagement, resulting in several benefits for the firm.
2. Happy hour programs
Happy hours allow socializing and connecting outside regular office hours. Has your team been jam-packed and disconnected lately? A happy-hour program can be the remedy.
You can reward your team for putting in extra hours by ordering lunch for them. This program also includes giving employees morning snacks, coffees, a happy-hour drink (fresh fruit juice), and wellness gifts.
Happy-hour programs are excellent employee wellness programs to consider because they can help open communication, generate new ideas, and foster stronger relationships.
You can also invite a wellness host in your company to conduct a short webinar about how you can better practice a healthy lifestyle in the workplace.
3. Implement weekly awards, if possible
You can prepare for a little program and prizes. Create amusing rewards such as "The Walking Tool" for the office employee who repairs everything.
You can even award that week's recipients a little bonus gift, like healthy snacks or drinks, but it doesn't have to be fancy. 
This is not the most picked employee wellness program as it is not easy to do, and not everyone will be in the mood to celebrate every week.
But this can be fun and inspire employees to work harder because they know that each week might be the week meant for them to receive an award.
4. Encourage team lunch
A team lunch is also a great way to set everyone's mood. Each team can assign an organizer for this program.
They can organize the team lunch by providing nutritious food and drinks and also think of a game in which everyone can participate.
After all, who wouldn't want to sit at a table and eat good healthy foods while talking to each other over non-work-related conversations?
5. Reward employees' healthy eating habits
Diet is a vital component of overall health, but it can be tough to manage in the workplace. This is especially true when routines are disrupted, especially during the pandemic.
Employers may assist by developing a nutrition challenge that rewards workers for adopting healthier eating practices.
Employees can engage in a health challenge by keeping track of their meals, attending nutrition courses and webinars, and sharing their favorite foods with coworkers.
6. Hold a health fair
You can invite local merchants and non-competitor businesses that also implement employee wellness programs to your office for a day to discuss nutrition and wellness-related activities. 
This can also be a fantastic opportunity for other local companies to showcase their services.
7. Invest in chair massager
Many chair massagers have benefits that include blood pressure reduction and improved sleep quality.
Investing in a regular chair massager is a surefire way to boost your employee productivity and enhance their performance by increasing focus on relaxation.
8. On-site warm-up exercises
Most back-end employees spend their time working in a chair facing the computer. 
According to Mayo Clinic, individuals who sit for more than eight hours per day without engaging in physical activity have a mortality risk comparable to obesity and smoking.
On-site warm-up exercise before working is an effective way to increase heart rate and keep the blood flow to produce more oxygen to reach the muscles.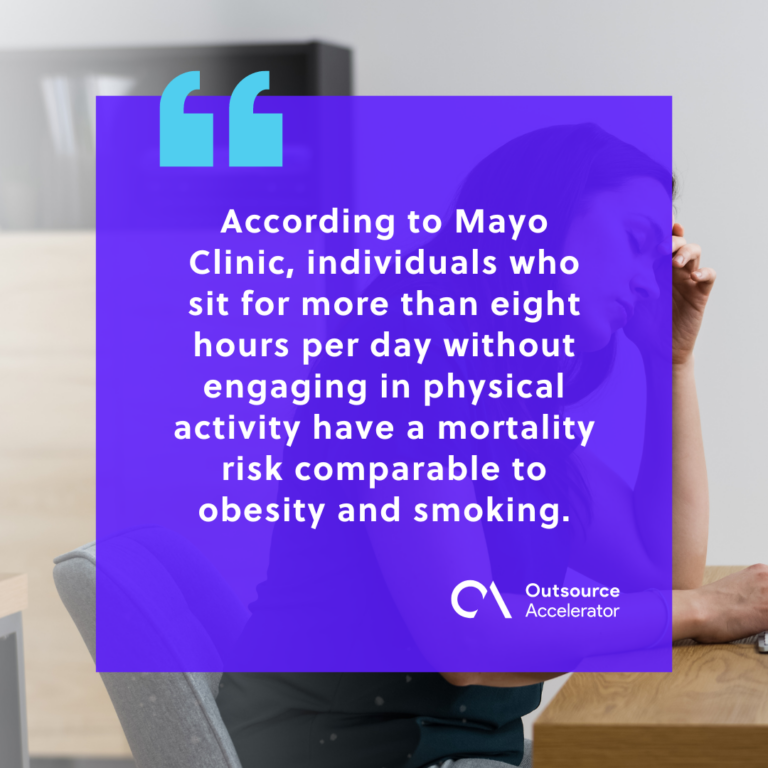 9. Encourage nap time
Naps have been shown to boost a person's memory, creativity, and productivity. You may propose a "nap room" in your workplace by furnishing an empty room with a plush reclining chair that staff can use to relax in.
10. Don't let frustrated people keep working
If your company is after the quality of work, you must check in to see if your employees are doing well. No matter how efficient employees are, they can't produce quality work if they're frustrated.
Frustration in the workplace often doesn't go away on its own and can worsen if left alone. That's why the management should know how to manage the frustration and stress building up in the workplace. 
Empower your employees with these wellness program ideas
Employee wellness programs are quickly becoming the standard in the workplace and should be supported at every level, beginning with the CEO. 
When formulating your plan, you should consider building mental and physical health programs for a diverse group of employees to benefit from.
When establishing your goals, you should think about getting direct input from your team. Have them respond to surveys so that you can consider their ideas and suggestions.
One of the essential points to remember is that taking care of the individuals who work for you is profitable. Once you begin implementing these wellness ideas for your staff today, you can sit back and watch as your workforce grows.