Outsourcing web developers for a better online presence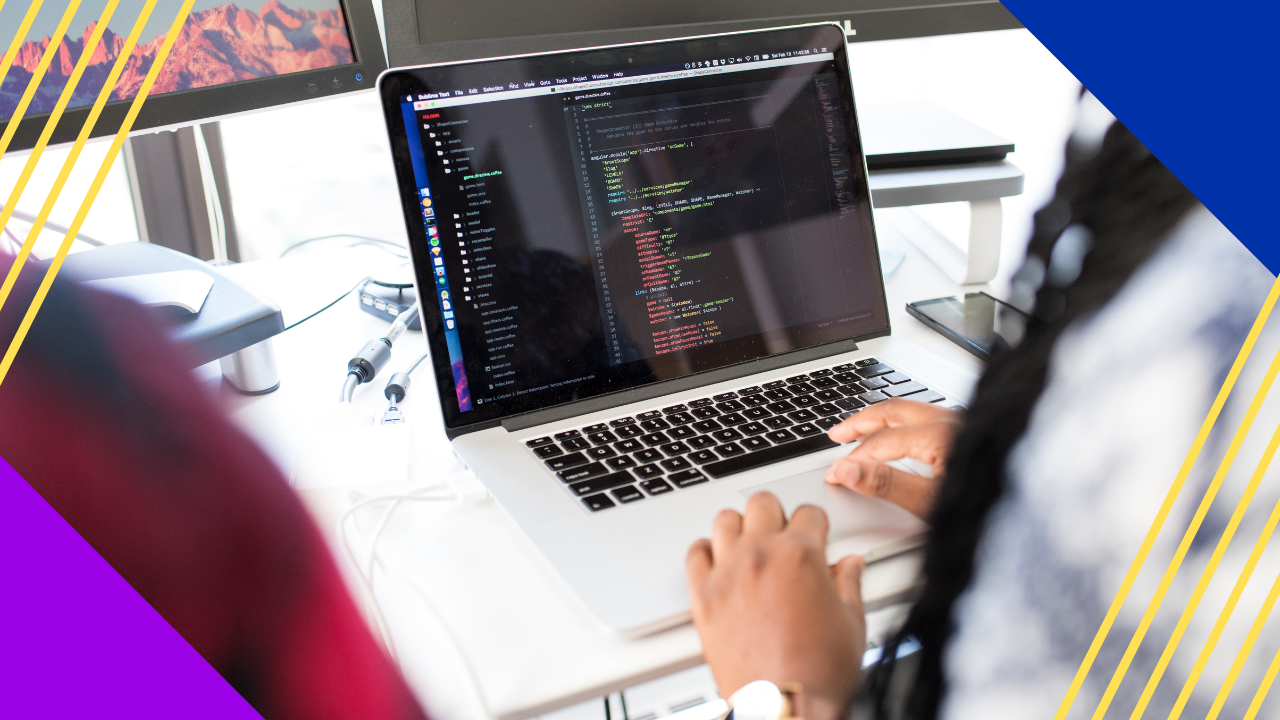 All businesses today must have an online presence. When prospects hear your business's name, the first thing they're likely to do is to look it up online. 
Web developers make sure your website is attractive, engaging and effectively raises brand awareness. It can be tough to hire a team locally, but outsourcing web developers gives you a more flexible option. 
Outsourcing web developers explained 
Web developers are highly in-demand across the globe. Because many businesses require a strong online presence, outsourcing web developers has become a common cost-saving strategy. 
Outsourced web developers build and customize online stores, blogs, news portals, gaming, and informational websites. They are also often tasked with developing social media platforms, mobile apps, and content management systems. 
Like other IT functions, web developers work well in a remote setting. Because IT functions don't need to be done on-site, they make up the largest share of the overall outsourcing industry. 
Without a well-managed website, a company loses marketing opportunities, prospects, and a lot of revenue in the long run. 
A team of outsourced web developers can help businesses to optimize the online world.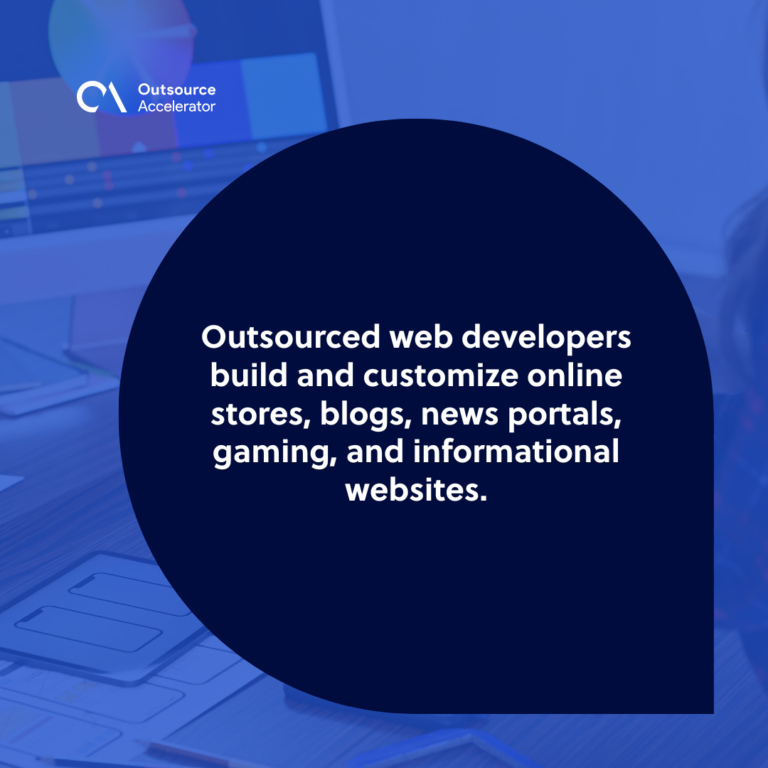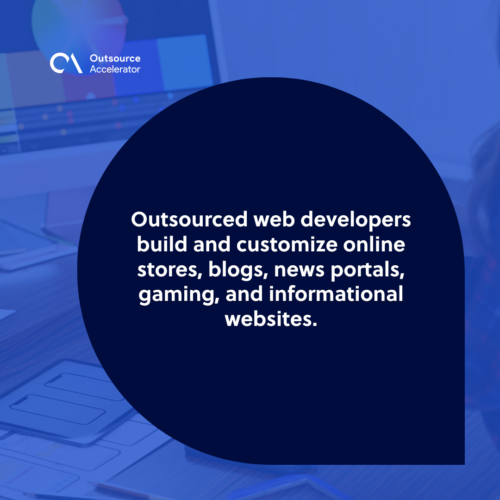 Benefits of outsourcing web developers 
Outsourcing gives businesses more options and capabilities they would not have otherwise had by hiring locally. By outsourcing web developers, you get the following benefits: 
Reduced costs
When you outsource web developers, you don't have to spend on other costs related to hiring in-house, like infrastructure, training, and recruitment. The outsourcing firm handles all of that for you, saving you as much as 70%. 
Access a broad talent pool 
You can outsource web developers from anywhere in the world. This increases the chances of finding skilled and experienced developers who can meet your business's needs. 
Web developers are in high demand, with strong competition between businesses to hire them. Outsourcing can solve the vacuum created by a small pool of web developers in a given location by hiring overseas.  
Saved time 
Outsourcing gives you the opportunity to find experienced web developers who have been doing their job for years. By already possessing the required skills, they can hit the ground running and begin work on your project immediately. 
An experienced outsourced team can also be utilized to assist your on-site team, if you have one, with their own workload. All this saves valuable time that can be directed elsewhere. 
Flexibility and scalability
The process of outsourcing allows your business to quickly and easily extend or reduce your team based on your needs. Simply communicate with the outsourcing firm, and they can pull in another web developer as needed.   
Better site security
Website security is indispensable in today's technological and online landscape. A good outsourcing model also provides an improved level of data security. 
Companies can take advantage of world-leading security protocols and infrastructure through their outsourced web developers and partnered BPO firms.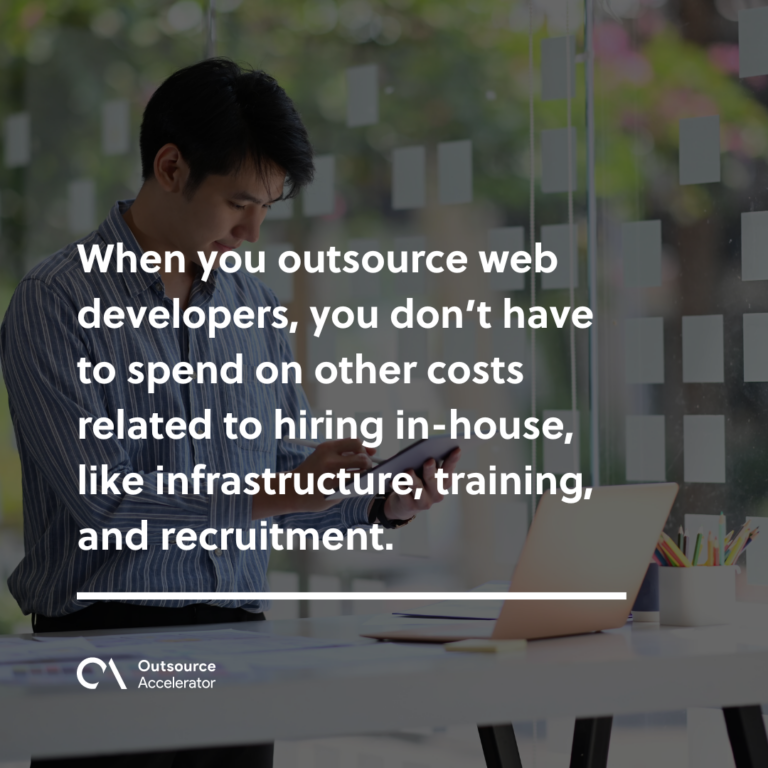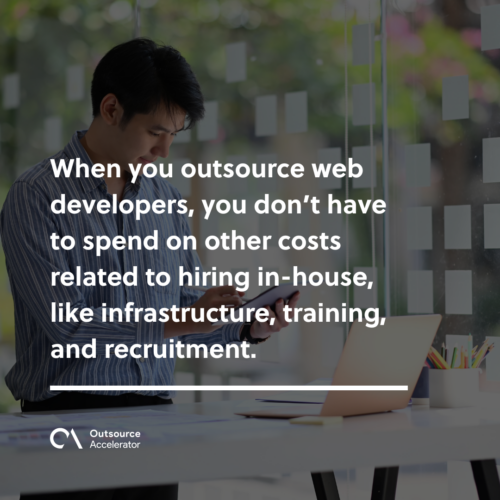 Outsource web developers through Cloudstaff
Because of the outsourcing industry, it has never been more convenient for businesses to acquire software and web developers. And Cloudstaff is here to help you find the web developers with the skills you need. 
Cloudstaff helps you grow your team by providing talented outsourced web developers that can integrate well with your existing workforce. 
Cloudstaff has web developers adept in key platforms such as HTML, Javascript, Python, and C++. Aside from web development, they also offer other core capabilities like system development, back-end development, and software tools development. 
If you're looking to outsource highly skilled web developers, then look no further than Cloudstaff to deliver maximum value and efficiency to your business.