Increase your employees' receptiveness to criticisms through effective feedback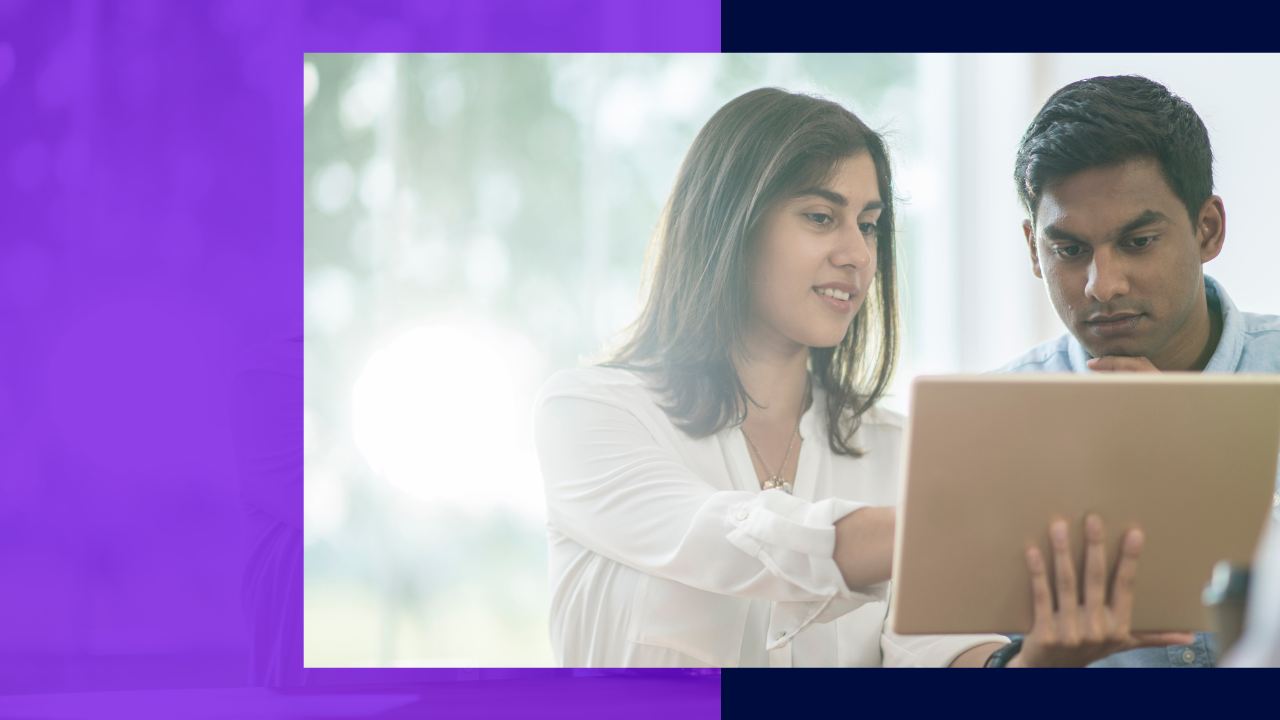 Employees tend to be afraid if not resistant to feedback, especially during quarterly performance appraisals. 
Often, they mistake this as a way to judge them or, in some cases, demote them from their current position. 
This stems from their lack of familiarity and knowledge of constructive criticism. However, this can also be a matter of delivery of effective feedback. 
This article will explain effective feedback, how it is handled, and the usual ways of delivering it.
What is effective feedback?
Generally, effective feedback is positive-oriented and geared towards the development of an employee. Feedback is deemed adequate if its recipient alters its behavior and improves based on it.
Often, feedback is associated with criticisms of judgment directed at a certain person. However, this is different from the two mentioned. 
Effective feedback is geared toward creating a welcoming and positive environment for learning. It is associated with improving a team or individual, whether at work or in other aspects. 
In a nutshell, effective feedback puts the welfare of the team or individual at the forefront to help them become more productive as professionals and citizens.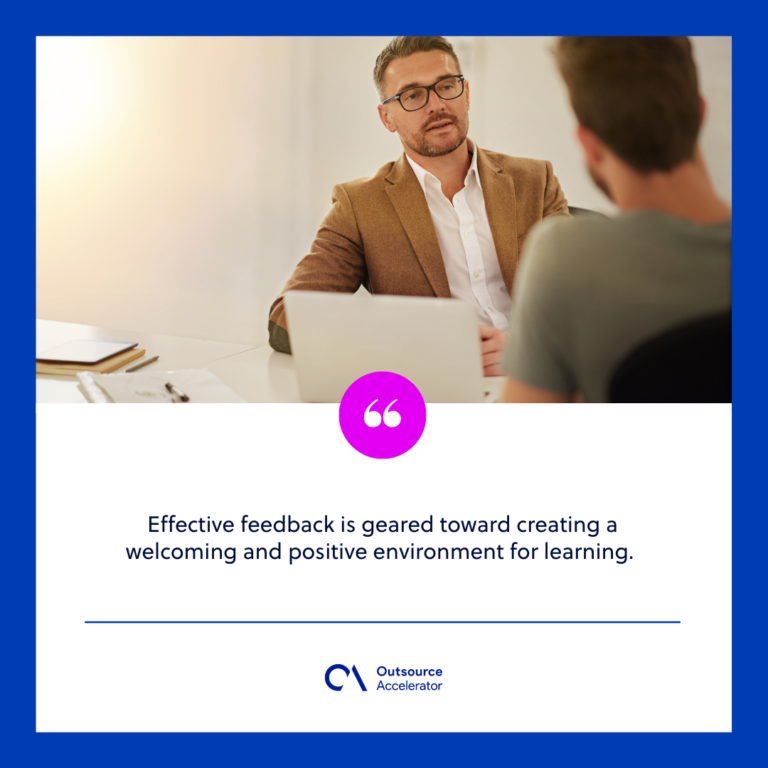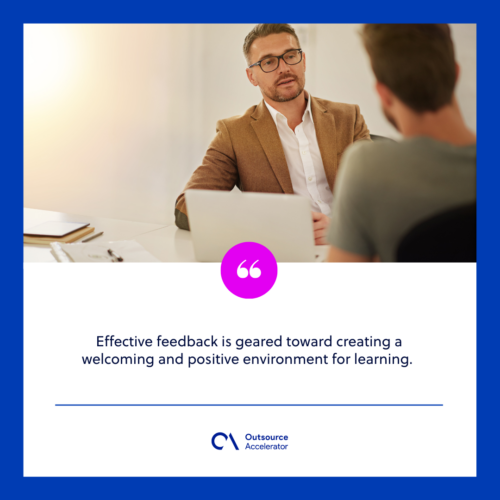 Characteristics of effective feedback
Below are the standard features of feedback to be considered appropriate and potentially useful:
Progressive
Effective feedback should always be given at any time, especially when a task or project is executed. 
It helps address the current situation and manage tasks and projects more effectively. Feedback will become a bit abstract if it is given after a major project or task. There is a tendency for the recipient to forget, and it is hard to process.
Open and conversational 
Leaders to provide positive feedback should practice talking honestly with their subordinates. 
Backhand and undermining remarks will not be helpful as they will tarnish the employees' confidence, in contrast to the whole point of effective feedback. 
Leaders should make their colleagues feel they are talking to a friend during feedback sessions. 
Reflective
Effective feedback empowers other employees through the process of reflection. Instead of spoon-feeding, they are guided to the correct path by increasing their sense of ownership. 
Vision-driven
The overall vision of the organization drives feedback. It will help a lot if leaders can explain this to their employees to have a good appreciation of the goals. 
Employees feel valued and important once they know that the management is trusting them. 
Specific
One of the common mistakes in providing feedback is the tendency to be general. This is counterproductive as it does not offer a clear action plan to increase performance. 
Effective feedback is always specific to enable agents to track their progress through clear-cut steps. 
Descriptive
Criticisms often reduce the spirit and motivation of employees to perform and improve. Effective feedback alleviates this by providing clear and descriptive ways for employees to improve. 
Usually, effective feedback focuses on the strengths and capacities of an agent and their performance. 
This is in contrast to a weakness-centric approach wherein employees are reminded of their lapses which becomes awkward, especially in cultures where saving one's face is dominant.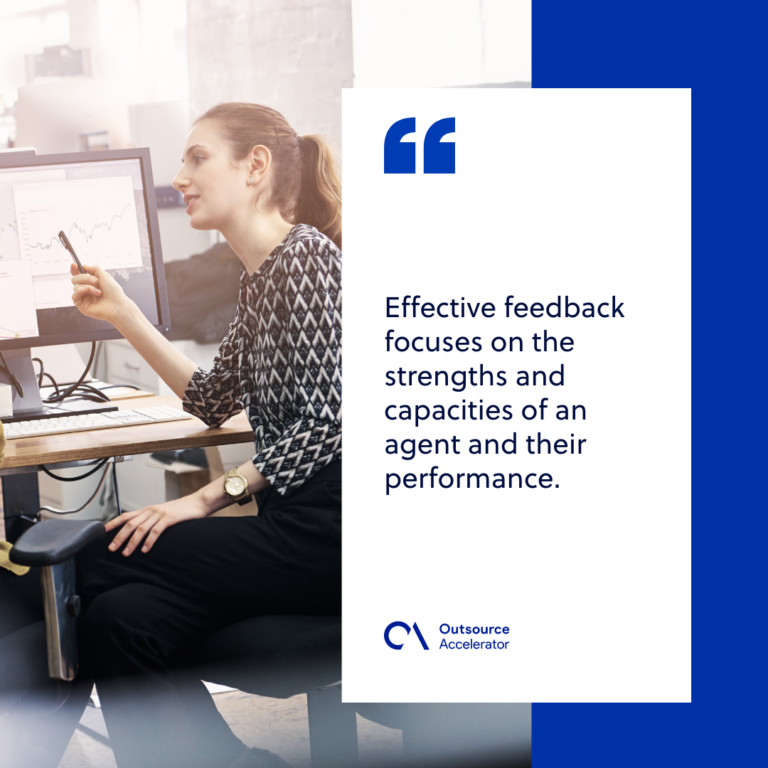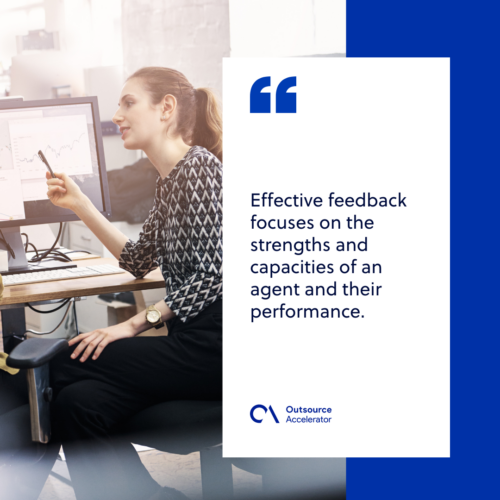 Overcoming employee resistance through effective feedback
In order to save face, people refrain from being direct in pointing out the lapses of a person and negatively affecting their ego. 
This results in a major repulse to any constructive feedback directed towards subordinates. 
However, practicing giving effective feedback prevents this by allowing them to realize their lapses independently.
The best action plan is to create a set of questions to guide them through the process. Some questions you can ask are
The project's primary objectives

The project's actual outcome

Suggested improvements in execution

The central message that the project should deliver

How results would have differed
These factors allow people to be the owners of their actions, their ideas, the project, and the potential improvements. 
By developing this sense of ownership, an employee's ego is not hurt, and its self-defense mechanisms are not active. 
The delivery must also be engaging with these questions. The tone of the voice must be welcoming and not judgmental. 
There must be a general sense of patience for the employees to arrive at the possible answer. Avoid giving out commands, criticisms, and the tendency to dictate. 
Respecting the boundaries will be helpful in creating this positive atmosphere. Seeking permission to give out suggestions will provide a more collaborative environment. 
This way, the performance of the employees will not just improve but also their professionalism and character.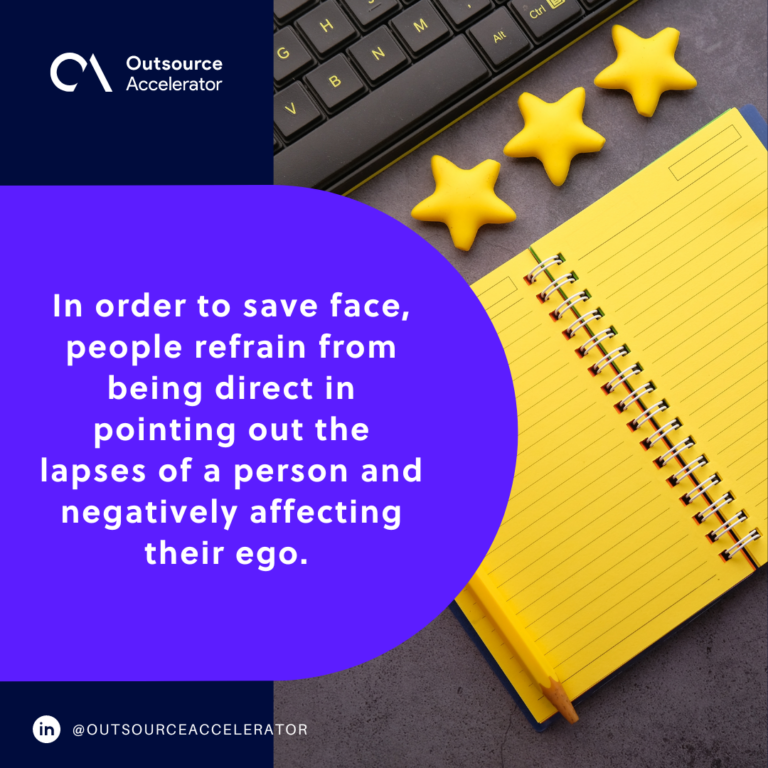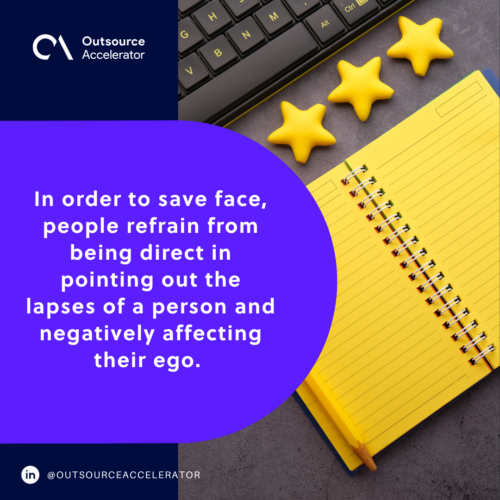 Giving effective feedback
Effective feedback is hinged on open and honest communication. An effective leader and coach is trusted by his employees to listen to their sentiments and ideas. 
The first step towards a culture of effective feedback is to elicit employee trust. The deeper the trust is, the more open the lines of communication will be. 
Also, this will eliminate the boundaries between authority figures. Of course, there is respect between colleagues as professionals. Still, in terms of giving out open feedback to one another, employees will be more receptive and active in the feedback sessions. 
In fact, they will always listen and provide suggestions and insights to anything, which is a win-win situation for the company and the team.