Growing your business through e-commerce outsourcing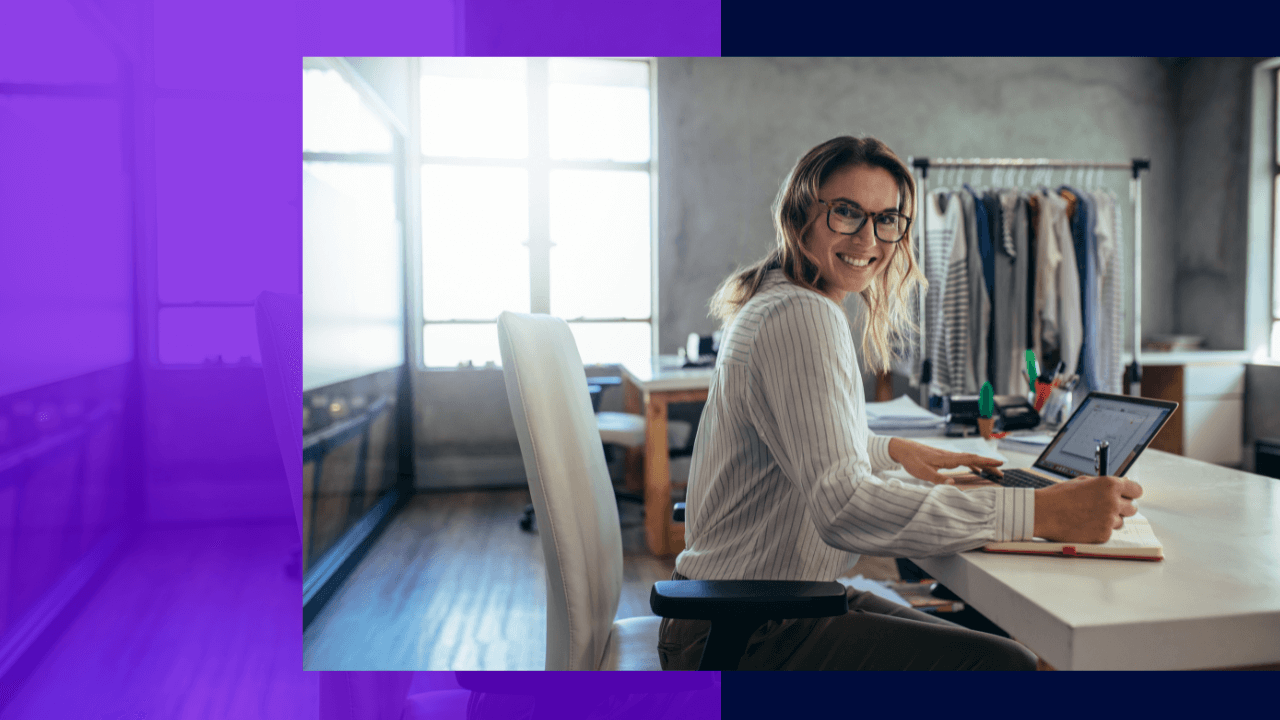 Customer service quality is one of the key elements to your e-commerce success. For many online businesses worldwide, enlisting the services of third-party companies is the best way to ensure they provide the best customer service experience. 
E-commerce outsourcing helps your business grow in many ways, increasing your bottom line in the process.
You must know the most important things about e-commerce outsourcing before partnering with a provider.
What is e-commerce outsourcing?
E-commerce outsourcing uses third-party providers to accomplish business functions pertaining to e-commerce services. Companies delegate certain tasks to professionals or specialists outside their team so they can meet growing customer demands.
Selling products online is not a straightforward process. Many things happen behind the scene to process just one transaction.
Entrepreneurs opt to outsource some processes because of the complexity of running an online business. These activities can be anything from customer data management and accounting to logistics.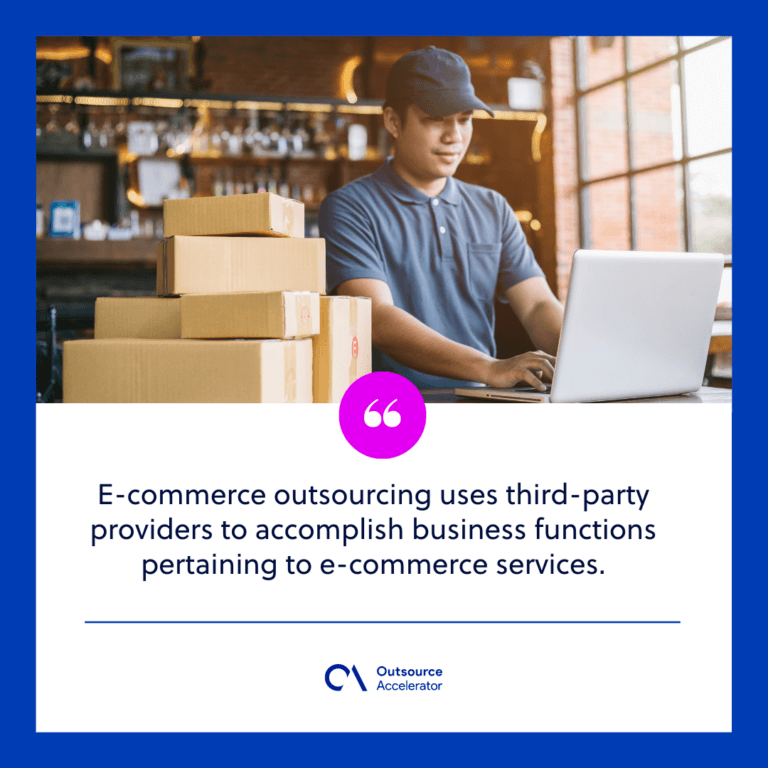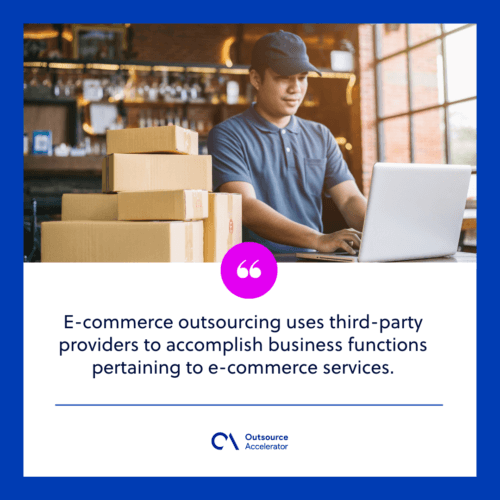 When to outsource e-commerce services?
In the US alone, the estimated growth of the e-commerce market is USD 509.4 billion between 2023 to 2027. The competition is expected to get tougher in the next year.
There are different things to consider when enlisting the services of a third-party company. These are: 
When you need experts or specialists
So many entrepreneurs are tempted to do everything on their own or in-house because it's cheaper. However, without relevant knowledge and experience, this decision will be counterproductive. 
Tasks requiring expertise and technical skills, such as content writing and bookkeeping, are better left to experienced professionals. 
Business owners may tap service providers such as Remote Employee to get the best staff available for these roles at a fraction of a cost of in-house teams.
When orders are increasing consistently
You risk burning out your staff and reducing business efficiency when you don't outsource e-commerce services as your business grows. As the order increases, so is the tasks and responsibilities. 
It's time to seek e-commerce service providers to help you manage your operations effectively. The best BPO companies will offer flexibility, allowing you to scale up or down as needed.
To focus on core competencies
A seller spends most of the time on administrative and repetitive tasks. While these are important, they can take away a lot of opportunities for your business growth. 
For an online store to prosper, you must strategize and consistently study the market. You have to focus on the most important aspect, such as the quality of your products, pricing, availability, and overall online purchasing experience. 
When an outsourced team handles routine tasks, you can concentrate more on core competencies or what you do best.
When you are running promotions
Businesses seek help from another company to manage the influx of orders while running promotional sales or during peak seasons such as Christmas and Valentine's Day. That's because it's more cost-effective as they won't need to hire and train new employees. 
Seasonal outsourcing is common in the e-commerce industry. A study found that 33% of small business owners hire seasonal or need-based workers to help them through busy months.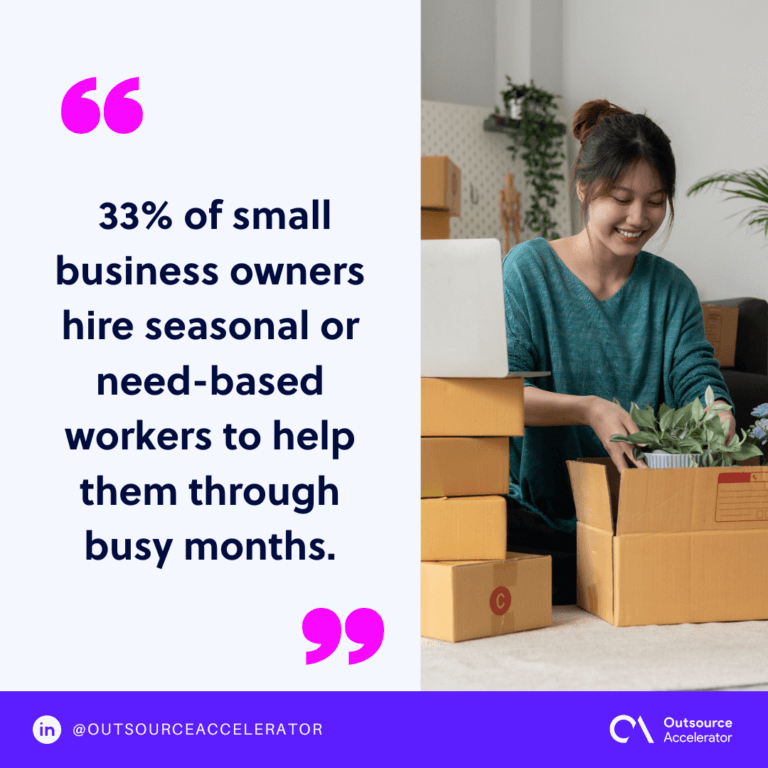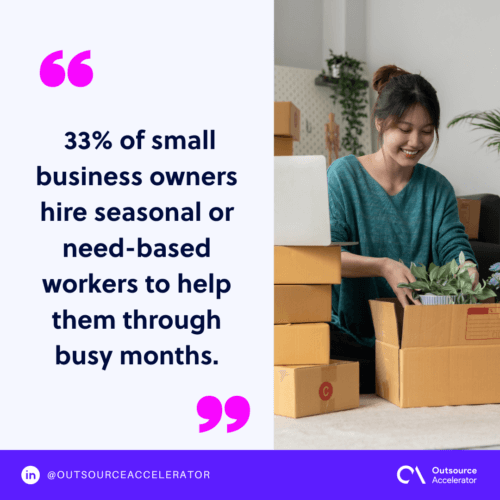 Different kinds of e-commerce services to outsource
Outsourcing companies have various services to support e-commerce businesses. The following are some of the processes or tasks you can outsource.
Accounting
Hiring external accountants or bookkeepers is a cost-effective way to manage your finances. These professionals stay abreast with different regulations, such as tax laws. This gives you peace of mind knowing that your business is compliant. 
Accounting firms are also updated with the latest trends and tools. That means your business can use its industry knowledge and advanced technologies while only paying for its services.
Catalog creation 
Do you have hundreds or thousands of products on your site? Are they all selling well? If not, then you may be lacking experts in catalog creation. This process involves product listing, management, and content optimization.
Whether selling on your e-commerce site or a marketplace like Amazon, you will reap the advantages of outsourcing this process to experts. 
BPO companies specializing in catalog creation employ professionals in content writing, data entry, and managers to ensure that all products listed are accurate and optimized to increase product exposure and sales.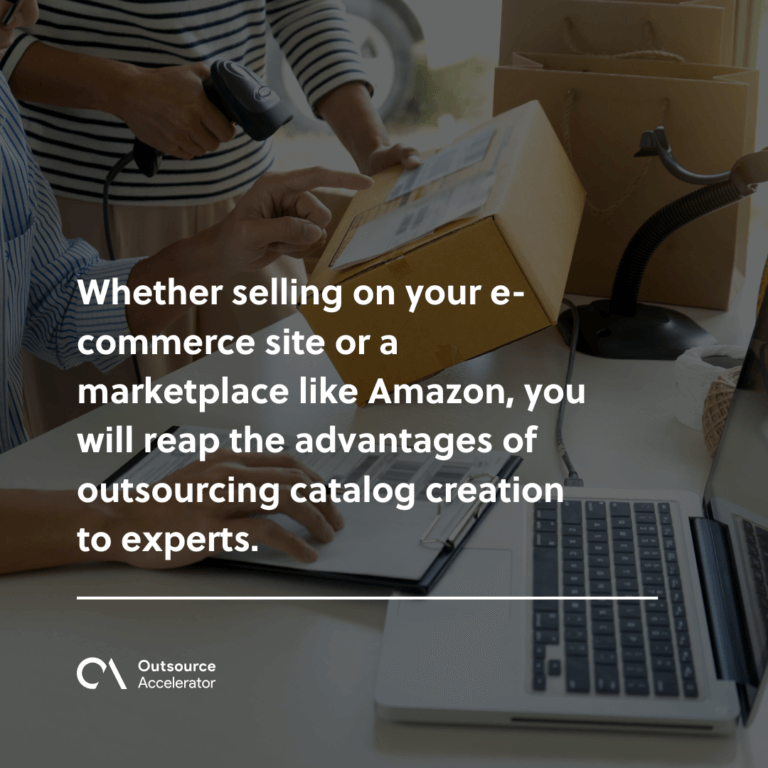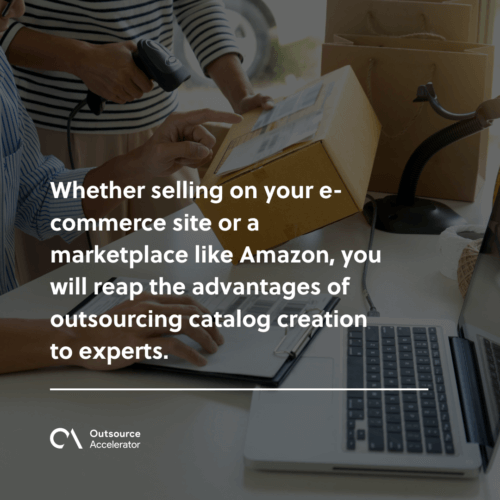 Customer service
Customers expect online stores to be available 24/7 for inquiries and complaints. The problem is that sellers cannot be available round-the-clock. 
This is where customer service outsourcing comes in. BPO companies like SPLACE ensure that there will always be an agent to answer calls and assist customers on your behalf. 
Digital marketing
Digital marketing is among the most effective way to reach your target audience. Without an effective strategy, building a good online reputation is impossible.
Digital marketing includes a variety of channels, such as e-commerce sites, social media pages, and search engines. Agencies use different strategies to engage audiences and website rankings and convert leads into sales.
They do PPC advertising, search engine optimization, social media campaigns, promotions, e-mail marketing, and affiliate marketing.
Logistics 
Customers nowadays want fast, inexpensive delivery services and straightforward returns. Meeting these expectations could be challenging if you have a small online store. 
One of the ways to address this is to outsource warehousing and shipping to e-commerce fulfillment centers. They provide e-commerce merchants with storage space for their products. 
Logistic firms offer end-to-end services, including management and delivery. They also ensure orders are fulfilled by delivering products to your customers on time.
Manufacturing 
Find a reliable manufacturer if you do not have enough resources to manufacture your products. Some service providers offer low-volume production to help small businesses with their manufacturing needs.
Outsourcing to a trusted provider gives you access to their industry-grade equipment. You will also benefit from their years of experience and expertise.
Aside from production support, manufacturers can also offer assistance in design, engineering, and prototyping.
Tips on choosing the best e-commerce outsourcing company
Choosing an e-commerce outsourcing company is like online shopping. Before buying, a wise consumer or client will consider different factors, including needs and preferences.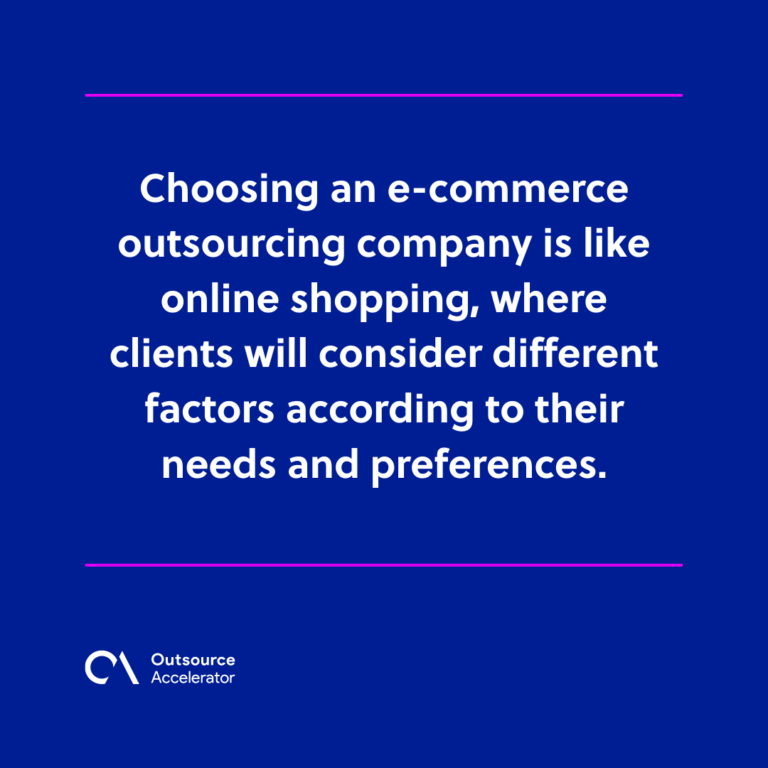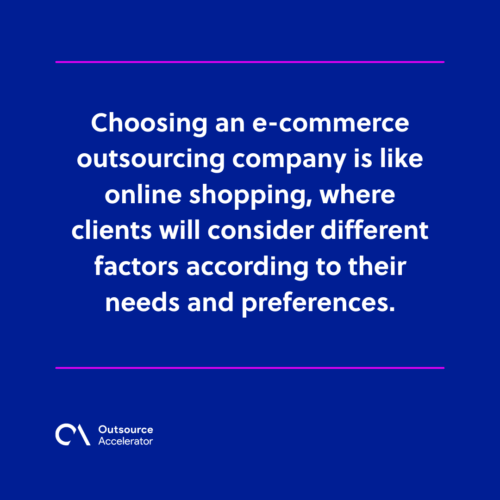 Here are some tips to help you make the right choice for your business.
Track record of success
You need to review a provider's track record. Get to know their previous or current clients and see if they belong to the industry or are under the same e-commerce business model as yours.
Find an outsourcing company with a good history of success, regardless of the service you plan to outsource. 
Technology
The best providers will help you stay ahead of the competition with their cutting-edge technology. You must ensure they have the updated and essential tools to meet your requirements satisfactorily. 
For example, when outsourcing marketing services, you should find a reputable company that uses the best social media tools.
Security policies 
Even before e-commerce dominated the retail market, fraud was a problem. That's why data protection should be your priority. 
No business is safe from cyber-attacks. Before partnering with an outsourcing provider, ensure they have updated cybersecurity policies.
They should also have security tools that will help you protect customer and company data.
E-commerce services
Outsourcing from one company is often cheaper than enlisting services from different companies. Hence, it is imperative to check if the BPO company offers most, if not all, of the types of e-commerce services that you need.